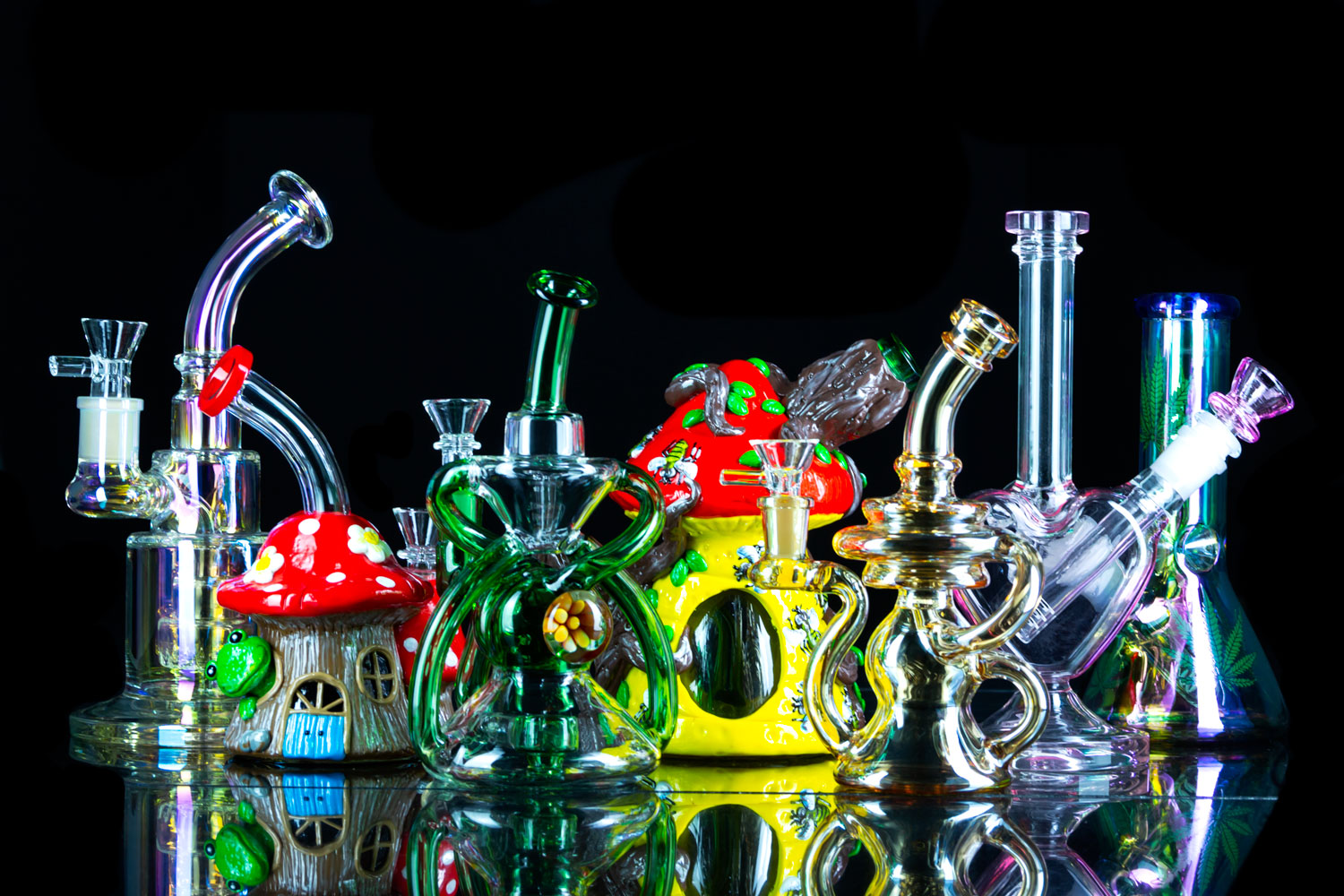 Small bongs measuring eight inches and under are pint-sized, portable water pipes that deliver notoriously flavorful hits. People gravitate to mini bongs for a few key reasons.
Flavor 
For some stoners, a mini bong is ideal for the flavor it delivers. Because there is less air and water within the chamber to dilute the smoke, hits tend to be stronger and more flavorful than standard sized bongs.  
Portability
For others, it's about portability and enjoying diffused hits whenever, wherever. Portable bongs are easy to transport, conceal and handle. With small water bongs you get smooth, filtered hits in a compact, lightweight package. Thus, these travel-friendly pieces are perfect for stoners on-the-go who don't always smoke in the same place. 
Aesthetics
Many cannabis enthusiasts are drawn to small bongs from a purely aesthetic standpoint. That is to say, the pint-sized package has an allure all its own. In the age of bigger and better, mini and small is making a comeback like never before. And naturally there's something to be said about the powerful hits mini bongs deliver too. In short, they are adorable yet pack a desirable punch. To illustrate, it's comparable to how cute and small fluffy animals like koalas or red pandas can be way more powerful than you'd think.  
The whole package
All the same, cannabis connoisseurs often say that it's a combination of everything. Small bongs offer something that standard water pipes don't. They offer the freedom to take bold yet clean hits from your rooftop, a lookout or beachside. And above all, in an extremely cute package. 
Mini vs small bong? 
At Stoners Rotation, we consider a small bong to measure 8 inches or under. Even smaller water pipes measuring 6 inches or less are called mini bongs. Even so, since the difference is rather small, we've coupled them together.
How much is a small bong?
Small water pipes tend to be significantly more affordable than larger pieces since they use less material and have fewer features. Cheap small bongs tend to cost roughly $20-50 while higher quality, more expensive pieces can run you roughly $50-100. 
How to use a small bong?
Using a small bong is just like using a standard sized bong except it will be easier to take a hit since you don't have to reach far to remove the bowl. Cannabis enthusiasts can follow our step-by-step instructions on how to use a bong which covers how to set up your piece, fill it with water and inhale.
Small bongs for sale
Stoners Rotation is an online headshop that delivers water bongs and other smoking accessories discreetly to your doorstep. We have a wide selection of mini and small bongs for sale. Below are our top picks. 
Small cute bongs
Pineapple Bong – This eight inch pineapple bong made from 5mm thick textured borosilicate glass features a bent neck and flared mouthpiece for comfortable, juicy rips. 
Mushroom Bong – With its unique sprouting mushroom neck this small cute bong features hand blown mushrooms throughout and a matching sturdy base to keep it balanced. Plus, its showerhead percolator cools smoke while its bent neck acts as splashguard. 
Cobra Snake Bong – Made from iridescent glass, this 6.5 inch cute small bong resembles a scaly snake with beady red eyes, ready to pounce, unless you strike first. 
Small percolator bongs
Birthday Cake Bong – With its efficient puck percolator this eight inch small glass bong features an iridescent three-tier chamber and flared mouthpiece for large birthday sized rips.
Double Jellyfish Percolator Bong – Also measuring eight inches tall, this small percolator bong made from 5mm thick borosilicate glass features two jellyfish percolators, balanced by its sturdy base and curved neck. Moreover, its black accents magnify the thickness and elegance of the glass.   
Small Pink Bong with Matrix Perc – This 8.5 inch small percolator bong features a stunning matrix perc just above the thick, sturdy base. The piece is made entirely of borosilicate glass so you'll love the feel and weight of it. Also, the bent neck acts as a splashguard leading to a flared mouthpiece for comfortable hits. 
Heady Glass Ball Percolator Bong – Measuring eight inches the ball percolator definitely steals the show, delivering silky smooth hits alongside the showerhead perc underneath it. The 4mm thick glass magnifies its beauty while the sturdy base counterbalances the ball. Finally, the hanging mushroom marble gives the piece a delicate touch.
Cool small bongs
Trippy Rick and Morty Bong – This cool small bong stands 8 inches, is made from thick borosilicate glass and glows in the dark. The beaker base allows for more smoke to accumulate so you can take in larger rips through the ribbed mouthpiece. Just drop a few ice cubes into the ice catcher for silky smooth hits from here on out. 
Monster Bong – Measuring just seven inches, this cool small bong is truly unique with its hyper realistic fangs and eyeballs. The best part about this water pipe though is what happens once you turn the lights off. All of its eyeballs, including its large cyclops eye at the center glow brilliantly in the dark. 
Heady Octopus Bong – This seven inch octopus bong is especially cool with its highly realistic detailing. Aside from its intricate craftsmanship, it has impeccable functionality. Featuring a showerhead percolator, this water pipe delivers bubbly, ocean deep rips.  
Glowing Ghost Bong – This small glass bong made from thick borosilicate glass is topped off with a thick round bong bowl. You'll love how the trippy print of this glow-in-the dark bong emanates a ghostly green aura to match the vibe. 
How to clean a small bong
Choosing how you clean your water pipe depends much more on the material than it does on the size. The good thing is that small water pipes tend to be easier to clean since they do not have as many percolators or surface area for grime to build up.
You can follow our guide on how to clean a bong with and without alcohol. When cleaning a small glass bong, the most efficient method is to use a mix of alcohol and epsom salt. If you prefer something more natural to clean your glass, we highly recommend the second most common method of vinegar and baking soda.
If your bong is made of food-grade silicone, put it directly into the dishwasher for ultimate ease. But if you are concerned that the print may fade in the dishwasher, we suggest soaking it in soapy water in the sink before. Then follow with a rinse and let it dry.
Do small bongs get you higher?
This has been the subject of debate for a long time and while there isn't much research into the phenomenon, many stoners attest that small bongs get you higher. Cannabis enthusiasts noticed that hitting from a mini bong tends to be more harsh. But it isn't the harshness per se that's getting you higher. 
Since they have much smaller, more condensed chambers, the smoke is more dense. In other words, larger bongs dilute the smoke because it has the chance to mix with more air and water before it reaches your lips. 
For this reason, small water bongs generally don't offer as much filtration power as larger bongs either. It's to say, they tend to have less room to accommodate percs which make for smoother but weaker hits.
Small bongs online
We hope you find the piece of your dreams in our online headshop. We've also got bong bowls and other smoking accessories to complete your setup. For instance, this Swirl Smoking Bowl with tail and heady mushroom marble pairs beautifully with most.
Bong guides & smoke tricks