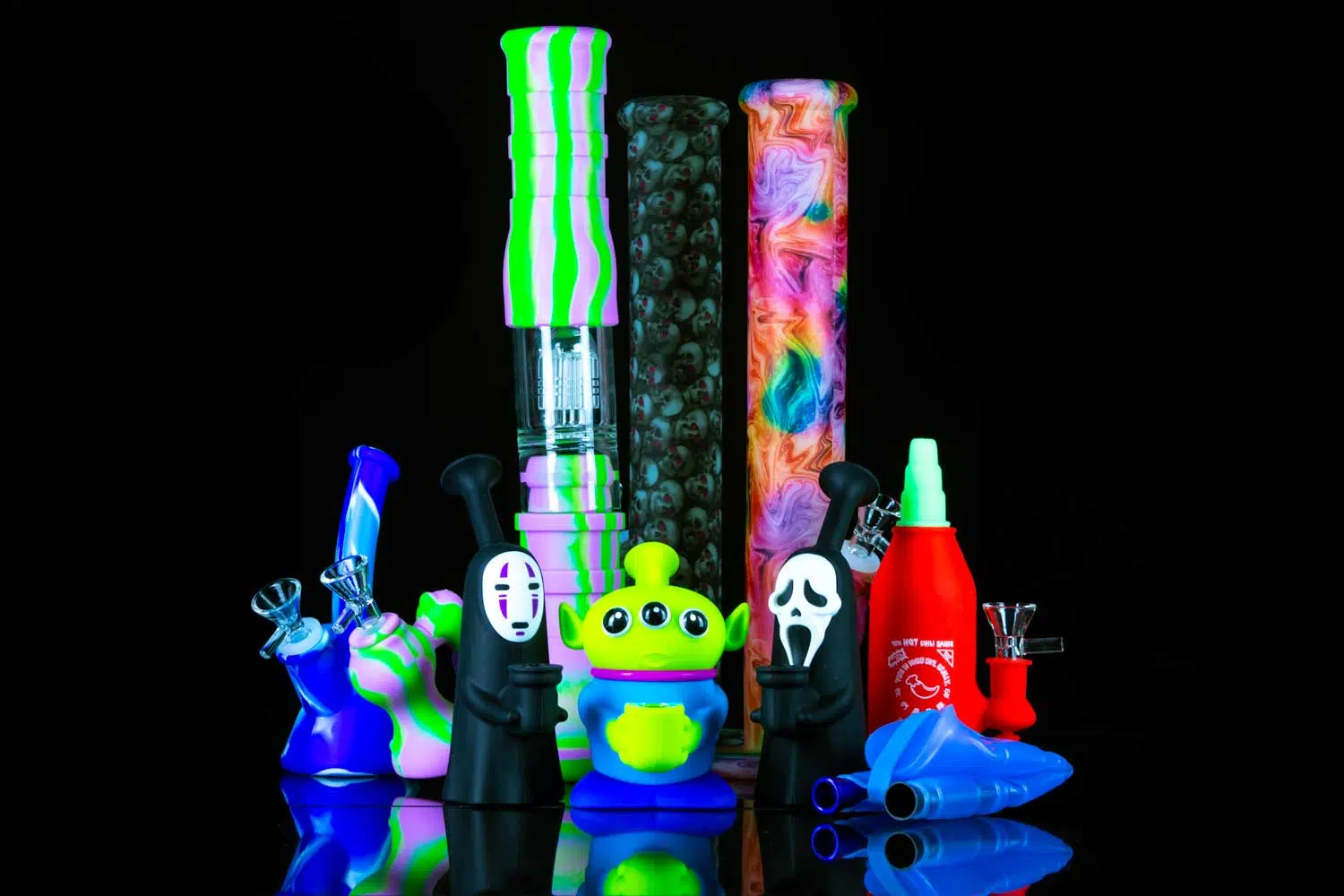 Silicone bongs are rising in popularity, giving glass bongs a run for their money because of their portability, ease and peace of mind. It's not surprising why people ask if silicone bongs are good. Glass has been the standard for a long time while silicone has only risen to popularity recently.
Are silicone bongs good?
In this silicone bong review we'll give you a breakdown of the benefits and drawbacks of silicone water bongs. 
Benefits 
Highly portable

Extremely durable

Easy to clean
Drawbacks
Material may affect flavor

Lack of versatility in shapes

Minimal percs

No recyclers

No ice pinch (normally)  
Silicone bong bad taste reasons
Food-grade silicone should not give off any unpleasant plastic flavors or smells. If you notice the strong rubbery scent of silicone when you smoke a bowl, it may not be the real deal. 
Are silicone bongs safe?
Silicone bongs made from food-grade silicone are perfectly safe. After all, food-grade silicone is the same material used to cast cookware and baking molds. It was deemed safe for use by the FDA in 1979 as it does not release any toxic fumes under extreme heat. In fact, it can withstand temperatures from -103°F to 450°F.  
Imitation silicone, on the other hand, is a low quality silicone not approved for food applications. It may look very similar if not exactly like high quality silicone but give off a distinct plastic smell.
Silicone bong price
On average a silicone bong will run you between $20-50, depending on the size, percs and design. 
Silicone vs glass bong
The debate around choosing a silicone bong vs glass bong runs deep.  
A case for glass
Cannabis connoisseurs often attest that there is nothing that hits quite like glass, especially thick borosilicate glass. The main reason why stoners prefer glass is because of the clean, natural flavor it delivers. Since glass doesn't impart any taste, it brings out the full flavor of your favorite cannabis strains.
What's more, the versatility and beauty of glass is just as impactful to the experience. Glass bongs are frequently blown into a wide variety of shapes well beyond straight tubes and beakers. For instance, percolator bongs and recycler bongs are almost exclusively made of glass.
On the other hand, most silicon bongs do not have percolators unless a glass piece is inserted into the middle, the most common of which is a jellyfish or tree perc. These water pipes are often referred to as silicone hybrid bongs. In most cases though, you'll never have more than one perc on silicone bong. Glass bongs, in comparison, can accommodate multiple percs. 
What's more, glass bongs can be made into particularly unique and intricate shapes such as recyclers with many looping arms. Their shape can even become an intrinsic part of their design. For instance, mushroom bongs with blown mushroom caps throughout or a bong in the shape of a pineapple. 
A case for silicone 
While the case for glass is strong, silicone is actually preferred among on-the-go stoners. These cannabis enthusiasts want the notoriously smooth hits of a glass bong wherever, whenever.  
And silicone is highly durable, perfect for wherever your high takes you. Made from food-grade silicone, it's so thick you could quite possibly dropkick it without it bending out of shape. Although we don't recommend that for the sake of its longevity, it's safe to say that the strength and portability of silicone outcompetes glass bongs. 
If you are going on a camping trip or hiking, you want something that you can stash away in your backpack without a second thought. Fortunately, silicone offers peace of mind so you can be more playful without a worry to weigh you down.
Besides, what silicone lacks in versatility and shape, it makes up for in design. Silicone bongs comes in a wide variety of cool and trippy prints. You can find trippy aliens, drippy paint and psychedelic tie-dye patterns, among many others. 
And glow in the dark silicone bongs often glow more brilliantly than glass bongs too. With glass bongs, the glowing pattern is handpainted which can be particularly striking. Nevertheless, if you're looking for a green aura that makes your eyes tear up in awe, silicone will be sure to impress.
Best silicone bongs
We have a growing collection of silicone bongs for sale in our online headshop including ones with percs, ice catchers and trippy glow-in-the-dark prints. Here are our top picks: 
Ribbed Strong Silicone Bong – This rasta silicone bong is made of thick textured silicone. Measuring a towering 14 inches, the weight of this silicone water pipe is counterbalanced by its sturdy base. Above all, you'll love holding this piece in the palm of your hand with its unique texture that enhances grip.
Silicone bong with percolator – One of the best silicone bongs for sale in our collection this piece includes a jellyfish percolator and an ash catcher. Featuring a glass jellyfish percolator this silicone hybrid bong gives you the full filtration power of a glass percolator bong with the durability and portability of silicone. This style of silicone glass bong is becoming more and more popular because you can experience the best of both worlds with affordability at heart.
Alien Silicone Bong – This cool silicone bong features a trippy alien print that glows brilliantly in the dark. Featuring a ribbed silicone bong mouthpiece for comfortable hits, you'll be in outer space in no time. 
Paint Glow-in-the-dark silicone bong – This pink silicone bong for sale is the perfect reflection of the artist within. The trippy drippy pattern is beautiful day and night alike. It may even inspire you to pick up a pencil or paintbrush the next time you get high. If so, here are a few easy trippy paintings to get you started. 
Silicone bong with ice catcher – This silicone ice bong is perfect for chilled hits in the backyard or wherever your high takes you. The silicone ice catcher can be adjusted to accommodate however many ice cubes you like and easily removed by flexing the bong.
Cheap silicone bongs
If you're working within a limited budget, silicone is the way to go. Silicone bongs are much more affordable than glass so you'll be sure to find a gem. Here are a few silicone bongs for cheap that won't break the bank. 
Collapsible Silicone Bong – Made with ultimate portability in mind, this small silicone bong is perfect for all of your escapades. It's so discreet that it even fits in your back pocket. Simply fold this clear silicone bong and wrap the band around it before slipping into your bag. The water pipe includes a metal bowl and plastic downstem, making it that much more travel-friendly. Plus, it's the most affordable in our collection so you can spend more money on the green goddess.
Mini Silicone Bong – This cheap silicone bong made from thick food-grade silicone measures just 6.5 inches tall. It comes with a glass bong bowl which fits inside the chamber of this silicone beaker bong. Although it comes in a variety of tie-dye patterns, the rasta silicone bong is the most popular. 
Sriracha Silicone Mini Bong – If you're looking for a unique silicone bong this one is perfect for stoners who like it hot. Shaped like a Sriracha bottle, this cute silicone bong makes the perfect stoner gift, especially for spice lovers.
Silicone Dab Bong – If you like to dabble in concentrates as well, this silicone dab bong may be just what you need. Featuring No-Face from Spirited Away, this piece makes a cute addition to any stoner's collection. And the best part is that you can swap out the quartz banger with a bowl slide to use with dry herb too.
Can you clean silicone with alcohol?
Compared to glass, silicone bongs don't need harsh chemicals to clean them. In fact, it's best to avoid the standard isopropyl alcohol and epsom salt method because silicone absorbs alcohol which causes swelling and chemical damage. Definitely wouldn't want to light up a fire hazard like that. 
How to clean silicone bongs dishwasher method
Since silicon bongs are generally dishwasher safe they are very easy to clean. Simply take the pieces of the water bong apart and stack into the dishwasher. If it comes with any glass pieces such as a bong bowl or percolator, it's best to wash those by hand with soap and warm water. 
While this is by far the easiest method for how to clean silicone bong, in some cases we'd advise against it. For instance, if your water pipe has a print on it it could cause the pattern to fade. Below is an alternative method for cleaning bongs with longevity in mind. 
Best way to clean a silicone bong
Simply fill your silicone bong with warm water and soap, covering up any openings and shake it vigorously to dislodge any debris. Rinse clean with warm water. If any residue remains, consider using pipe cleaners to scrape it off gently. Let the bong air dry by a window or outside in a shaded area and you're ready to rip! 
How to clean silicone bong with vinegar
If your bong needs a deep cleaning, a mix of baking soda and vinegar is your next best option. First, fill the bong with warm water, shake vigorously and dump it out. Follow with a mixture of several spoonfuls of baking soda and a cup of vinegar. If your silicone water bong is large, you may need to add in a bit more than this. 
You'll notice that the mixture starts to fizz up. Close off any openings and shake again, preferably over a bathtub or sink since some of the fizz may overflow. Then, let it sit for 3-5 minutes before rinsing off with warm water. 
The Future of Silicone
Although there is already a wide array of silicone bongs, it's just the beginning of a new era. As silicone becomes more and more popular, we're seeing new shapes and textures being developed. For instance, the silicone lava lamp bong, skull bong and pineapple bong are clear examples of this. It's to say, we're looking forward to what silicone has in store for us, as it takes on new shapes.
Bong guides & smoke tricks