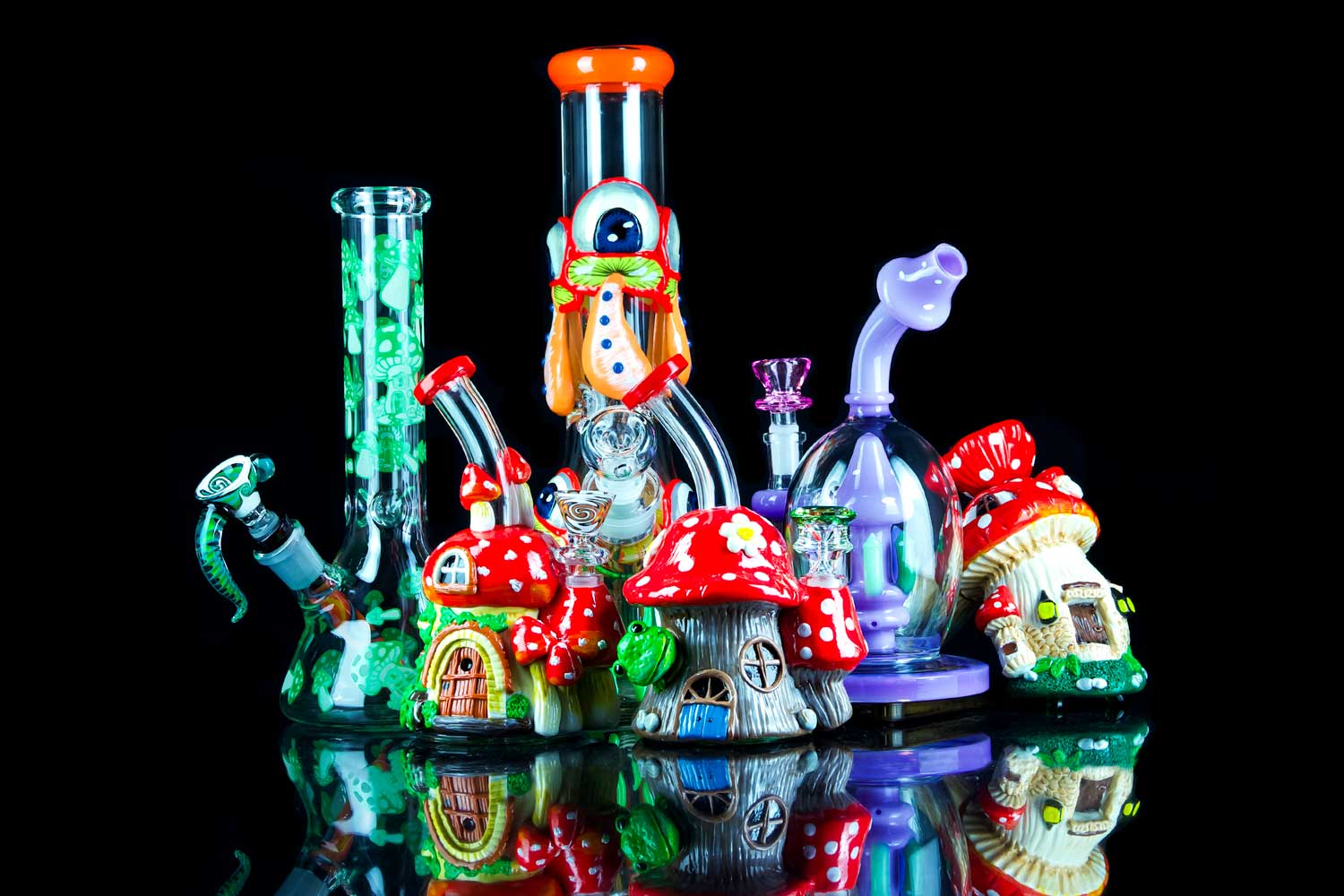 You're a mushroom lover, a modern day hippie. You simply get the most out of life when you are outside. And what better way to get in tune with mother nature than with a mushroom bong? What better than to spend the day outside high, exploring and watching nature unfold?
Watching the hummingbirds spar, the eagles soar and dive for prey and even the mere house fly rub its tiny feet together?
The more time you spend outside closer to nature, the more magical it becomes. And that magic extends to the iconic red-capped mushroom. 
Mushrooms have been around much longer than any of us, evolving as far back as 810 million years ago. Considering that modern humans have only been around for 200,000 years, and our farthest ancestors roughly 6 million years, makes mushrooms truly fascinating. 
For instance, without mushrooms, plants would not survive. And without plants, neither would we. In fact, mushrooms are genetically more similar to humans than plants. 
Symbolism of mushrooms
Perhaps the mushroom's ability to recycle nutrients so plants can extract energy from the soil is part of their curious symbolism. Moreover, mushrooms are tied to rebirth, longevity, prosperity and even immortality.
And what more do we really want out of life than that? Most interestingly, their wide-reaching health benefits are still being discovered, even though mushrooms have been used as medicine as far back as 450 BCE.   
It's no wonder why mushroom bongs have become so popular as we discover more about their ancient history and intrinsic healing properties. 
Mushroom Bongs for Sale
We've got a budding collection of mushroom bongs for sale in our online headshop. 
Mushroom Bong House – This 3-D hand painted mini mushroom bong is an adorable piece. Measuring 7 inches tall, it even features windows, a door and a mushroom garden. 
Mushroom Bong Frog House – Much like the last piece, this water pipe features another hand painted mushroom house. Plus, a cute frog peaks out of one of one of windows!
Glow-in-the-dark Mushroom Bong – This cute mushroom bong features a trippy print of a mushroom world where smiling mushrooms and mushroom houses are a reality. Plus, you'll love how the piece glows in the dark!  
Mushroom Shaped Bong – This mushroom water bong is one of the most unique in our collection. With a mushroom forming the neck of the bong and mini mushrooms budding above the showerhead percolator, this water pipe is an awesome piece. What's more, the design of this cute mushroom bong is complemented by the showerhead perc which produces a cool visual effect. Moreover, it looks especially trippy as you watch the clouds of smoke swell within the main chamber as you take a hit.  
Other Mushroom Accessories
The organic, simple beauty of the mushroom and its rich symbolism moves us to cultivate a collection that honors this ancient fungi. We're continually adding to our online headshop so that we have a mushroom forest of bongs, dab rigs, pipes and other accessories. Here are are few other mushroom inspired smoking accessories in our online smoke shop:
Mini Mushroom Dab Rig – If you are a dabbing connoisseur, this mushroom rig would make a dope addition to your collection. With its glass dome nail in the shape of a mushroom and heady glass mushy marble, this piece really is a stunner. And combined with the diffusion power of the showerhead perc, you've just found your new daily driver. 
Silicone Mushroom Pipe – This cute pipe with glass bowl is made from food grade silicone. It's perfect if you're looking for a smaller, more portable piece. What's more, the stem leads to an adorable red mushroom cap that fits perfectly in the palm of your hand.
Glassblowers & Mushroom Art 
If you happen to be a glassblower and make really cool glass mushroom pieces, whether that's bongs, rigs, pipes or other smoking accessories, we'd love to see. We're constantly looking for ways to elevate our bong shop. In short, we simply wouldn't be here without the amazing glassblowers we've partnered with! 
Bong guides & smoke tricks