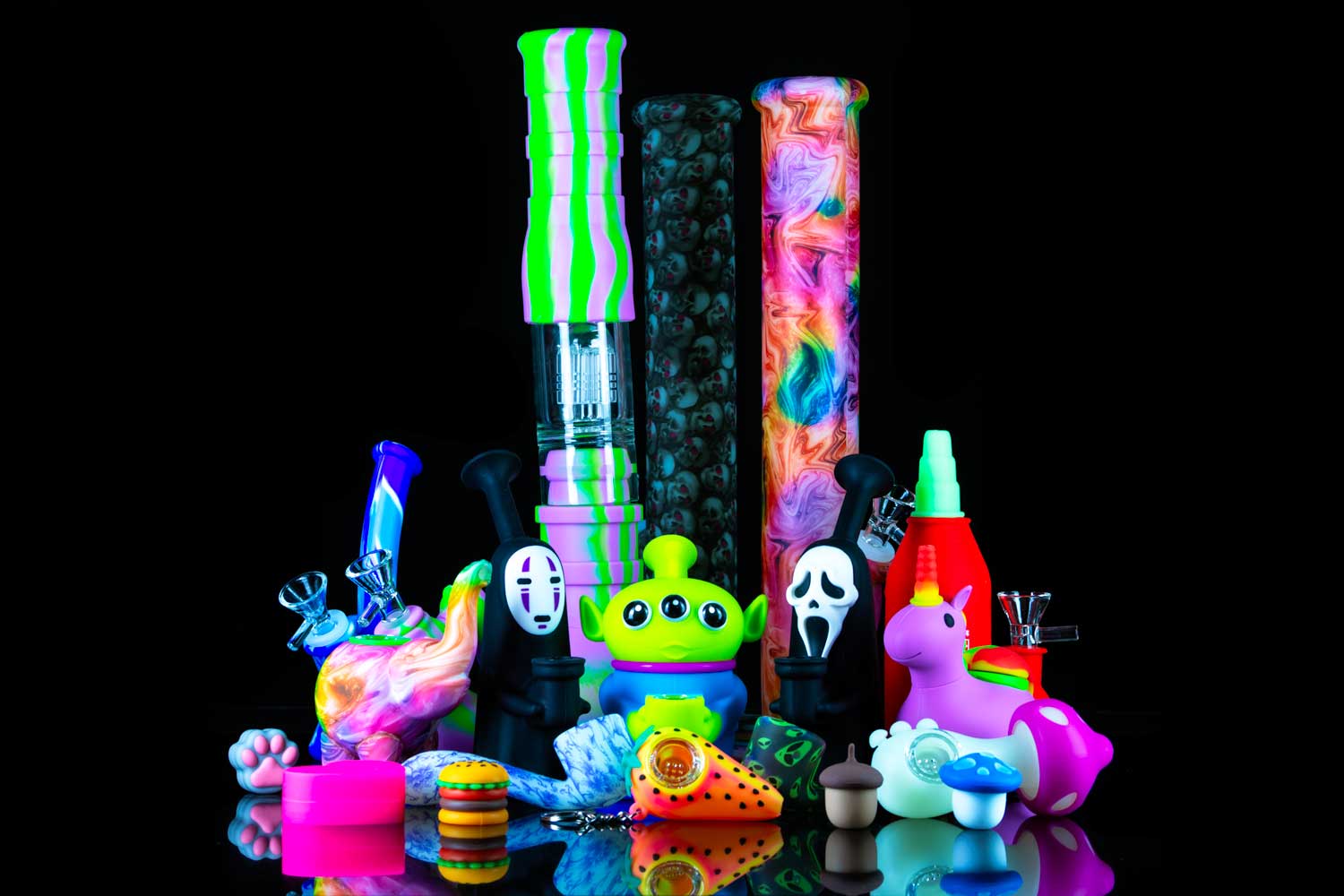 Some bongs are made for the roads less traveled. They are pieces that can take more than a few hits, in all senses of the word. Portable bongs, in essence, are the unsung heroes of our greatest highs. Long gone are the days of sneaking around to get high, in legal cannabis states at least.
You no longer have to stay inside sequestered because of what people will think or as mandated during the pandemic. And there's newfound freedom that comes with that.  
In short, whether you want to go all out on a camping trip or prefer the comfort of your backyard, a portable bong is liberating. 
Benefits of portable bongs
Portable bongs have many benefits, some less obvious than others.
Liberating

– With a portable bong you can go wherever your high takes you, and there's nothing more freeing than that. Put another way, you're ready to hit the road and hit your bong without missing a beat! 

Travel-friendly

– Portable bongs make the world your backyard, if only for the weekend. Because they are travel-friendly the sky's the limit. And what better than a new experience somewhere beautiful to elevate your high that much more? 

Easy to conceal – Most portable water bongs are easy to stash away in your bag or backpack without a second thought. They go under the radar because they are either made of flexible silicone, are small in size or both.  
Peace of mind with silicone

– The most portable water bongs are made of food-grade silicone which makes them much easier to transport. You never have to worry about your bong shattering in your bag or in the trunk of your car. 

Great for passing

– If you're like most stoners you have at least one bong in your collection that you definitely don't trust with just anyone. Put another way, you would be heartbroken if someone carelessly dropped it while high. That's why you should always have a portable water bong in your collection for these kinds of outings. One that's made to stand the test of time because of its strength, durability and affordability.

Affordable

– Since portable bongs tend to be smaller they are usually more affordable too. Finding a cheap bong that doesn't break the bank can also prove useful in the portability department. In other words, you don't have to worry about it nearly as much as an expensive bong.
Portable bongs for sale
While glass is not nearly as portable as silicone it can be hard to part ways with glass altogether, even with portability in mind. That's why we've selected the best portable glass bongs for stoners on-the-go.  
Iridescent Mini Bong – This mini bong for sale is about as cute as it gets with its mesmerizing iridescent finish. Measuring six inches, this small portable bong features a diffused downstem, curved neck and flared mouthpiece for flavorful hits from here on out.
Itty Bitty Thick Mini Bong – Made of strong quartz, this five inch mini water bong is simplicity at its finest. Its beaker bong shape allows for more smoke to accumulate at the base, while its diffused downstem filters smoke for clean hits on-the-go. 
Trippy Rick and Morty Bong – This portable small bong features a trippy glow-in-the-dark Rick and Morty print that will make you feel like you're having a flashback to the show. Measuring eight inches, this small glass bong even features an ice pinch for ice cold hits during your backyard smoke seshes. 
Glow-in-the-dark Monster Bong – Shaped like a many eyed monster, this small portable bong is amazing by day and night alike. The best part about this small water bong is that the eyes glow brilliantly at night, giving the piece an entirely new aesthetic.
Spooky Ghost Bong – This portable small bong is made from thick borosilicate glass. What's more, its sturdy beaker bong shape makes it even more shelf stable so it won't accidentally tip over. Plus, it's thicker than most small glass bongs and even features a nicely ribbed mouthpiece for ultimate comfort. 
Pineapple Bong – If you're looking for a portable glass bong that makes a big impression look no further. With its realistic ridges, this pineapple bong transports you to the tropics instantly. Plus, it's made from 5mm thick borosilicate glass so it has a nice weight to it. What's more, it's a super travel friendly measuring just eight inches so you can take juicy rips whenever you like! 
Portable silicone bongs for sale 
Some of the most portable bongs are made of silicone and there's no question as to why. Silicone gives the ultimate peace of mind so you can enjoy the sesh to the fullest. These are a few of the best silicone bongs for sale in our online headshop.
Silicone Foldable Bong – This pocket bong is hands down the most portable bong in our collection. It's so travel-friendly that you can fold it and slip it into your back pocket unnoticed. Plus, it comes with a virtually indestructible ejectable metal bowl to set your mind even more at ease. Above all, this piece is super easy to put together on a moment's notice whenever the mood to blaze hits.
Silicone Bong with Ice Catcher – Among stoners it's commonly known that few silicone bongs feature an ice catcher. But you don't have to compromise with this portable bong and its adjustable silicone ice pinch by your side. So if you feel like going all out on ice, this 14 inch straight shooter was made with you in mind.
Mini Silicone Beaker Bong – Measuring just under seven inches, this silicone water bong is perfect if you prefer a glass bong bowl over metal. And the best part is that you can stick the bowl inside the bong's chamber once you're on the move again. That way, it's protected during the journey back home.
Ribbed Silicone Bong – If you don't mind a little extra weight, this portable water bong is made from thick durable silicone. In other words, if someone drops it, you won't shed a tear or even worry in the slightest. It's so strong you could probably even dropkick it, although we don't recommend it. Plus, it's a great piece to pass around measuring 14 inches tall.
Sriracha Bong – If you like it hot, this Sriracha bong is perfect to take along with you. Hidden in plain sight, this silicone bong is perfect for your trip to the taco truck and back, or wherever your high takes you.
Silicone Alien Bong – This alien bong elevates the possibilities with its trippy glow. What better than a portable bong that also glows-in-the-dark? Wherever the next smoke sesh ends up, this piece enhances the vibe. 
Gas Mask Bong – And if you're really looking for a party this gas mask bong lets you and all your friends have your own personal hotbox. 
Freedom of movement and mind
With a portable bong you can get high and explore new places with an open mind. Whether that's on a camping trip, the beach or lounging on the couch in your friend's backyard, a portable bong is an essential piece in any stoner's collection. With freedom of movement comes freedom of mind. And with the green goddess, that's freedom elevated to all time highs.
Bong guides & smoke tricks