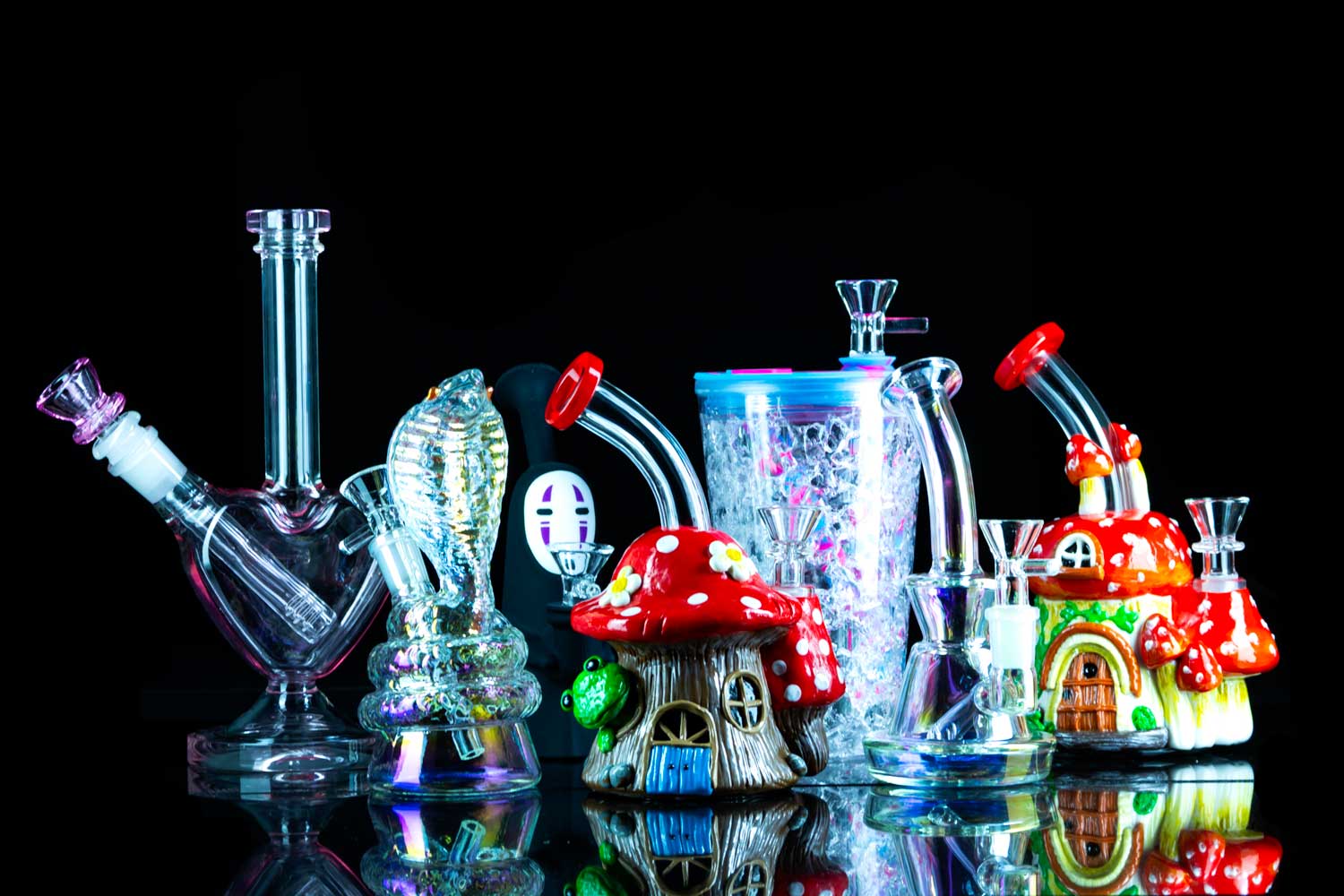 Most cannabis enthusiasts want a high quality yet cheap bong that doesn't break the bank. One that delivers impeccable function and still lets you save money to serve as tribute to the green goddess.
Of course, there are dirt cheap water bongs out there for $10. But if you're looking for a quality piece that will last you a good while, it's better to spend a bit more. 
It may sound counterintuitive but as with anything, you get what you pay for. Still, we have several tips for stoners who want to get a good deal on a bong without skimping on quality. First, we'll cover how much a cheap bong is on average. 
How much is a cheap bong?
Generally between $25-$50 but you can even find some cheap bongs under $25. It really comes down to the material, size of the water pipe and if it has additional features like percolators. The larger the piece and higher quality the material, the more likely it will include additional features that will increase the price. 
How to find cheap bongs online? 
The best approach when looking for a cheap bong for sale is to determine what you can't do without. If you want it to have a matrix perc or an ice pinch, search for those features before all else. In all likelihood you'll be able to find exactly what you're looking for on sale. 
For instance, Stoners Rotation offers a 25% discount to new email subscribers along with ongoing promotions so it's worth considering before you buy. Also, you'll often find steeper discounts on bigger holidays and celebrations like 4/20, Valentine's and Black Friday.       
Cool cheap bongs under $25
If you're looking for a piece that doesn't break the bank, your best bet is to go with a mini bong, silicone bong or hybrid of both. Below are the best cheap bongs under $25 in our online headshop.  
Cheap glass bongs under $25
Thick Glass Mini Bong – Typically, good quality cheap glass bongs under $25 are diamonds in the rough. But this cheap mini bong made from thick quartz is definitely a gem with its unique green accents. Plus, it has a diffused downstem for silky smooth rips.
Cheap silicone bongs under $25
Silicone Foldable Bong – Amazingly, this cheap silicone bong fits in your pocket. Plus, it includes a metal bong bowl making it that much more portable. So if you're looking to be discreet or going on a road trip, this cheap small bong is the ultimate transformer.
Mini Silicone Beaker Bong – Another cheap mini bong, this silicone beaker measures just 6.5 inches. It's perfect for all of your escapades since it fits into your bag without fear of shattering into a million pieces like glass. This is definitely our top pick for cheap silicone bongs in terms of price, portability and functionality.  
Silicone Sriracha Bong – This cheap small bong shaped like a sriracha bottle is a great piece if you're looking to be a little more discreet. Onlookers will merely assume that you like all things spicy. But the moment you take this water pipe out for the smoke sesh, you'll get a round of laughs. What's more, everyone will be in the mood for hot wings after a bowl or two. 
Cool cheap bongs under $50
Often, it's worth spending a little bit more to get a higher quality water pipe. With a slightly bigger budget, you'll be looking at larger pieces and more variety in materials and features overall. Here are some of the top cheap bongs under $50 in our smoke shop.
Color Tip Beaker Bong – This cheap beaker bong under $50 is made from thick borosilicate glass. The piece includes an ice pinch so you can drop a few ice cubes into its neck for extra cool hits. Additionally, this cheap pink bong features a colored mouthpiece which gives it a unique touch. It also comes in a variety of other hues if you prefer another color over pink.  
Cobra Snake Bong – Shaped like a snake, this cheap mini bong is as striking as it is beautiful. Available in clear and iridescent, it's a unique yet affordable bong that makes a cool centerpiece for your coffee table. 
Glowing Gas Mask Bong – This mask bong is the perfect party piece. Specifically, it brings the hotbox to you. While it doesn't necessarily get you higher than other water pipes, this cheap acrylic bong and mask combo is hard to resist. It clearly makes the smoke sesh more interesting.  
Iridescent Mini Bong – This iridescent cheap mini bong made from thick glass is an absolute stunner. Because of its small size it packs a flavorful punch, bringing out the nuances of your favorite cannabis strains. Nevertheless, it offers similar filtration to larger pieces with its diffused downstem.  
Paint Glow-in-the-dark Bong – If you're a stoner artist this cheap silicone bong with its trippy paint pattern may speak to you. The best part is that this piece glows brilliantly in the dark. It might even inspire you to have a paint party alongside its powerful glow. 
Glowing Silicone Alien Bong – Also measuring 14 inches, this big alien bong will take you to outer space in back, one rip at a time. It's thick, durable and delivers out of this world direct hits. 
Glowing Silicone Bong with Ice Catcher – Another glow-in-the-dark piece, this cheap bong for sale includes an ice catcher that delivers chilled hits wherever your high takes you. The water pipe is also highly portable since it's made from food-grade silicone. As long as you have a cooler for the ice tray, you're ready for ice cold hits anywhere.
Cheap percolator bongs
As mentioned, the more features a bong has, the more expensive it will be. That's why we've selected the best cheap percolator bongs in our collection to narrow down your search. 
Double Matrix Percolator Bong – Measuring 12 inches this water pipe features two matrix percs for second to none diffusion. With its impeccable function and viewing window into the main chamber, you'll be in for quite the show. What's more, this cheap percolator bong sparkles more than your mom's finest china.
Pink Dome Matrix Perc Bong – Another matrix perc bong, this piece features a sturdy base, dome perc and splashes of pink throughout. Apart from that, its matrix perc produces a cool visual effect as it diffuses and filters smoke. 
Honeycomb Percolator Bong – Measuring 9 inches, this cheap percolator bong features a single honeycomb perc complemented by its unique gold lace detailing. Above all, this pretty bong makes the perfect stoner gift to the bestie or bae in your life. 
Cheap but always high quality
Cheap often carries a negative connotation with it – namely poor quality. Still, you can absolutely find affordable bongs that rival any one of your more expensive pieces. It's a well known secret among cannabis connoisseurs that finding bongs for cheap online is really about buying on sale or tapping into exclusive member's only discounts. For that reason be sure to subscribe to our email to stay on top of sales from Stoners Rotation.
Bong guides & smoke tricks