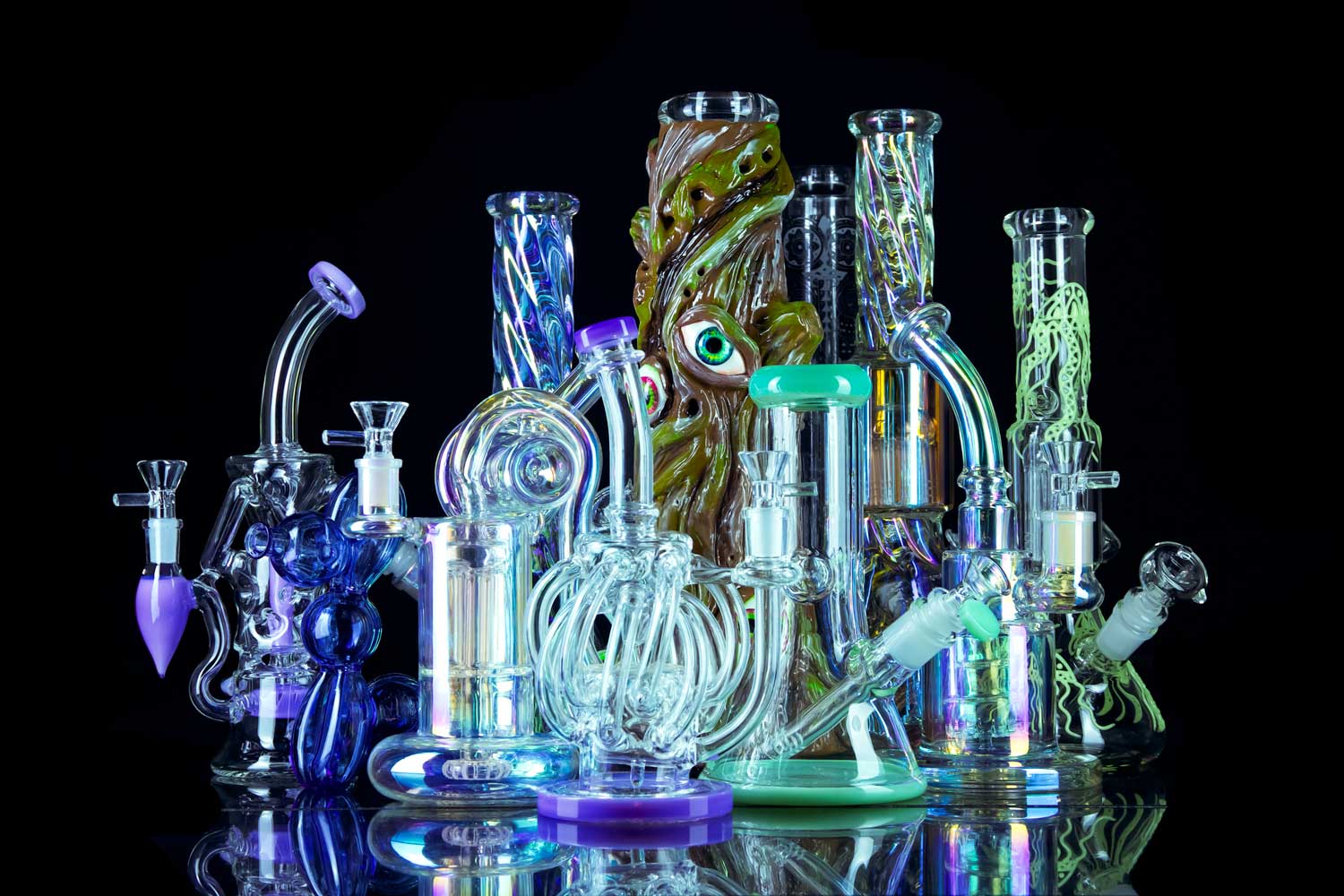 Bongs
,
Beaker bongs
,
Big Bongs
,
Cool bongs
,
Cute Bongs
,
Glass Bongs
,
Ice Bong
,
Iridescent Bongs
,
Percolator Bongs
,
Pink bongs
,
Pretty Bongs
,
Purple Bongs
,
Thick Bongs
,
Unique Bongs
,
420 Pink
,
420-sale
,
Black Friday
,
Iridescent
$

99.00
Nothing hits quite like glass and we'll tell you why. Glass bongs deliver the purest taste of all so you can experience the nuances of your favorite cannabis strains to the fullest. But that's not just all. Borosilicate glass bongs deliver the best performance in terms of filtration power, customizability and versatility. 
Consider silicone bongs. While bongs made from food-grade silicone are highly portable and travel-friendly, they are not nearly as versatile as blown glass bongs. Although you can find sillicone bongs with glass percs embedded, you are limited by the material.
Versatility of glass 
Glass on the other hand, can be shaped into all kinds of styles beyond straight tubes and beakers. There are glass recycler bongs, glass ice bongs and tricked out glass percolator bongs. And then there are full blown works of art. 
Glass art
It's safe to say that glass blown bongs are arguably more aesthetic than silicone, quartz and nearly any other material you put it up against. Again, that's because silicone bongs are much more about function than beauty. 
And while beautiful silicone bongs do exist, glass offers the ultimate viewing window of your smoke. There's something artistic, sensual, erotic about smoke. Naturally, glass is able to bring out its intrinsic beauty better than anything else. 
Glass can be blown into pure works of art with unique textures, shapes and heady glass embellishments. There is a mastery in blowing glass bongs into pieces that transcend their principal function and reach another plane entirely.  
Best glass bongs under $50
Mastering life is about being wise with your hard earned money, and that extends to buying a glass bong. 
When looking for a cheap glass bong make sure it doesn't cut corners. There are tons of blown glass bongs for cheap that are thin and poorly made. The key is to find an affordable piece that doesn't skimp on quality.
And because we know quality will pay dividends down the line, most of the pieces in our online headshop are above the $50 threshold. However, we've selected the three best glass bongs for sale under $50 for stoners working within a set budget. 
Glow-in-the-dark Ghost Bong – This small glass bong for sale makes a spectacularly spooky addition to your collection. Made from thick borosilicate glass, this cheap glass bong with ice catcher is super high quality. It even includes an ice pinch, thick bong bowl and ribbed mouthpiece that become magnified by the bong's brilliant glow under total darkness. 
Thick Beaker Bong – If you prefer function over the aesthetics, you cannot go wrong with this clear glass bong. Also made from thick borosilicate glass, this piece is perfectly balanced with its sturdy beaker base, ice pinch and color tip mouthpiece. This is also a particularly easy to clean glass bong so you can enjoy one fresh hit after another. 
Cobra Snake Bong – One of our most unique glass bongs for sale, this piece is masterfully shaped into the body of a snake. The style with the iridescent finish makes the body and scales look even more like snakeskin.
Mini and small glass bongs
Itty Bitty Glass Mini Bong – This simple glass beaker bong is also one of our most affordable. If you're looking for a high quality yet cheap glass bong under $25, this piece delivers. Made of thick borosilicate glass with a diffused downstem and flared mouthpiece, this mini water pipe measures just 5 inches tall. It's small enough to bring with you on the road. Just make sure to wrap it up securely for the journey!  
Iridescent Mini Glass Bong – This glass mini bong for sale has a unique iridescent finish that gives it a pearly luster. Although a basic glass bong in function, the diffused downstem delivers filtered hits in a travel-friendly, pint sized package.  
Rainbow Cloud Bong – One of our most unique mini glass bongs, this piece features a downstem shaped like a rainbow, a cloud shapedd sowerhead percolator and puffy cloud bowl. 
Rick and Morty Glass Bong – Glow in the dark bongs are becoming more and more popular in glass and silicone alike. Measuring eight inches this small glass bong is made from thick borosilicate glass that becomes even more magnified by its luminous glow. 
Pink glass bongs
If you're into everything pink be sure to check out our 420 pink collection. You'll find our full collection of pink bongs and smoking accessories. 
Pink Heart Bong – This adorable girly glass bong with its heart shaped chamber is the perfect way to say I love you. Made from strong borosilicate glass it's hardly a heartbreaker, destined to deliver milky hits day in and day out. 
Hello Kitty Bong – Another cute glass bong featuring the beloved Hello Kitty, this piece has a sturdy beaker base that complements the softer pink accents throughout. Measuring ten inches, this medium sized water pipe is perfect for passing around and solo seshes alike.
Faded Pink Bong – Get ready to get deliciously faded with this hot pink glass bong. Just make sure to drop a few ice cubes into the ice catcher because your throat will thank you for it later.
Pink Dome Matrix Percolator Bong – This pretty in pink glass bong for sale features an elegant matrix and dome perc combination. You'll love the silky smooth hits it produces and how the thick glass feels in the the palm of your hand. 
Pretty Honeycomb Percolator Bong – If you're looking for a classy glass bong, this piece is just magic. With its gorgeous gold lace detailing and single honeycomb perc this water pipe puts most pretty glass bongs to shame. 
Thick glass bongs
Heavy glass bongs are becoming more and more popular among cannabis connoisseurs. And when you're looking for an investment piece, it's no surprise why. You're looking for an unbreakable glass bong that will stand the test of time for one simple reason: you love hitting glass but want to get the most from it. You want something thick.
9mm Glass Bong – This piece is an absolute beaut. You'll particularly love the magnifying effect that this thick glass ice bong has on the ice catcher.     
Big 9mm Thick Glass Bong – This tall glass bong is also made from 9mm thick borosilicate glass. It's a heavy glass bong that you'll love to grasp in the palm of your hand. The sheer weight of it is a marker of its quality, blown to perfection. 
Double Jellyfish Percolator Bong – If you're looking for a high quality glass bong that's thicker than a snicker and delivers second to none percolation, this piece is for you. Made from 5mm borosilicate glass, this thick glass bong features two gorgeous jellyfish percs. The bent neck acts as a natural splashguard so you'll rarely experience splashback either. The elegant silhouette is accentuated by the black accents along the sturdy base and mouthpiece.
Blue Glass Bong – This ocean blue colored glass bong has just about everything you could need from its multiple percs to its ice pinch and strong beaker base.
Heady glass bongs
Ball Percolator Bong – Every cannabis enthusiast should have a piece in their collection that strikes awe, one that makes you both proud and nervous to share. And this unique ball percolator bong is just that. Aside from its curvaceous shape, filtration power, and sturdy base, it includes a small touch that elevates it to another plane. The unique heady glass mushroom marble droplet makes you feel as if you're suspended in time, just as the mushroom is. 
Crystal Ball Glass Bong with Ice Catcher – If you had a crystal ball, you might hope to see a future that includes this gorgeous glass water bong. With its unique coil percolator, ice pinch and starry night coloring, you'll love how the future unfolds with this fumed glass bong by your side. 
Recycler Swiss Perc Bong – We would be remiss if we did not include a heady recycler bong with its showerhead and swiss percs, four recycler arms and two heady glass marbles.
Cool glass bongs
Glass Mushroom Bong – With its unique mushroom neck, this artistic glass bong will make you feel like you're in a mushroom forest about to travel deep down into the rabbit hole that is your high. This purple glass bong features a sturdy base that counterbalances the large main chamber and sloping neck. 
Mini Monster Bong – There's a newfound fascination with the grotesque that many people just don't get. But when you see this cute mini monster bong, you'll finally understand the allure. This grotesque little guy becomes even more ghastly and beautiful in the dark with its many glowing cat eyes. 
Pineapple Glass Bong – One of our more exotic glass bongs for sale, the textured pineapple base is crafted from cut borosilicate glass. This water pipe delivers juicy bong rips that will transport you to the tropics instantly. 
Birthday Cake Glass Bong – What better way to say happy birthday than with a bong hit in the shape of a three-layered cake? And while you won't blow out any candles, you can be sure that everyday will feel like your birthday with this piece. 
Iridescent Ash Catcher Bong – This is one of those particularly nice glass bongs because it includes an ash catcher. The ash catcher keeps the piece looking sparkling clean since it is the first level of filtration before the ash even gets to your water pipe. The sturdy base offsets the weight of both the straight glass bong and its reclaim catcher. What's more, this is perhaps the most complete scientific glass bong in our collection with its ice pinch, glow-in-the-dark anchor, showerhead percolator and diffused downstem. 
Glass dab bongs 
Also called, dab rigs, dab bongs are made specifically for concentrates. They are characteristically smaller in size, with condensed necks and less of an emphasis on percolators. Here are some of our top picks:
Rainbow Dab Rig – This dab bong truly gives you a taste of the rainbow like no other. With its three recycler arms and donut perc at the center, you can expect flavorful dabs all day long, rain or shine.
Heady Mini Dab Rig – This cute dab rig is thick all around and features a heady glass marble that glitters under the sun. It's the perfect glass dab bong for your wake and bake, small, portable and ready for anything. 
Mini Heady Recycler Dab Rig – If you're looking for a glass dab bong that leaves an impression, this is it. This colored glass bong for dabs is as unique as it is functional, delivering one juicy rip after another.
Can I put my glass bong in the dishwasher?
While you can put your borosilicate glass bong in the dishwasher, we wouldn't advise it. Even if it's made from thick borosilicate glass, you have to take special care of the smaller pieces like the bong bowl, downstem and percolators. 
In theory, you could remove the bowl and downstem and it will probably come out just fine. Even so, if it has any delicate percolators such as a tree or jellyfish perc, it's best to soak in a mixture of isopropyl alcohol, salt and warm water.    
How to clean a glass bong without alcohol
Our full article on how to clean glass bongs covers both methods with and without alcohol so you can compare. Most stoners agree that the best way to clean glass bong is with a mixture of isopropyl alcohol and water. 
Still, if you prefer to go all natural you can use a mixture of white vinegar and baking soda. While it's not the most pleasant smell, cleaning glass bongs this way is also very effective. 
Glass bong accessories
We've also got a growing selection of glass bong bowls if you're looking to top off your water pipe. 
Cannabowl Flower Bong Bowl – This large glass bong bowl is hand blown from borosilicate glass. The deep bowl makes it great to pass around and is available in both 14mm and 18mm joint sizes. 
Swirl Bong Glass Bowl – With its unique tail handle and mushroom marble embellishment this glass bong bowl pairs beautifully with most style glass bongs. The large handle also makes it easy to grasp without burning your fingers. 
Thick Glass Bowl for Bong – Available in 14 and 18mm, these bong bowl pieces come in a wide array of colors so you can choose the one that matches your glass water bong perfectly.
If you're looking for more smoking accessories beyond bong bowls be sure to check our online headshop for herb grinders, rolling trays, ashtrays and more.
Bong guides & smoke tricks