With many investors turning their attention to top marijuana stocks in recent months, there has been a renewed buzz about the industry. Cannabis stocks have generally experienced exponential growth since October. However, most of these companies are yet to declare profits.
Feature Photo Source: Unsplash
As investors look towards profitability and sustained growth, cannabis companies will have to consciously work towards their stabilizing their balance sheets. Read on as we explore the top cannabis stocks that are expected to become profitable in 2021. This is based on their rally and business growth in the most recent quarter.
5 Top Marijuana stocks to watch for in 2021
Here are five cannabis stocks that Wall Street experts expect to turn a corner and become profitable in 2021.
Planet 13 Holdings (OTC:PLNH.F)
Planet 13 has a lot of positives going for it at the moment and is expected to record recurring profits in 2021. This unique dispensary stock stands out from others with the experience and selection it offers customers. Planet 13's 112,000 square foot superstore is located in the Las Vegas Strip in Nevada and is packed with an events center, restaurant, customer-facing processing station, and so much more. This has made the superstore a great hit for cannabis enthusiasts, averaging tickets of $100.
Another reason why this top marijuana stock is set to make record profits in 2021 is its plan to open a second store spanning 40,000 square feet in Santa Ana, California by 2021. Interestingly, this second store will be located only 10 minutes from Disneyland.
Green Thumb Industries (OTC:GTBIF)
Green Thumb Industries is a vertically integrated U.S. Multi-state Operator (MSO). By focusing its operations on Illinois, Nevada, and New Jersey, the company is on track to record at least $1 billion in annual sales by 2022.
Also, Green Thumb's product mix has helped to push its revenue through the roof. For instance, two-thirds of its revenue is derived from its high margin products. By continuing this multistate approach and pushing it high-price/high-margin derivatives, Green Thumb Industries is set to record sustained profits by 2021.
Innovative Industrial Properties (NYSE:IIPR)
Trading on the New York Stock Exchange, Innovative Industrial Properties is perhaps one of the most profitable (on a per-share basis) top marijuana stocks to watch for 2021. This cannabis-focused real estate investment trust (REIT) essentially acquires cultivation and processing assets for medical marijuana and leases them out.
IIP currently has 99% of its 5.2 million square feet of space rented out and benefits from annual hikes in rent to stay ahead of inflation. As of November 2020, the company also owned 64 properties in 16 states and benefits immensely from long term rental income. IIP's business model as well as its sale-leaseback program are some of the main reasons why experts expect it to remain profitable in 2021.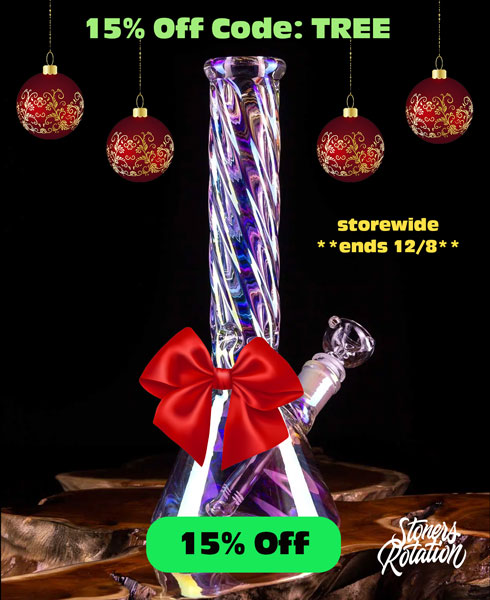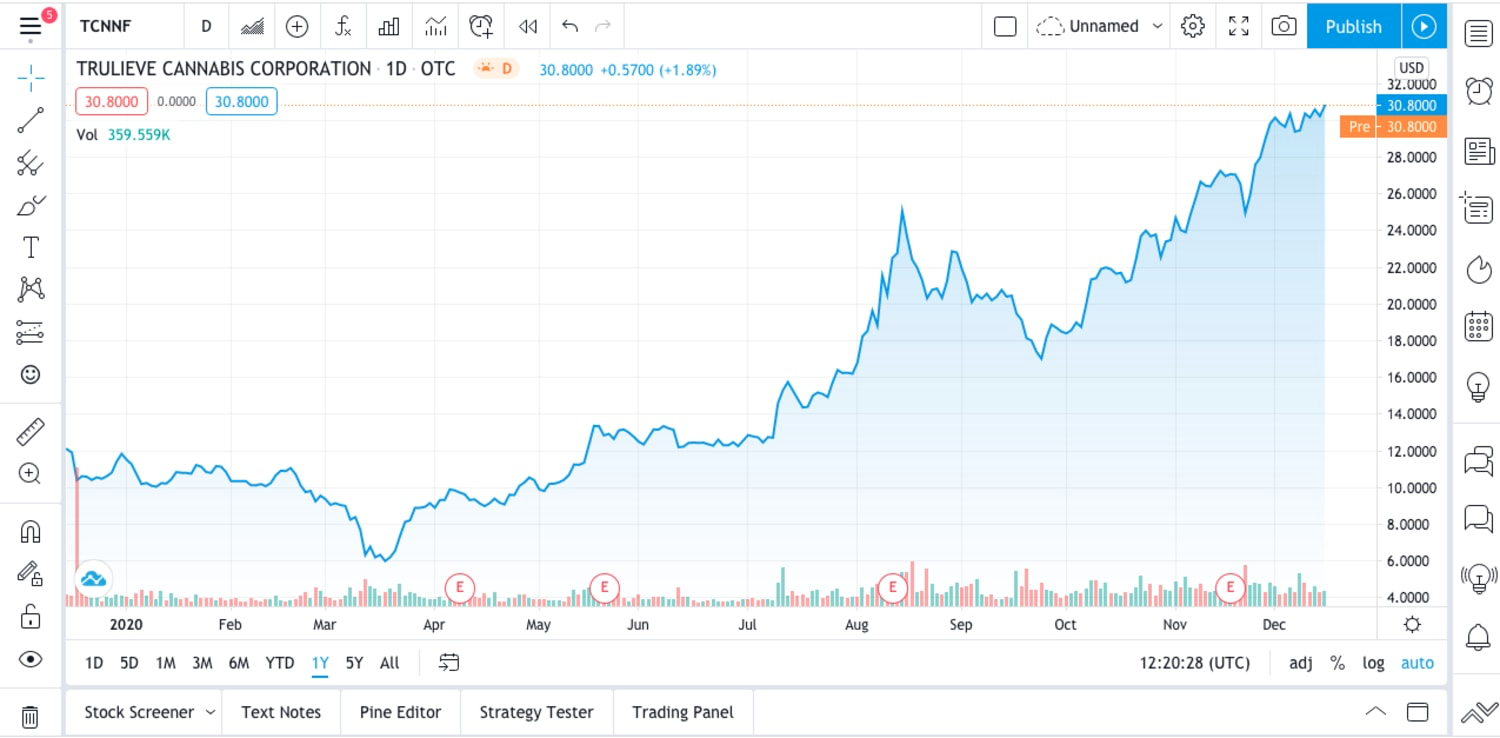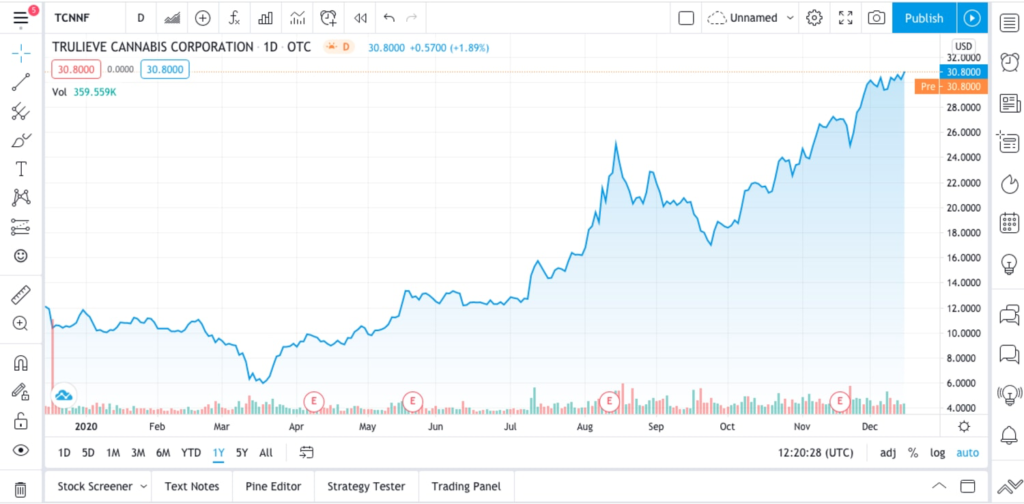 Trulieve Cannabis (OTC:TCNNF)
Trulieve Cannabis is another U.S. multistate operator to watch out for in 2021. It is currently one of the most nominally profitable cannabis stocks on the planet and is backed by Wall Street experts to maintain healthy profits in 2021.
It is Trulieve's focus on Florida that continues to fuel its performance. Out of its 73 operational dispensaries nationwide, 68 of them are located in Florida where medical marijuana is legalized. It also has around 50% of the state's market share and has established itself as a very reputable brand.
Furthermore, if plans to put cannabis legalization amendment for recreational marijuana on the ballot by 2022 yield the desired result, Trulieve will be in position to either grow further within Florida or even expand into other states.
Curaleaf Holdings (OTC:CURLF)
Curaleaf Holdings has been projected by Wall Street experts to become the first cannabis stock to reach $1 billion in annual sales revenue by 2021. Curaleaf's 130 dispensary licenses, 96 operational dispensaries, and its acquisition of the Select brand earlier this year are some of the reasons why experts believe in its profitability by 2021.
Fun fact: Curaleaf's presence in 23 states and its 33 locations in Florida makes it Trulieve's number one competitor.
Closing thoughts
2020 has been an interesting year for top marijuana stocks globally but 2021 could be even more exciting. A potential change in federal laws governing cannabis could also be a game-changer for cannabis stocks in 2021. This list only offers highlights of marijuana stocks that are projected to turn a profit in 2021. You can click here for a list of penny stocks worth your consideration as the year closes.