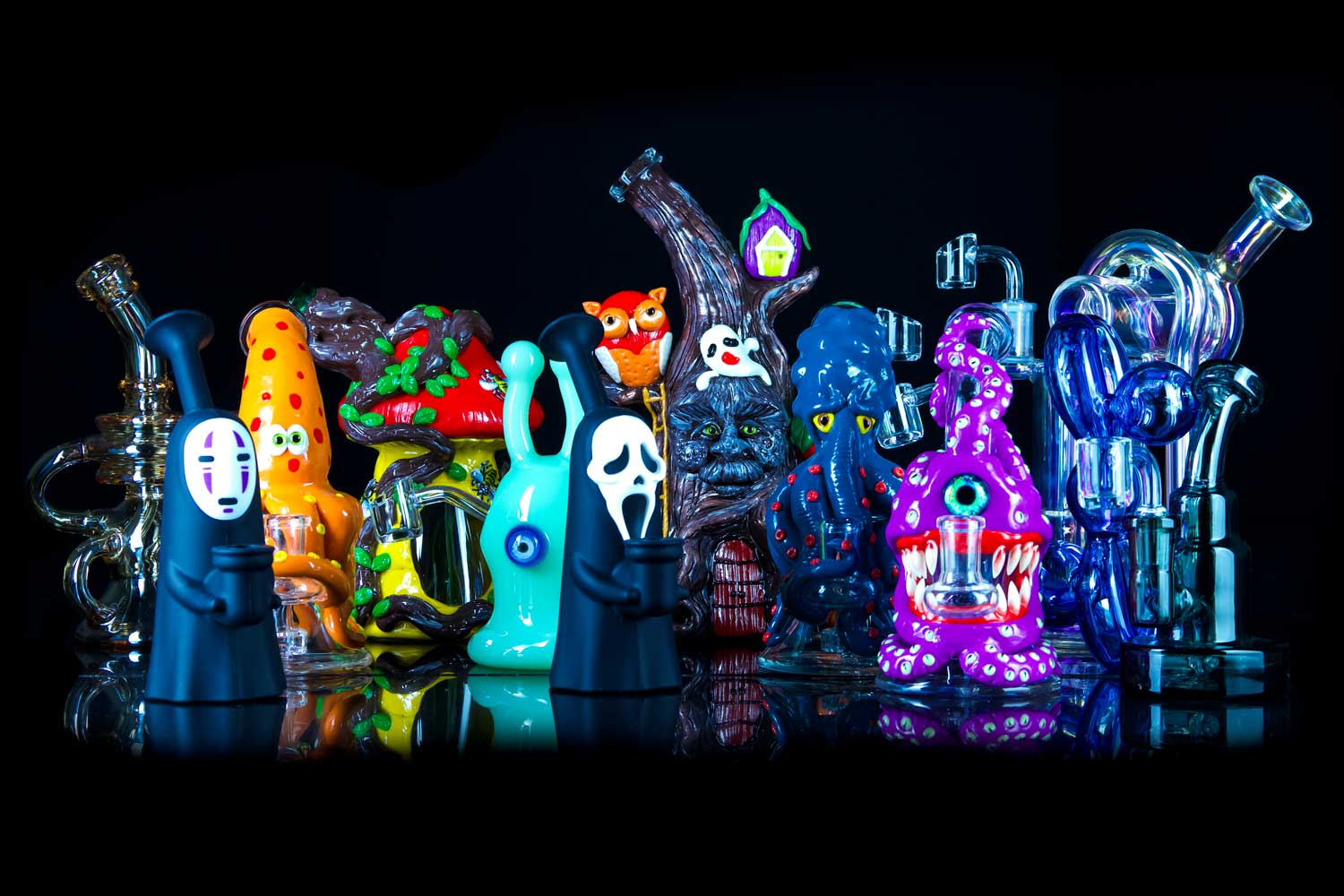 A unique dab rig can elevate the ambience instantly with its unusual shape, fuming and features. A unique rig stands out. It has a character and personality all its own. It challenges conventional beauty standards to create something new and bold.
Unique Dab Rigs for Sale
At Stoners Rotation we strive to continually refine our collection of the most unique dab rigs for sale online. Below we've selected our top picks for dabbers who like to break with convention.
Fab Egg Dab Rig – You can't get more unique than a fab egg rig. This unique dab rig made from thick borosilicate glass features swiss percs throughout which produce a crazy cool effect as you take a rip. Paired with the puck perc, you'll experience silky smooth hits like never before.
Unique Incycler Rig – A crazy unique dab rig, this piece features two chambers to provide enhanced diffusion and a smooth draw. The unusual coloring and fuming makes this piece that much more unique while the looping recycler arms keep your vapor from ever going stale.
Mini Heady Recycler Dab Rig – Uniquely colored this piece is a sight to behold with its unusual, modern aesthetic. The variety of stacked shapes further heightens the beauty of the light fuming around the charming downstem and neck. Paired with its showerhead perc for cool, diffused hits you'll love ripping from this unique oil rig.
Mini Mushroom Rig – This unique dab rig for sale is an absolute beaut. The clear glass against the red mushroom caps give it a striking contrast. It also features an unusual marble with a holographic mushroom trapped inside, giving it an added dimension to its beauty.
Glass Watermelon Rig – Want a crazy unique rig that makes it feel like it's summer all the time? These stacked watermelons will be sure to deliver the juicy rips you crave. Hand painted and blown from borosilicate glass this unique oil rig measures eight inches tall. The unique take on the beaker base also makes it much more stable than other styles.
No Face Silicone Rig – This unique silicone rig featuring the notorious No Face will have you floating on a dank cloud in no time. Completely made from food-grade silicone, this is a highly portable and travel-friendly piece so you can float wherever you please. Standing just six inches tall, the thick quartz banger makes it look even smaller.
Rainbow Recycler Rig – Blown from rainbow borosilicate glass, this unique dab rig for sale has a sensual shape and captivating coloring all its own. You'll especially love taking hits from this baby with its donut perc at the center. It's also a slightly larger rig measuring ten inches tall but that's what makes its recycler arms so elegant as they gently loop back into the base.
Unique Dabbing Accessories
If you are looking to complete your setup with some unique dabbing accessories be sure to check out our carb caps, dab tools and wax containers.