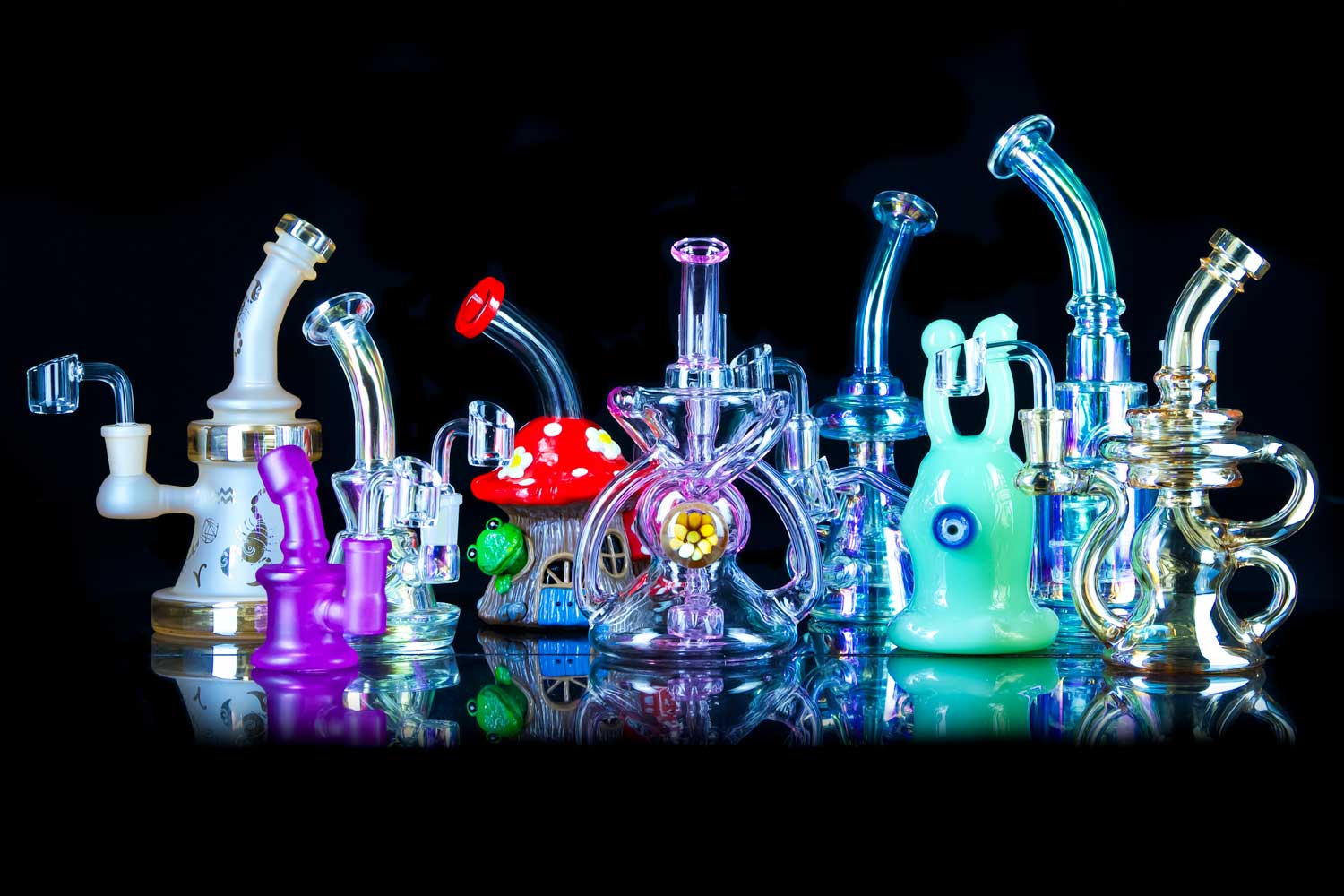 Glass dab rigs are often preferred for their second to none flavor and beautifully blown, intricate designs. They are commonly made from borosilicate glass because of the clean flavor they deliver. There are many different styles but rigs made from glass tend to offer the most variety, artistry and beauty. 
Since they are blown from glass, you can adorn them with unique heady glass embellishments, fume them to have a certain pearlescence or blend the boundaries of functionality and design altogether, as in the case of recycler rigs. 
Since glass dab rigs offer the cleanest flavor they are often preferred over silicone and even quartz. Almost always made from thick borosilicate glass, they are also extremely strong. Although glass does not clean as easily as silicone does, the material is more versatile. It can accommodate intricate glass percs, recycler arms and heady glass details.  
Best Glass Dab Rigs
Whether you are looking for something cheap, thick or heady, we've got a wide array of styles and sizes so you can find the perfect match. Below are our top picks so perhaps you're looking at your new daily driver! 
Heady Glass Dab Rigs
First, we'll start off with our heady glass dab rigs made from thick borosilicate glass, blown in ways that defy the limits of beauty. 
Mini Heady Recycler Dab Rig – This mini glass dab rig measuring 6.5 inches is an absolute beaut. Unusual in every way, this piece builds impeccable functionality into its masterful structure. Made from colored borosilicate, this heady glass dab rig features four recycler arms, a showerhead perc for smooth diffusion and the most unique mouthpiece you've ever seen. 
Heady Incycler Dab Rig – Another heady piece, the two chambers of this incycler dab rig in combination with its three recycler arms, cools vapor for silky smooth rips every time.   
Silver Fumed Recycler Dab Rig – Another stunner, this glass dab rig in sunshine yellow shines beautifully under the light. The fixed downstem elegantly threads through the four recycler arms, looping back into the main chamber for a unique look all its own. And between the multiple recycler arms and diffused downstem you'll absolutely love how this thing chugs! 
Mini Mushroom Marble Dab Rig – This mini glass dab rig hits like a dream and will transport you to a forest of red capped mushrooms after just one dab! Measuring a mere five inches, this baby packs a lot of functionality and personality in a pint sized package. The design is fully integrated with the larger of the two heady glass mushrooms caps forming the dome nail. The best accent by far though is the heady glass mushroom marble detailing. This piece will leave you mesmerized as soon soon as you hit it! 
Juicy Pink Watermelon Dab Rig – You'll be enjoying back to back juicy dab rigs with this baby by your side! Blown from borosilicate glass and entirely hand painted, this cute glass dab rig will make you feel like it's summer all year round. 
Thick Glass Dab Rigs
If you like your glass thick, you'll love the feel, weight and flavor these pieces deliver.
Fab Egg Rig Set – This thick glass dab rig with its swiss percs produces an awesome visual effect. The clear glass gives you the ultimate viewing window into the whirlpool of diffusion. Measuring 9.5 inches, this piece is all around thick. The sturdy base gives the piece enhanced balance so it's much less likely to tip over, while the curved neck acts as a natural splashguard. 
Iridescent Recycler Dab Rig – From its unique triangular base to its four sweeping recycler arms and iridescent fuming, this thick glass dab rig is at the crossroads of beauty and function. The showerhead perc delivers optimal filtration while the condensed neck and flared mouthpiece allow you to extract the flavor of your concentrates, like the tongue of a hummingbird. 
Jade Recycler Dab Rig – Thick, stacked and curvaceous, the function of this eight inch glass dab rig is on point. The thick jade colored glass gives it a particularly dreamy, calming vibe just looking at it.
Lavender Tornado Recycler Dab Rig – Another beautifully colored piece, this blue lavender dab rig has an air of mystery and magic to it And you can rest assured that the magic is in its amazing functionality, coming from its showerhead perc, triangular chamber and two curvaceous recycler arms. 
Rainbow Recycler Dab Rig – Measuring a sizely ten inches, this glass dab rig features a faded rainbow throughout, making it truly unique. You'll love watching the smoke circulate through this piece, reflecting the entire spectrum. The unusual donut perc ties the piece together, offering ideal diffusion for cool hits as soon as the vapor reaches your lips. 
Thick Rick & Morty Dab Rig – This thick glass dab rig measuring six inches features our favorite duo! Its cylindrical structure is perfectly balanced by the sturdy rounded base so you can rest assured that it won't tip over any time soon. The compact chamber delivers powerfully flavorful hits so prepare yourself mentally for interdimensional travel!
Cheap Glass Dab Rigs
These cheap glass dab rigs under $100 are extremely affordable, portable and travel-friendly pieces given their small size. 
Cute Mini Dab Rig – This cute mini rig standing just three inches tall is made from thick pyrex glass and will deliver the best flavor of your collection, no doubt about it. Its small size makes it extremely portable so you can take the sesh to the rooftop, that one lookout spot or on your next camp trip.
Quartz Mini Dab Rig – Another cheap glass dab rig, this piece made of 100% quartz and measuring five inches also features a curved neck to reduce splashback. The larger chamber of this mini glass dab rig lets you take in a bigger hit than the last, as well . 
Heady Mini Dab Rig with Implosion Marble – While a bit pricier than the first two, this mini glass dab rig is well worth it, delivering amazing flavor in a beautiful package. Made from thick borosilicate glass, this piece comes in pink and teal and features a unique heady glass marble that shimmers beautifully under the light 
Your Daily Driver
Did you find your new daily driver? If not, we suggest you check out our collection of bongs as well since many of them also work well as a dab rig .Simply change out the banger and you're good to go! And to complete your setup be sure to check out all of our dabbing accessories which include dab tools, wax containers, carb caps and bangers.