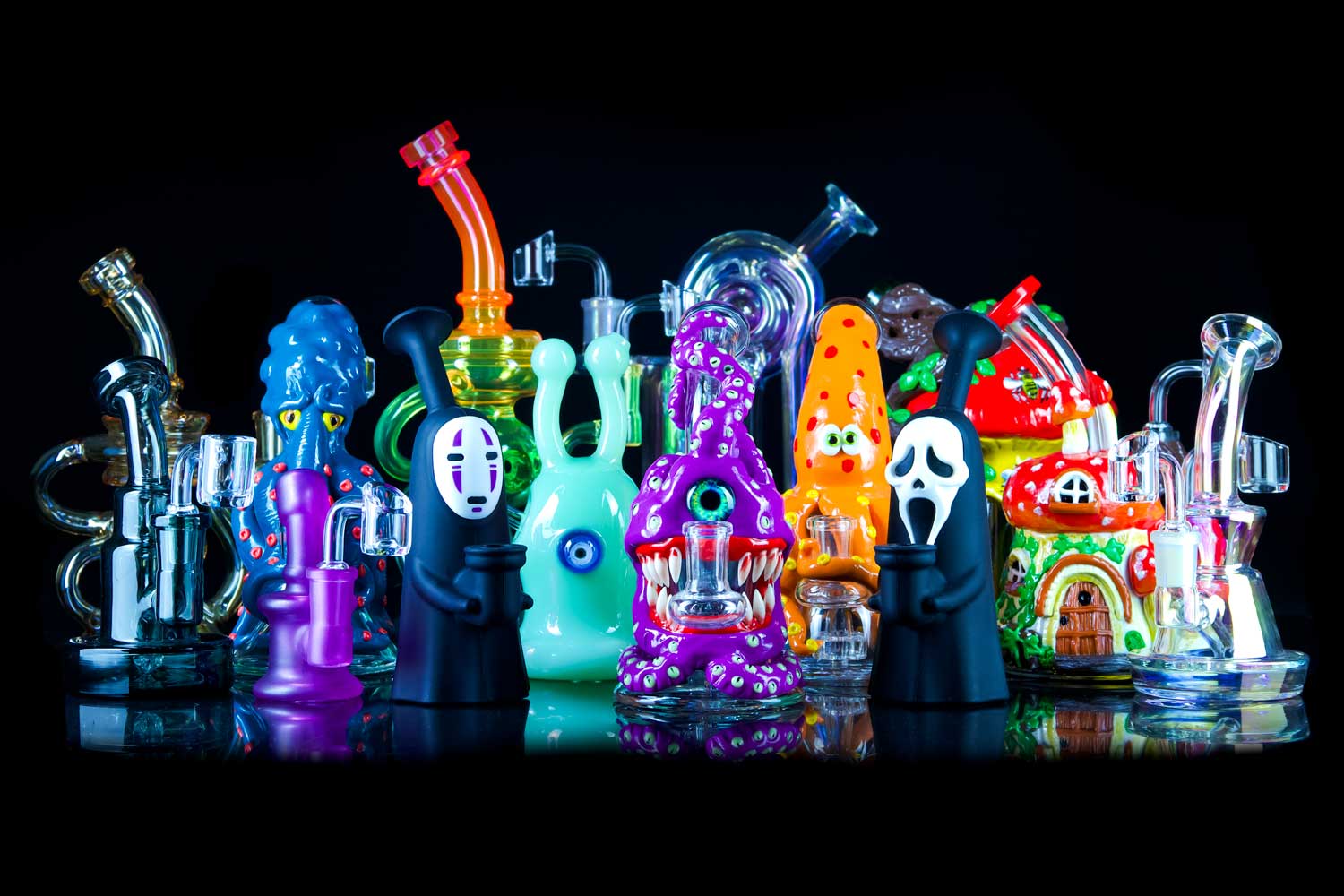 A cool dab rig often has one or more of these elements: heady glass, iridescent fuming, an entertaining visual effect or multiple looping recycler arms. It's a piece that gets you tons of compliments even before your friends have taken a dab.
It often has a unique design that makes it stand out from the rest. Perhaps it's a piece made from heady glass or uniquely blown with mushroom caps. Maybe, the design is perfectly integrated with its function with mastery in thought, a new approach entirely.
It's something that awakens the senses. Perhaps it has a cool, mesmerizing visual effect that plunges you into the present moment in awe like a tornado rig. Or maybe it's the movement of your smoke as it travels through its many curvaceous recycler arms that gets you.
Or perhaps you're a very visual person and pieces that glow in the dark or have an iridescent finish, leave you spellbound. So what makes a dab rig cool for you?
Cool Dab Rigs for Sale
If you are looking for a cool dab rig with amazing style matched by impeccable function, you've come to the right place. Stoners Rotation is an online headshop specialized in delivering bongs and rigs discreetly to your doorstep. Below we've handpicked our best cool dab rigs for sale, most of which are under $100.
Heady Incycler Dab Rig – The multiple chambers of this incycler rig make this a beautifully functional piece, delivering optimal diffusion together with its puck perc at the base. Along with the chambers, the three recycler arms produce a cool visual effect that further elevates the experience of taking a dab. The silvery iridescent fuming of this cool rig only heightens the effect by drawing your eye from the main chamber up the neck of the bong.
Fab Egg Rig Set – Also featuring a puck percolator at the base the unique rounded shape of this fab egg rig immediately sets it apart from other styles. Aside from its beautifully shaped thick glass, you'll love the trippy visual effect it produces as the vapor and water travel around the swiss percs before the hit reaches your lips. 
Iridescent Recycler Rig – If you get lost in subtle changes and shifts in color, this cool dab rig under $100 is a feast for the eyes. Made with a gorgeous silvery iridescent fuming, its four recycler arms and angular triangular base only elevate the effect, bringing out the full spectrum of the rainbow. 
Mini Heady Recycler Dab Rig – Another beautifully fumed piece, this cool rig is a modern work of art with its varied stacked shapes and bold splashes of color throughout. And its aesthetic beauty is only matched by its impeccable functionality. Its four straight recycler arms and showerhead perc offer ideal diffusion, and fresh flavorful hits within the body of its small, artistic silhouette.
Mini Mushroom Dab Rig – This cool dab rig under $100 featuring two hand blown mushroom caps blends art and function seamlessly. The larger mushroom forms the dome nail while the other one sprouts out from the base naturally. As the final touch, this piece has a heady glass marble with a holographic mushroom within that you'll love looking at while on cloud nine.
No Face Mini Silicone Dab Rig – Perhaps you travel far and wide and you need something that can handle the bumps inherent to the journey. And if you happen to also love anime, this No Face inspired dab rig will have you head over dab for this little guy. This mini silicone dab rig measuring a mere six inches is almost entirely cloaked in black. This cool rig pairs beautifully with its thick quartz banger. It's a piece ready for any adventure that will leave you floating in No Face fashion. 
Rainbow Recycler Dab Rig – A beautiful rainbow of color, this cool dab rig for sale is made from 5mm thick borosilicate glass. The silhouette of its flared base, multiple recycler arms and long, curved neck only heighten the beauty of the kaleidoscope that is the rainbow rig.    
Silver Fumed Recycler Dab Rig – This sunny recycler rig is a breath of fresh air and terpy vapor. Beautifully crafted from borosilicate glass, its fixed downstem threads elegantly through its center. You'll positively love how this piece shines under the light, bringing out the many shades of yellow to brighten up your day.
A New Kind of Dope
Having a particularly cool dab rig in your collection can elevate the sesh in new ways. Put simply, if you love your piece dearly, you'll take better care of it and get good use out of it. The best part about cool rigs is that they blend beauty in function in new and mysterious ways and are bound to leave you mesmerized especially after a nice terpy dab.