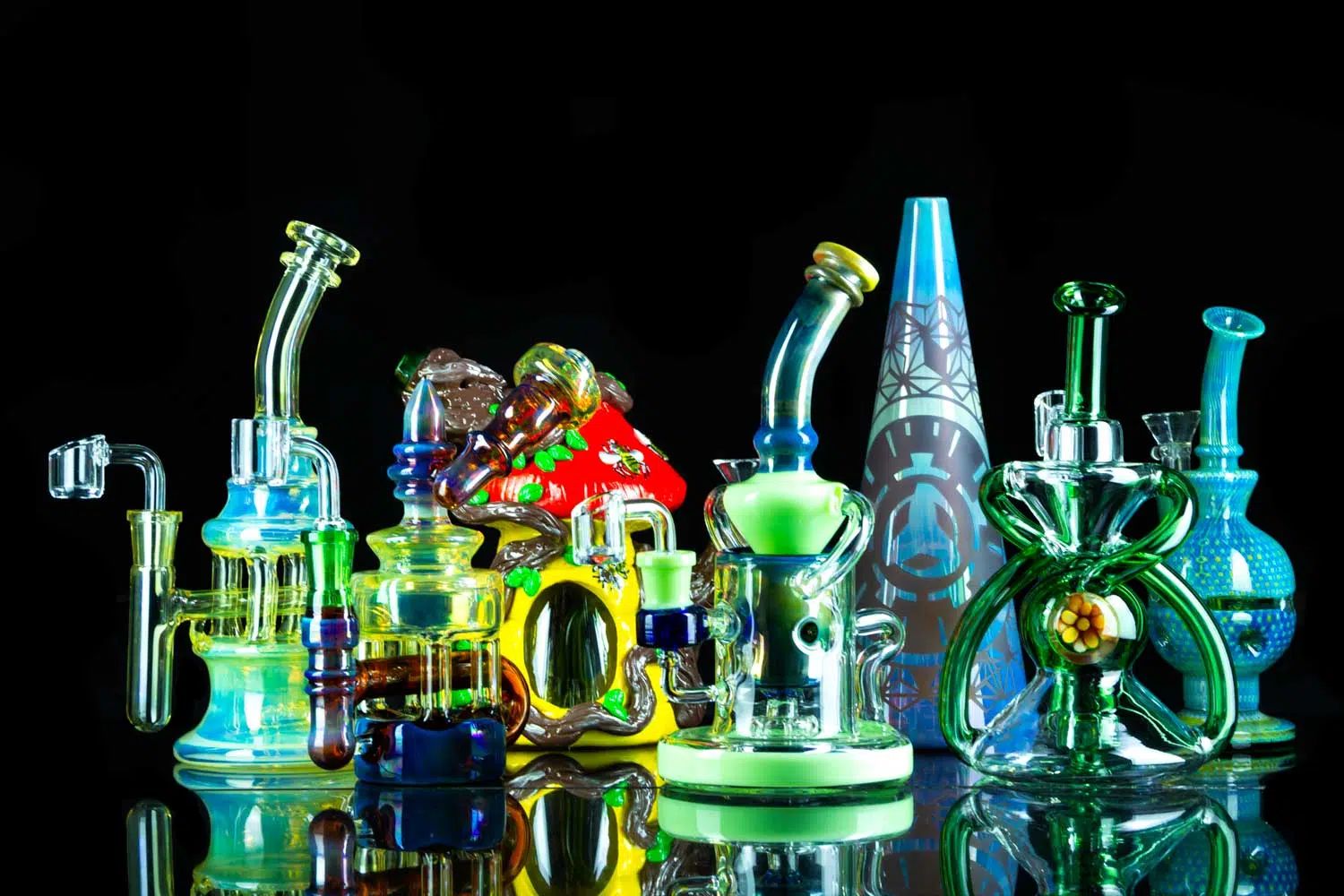 Heady dab rigs are works of art, skillfully blown using creative techniques to design a piece with fuming, marbles, gemstones and other elements that make it truly unique. Heady glass rigs tend to be extremely pricey, costing well into the thousands if not tens of thousands.
But here at Stoners Rotation, we strive to offer heady rigs that are creative masterpieces in their own right that won't break the bank. Most of our heady glass pieces are under $100 so you can spend more on your favorite concentrates instead.
We believe everyone has a right to tap that glass: thick, gorgeous and positively mesmerizing.
Heady Dab Rigs for Sale
We are continuously expanding our collections of dab rigs and that extends to heady glass. Below are our top heady dab rigs for sale, including recyclers, min rigs and cheap rigs under $100.
Heady Incycler Dab Rig – This heady recycler dab rig rips like a dream. With its three recycler arms, showerhead percolator and multiple chambers, it delivers impeccable function only matched by the beauty of the glass. Thick, curvaceous and beautifully shaped, this heady glass dab rig has a pearlescent fuming and splashes of bright green throughout. The large, sturdy base gives it ultimate stability so you can take dab after dab without fear of it falling into the great abyss of the carpet.
Mini Heady Recycler Dab Rig – One of our favorite pieces, this mini heady dab rig is a modern masterpiece beautifully shaped and fumed. Its stacked chambers, four straight recycler arms and downstem that elegantly threads through the middle, only heighten its unique quality. And the best part is that this cheap heady dab rig under $100 is high quality without the high price tag. 
Mini Mushroom Dab Rig – This mini heady dab rig with mushroom cap dome nail is a cute addition to any mushroom lover's collection. The simplicity of the clear base makes the two heady glass red-capped mushroom caps pop even more. And the final touch is the marble embellishment which contains an encased holographic mushroom. 
Silver Fumed Recycler Dab Rig – Heady dab rigs under $100 are few and far between, especially of this caliber. And this heady recycler dab rig is just the sunny addition you need to brighten up your whole collection. 
Mini Heady Dab Rig with Implosion Marble – This cheap heady dab rig features a heady glass marble that looks like a galaxy of stars. Made from thick borosilicate glass, this small heady dab rig is characterized by its tight chamber and long, condensed neck which makes each dab that much more flavorful. Since there is less room for water and air to mix with the smoke, the nuances of your dabs will be brought out like never before too.
The Allure of Heady Glass 
Heady glass has a magnetizing quality about it. You just can't seem to take your eyes off of it. 
And while heady glass rigs may not have as many percolators or features from a functionality standpoint as scientific glass, that's not the point, especially for dab rigs.
With bongs, larger pieces are often more desirable since they offer enhanced filtration power and can accommodate more percs. With rigs, smaller pieces are actually preferred because each dab is more flavorful when condensed into a smaller chamber. 
For this reason, heady rigs are actually more popular than heady bongs because design does not impact the function. If anything it enhances it.