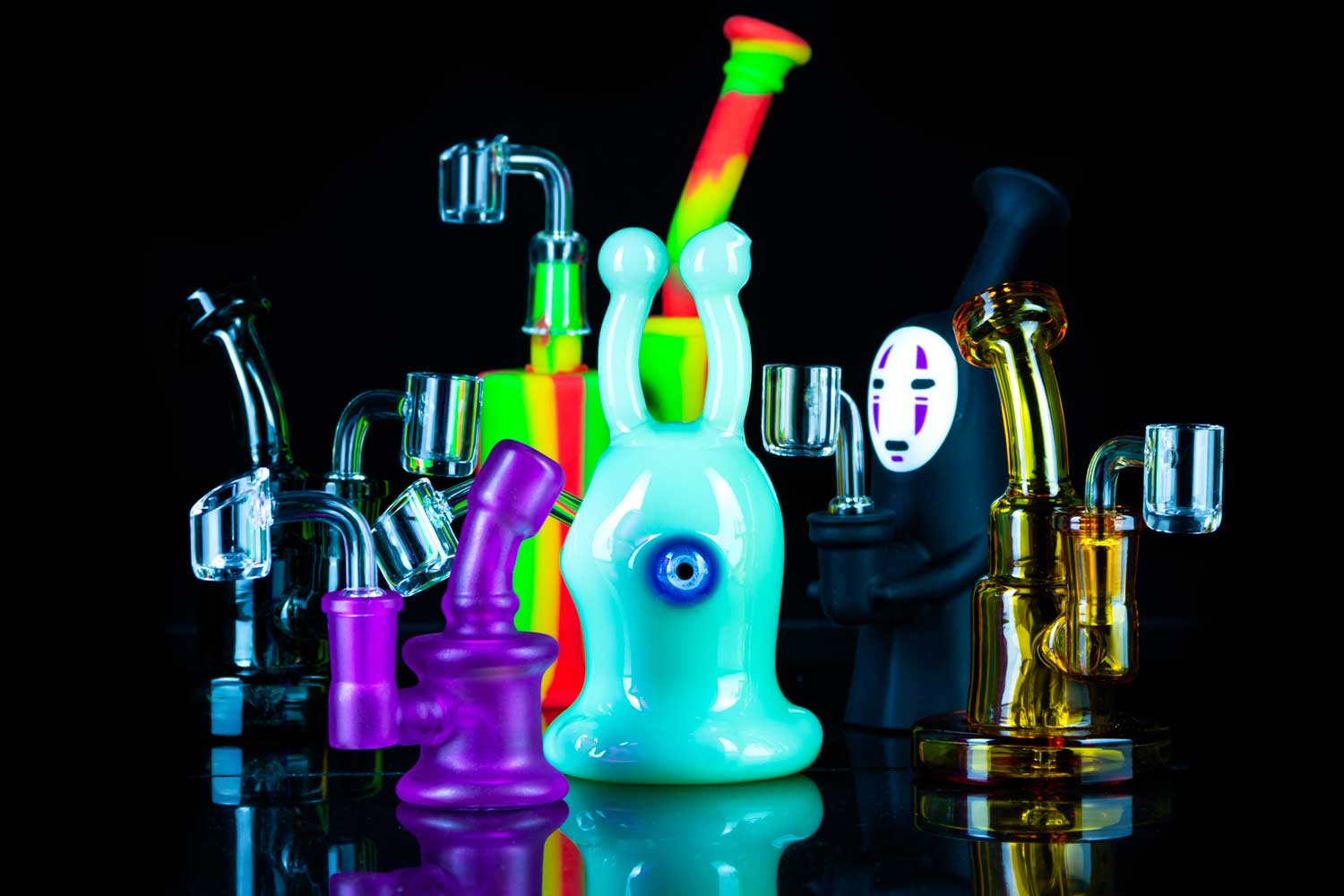 Mini dab rigs are often preferred among dabbing connoisseurs since they condense vapor for a nice juicy dab every time. Mini rigs deliver flavorful, milky hits while minimizing the amount of maintenance. Simply put, their small size has many benefits from producing more potent, terpene-rich vapor to being easier to clean.
They are a particularly popular choice among dabbers because their size makes them discreet. Most pieces can fit comfortably in your bag or backpack since they are so compact.   
Large vs mini dab rigs
Stale vapor is a common problem with larger pieces because the larger chambers thin out the smoke. Mini rigs, on the other hand, have small chambers that maximize the delicate flavor profile of each dab. Their small, compact package also limits overfiltration so each rip is as juicy as the last.
What to consider when buying a mini rig
Here are a few things that you might want to keep in mind when purchasing a mini rig:
Size

– Mini dab rigs measure eight inches or less. However, within mini rigs is a subset of pieces that measure less than four inches called nano rigs. These pieces enhance the flavor even more but don't cool the dab down as much as normal sized mini rigs.  

Portability

– If you're considering a mini rig because of its portability, silicone is a great option. There's simply no better material to withstand falls better than silicone can.

Minimal filtration

– Mini rigs for dabs generally cannot accommodate more than one perc anyway but anyone who tells you that a mini rig provides amazing filtration is missing the point. What makes dabbing great is maximizing the flavor profile and that's what makes mini dab rigs such a great option in the first place. 
Best mini dab rigs for sale
Cheap Mini Dab Rig – This mini rig for dabs costs just $20. Measuring just three inches it heightens the flavor of your favorite concentrates to all time highs. 
10mm Mini Dab Rig – This cheap mini dab rig made of durable quartz has a 10mm female joint. Since the joint is smaller than a traditional 14mm, it condenses the vapor further so each dab is even more potent
Mini Glass Dab Rig with Implosion Marble – This gorgeous mini rig for dabs features a stunning heady glass marble that has specks of glitter throughout. 
Mini Mushroom Dab Rig – This mushroom themed piece features a heady glass mushroom cap dome and a trippy mushy marble embellishment. At five inches tall, this cute mini dab rig packs a lot of flavor, delivering ideal diffusion with its showerhead perc.   
Silicone Mini Dab Rig – This cute No-face themed mini rig for dabs is the perfect portable piece to bring with you on the road. Made from food grade silicone, it's highly durable and a cinch to clean too. It includes a thick thick quartz banger that you can stick inside of his body for safe-keeping too.
Mini Rick and Morty Dab Rig – Made from 5mm thick borosilicate glass this mini glass dab rig features a trippy R&M print that will be sure to make you laugh every time you take a dab. Measuring six inches, it has a thick stable base that counterbalances the weight of the thick quartz banger. 
Smaller is Better
It's clear that mini dab rigs deliver much more than what first meets the eye. Smaller is often better, especially in the case of dabbing where you can experience back-to-back juicy rips.