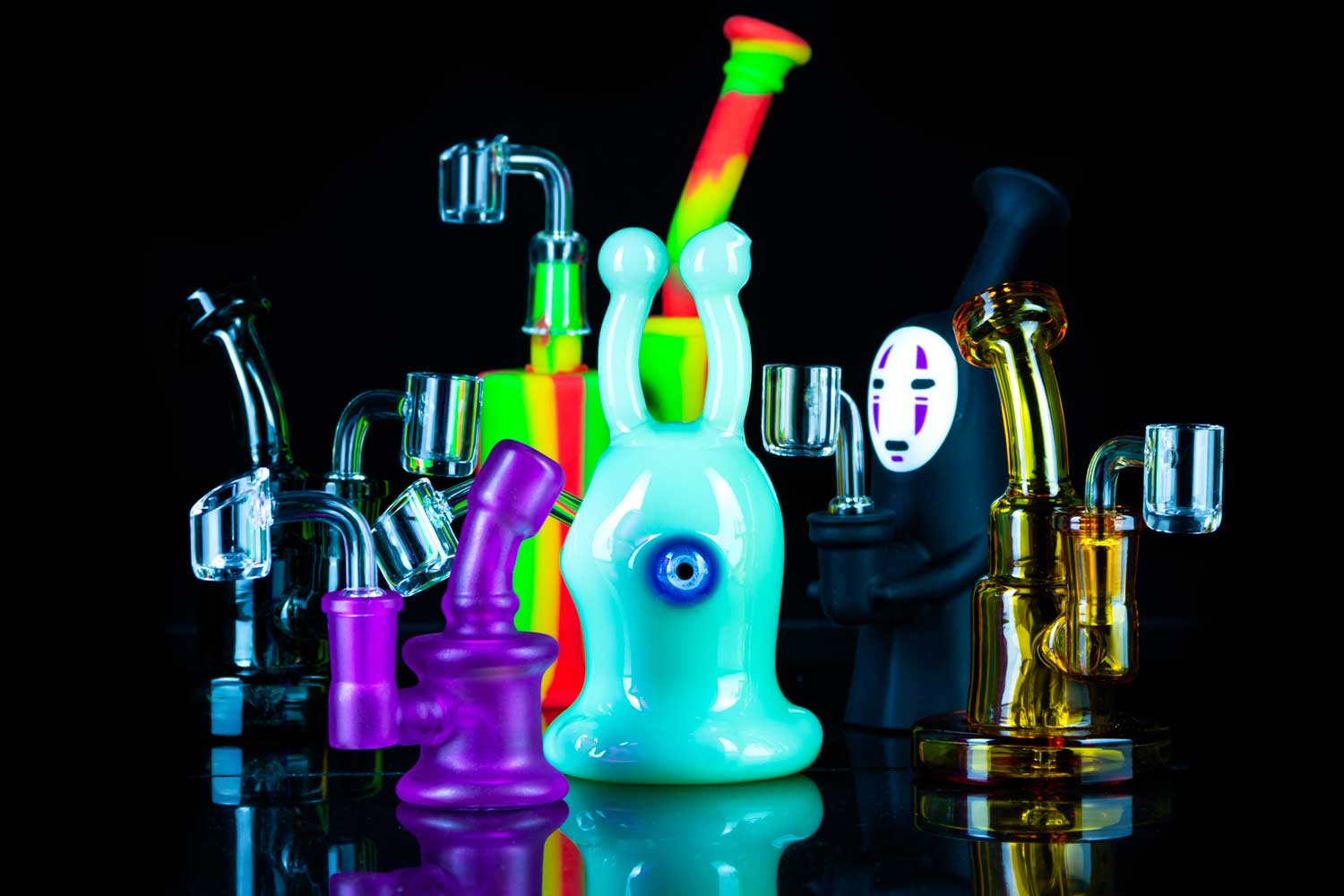 If you've got your head screwed on straight, you know that money doesn't just fall from the sky. But thankfully, a cheap dab rig can go a long way. Naturally, you don't want your hard earned money to go to waste. And most of us can't drop benjamins on a new piece.
We've got other priorities to consider. Some call it being cheap, others frugal but to be honest, more often than not it's just sensible.
This is especially the case if you've only just started to dab. High quality concentrate is expensive on its own, so as you learn more about your tastes and gain more experience you'll be ready to purchase a more expensive dab rig because you'll know what you want; at that point it will be an investment piece.
Smaller is Actually Better
For the time being, a cheap dab rig can be just as good as that expensive rig your buddy got for $200. Needless to say, cheaper rigs tend to be on the smaller side. And frankly, you're better off with a smaller rig anyways. That's because small dab rigs deliver more concentrated vapor. This means it's more potent and flavorful vapor which is what dabbing is all about.
Materials
The best bang for your buck is going with mini rigs made from food grade silicone. However, if you prefer dabbing from glass, consider quartz or pyrex. These materials tend to be slightly cheaper than borosilicate glass. But if you're looking for thick, heavy glass, borosilicate is hands down the best material for dab rigs and bongs, alike.  
Best place to buy cheap dab rigs
Cheap rigs for dabs that don't cut corners on quality are surprisingly hard to come by. In general, you're looking at dropping around $50-100 at least for a quality piece. But if you're resourceful you can find a cheap dab rig with impeccable function that can earn its place as your new daily driver.
Smoke shops often have a more limited selection than what you can find in specialized online headshops. That's why you're probably better off going with an online shop like Stoners Rotation where you can easily compare prices and see the reviews. 
So whether you're just getting a grip on the world of dabbing or simply need a solid piece that doesn't break the bank, we've got a growing selection of cheap dab rigs available online, delivered discreetly to your doorstep.
Cheap dab rigs online  
At Stoners Rotation we have affordable small, mini and nano dab rigs available in borosilicate glass, quartz, pyrex and food grade silicone. You can see our full selection of dab rigs here but we've listed our top picks below.
Cheap dab rigs under $50
Nano Dab Rig – Measuring just three inches, this cheap nano dab rig is cute and packs a punch. Made from heat-resistant pyrex glass this baby packs a lot of flavor in a pint sized package. It's a super portable piece, that's ready for the road, wherever your escapades lead you.
Quartz Mini Dab Rig – Just five inches, this quartz mini dab rig with its fixed diffused downstem, 10mm banger and curved neck will be sure to bring out the full flavor of your favorite concentrates like never before.   
Iridescent Mini Rig – This iridescent mini bong measuring six inches can be easily converted into a dab rig, as long as you've got a banger at the ready. The iridescent finish shines beautifully under different kinds of light so it will mesmerize you from here on out. 
No Face Silicone Mini Dab Rig – Made from food grade silicone this cheap dab rig features Kaonashi, more commonly known as No-Face. It's a cute piece for Spirited Away fans, and comes with thick quartz banger so you'll be floating in No-Face fashion in no time.   
Tie Dye Silicone Dab Rig – This trippy tie dye rig for dabs is a slightly larger piece than the others measuring 8 inches. Still considered a small dab rig, this piece is made from non-stick food grade silicone which makes it super travel-friendly an a cinch to clean. 
Cheap dab rigs under $100
Mini Dab Rig – This cute dab rig measures just seven inches and features a gorgeous heady glass implosion marble. This thick glass dab rig is available in pink and teal.  
Rick and Morty Dab Rig – Available in black and purple, this six inch piece is another cheap dab rig that's made from high quality 5mm thick borosilicate glass. 
Silver Fumed Dab Rig – This heady glass dab rig features a mesmerizing fuming that's even more beautiful in person. Measuring nine inches, this small dab rig features multiple recycler arms and a reclaim catcher so it stays clean, clog-free and looking sparkling new for dabs to come.    
Make Your Own Luck 
Finding a wad of $20's on the ground is a rare occurrence, and should be considered a stroke of luck if anything. While you could put that towards a new rig, it's better to make your own luck. Because what many view as luck is often earned through grit, perseverance and hard work. 
And a dab from a quality yet cheap dab rig arguably tastes sweeter because you aren't ridden with regret for having overspent. You can enjoy your hard earned money on the other parts of your life that make life worth living, like exploring new concentrates or gourmet gastronomy for the munchies.  
Cannabis & Dabbing Connoisseur
If you're looking to learn more about dabbing and Mary Jane in general, be sure to check out our cannabis blog. We've got guides on the Difference between Live Resin and Distillate, on How to use a Nectar Collector and How to Clean a Dab Rig Easily. 
We've also got some thought provoking articles on the science behind cannabis like if Weed Makes you Dream More, If Smoking Weed Makes Strep Throat Worse or and even Why Your Poop Smells like Weed. Believe me, we've seen it all. 
At the very least, you'll get some answers to your deepest questions about weed. And perhaps it will even spark up some pretty interesting conversations with those lucky enough to be in your rotation.