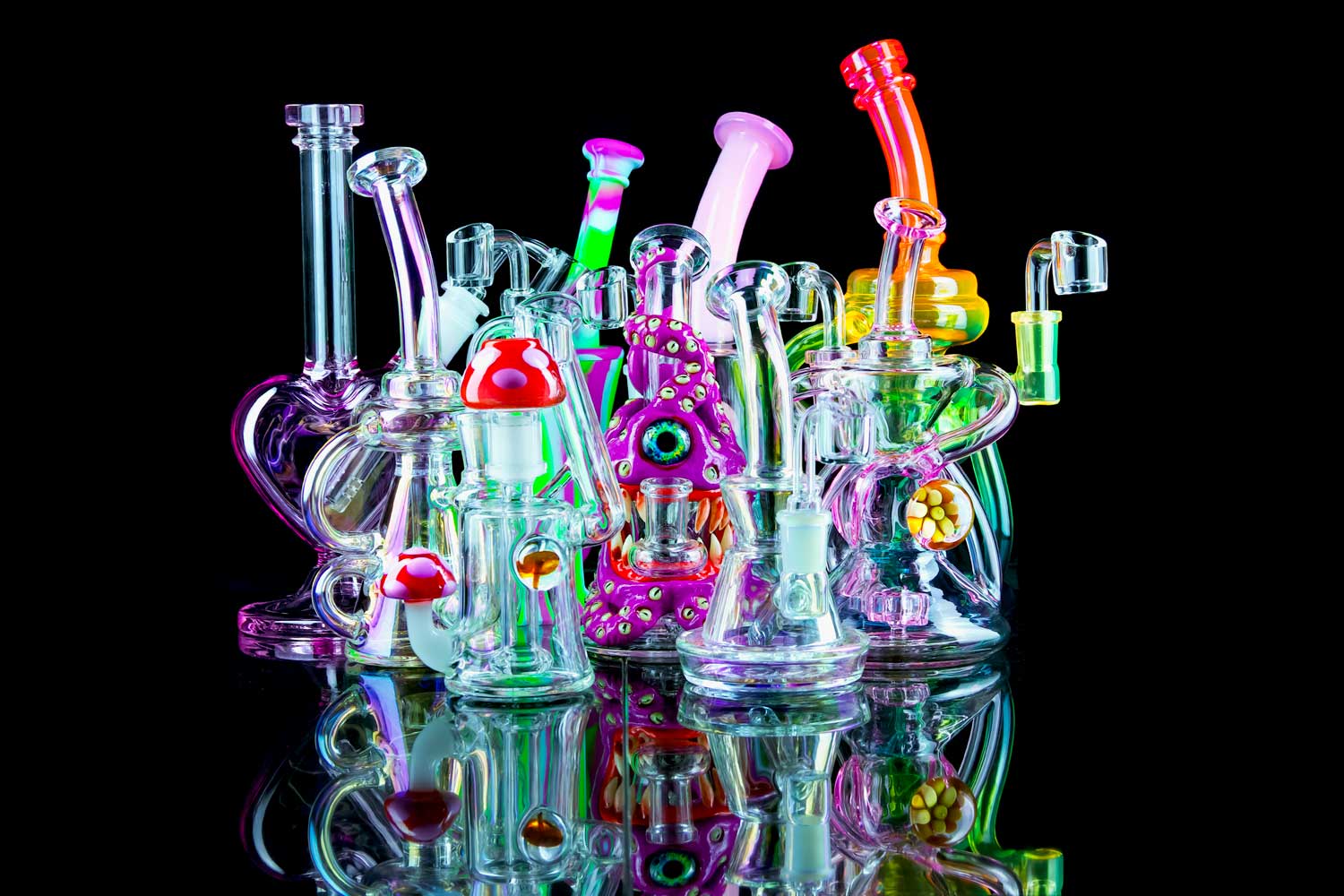 Cute is in the eye of the beholder but with cute dab rigs that normally means it's a playful pint-sized piece with tons of character. Cute of course is subjective but in relation to rigs is often characterized by small size, feminine hues and fun shapes.   
Perhaps for you that's a mini dab rig that measures a mere three inches. Or maybe it's a pretty pink rig that exudes warmth and joy. Maybe the epitome of cute is a piece at the crossroads of elegance and impeccable function with many curvaceous recycler arms. Or even better: a piece with a distinctive shape like a pineapple or watermelon bringing a whole new meaning to juicy. 
Best Cute Dab Rigs
Whatever, cute means to you, we are constantly adding new pieces to our collection with the mission of achieving new highs for cuteness. That's why we've selected the best cute dab rigs in our online headshop so you can get straight to it. 
We primarily feature mini rigs, uniquely shaped rigs, colorful rigs and elegant rigs made with grace and style top of mind. And if you are working within a limited budget, we have cute dab rigs under $50 so you can spend more on your favorite concentrates. We also have more elaborate, heady pieces if you are looking to make an investment.    
Cute Mini Dab Rig – This cheap cute dab rig under $20 measures just 3.3 inches. Made from thick pyrex glass this nano rig will be the most flavorful of all your rigs and surely become your new daily driver. Its size also makes it super easy to transport and since it's made of pyrex glass it's significantly less prone to damage. The angled, condensed neck acts as a splashguard letting you extract the most flavor from each dab. 
Heady Mini Dab Rig with Implosion Marble – Made from thick borosilicate glass, this cute girly dab rig comes in a soft pink or teal. It features a bent, condensed neck and flared mouthpiece for comfortable rips, packed with flavor. But what really gives this mini dab rig a personality all its own is its heady glass implosion marble which shimmers under the light. 
Textured Pineapple Dab Rig – This cute girly dab rig has an amazing realistic pineapple texture so you'll be taking juicy dabs in no time. The 4mm thick borosilicate glass and beaker base gives this piece enhanced stability while the flared mouthpiece makes each dab as pleasurable as the last.  
Mini Mushroom Dab Rig – This is one of those truly unique dab rigs and our favorite piece. It features two hand blown mushroom caps, one forming the glass dome nail and the other emerging from the base. Within the base is a showerhead percolator which offers ideal diffusion for a rig of this size. There's also a mesmerizing heady glass mushroom marble that is bound to trip you out after you look at it more closely. This is simply one of those mega cute mini dab rigs that gives off good energy and makes you feel a little closer to nature, even if you can't always escape to the forest, mountains or lakes as much as you'd like. 
Watermelon Dab Rig – This cute girly dab rig is so juicy you'll just have to take a rip out of it. And the unique stacked watermelon shape lets you take bigger rips effortlessly. Painted by hand, this small dab rig measuring eight inches will become the centerpiece of your coffee table and make you feel like it's summer even when it's snowing outside. 
Iridescent Recycler Dab Rig – This gorgeous rig with its iridescent finish, triangular base and multiple recycler arms could be easily confused with a modern work of art. Topped off with a condensed neck and flared mouthpiece, you'll love taking rips from the thick glass because this thing chugs! 
No Face Silicone Dab Rig –  If you are working within a defined budget this cheap cute dab rig will be perfect for you. Made from food-grade silicone it's also highly portable. So once you're ready to pack up, you can just stick the thick quartz banger inside the base. And the best part is that this piece was inspired by the beloved No-Face so rest assured after one rip you'll be floating too. 
Jade Recycler Dab Rig – This thick curvaceous dab rig comes in a deeply calming teal color that will somehow find a way to bring you back to nature just looking at it. Measuring eight inches tall, the neck of this cute rig gently curves and the mouthpiece flares out. 
Lavender Tornado Recycler Dab Rig – Featuring a showerhead perc for endless smooth dabs, this cute girly dab rig comes in a clear lavender color that instantly sets your mind at ease. All around thick, the sturdy triangular base also gives it enhanced balance and stability. 
Rainbow Recycler Dab Rig – This rainbow pink dab rig is a slightly larger piece than most of the dab bongs featured in our collection, measuring a sizely ten inches. The unique rainbow coloring and donut perc set this piece apart and give it energizing, trippy and cheerful vibes. 
Mini Heady Recycler Dab Rig – This work of art is a particularly cute rig, measuring just 6.5 inches tall. And this mini dab rig seems to have it all, in spite of its itty bitty size. Featuring four recycler arms, a showerhead percolator and iridescent silver fuming, this is one of our favorite rigs no doubt. 
Quartz Mini Dab Rig – If you want to get the most bang for your buck consider this cheap cute dab rig measuring just five inches and made from all quartz. It's simple yet highly efficient and there's something cool about hitting from quartz over glass. Just take extra special care when cleaning out the downstem since it's fixed. 
Cute Rigs and Flavorful Rips
Since cute dab rigs are generally on the smaller side, your vapor is naturally more dense. As a result, your concentrates will be at the peak of their flavor. You'll taste the nuances of your strains like never before. It will be a whole other experience entirely, especially as you contemplate its elegance, beauty and absolute cuteness.