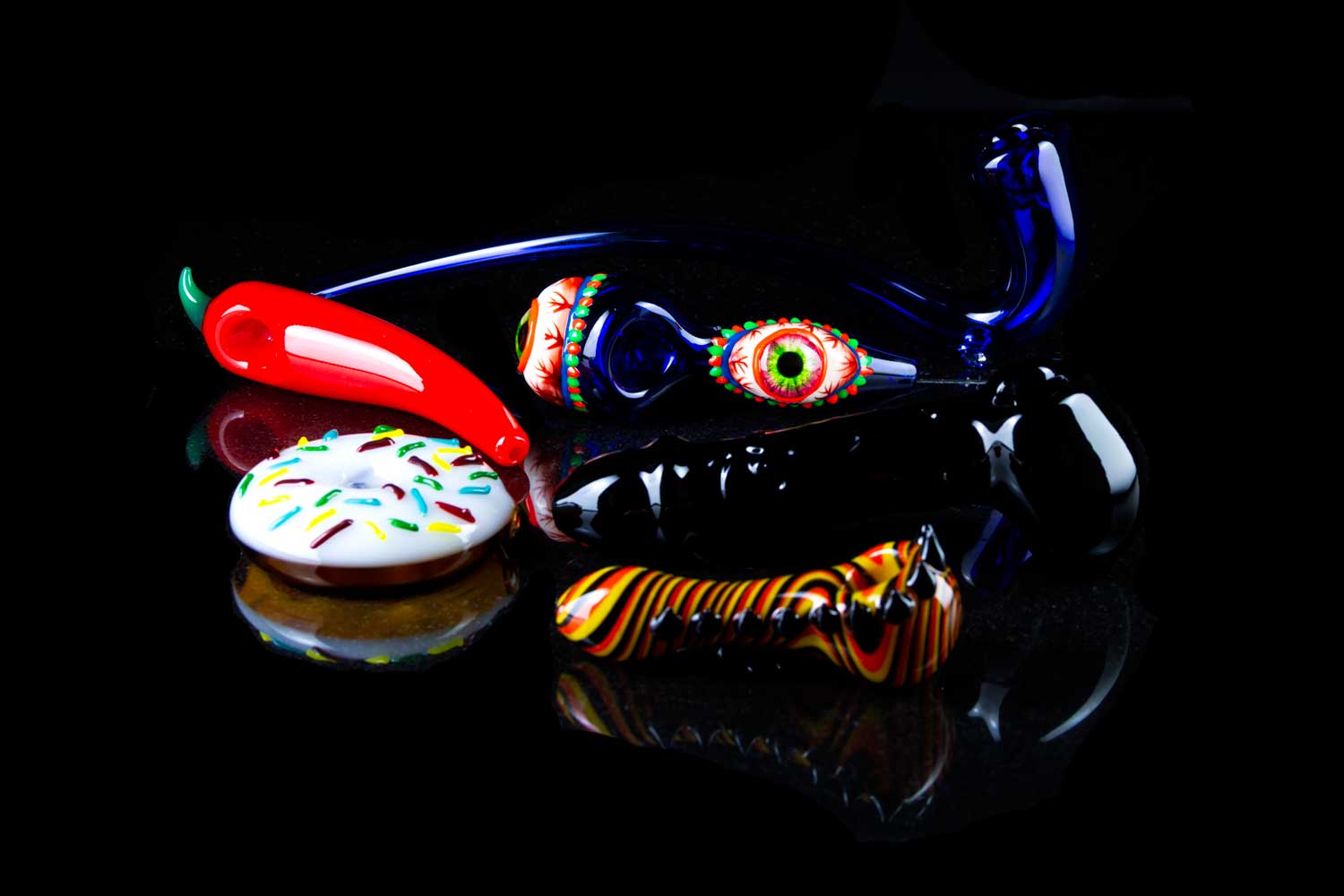 In this day and age, it seems as though there is little mystery left. But then you remember you have a unique glass pipe that's never faltered to elevate you to new highs. A uniquely blown glass pipe has the potential to surprise, take the center stage and even enlighten.
It's a statement piece that draws you in through its unique fuming, coloring and texture that redefine the simple hand pipe. Although difficult to define what truly makes a glass pipe unique, below is our best effort.
Rare Gems
Perhaps it's a glass pipe shaped like a red-hot chili pepper, a veiny penis or an itty bitty peach. Cultivating rare gems in a world of simple one hitters, chillums or spoons makes the smoke sesh that much more special.
Present Moment
Whether it be through its profound craftsmanship, beauty or sheer humor, a unique glass pipe elevates the ritual of smoking, infusing an eccentric element that often brings you back to the present moment with newfound clarity and joy. 
Centerpiece
A unique pipe serves as a centerpiece, at times even becoming the focal point. Perhaps it glows amazingly in the dark or has a unique twisted texture that heightens the iridescent effect. Maybe the fuming is out of this world and the color changing glass charms you in new, mysterious ways.
Surprise
It's a piece you especially love to take out when friends are around – the element of surprise that never fails to entertain. 
Unique Glass Pipes for Sale
Every toker should have a unique glass pipe in their collection, one that you love packing almost as much as you love smoking. That's why we've cultivated our own collection for the more eccentric among us. 
Chili Pepper Pipe –  This unique glass pipe for sale makes for one red hot stoner gift. Shaped like the classic chili pepper it measures five inches long, features a deep bowl and has a nice weight to it. You'll love taking hits from the tip and watching as your greens begin to cherry, bringing out the rich red of the glass.
Black Penis Pipe – A girthy 5.5 inches long, this black penis pipe makes the perfect gag gift, no pun intended. For the texture lovers and comedians among us, you'll love stroking it and passing it along. Its veiny texture enhances grip while the deep bowl nestles perfectly in the palm of your hand, and makes packing it all the more pleasurable.
Chill Pill Pipe – Perhaps you have anxiety. It wouldn't be surprising if you do – nearly 20% of U.S adults have anxiety disorder, although that doesn't include the undiagnosed. But many of us have made headway into diffusing our modern day pressures with the help of our favorite green friend. And this chill pipe pipe will help to set the vibes right, since it's your daily dose of medicine. Made of thick glass and measuring four inches, you'll love how this unique pipe feels in your grasp.   
Lollipop Pipe – Ready for a sugar high? This unique glass pipe for sale is delicately shaped like a lollipop. It makes a sweet stoner gift, especially for those with a sweet tooth. Measuring four inches, the bowl resembles the lollipop candy and the stem, the stick. The question is, how many tokes will it take to get to the center?
Twisted Chillum – Why go for a simple chillum when you can have a work of art in your midst? This twisted glass chillum pipe reveals a prism of colors under the sunlight. You'll love playing with it between your fingers, watching it shimmer in new and mysterious ways each time. Its small, slender shape and strong material make it super travel-friendly so you can just slip it into your bag or back pocket without a second thought.
Mini Peach Pipe – Measuring just two inches, this itty bitty glass pipe with its uniquely rounded shape nestles perfectly in the palm of your hand. Featuring a generous, pit-sized bowl, it's perfect for passing. Although smaller in size than an actual peach, that is precisely what makes it so portable for all your escapades.
Iridescent Blue Glass Hammer Pipe – This is one of those pieces that transforms beautifully under different kinds of light. With its iridescent fuming, blue swirl pattern and thick handle, this unique glass pipe for sale will mesmerize you from here on out. Measuring six inches, it's shelf stable and can be set upright.
Barbed Knuckles Glass Pipe – This unusual glass pipe measuring four inches features barbed knuckles that line the side. The detailing alongside the trippy black, red and mustard yellow pattern give it a feel all its own. 
Pipe Dreams 
Let's flip the idea of a pipe dream on its head. Whatever your fantasy can be a reality, at least when it comes to glass pipes. Whether you are drawn to the specific shapes, colors or textures, your dream pipe is out there, ready to elevate you to new highs.