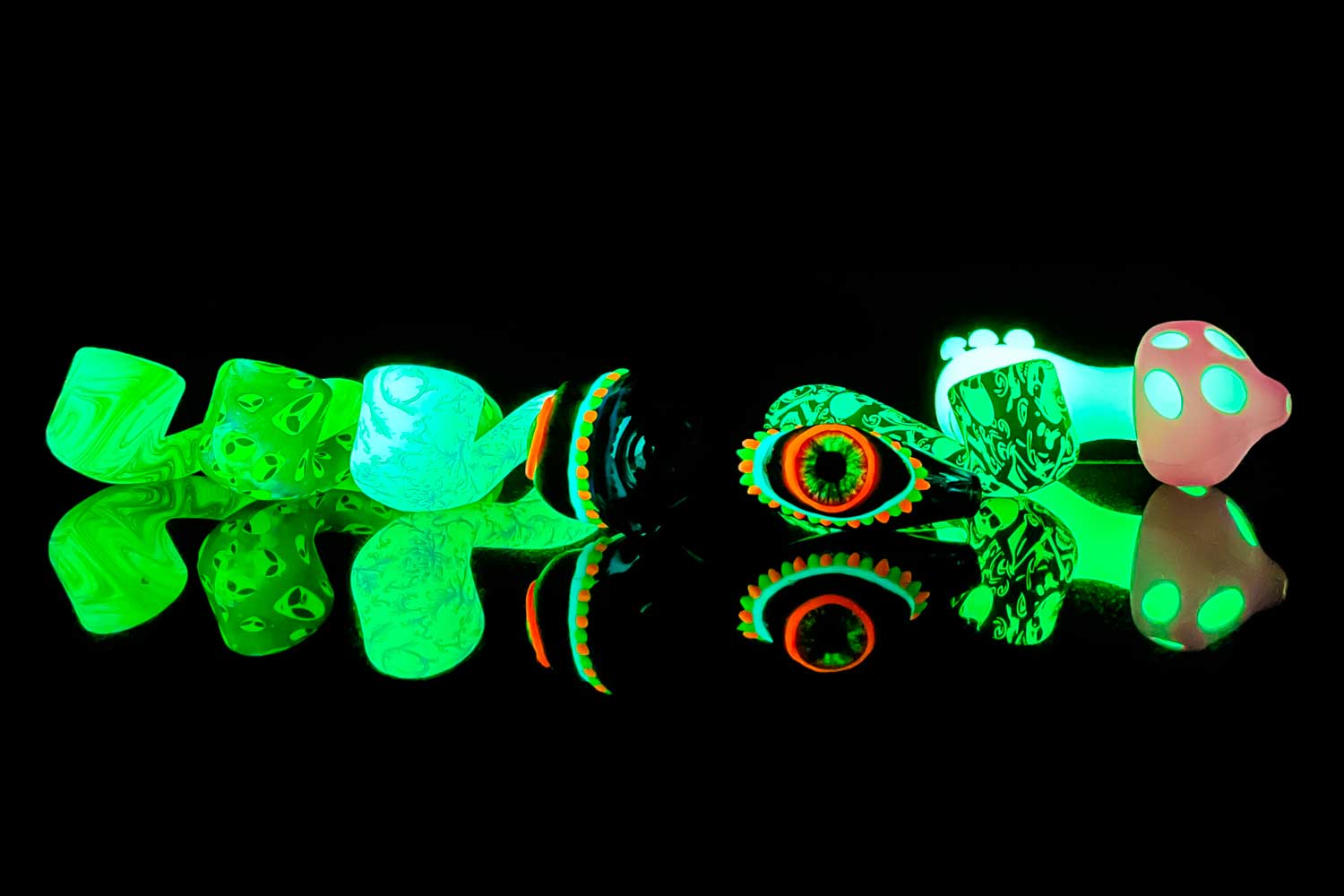 Glow-in-the-dark pipes are especially perfect for those late night smoke seshes under the stars. Whether you are smoking in your backyard after sunset or curled up on the couch watching Netflix, there's something about a glowing pipe that takes the sesh to the next level. Put another way, glow in the dark pipes create a certain atmosphere, the way fireflies make the night even more magical. 
But unlike fireflies which glow because of a chemical reaction when air mixes with the luciferin in their abdomens, phosphors (along with some THC) are what make glowing pipes so magical.
Engineered from rare earth compounds found in nature, phosphors cause their brilliant glow. Natural and non-toxic, phosphors absorb light from the sun or even fluorescent lamps, releasing that energy once darkness falls.
Glow in the Dark Pipes for Sale
Stoners Rotation is an online headshop that delivers pipes and other smoking accessories discreetly to your doorstep. We're continuously adding new glow in the dark pipes for sale to our collection. Here are a few of our best sellers. 
Glow in the Dark Scorpion Pipe – This four inch scorpion pipe gives off an out of this world glow. You may even shed a tear if you look at it too closely. Available in three shades, this glow in the dark glass pipe is hand blown from colored borosilicate glass, made to stand the test of time.
Glow in the dark Silicone Alien Pipe – Made from BPA free food grade silicone, this piece is virtually indestructible, made for trips to space and back. Measuring 4.5 inches this glow in the dark silicone pipe with glass bowl features a cool pattern of extraterrestrial faces. It makes a particularly cool stoner gift since it's affordable, durable and glows amazingly at night. 
Glowing Cheshire Cat Pipe – If you're ready to jump down the rabbit hole that is your high, what better way than with the Cheshire cat by your side? You'll love how this eyes and smile glow as you pass it to the next person in the rotation. Made from food grade silicone, this piece features a glass bowl which makes it easy to clean. Simply remove, wipe clean and replace.
Glowing Rick & Morty Pipe – Another glow in the dark silicone pipe, this one's for the R&M fans. The Rick and Morty inspired cartoon print gives off an awesome, trippy glow at night. And since the glass bowl is protected by the silicone, it's the perfect piece to bring with you on all of your escapades.
Flower Glow in the Dark Pipe – This cute glow in the dark pipe for sale features a pattern of lavender flowers throughout. The pattern glows beautifully at night, even more so after a few hits. 
Light Me Up 
Glow in the dark pipes light the way in every sense. For instance, forget about fumbling around in the dark for your lighter. With your trusty glowing pipe by your side, you'll never lose your way again. And no more stubbing your toes on the way to the fridge when the munchies hit at full force. 
More strikingly though, the energy of their glow draws you in. It brings you back to the present moment, illuminating the here and now, one hit at a time.