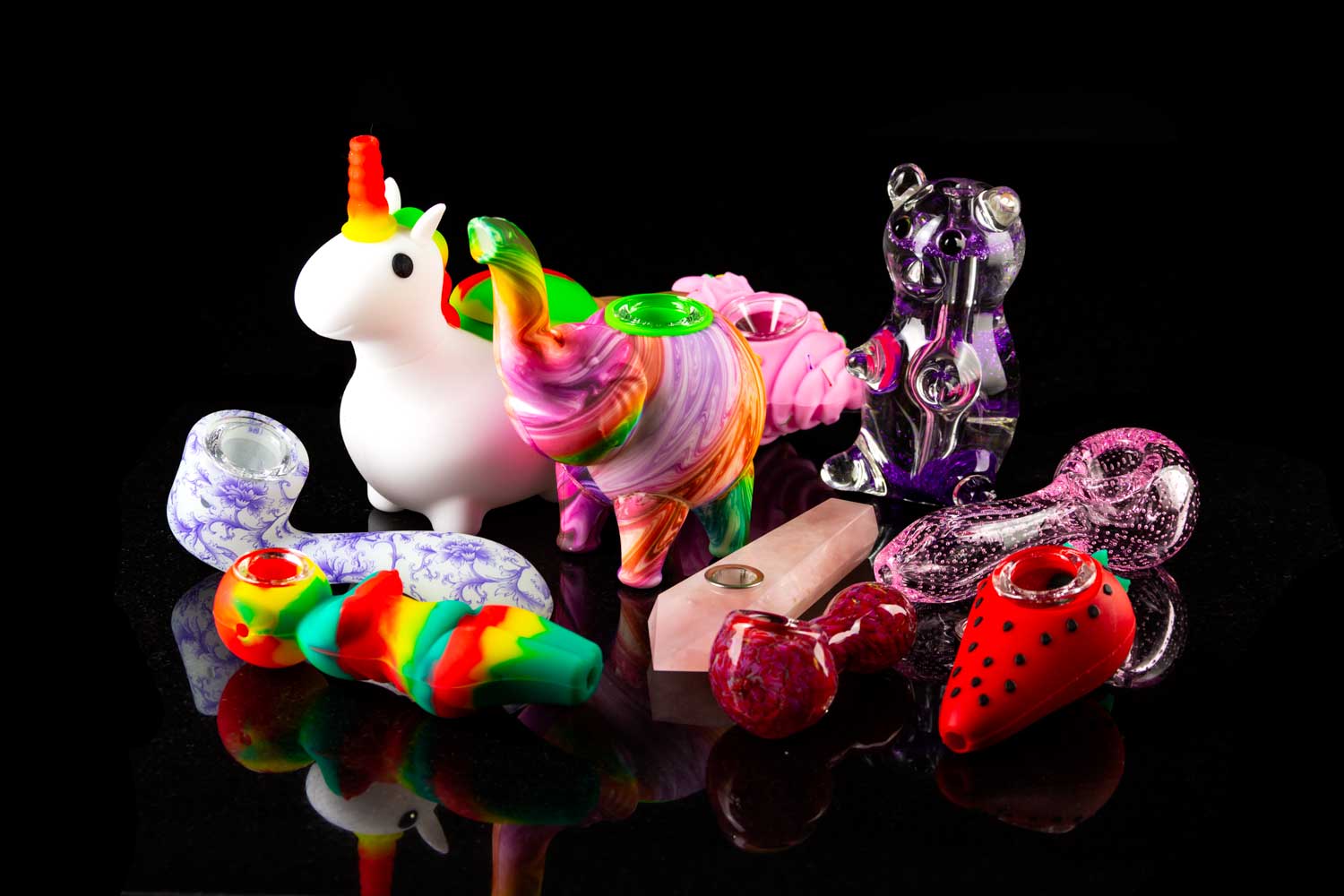 Cute pipes make the perfect travel companion for all your escapades. They are playful, fun and downright adorable. Often made from glass or food grade silicone they tend to be on the smaller side with some measuring as little as two inches. Their itty bitty size makes them perfect for the road less traveled, making you feel weightless, especially after a few hits in.
Cute Pipes for Sale
You can find cute pipes for sale at your local smoke shop although online headshops tend to offer a wider selection. Stoners Rotation specializes in delivering smoking pipes discreetly to your doorstep so you can order with ultimate peace of mind. Although we're continuously adding new pieces to our online headshop, below are a few of our best selling cute pipes.
Glass Rose Pipe – This beautifully sculpted glass rose pipe is an absolute stunner. Made from high quality borosilicate glass, it likens to a freshly picked rose. It's best enjoyed outside in your garden, especially if you're lucky enough to live in a state that lets you grow your own green. There's perhaps no greater feeling than growing your own bud and smoking it. And smoking from a rose pipe, will have you smelling that sweet, dank flower like never before. Measuring six inches long, this cute glass pipe is available in pink and sunshine yellow.
Silicone Ice Cream Pipe – This cute silicone pipe shaped like an ice cream cone is the perfect piece to blaze beachside or poolside in your favorite bikini. Made from food grade silicone, it's heat resistant so it won't melt into a puddle like a scoop of strawberry ice cream. This silicone pipe with glass bowl is a cinch to clean too. Just remove the glass bowl, wipe clean, pop it back in and you can get back to toking in no time. The best part is just how travel-friendly it is, ready for wherever your high takes you be it a hot summer's day or in the dead of winter. 
Mini Peach Pipe – There's perhaps nothing as girly as a mini peach pipe. Made from glass with a generous pit-sized sized bowl, you'll love packing this baby. Although it is a bit smaller than a normal sized peach, the rounded shape nestles perfectly in the palm of your hand. And the best part is just how discreet this cute glass pipe is. While we won't go as far to say that someone may try to take a bite out of it, no one (except fellow stoners) would ever expect it's a pipe.
Mini Pink Pipe – Measuring three inches this cute glass pipe features a soft pastel pink fuming. Made from thick pyrex glass, it's a pocket sized pipe that's made for adventure. And if you're cultivating an all pink 420 collection, it makes the perfect addition. 
Mini Cherry Red Pipe – Another cute mini pipe measuring three inches, this piece has a breathtaking cherry red fuming with hot pink hues throughout. This cute pipe is ideal if you're looking for something small yet bold that pairs perfectly with your rouge red lipstick.
Silicone Babe Pipe – This cute girly pipe is a reminder to love yourself just as you are. We live in a world of constant comparison, where people only post the best versions of themselves on social media and where models are photoshopped to perfection, inflating reality. But this pipe is shaped like a real woman. Her beauty is real with sensuous curves and a bit of tummy. To be comfortable in one's skin is to be home. And that's what makes this piece such an amazing stoner gift because its nakedness is liberating.  
Magical Unicorn Pipe with Glass Bowl – Made from food grade silicone, this cute pipe shaped like a unicorn will make the smoke sesh that much more magical. Whether you're camping deep in the forest or watching the sunset from your backyard, this baby can fly, in unicorn fashion. So  it's made to stand the test of time, even if it takes a tumble. And the best part is that this cute smoking pipe is ready for anything with its capped bowl that keeps ash or residue right where it should be. 
Minion Pipe with Glass Bowl – This cute pipe inspired by Gru brightens up any smoke sesh with his charming half smile. Also made from food grade silicone it's extremely easy to clean. The glass bowl is removable so simply pop it out, wipe clean and replace before packing the next bowl. 
Silicone Avocado Pipe with Glass Bowl – If you still can't get enough of avocado toast then your next wake and bake you should get avocado toasted with this cute pipe. Made from food grade silicone it is super lightweight, portable and travel-friendly. As an added bonus its capped bowl makes it easy to transport with ultimate peace of mind. Your friends will be sure to do a double take the moment you whip this piece out and light it.
Silicone Eggplant Pipe – The deep meaning of the eggplant emoji is widely known. It's no surprise why it's become so popular, giving a whole new meaning to eating your veggies. Made from food grade silicone, this cute smoking pipe makes the perfect travel companion and will be sure to get a few hearty laughs too.
Glowing Flower Silicone Pipe – This cute girly pipe with its floral lavender pattern is beautiful day and night alike. As soon as the lights go out this piece glows brilliantly in the dark, elevating the sesh to new highs. And since it's made of durable food grade silicone you'll also have ultimate peace of mind, wherever your high takes you.
Cheshire Cat Glow-in-the-dark Pipe – Whether you are a die-hard Alice in Wonderland fan or not, there's something mesmerizing about the Cheshire cat. And this cute pipe transforms at night, revealing its creepy glowing smile, ready to take you down the rabbit hole of your high. 
Strawberry Pipe with Glass Bowl & Keychain – This adorable strawberry pipe may be just what you need. Featuring a glass bowl and keychain, it's super travel friendly and easy to clean on a moment's notice. And the best part is you'll never lose it again since it includes a keychain loop that you can attach to your keys or one of your jean loopholes. 
Silicone Pineapple Keychain Pipe – Another keychain pipe, this piece will set you up for tropical vibes in no time. Measuring just three inches and made from food grade silicone it's a lightweight piece with an itty bitty bowl for a few solid hits.
Cute Smoking Pipes Pack A Punch
Whether you are heading over to your friend's place, watching the sunset from your rooftop or soaking up some sun poolside, a cute pipe delivers. Although most have a shorter stem, the bowl size is roughly the same as a traditional pipe so you'll get just as baked. In short, do not underestimate its size or cuteness.