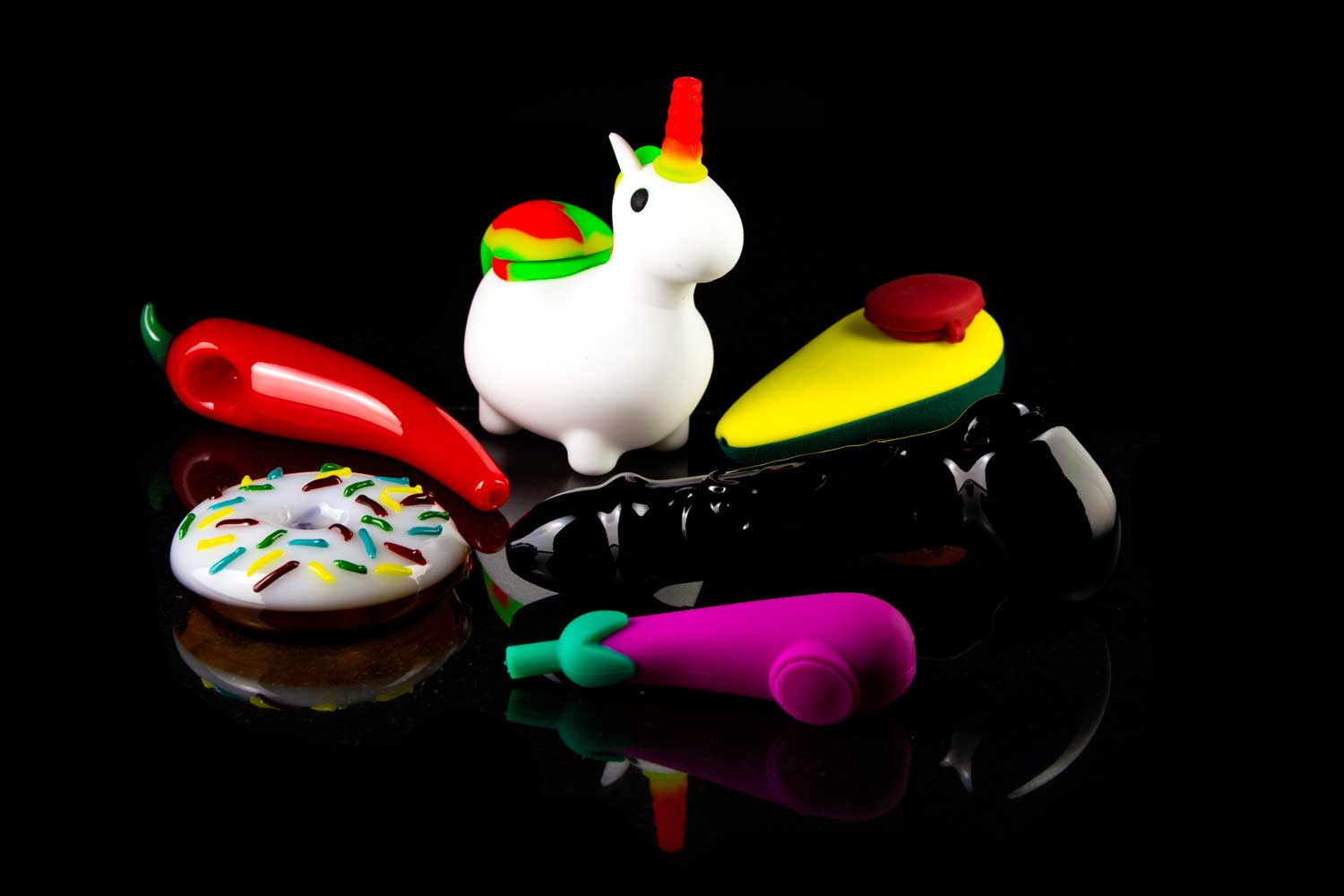 If you love smoking weed because of how much it makes you laugh, a funny pipe is just what you need to take the sesh to the next level. We've all been there. The point of no return. The giggles. When madness prevails. There's no stopping the high that's about to wash over you and leave you howling with tears of laughter in a cloud of dank smoke. 
Funny Pipes for Sale
And of course, you're all about taking it to the next level. Whether it's through delicious food, rewatching your favorite movie or simply hanging out with friends, it's bound to be a night to remember – or one so unforgettable someone had to remind you of the highlights.  
Perhaps your new funny pipe becomes the catalyst to the series of hilarious events that transpire after a few tokes.
Stoners Rotation is a budding online pipe shop. We have a growing selection of funny pipes for stoners who love a good joke. Whether it's a big black penis pipe that tickles your fancy or perhaps the more subtle eggplant pipe, we're continuously adding new pieces to our collection behind the scenes. The question is, if we were about to pass you one of these funny pipes, which would you smoke? 
Black Penis Pipe – This sausage of a pipe is beautifully blown with veins and all. Measuring a rock solid and slightly curved 5.5 inches, its balls – bowl rests comfortably in the palm of your hand. This novelty pipe will have everyone in your circle bursting into laughter, trying to keep the smoke in. Beautifully blown and handcrafted, this funny pipe will be sure to entertain.
Silicone Eggplant Pipe – The eggplant has been a long-standing sexual innuendo as far back as 2011 and it's no surprise why. The eggplant has the closest shape and contours of any vegetable to what it represents. And that's what makes this eggplant pipe so funny. Sending the eggplant emoji takes on a whole new meaning in the stoner context. Ergonomically shaped to nestle in the palm of your hand, this funny smoking pipe is lightweight, travel-friendly and easy to clean. Made from food grade silicone it can withstand just about anything too.
Chili Pepper Pipe – You like it hot. And this chili novelty pipe is perfectly balanced to give you the heat you're looking for without the harshness. Its elongated mouthpiece gives smoke extra time to cool before it reaches your lips. Measuring five inches long and made from glass it's got a nicely sized bowl, perfect for passing around. And most of all it makes a red hot stoner gift for those who put the meaning into the spice of life, in all senses of it. 
Minion Pipe with Glass Bowl – While I don't know this minion character personally, he sure is a funny looking little fellow. In all seriousness though, the minion mentality can actually teach us a lot about life: to be curious, make mistakes and be kind. And what better way to start living by these principles than after a few tokes from your Gru pipe? Making mistakes is a natural part of exploring your curiosity but to never try is to never really live. So take calculated risks and be kind because life is short for us humans, unlike the minions who will live on forever. That shouldn't be too hard with Gru's half smile looking right at you.
Glass Rick and Morty Pipe – Who misses Rick and Morty? It's one of those shows that you simply can't wait for. An experience all its own. And what better way to celebrate the season 6 premier than with one of these funny smoking pipes in the palm of your hand? The best part of Rick and Morty is the element of surprise, its many twists, turns and infinite universes through space and time reaping havoc to the lives of the many mortys and ricks out there. That's why we've decided to add one more element of surprise by sending each design at random.
Silicone Avocado Pipe – What better way to celebrate a wake and bake than with your own version of avocado toast, à la kush? This funny weed pipe shaped like an avocado is capped off with a silicone cover resembling a pit. The seed is your weed. Who needs toast when you can get toasted? And the best part is that it's a highly travel-friendly, portable and discreet way to toke.
Entertainment to Pair with your Funny Pipe
Like fine wine and smelly French cheese, just about anything funny pairs swimmingly with a funny pipe. And we're sure you've seen it all. So for your entertainment pleasure we've included some of the best stoner movies, shows and stand up comedians to watch stoned.