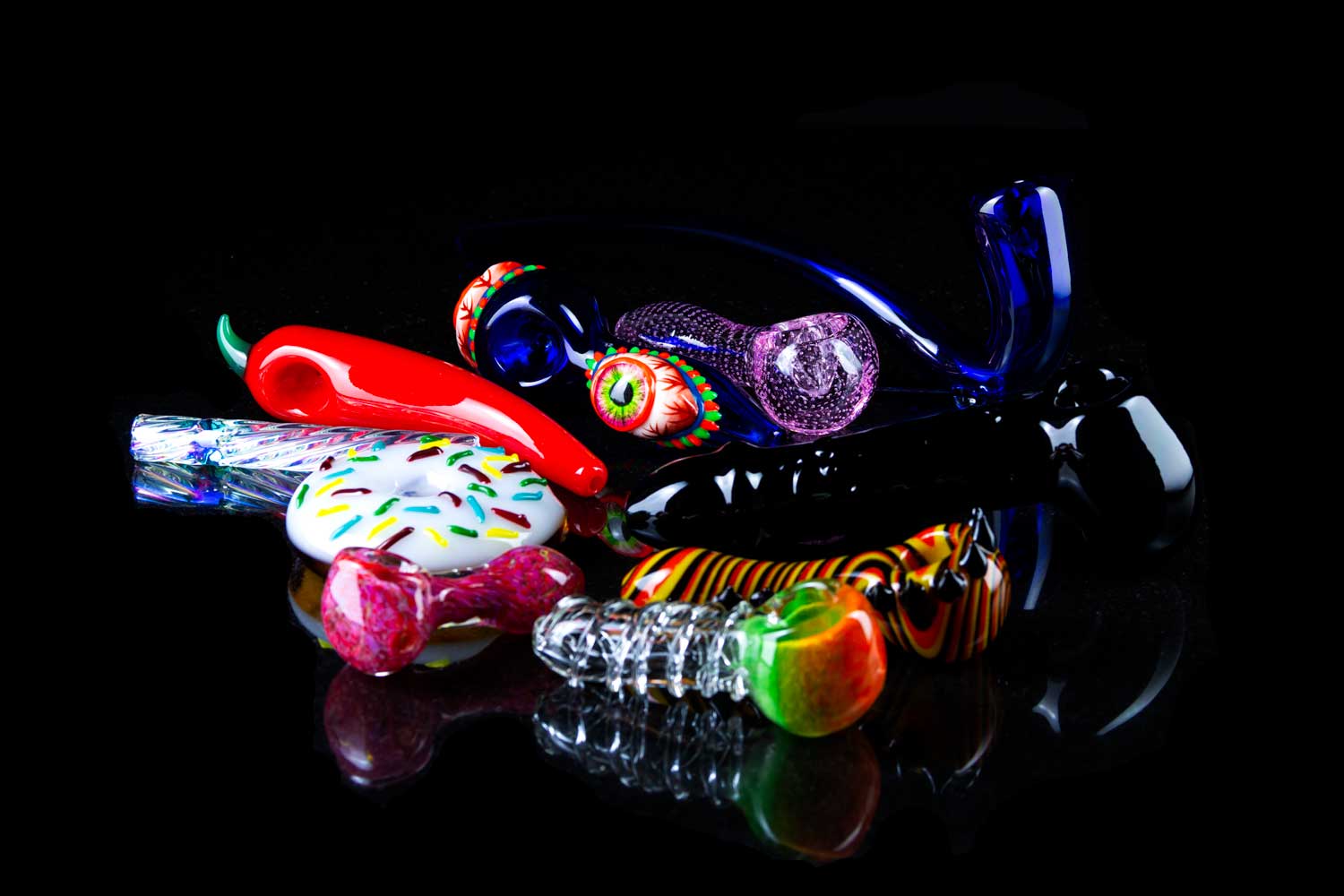 Glass pipes have come a long way becoming works of art in their own right. There's simply nothing quite as convenient or versatile as a hand blown glass pipe especially for on-the-go tokers. Highly portable, discreet and beautifully blown, glass hand pipes are making a comeback, even as they compete with the endlessly mounting assortment of bongs, bubblers and rigs on the market.
Glass Pipes vs Bongs
In the day and age of smooth yet intense hits that bongs deliver, hand pipes offer an entirely different experience and still hold their own after all this time. As most pipe smokers appreciate, smoking from a hand blown glass pipe lets you pace your hits so that you can gradually and steadily increase your intake without overdoing it. In other words, greater control lets you ease into your high, something which is highly appealing especially for more laid-back seshes.
The Allure of Harshness
And while you don't get the smooth hits characteristic of a water pipe, for many stoners a little harshness is part of the intrinsic allure of smoking a pipe. Perhaps part of the draw is the slight tingling sensation in the back of your throat that jumpstarts the warmth that spreads throughout your entire body.
Versatility of Glass Pipes 
So whether it's pure function or style you're after, glass hand pipes often blend both seamlessly. From the elongated, curvaceous Sherlock pipe to the traditional spoon pipe, glass has a captivating quality to it that makes even the simplest chillum a masterpiece. The coloring, fuming, heady glass embellishments, detailing or lack thereof can elevate the piece, and you, to new highs.   
How to Clean a Glass Pipe
The best way to clean a glass pipe is soaking it within a mixture of isopropyl alcohol and epsom salt. Simply pour enough isopropyl alcohol to cover the hand pipe fully and add in a few tablespoons of epsom salt into a ziplock bag. After the pipe soaks in the solution for 30 minutes, shake it within the bag, use a brush to scrub where needed and rinse clean. All your stoner friends will be impressed by your collection of clean glass pipes, awaiting their next toke. 
Clean Glass Pipe with Vinegar
A mixture of vinegar and baking soda is an equally effective way to easily clean glass pipes, especially if you're interested in a more natural method. If you're wondering how to clean a glass pipe with vinegar, you can follow the same steps previously mentioned. Simply swap out the isopropyl alcohol and epsom salt with vinegar and baking soda. Then, soak for 30 minutes, scrub any hard to remove resin and give it a final rinse with soap and water. Now you know how to clean your glass pipe without isopropyl alcohol!
How Much are Glass Pipes?
You can buy glass pipes for as little as $4.20 to upwards of $50. It really depends on the quality, craftsmanship and complexity. For instance, a simple onie pipe can cost you $4.20 while a more elaborate pipe like the glass rose pipe costs roughly $50. However, most glass smoking pipes will be in the $10-$25 range.
Glass Pipes for Sale
If you are looking to buy glass pipes online, be sure to check out our pipe shop. We've got everything from a simple glass chillum, to a gandalf pipe or even a penis pipe for your smoking pleasure. All of our smoking devices are delivered discreetly to your doorstep.
Glass Rose Pipe – What better than a glass rose pipe for the bae in your life? Available in pink and yellow, this unique glass pipe is sculpted from borosilicate glass. In the classic spoon style, this girly glass pipe features a medium sized bowl and textured handle to enhance grip.   
Rasta Thick Glass Pipe – With its unique twist handle, this thick glass pipe made from borosilicate glass measures just four inches long. The rasta coloring against the clear, textured handle gives it a nice look and feel.  
Simple One Hitter Glass Pipe – This clear glass weed pipe measuring four inches long is perfect if you're looking for something small and discreet that you can easily slip into your pocket. One hitter glass pipes like this are perfect if you're a joint smoker who is looking to transition into pipes. Namely, hand blown glass pipes offer a clean hit and save you time rolling too.   
Swirl Chillum Glass Pipe – A beautifully blown sensuous swirl of color, this glass chillum pipe comes in varying hues of blue and green. It even includes three marble feet so you can set it down without it rolling off the table. This thick glass pipe elevates the simple elegance of the chillum to new heights with its artistically spun glass and thoughtful marble feet.
Iridescent Blue Glass Hammer Pipe – Featuring  a nice, thick handle, this glass bubbler water pipe has a unique fuming and swirl pattern that will leave you captivated. Made in the classic hammer style, this bubbler pipe can be used either as a dry hand pipe or water pipe.  
Starry Purple Glass Spoon Pipe – This galaxy glass pipe transitions beautifully from black to purple with its speckled pattern throughout. The heady glass marble feature of this purple glass pipe gives it a nice touch and is perfect for the texture lovers among us.  
Gandalf Glass Pipe – One of our best glass pipes, this ten inch piece features marble feet so it stands upright. You'll love toking from this piece with its deep bowl perfect for passing this around during the sesh. 
Mini Glass Spoon Pipe – If you are looking for a cute glass spoon pipe that you can fit easily in your clutch or back pocket, this baby is for you. Measuring just three inches this cherry red glass pipe has a gorgeous fuming. It's one of those girly glass pipes you can't resist that will keep you mesmerized one toke after another.
Mind Blown 
If you are an avid pipe smoker, we're sure you've seen a pipe that blew you away by its sheer beauty. What makes something beautiful is fascinating to say the least. And with glass pipes, beauty is clearly in the eye of the beholder. There are many gorgeous pieces out there, but one whose beauty truly speaks to you, is another story. That's why we've focused on having an array of unique glass pipes in our online headshop so you can choose for yourself.