New year, new batch of 420 movies to get high to so grab your favorite funny pipe to set the vibes right. Here are the top 12 funny stoner movies of 2022, including brand new releases, recent but under-the-radar gems and, of course, some mean green classics. 
Top 12 Funny Stoner Movies 2022
Moonwalkers (2015)
The conspiracy surrounding the first US moon landing has gained more and more traction over the years. And now Hollywood's even in on it too. The premise of the film, which stars Harry Potter's own Rupert Grint, centres around man's first steps on the moon being a Stanley Kubrick-CIA collaboration hoax. Whether or not you're a fan of the conspiracy theory or not, this movie is a thoroughly enjoyable riotous comedy.
The Bob's Burgers Movie (2022)
We all know and love the Bob's Burgers animation series, following the Belcher family and their various plights and hijinks while running their family burger joint. Well, now the family are coming to the big screen in what is sure to be a super funny stoner movie of 2022.
Wendell and Wild (2022)
Wendell and Wild is one of the most anticipated movies of the new year, featuring the hilarious comedy duo Keegan-Michael Key and Jordan Peele, known for their hit sketch comedy series Key & Peele, and Peele now renowned for a string of award winning horrors including Get Out (2017) and Us (2019). The stars are not the only names getting people excited about the movie however, as it's also directed by the much celebrated Henry Selick, known for his distinct animation style seen in Coraline (2009), James and the Giant Peach (1996) and The Nightmare Before Christmas (1993).
Lommbock (2017)
This might seem an unexpected addition to the list, being a German language film, but trust me, it's the perfect stoner movie. It's actually a sequel to the 2001 film of the same name, which follows two stoners who run a cannabis pizza delivery service. Now they're back — although one of them is still a pothead and the other is a top attorney working in Dubai. As they renew their friendship, they find old habits die hard.
Bad Trip (2021)
This hidden camera comedy is an absolute riot of a film. Following two best friends who spend a cross-country road trip pulling pranks on an unsuspecting public all the way, all so one of them can declare his undying love for his high school crush. Oh, and the car they take is actually stolen and the rightful owner is in hot pursuit of the duo. Expect to laugh a lot with this one.
Brahman Naman (2016)
Bollywood's answer to Superbad (2007), Brahman Naman follows three virgin college students on a mission to lose their virginity on a trip to Calcutta.
Between Two Ferns: The Movie (2019)
Zach Galifianakis is on top form playing a more curmudgeonly version of himself in his unrelenting satire of celebrity interviews. If you love the funny or die sketch snippets, then you will certainly enjoy the full-length feature film.
Trailer Park Boys: The Movie (2006)
Trailer Park Boys is a classic stoner series, and the movie is just as legendary. While it's over a decade old now, it's still as hilarious as ever with a plot centring around robbery, jail and undying friendship.
Take the 10 (2017)
Take the 10, starring Nickelodeon favourite Drake & Josh's Drake Bell, follows the lives of two best friends, whose lives get turned upside down at a hip-hop concert when they meet a drug dealer and a bizarre store manager.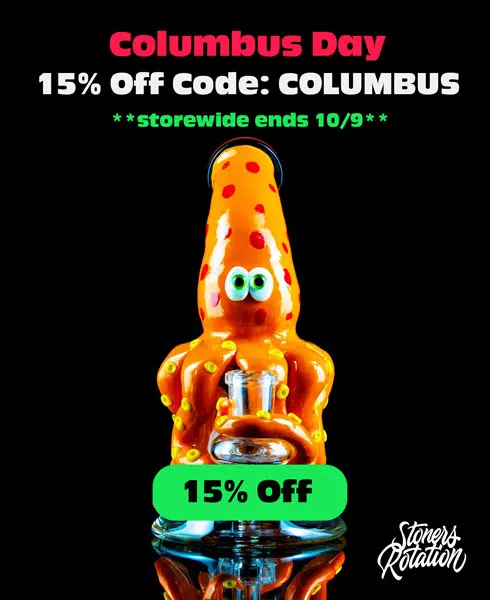 The Do-Over (2016)
Adam Sandler and David Spade star as two buddies down on their luck who decide to start from scratch by faking their own deaths and taking on new identities. However, things don't go quite to plan when they discover the guys they're impersonating have far more complex problems than they ever did.
The Package (2018)
Ben Stiller produces this teen comedy following four friends who set out on an unexpected adventure when an unfortunate accident occurs on their spring break camping trip.
Afterlife of the Party (2021)
Another former Nickelodeon star, Victoria Justice, meets a fatal end while partying. Finding herself in the afterlife, she tries to make amends for all her mistakes and reckless partying ways in order to earn her wings.
Bonus Picks
The funny stoner movies 2022 doesn't end there, there's plenty more to keep you entertained throughout the 420 infused year. Check out the titles below for even more ideas of what to watch.
Father of the Year (2018)
The Wrong Missy (2020)
The Mitchells vs the Machines (2021)
Ted 2 (2015)
The Tripper (2006)
4-2022
Looks like the new year has plenty of great movie offerings for stoners. For more comedy ideas, check out Best Dark Comedies on Netflix while you're here!
Do you have more burning questions around cannabis?
Email us at [email protected] with your questions/topic suggestions and we will get back to you!