There's nothing better than hitting a bong, lying back and streaming something hilarious – and if you're looking for the perfect thing to chill out to, you're in the right place. Below we've picked out some of the absolute greatest of the stoner genre, including some of those 20th century classics as well as a few recent releases thrown in for good measure.
Photo: Unsplash
Top 10 Funny Stoner Movies
Soul Plane (2004)
Looking for funny stoner movies to watch on Hulu? Look no further. This epic comedy movie assembles mega stars – and self-proclaimed stoner – Snoop Dogg, Mo'Nique and Kevin Hart in one aircraft. With scantily clad air hostesses and a characteristically bedazzling Snoop Doggy Dog, you can bet the movie will deliver some raucous hijinks.
Watch on Hulu
Asteroid City (2023)
Ok so this latest release from Wes Anderson is not technically a stoner movie, but it does tick a lot of the same boxes. It's trippy, aesthetically pleasing, unconventional and oftentimes very witty. So, on all accounts, it's a thoroughly enjoyable watch while stoned. Also, this movie marks Anderson's first real venture into sci-fi territory and early reviews are saying it's probably his best release yet.
Where to watch: Right now it's only available in theaters but, as it's a Focus Features production, we predict it will make its way over to Amazon Prime or HBO Max very shortly.
Don't Look Up (2021)
With a very strong opening (featuring Jennifer Lawrence rapping along to Wu-Tang Clan Ain't Nuthing Ta F' Wit) this film does not disappoint if you like edge-of-your-seat laugh out loud dramedies. When scientists (alt-indie queen Kate (Lawrence) and an uncharacteristically unsuave Leo) spot a meteorite heading for Earth, no one seems to want to take them seriously, so they set out on a media rampage to try to get the public's attention. Not to be missed, it's one of the funniest stoner movies on Netflix.
Watch on Netflix
Grandma's Boy (2006)
This is an absolute stoner classic – with possibly the raunchiest range of subplots of all time. When a video game tester is evicted and has to move in with his grandma and her friends, a whole host of hilarious chaos kicks off, as well as endearing family bond forming.
Watch on Prime Video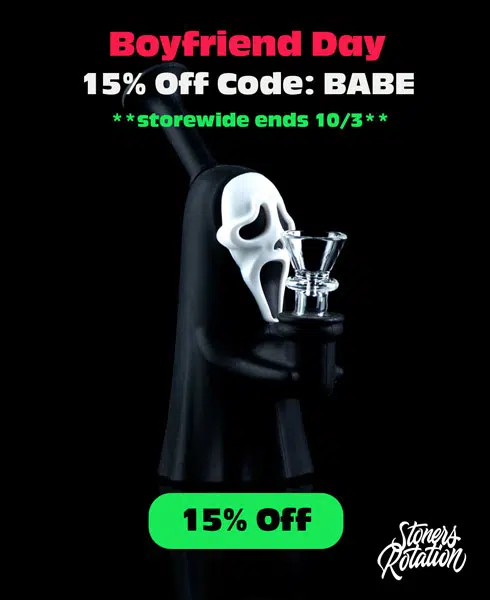 Half Baked (1998)
Dave Chapelle's legendary stoner film Half Baked follows three nitwits who pool their limited brain cells together to try to raise the money to get their friend out of jail. Their solution? Start dealing their favorite herb. But as Chapelle emphatically states: "We're not drug dealers, we're fundraisers". This one also features an unforgettable cameo from the stoner legend himself Snoop Dogg.
Watch on Prime Video
9 to 5 (1980)
A golden oldie, 9 to 5 – starring Jane Fonda and legend Dolly Parton (who famously sang about the very same topic) – boldly depicts 1980s women's working culture. The overworked female employees plot to get their own-back on their overbearing male boss – and obtain some serious boss status of their own in the process.
Watch on HBO Max
Lock, Stock and Two Smoking Barrels (1998)
This Guy Ritchie comedy took Britain by storm when it was released. Combining classic London gangster elements with absurd comedy makes for a thoroughly entertaining watch. Think Layer Cake (2004) meets Hot Fuzz (2007).
Watch on Netflix
Ted (2012)
The premise is a little off the wall: a young boy, John, has his deepest wish come true when his teddy bear comes to life. Fast forward a few years and adult John (Mark Wahlberg) and his furry friend spend their days smoking up – and little else. When John's girlfriend (Mila Kunis) enters the scene, however, the two are forced to change their ways.
Watch on HBO Max
We're the Millers (2013)
Infinitely quotable, We're the Millers is one of the all time funny movies to watch stoned. A small-time pot dealer bites off more than he can chew when he has to smuggle an RV-load of drugs over the border into Mexico. Enlisting the help of a fake wife and kids, the family takes dysfunctional to a whole other level on their illicit road trip.
Watch on Netflix
Inherent Vice (2014)
Joaquin Phoenix plays an eccentric private investigator tasked with solving a mystery close to his heart: the disappearance of his ex-girlfriend. Taking on a bizarre and trippy atmosphere from the get-go, this neo-noir from Paul Thomas Anderson is up there as one of the best funny stoner movies.
Watch on Prime Video
Funny Movies to Watch While Stoned: Bonus Picks
Already seen the above ten funny stoner movies? Don't fret. Below are some more of the best funny stoner movies available on streaming platforms.
Pineapple Express (2008)
Watch on HBO Max
Dude Where's My Car (2000)
Watch on Hulu
Beverly Hills Ninja (1997)
Watch on Hulu
Dude (2018)
Watch on Netflix
Game Over Man (2018)
Watch on Netflix
Even More Stoner Content
Still looking for inspiration? Check out our top 10 picks of Funny Stoner Movies from 2021.
Do you have more burning questions around cannabis?
Email us at [email protected] with your questions/topic suggestions and we will get back to you!