When it comes to quality content to watch while high, Netflix has you covered. From hilarious buddy movies to enthralling green-leaf documentaries, below is a definitive list of the best stoner movies on Netflix.
Photo: Pexels
Top 10 Best Stoner Movies on Netflix
Zombieland (2009)
Mad cow disease gets even madder in this funny stoner movie when its mutation turns humans into flesh-eating zombies. Survivors of the pandemic, Columbus (Jesse Eisenberg) – whose agoraphobia kept him alive – redneck zombie killer Tallahassee (Woody Harrelson), neurotic Wichita (Emma Stone) and Little Rock (Abigail Breslin) must all pool their quirks and hidden talents to survive a cross-country road trip to Ohio.
Entergalactic (2022)
This charming animation was created as a visual companion to Kid Cudi's album of the same name. It follows Jabari – voiced by Kid Cudi – as a young artist hustling for success. When he falls in love with his cool, enticing photograph neighbor, Meadow, he has to decide if he can sacrifice his artistic ambitions to make time and space for love.
The Legend of 420 (2017)
In this cannabis documentary, viewers are taken on a journey through the history of marijuana use, from the days when it was declared "the most dangerous drug in America" to today, when it's embraced for its medicinal properties and mood-enhancing effects.
Project Power (2020)
When a new illicit pill that gives people short-lived superpowers enters the criminal marketplace, a former soldier and a cop team up to stamp it out before too much chaos can ensue.
Grass is Greener (2019)
Another documentary, this fascinating production also makes the list of the best stoner movies on Netflix. In Grass is Greener, experts look at how racial bias may have shaped America's war on weed, as well as how the herb has influenced music and popular culture over the years – from reggae to RnB.
Ace Ventura: Pet Detective (1994)
Jim Carrey showcases some of his best over-the-top body-comedy acting playing Ace Ventura, a private detective who specializes in tracking down lost animals. When he's tasked with finding Snowflake, a football team's missing mascot, all hell breaks loose. And who's by his side throughout his investigations? A stunning, pre-Friends Courtney Cox that's who.
Rolling Papers (2015)
The third and final weed doc on the list, Rolling Papers chronicles the first wave of marijuana legalization in Colorado and traces The Denver Post's novel idea to add a weed column to their newspaper – even featuring pioneering "strain reviews" and "recipes for edibles".
The Package (2018)
Ignore the IMDB rating for this one – if you appreciate juvenile humor, you'll have a whale of time watching The Package. This hilarious Netflix stoner movie is a black comedy with a classic teen camping trip storyline. When one of the boys accidently, um, dismembers himself, the gang find themselves in a frenzied hurry to get to the hospital so he can undergo reattachment surgery. Ouch.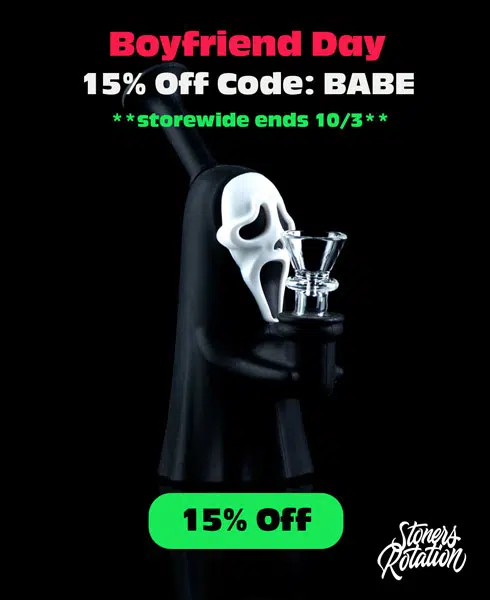 Between Two Ferns: The Movie (2019)
Everybody's favorite parody talk show returns for a full length movie. When an awkward interview with Matthew McCaughney goes belly up, Zach Galifinakas is forced to go on a country-wide tour, meeting and interviewing an array of big names along the way, including Benedict Cumberbatch – or Benefit Lumberjack – and a delightfully stiff Brie Larson.
Moonwalkers (2015)
A very witty spin on the moon-landing-was-faked conspiracy theory, Moonwalkers follows an unhinged CIA agent as he's tasked with tracking down Stanley Kubrick to shoot and direct the staged landing. When he discovers he's been tricked into hiring a seedy rock and roll manager, he's forced to go with it to save face – and the pair orchestrate the biggest con of television history.
More Good Stoner Movies on Netflix
The above list isn't all Netflix has to offer in the way of stellar stoner movies. See below more for more titles worth checking out:
Mac & Devin Go to High School (2012)
American Ultra (2015)
Fantastic Fungi (2019)
Game Over Man (2018)
Puff: Wonders of the Reef (2021)
Binge-worthy stoner series on Netflix
If you prefer to binge watch shows at your 420 sesh, check out our picks of the best Stoner Shows on Netflix while you're here.
Do you have more burning questions around cannabis?
Email us at [email protected] with your questions/topic suggestions and we will get back to you!