Netflix is a goldmine of great TV shows with plenty on offer for stoners. From quirky animations to trippy dystopian futures, the streaming platform has it all. In this post we'll take you through some truly good stoner shows on Netflix.
Photo: Unsplash
Top 10 Good Stoner Shows on Netflix
Brand New Cherry Flavour (2021)
Brand New Cherry Flavour is a surrealist miniseries new to Netflix. Based on Todd Gibson's 90s novel of the same name, the series follows Lisa Nova, a filmmaker new to Hollywood who turns to witchcraft to get revenge on a predatory movie producer.
With a David Lynch meets David Cronenberg vibe, this show takes you on a voyage into the bizarre and uncanny.
Love Death + Robots (2019)
This multi-award winning animated series encompasses an array of genres, including sci-fi, fantasy, horror and comedy. Featuring a collection of self-contained short stories, viewers venture into post-apocalyptic urban worlds and delve into alternative versions of history.
Crazyhead (2016)
A seriously underrated British comedy gem, Crazyhead has (thankfully) arrived on Netflix for everyone to enjoy.
The plot follows best friends Amy and Raquel who first bonded over their shared ability to perceive the supernatural. Viewers follow their hilarious antics as they fight off ghouls and demons while navigating the already troublesome era of early twenties.
And, if you need more convincing, the first episode is titled "A Very Trippy Horse".
The Midnight Gospel (2020)
From the creators of stoner classic, Adventure Time, comes this delightful trippy series The Midnight Gospel.
Set in a dimension called the "Chromatic Ribbon", a spacecaster (space podcaster) known as Clancy Gilroy uses a multiverse simulator to travel to bizarre, outer-dimensional worlds and interviews local residents for his "spacecast".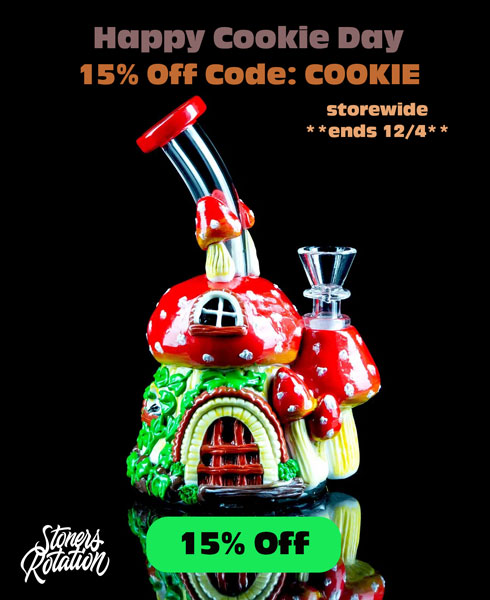 With it's quippy dialogue and outlandish plots and characters, this series is no doubt one of the many seriously good stoner shows on Netflix.
Watership Down: Miniseries (2018)
We all know the classic novel by Richard Adams and the stunning but unsettling 70s film adaptation. Now we can stream the Netflix miniseries with an all-star cast, including James McAvoy, Nicholas Hoult and Olivia Colman. Perfectly capturing the philosophical themes and the cute but uncanny anthropomorphic bunnies, this series is a thoroughly absorbing watch.
Lady Dynamite (2016)
If you like your comedy bright and surreal with undercurrents of deep despair and melancholy, then Lady Dynamite is right up your street.
The series depicts the semi-fictionalised life of the show's creator Maria Bamford as she battles bipolar disorder. With the visuals and the supporting characters all reflecting her manic state of mind, the show's aesthetic is a real treat while high, and the comedy and drama come perfectly balanced for a hugely entertaining watch.
W/ Bob and David (2015)
W/ Bob & David is a comedy sketch show created by and starring Bob Odenkirk and David Cross, known for their 90s comedy hit Mr Show (1995-1998).The show is basically satire and sarcasm bundled up into absurd storylines, and it's pretty much impossible not to laugh out loud throughout.
GLOW (2017)
From the same creative minds that brought us Orange is the New Black comes GLOW, a comedy-drama series which centres around the rise of the 1980s syndicated women's professional wrestling teams, known as Gorgeous Ladies of Wrestling (or GLOW).
With a great comedic cast led by Alison Brie of Community (2009-2015), and a nostalgic, almost parody-like 80s aesthetic, this Netflix show really packs a punch.
Altered Carbon (2018)
While not being a comedy or animation, Altered Carbon is considered a good stoner shows on Netflix because of the compelling cyberpunk dystopian context which is just irresistible when high.
The story takes place in a future society where technology has advanced to such a point that human bodies are interchangeable. Takeshi Kovacs, the last remaining soldier from a former rebellion against the new world order, has been incarcerated for centuries. Now, he's offered the opportunity freedom so long as he proves able to solve a murder.
If you like sci-fi and reflecting on the dark side of human nature, then this is a great show to check out at your next session stoned.
Disenchantment (2018)
Matt Groening, producer of The Simpsons (1989-) and Futurama (1999-2013), turns his creative mind to medieval times with his most recent animated project, Disenchantment.
The fantasy series takes place in the run-down medieval kingdom of Dreamland, and follows the mishaps and hijinks of the binge-drinking young princess, Bean, her sharp-tongued elf companion Elfo and the shadow demon, Luci.
Bonus Picks
For more seriously good stoner shows on Netflix, check out the titles below.
Russian Doll (2019)
Daybreak (2019)
The Get Down (2016)
Living with Yourself (2019)
The Serpent (2021)
Netflix for Stoners
For more inspiration of what to watch when high, check out Best Trippy Movies on Netflix.