Some months ago, Canadian licensed marijuana producer Aurora Cannabis stock was undoubtedly one of the top weed stocks to avoid. However, November saw this marijuana stock break records rising by 188% to become one of the best cannabis stocks to look out for. How did this happen?
Feature Photo Source: Unsplash
Will Aurora Cannabis Stock continue to make gains in December or will it experience a change in fortune? The following explores how and why Aurora Cannabis achieved this feat in November and performance expectations from expert analysts.
How and why did Aurora Cannabis stock achieve a record-breaking November?
The Aurora Cannabis Stock November rally was primarily the result of four factors:
The 2020 US presidential election result: The win for Joe Biden in the 2020 presidential election is expected to set the stage for waves of extensive cannabis reforms across the United States.
The Marijuana Opportunity Reinvestment and Expungement Act (MORE Act): As this landmark piece of legislation made its way through the U.S. House of Representatives in November, investor confidence was boosted across the pot stock market. Aurora Cannabis stock benefited immensely from this. The More Act was passed by the House last Friday. Although it is yet to pass through the Senate, there are renewed hopes for cannabis investors and enthusiasts. This could potentially end the prohibition of marijuana on a federal scale.
More states voted to legalize Marijuana: Arizona, Montana, New Jersey, and South Dakota all voted to legalize Cannabis on election day. This led to many weed stocks including Aurora Cannabis experiencing gains. 15 states in the U.S. have now legalized marijuana.
The UN voted to remove cannabis from its Schedule IV controlled substance designation: This vote which was reportedly backed by the U.S. could play a vital role in encouraging the decriminalization and further commercialization of cannabis at the federal level. As soon as the vote was passed on Wednesday, Aurora Cannabis stock rose by double digits.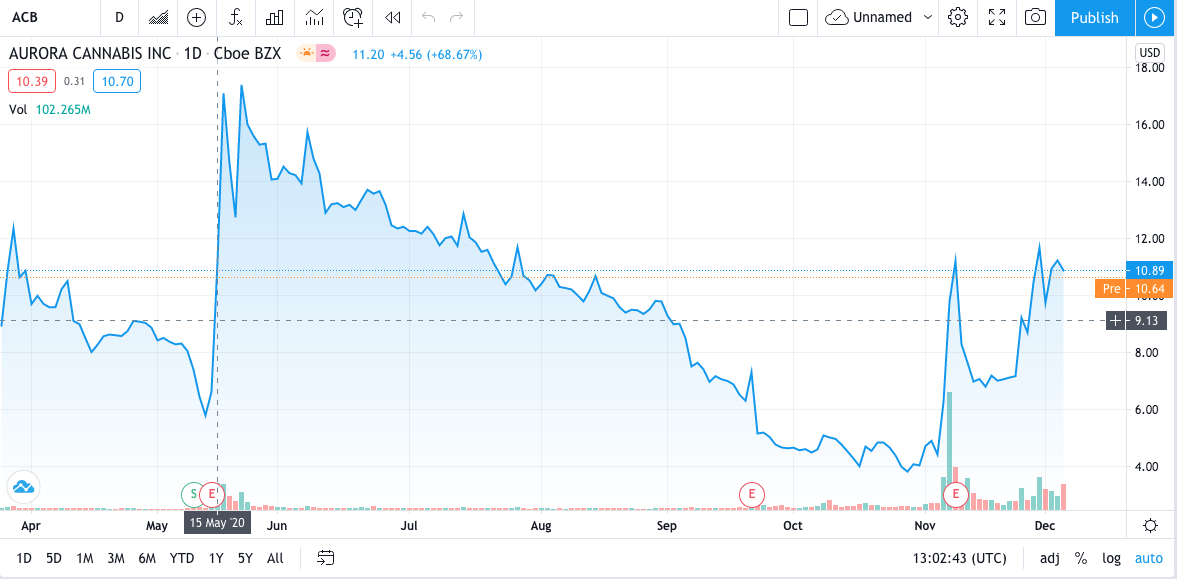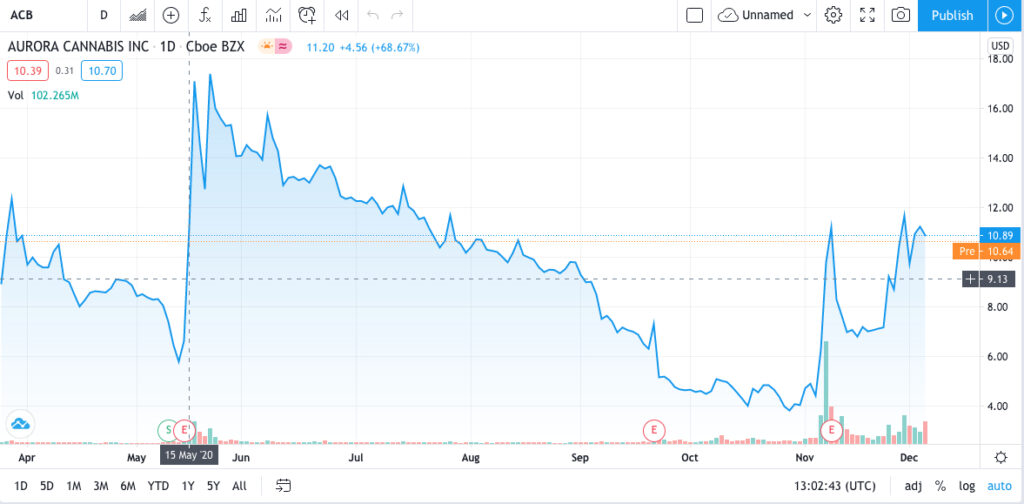 Will Aurora Cannabis stock continue to rally?
Will this be a December to remember for Aurora Cannabis stock buyers? Only time will tell; however, some experts believe that despite the short term interest from cannabis investors, the future still appears uncertain for ACB. There are concerns that even though the MORE Act was passed by the House of Representatives, it may not experience a similar level of progress with the Senate.
Some experts also suggest that even if the MORE Act is passed by the Senate, Aurora Cannabis may struggle to compete. In a saturated market already filled with many interstate actors, Aurora Cannabis may fail to make a compelling growth play.
Other experts however believe that despite closing trading on Friday December 4th at $10.89 (-$0.35, -3.11%), it is worth keeping an eye on Aurora Cannabis as this current rally may continue in December. For instance, some believe that the recent vote by the UN to remove cannabis from its Schedule IV controlled substance designation which led to a jump in prices of several marijuana stocks including Aurora Cannabis (ACB) should sustain the rally until the end of the year.
Closing thoughts
With a total debt of $379.596 million against total assets of over 2 billion in its most recent quarter (MRQ), Aurora Cannabis Inc. clearly shows no signs of a company that's about to go under. However, it'll need to do more to boost investor confidence in the long-term. In the short term, however, Aurora Cannabis Stock should ideally continue to rally as pro-marijuana legislation and policies both locally and internationally continue to spur enthusiasm from investors. If you're looking to invest in cannabis stocks, you can check out our guide on the top marijuana stocks to buy. You can also find the top marijuana penny stocks currently.