The cannabis industry is rapidly evolving and includes business directly and indirectly linked to the research, development, and distribution of cannabis products. Consequently, traditional stock exchanges like NASDAQ continue to add more marijuana businesses to their marketplace as the industry evolves. The top Marijuana stocks are also constantly racing to be listed on the most reputable exchanges globally.
Feature photo source: Unsplash
The uncertainties associated with marijuana businesses worldwide and in the US at the federal level means that the number of pot stocks on NASDAQ is still limited. This year has also been very unpredictably tricky for both marijuana stock investors and the cannabis companies themselves. Read on as we explore the top marijuana stocks currently trading on NASDAQ.
Top 3 marijuana stocks trading on NASDAQ
These stocks have been selected for having the best year-on-year growth as at the most recent quarter and for trading on NASDAQ. A consistent rise in sales is generally an indication of business growth. Here are the three fastest-growing cannabis stocks currently trading on NASDAQ.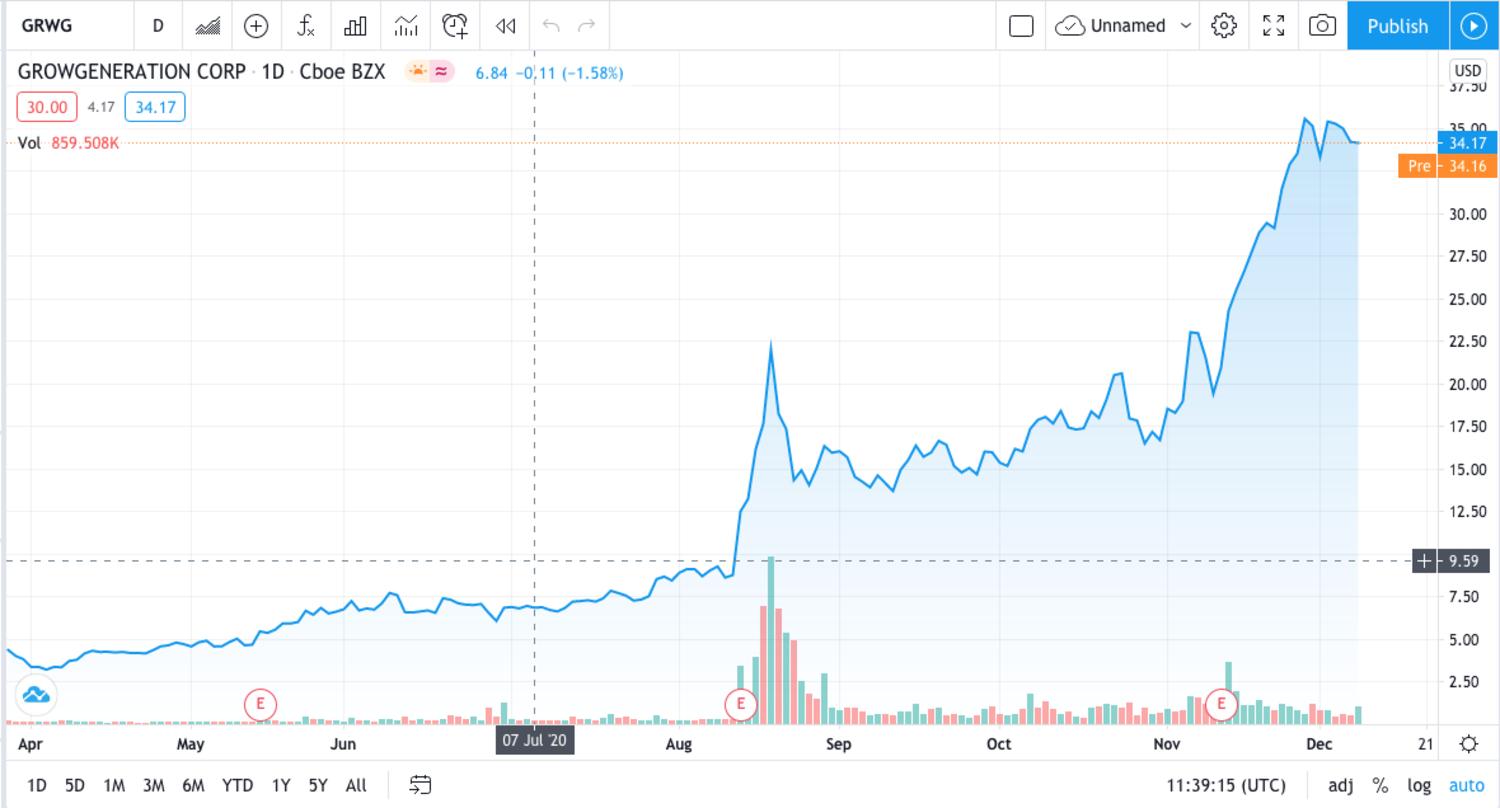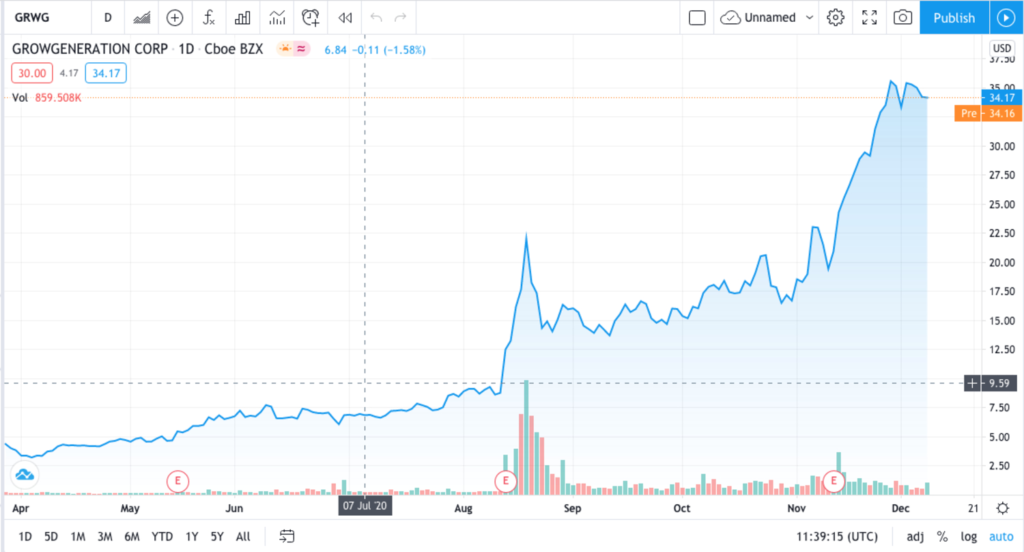 GrowGeneration Corp. (GRWG)
GrowGeneration is involved in the retail of hydroponic and organic specialty gardening products. It also engages in the distribution of agricultural products including cannabis. Whether you're new to cannabis investing or looking to diversify your weed stock portfolio, GrowGeneration remains one of the top marijuana stocks to consider.
In terms of numbers, this top cannabis stock currently trades at 34.17 (at the close of trade on Tuesday) and has grown by 700% this year alone. GrowGeneration's market capitalization of $1.674B and revenue growth of 152.6% in 2020 are some of the positives for this pot stock as well. If you're looking to invest in this top weed stock, GrowGeneration recently announced a public offering. It aims to use this offering to raise $125 million.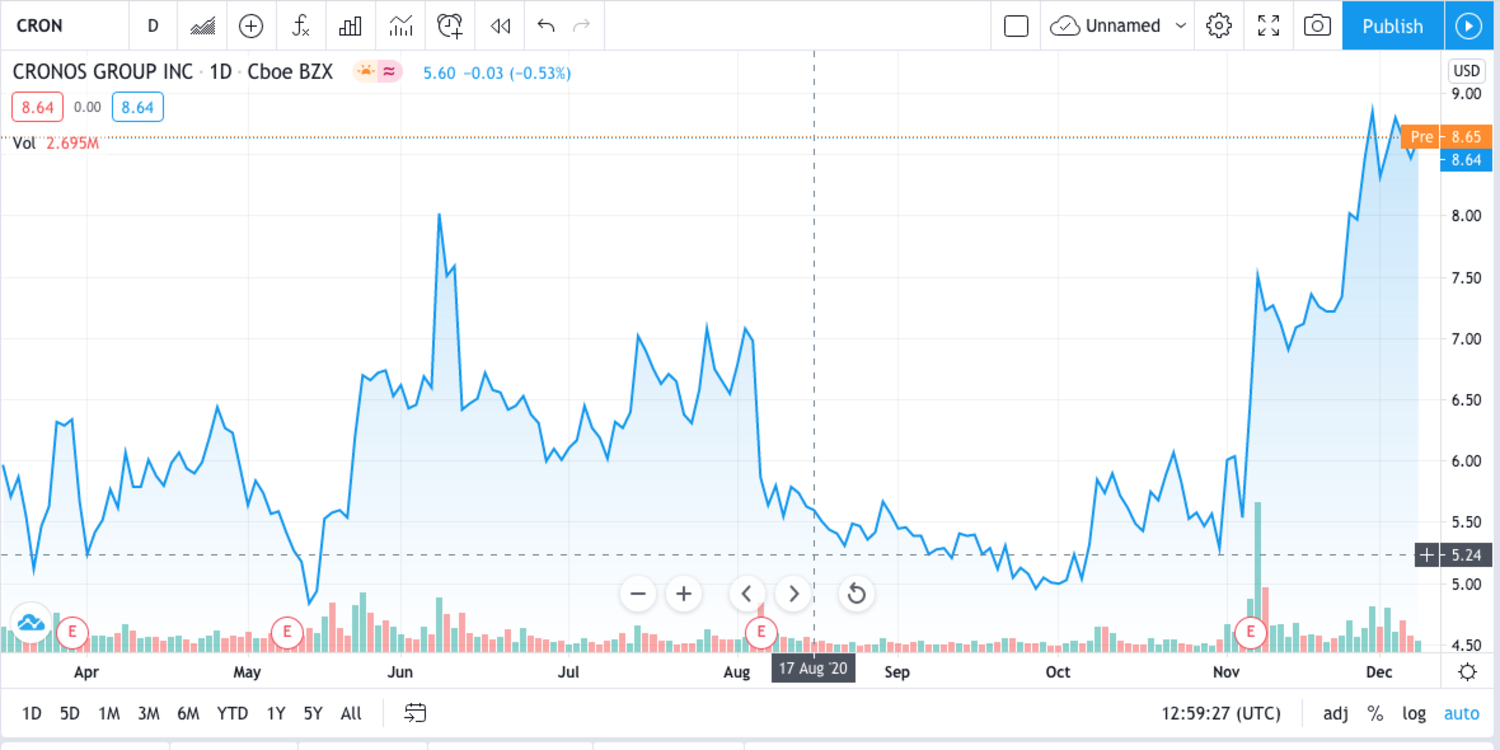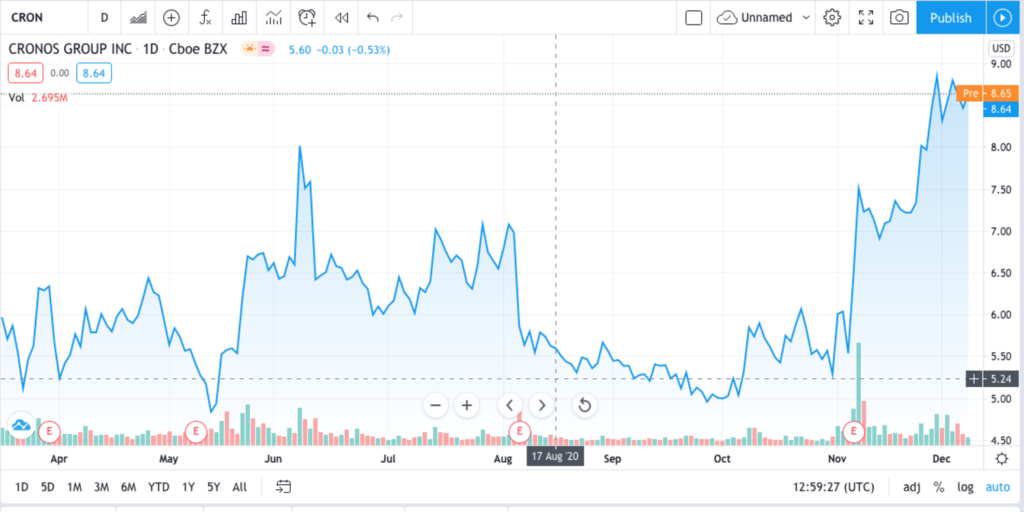 Cronos Group Inc. (CRON)
Cronos is another top marijuana stock that trades on NASDAQ. It is a diversified Canadian marijuana business that produces and distributes medical cannabis and cannabis oils. This cannabis stock currently trades at $8.64 and has an enterprise value of over $557 million in its most recent quarter. Net profits of $100 million, market Cap of $3.077 billion, and quarterly gains of 69% are some of the reasons why this marijuana stock is a trader favorite.
Net debt of $1.29 billion against assets of nearly $2 billion is also an indication that the company will not go under any time soon.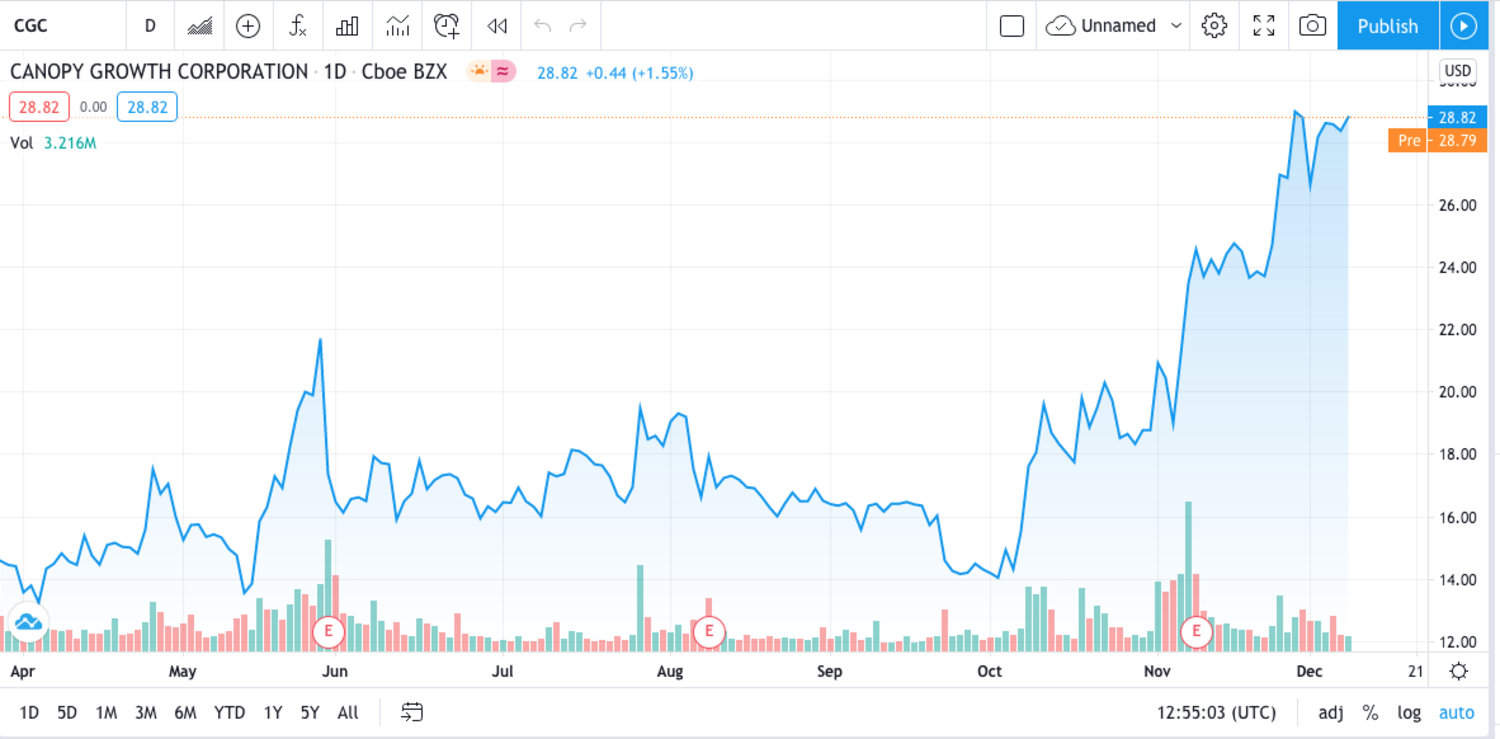 Canopy Growth Corp. (CGC)
Canopy Growth regularly features as a top marijuana stock across many investment platforms and rightly so. Canopy Growth is one of the biggest marijuana stocks available to trade on NASDAQ. The company is based in Canada and is a producer of recreational and medical marijuana. Its multi-brand strategy as well as its consumer appeal are some of its strengths in this rapidly evolving sector.
Currently priced at 28.82 (at close on December 8th 15:59 UTC-5), and with a Market Cap of $10.729 billion, Canopy Growth remains one of the fastest-growing and strongest pot stocks you can trade on NASDAQ. After skyrocketing by 53.4% in November, this cannabis stock continues to rally in December. A "strong-buy" indication on Trading view, excellent fiscal second-quarter 2021 results, and hopes for the future of federal marijuana legalization in the US are some of the factors that helped this stock perform well in December.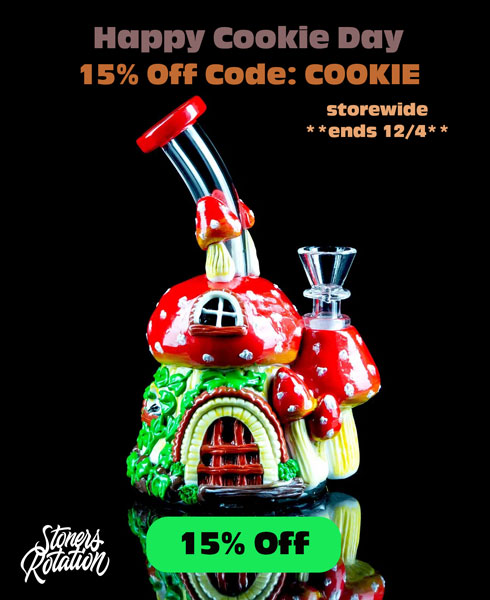 The bottom line
Despite the coronavirus pandemic, 2020 is turning out to be a good year for marijuana stocks. While the recent surge in cannabis stock growth has been fueled by some level of sentiments and hope, the top marijuana stocks continue to show resilience to end the year on a high. The January runoff elections in the US and the ultimate battle for the majority in the Senate will however, play a vital role in how well the top cannabis stocks perform into 2021.