30 Best Herb Grinders for Sale 
If you've ever ground up herb with a pestle and mortar, a cheese grater, a knife or simply by hand, you probably know that your flower doesn't come out as fine or fluffy as it would with a high quality herb grinder. Or perhaps mom is catching on that the coffee grinder smells a little skunky. More than likely though, your grinder is just a bit bent out of shape, no longer closes tightly or doesn't grind smoothly anymore. As you probably already well know, there are many different styles of herb grinders out there.
This curated list of the best herb grinders of 2021 breaks down some of the most popular styles from your standard manual grinder, rotary grinder, herb grinder pen or electric herb grinder. Whether you're dead-set on an herb grinder with a kief catcher, pollen scraper tool, a magnetic lid, extra storage space or diamond cut teeth, there's something for everyone, and the same can be said for design and performance.
Photo: Unsplash
Revolver Grinder
Boom boom pow and your herb is a fine grind! This hyperrealistic revolver grinder is a 3-piece grinder measuring 40mm. It has sharp teeth and a magnetic closure so your flower stays right where it should be.
Trippy Optical Illusion Mini Grinder
This itty bitty trippy grinder measuring just 30mm features a concave lens that magnifies the inset trippy pattern. It's the perfect size to stash away in your pocket or purse, has razor sharp teeth, a pollen chamber and includes a kief scraper tool.
Rainbow Herb Grinder
This 4-piece herb grinder made of zinc alloy comes in an iridescent rainbow finish. Notably, the Poly-O-Ring keeps metal from grinding against metal so you'll have the smoothest experience when grinding up your flower. As with all 4-piece grinders, it has a pollen catch. 
Herb Grinder Keychain
This grinder keychain is perfect for all of your escapades. Measuring just 30mm and extremely lightweight it's the perfect addition to your car keys so you always have a fine grind at the ready. The best part is that you can use it to store your greens on-the-go, especially since it has a magnetic closure.
Golden Nug Skeleton Metal Grinder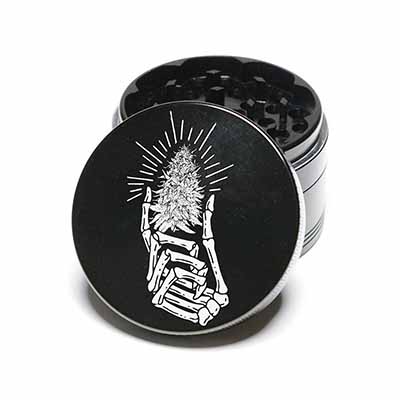 This large 4-piece herb grinder serves as a reminder that with a nug in hand, life is good. The etched design is actually done by laser so the detailing is amazing. It's made of anodized aluminum so it's extremely sturdy and the last chamber has a kief catcher and scraper tool so you can make sure to get all that delicious pollen. Luckily, it comes as large as 4 inches in diameters for those among us with the most powerful of lungs.
Skull & Mushroom Grinder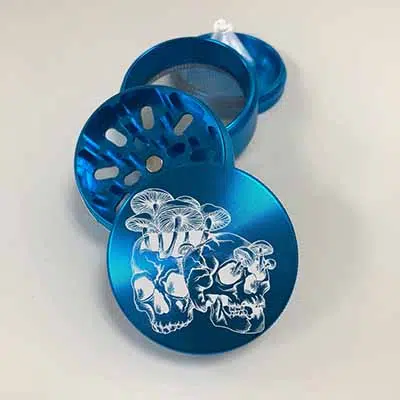 This skull grinder is as beautiful as it is trippy. The mushrooms that spring forth from the skull's eye sockets and head will be sure to set the vibes right at the next smoke sesh. The 4-piece magnetic herb grinder has teeth made of diamond cut aluminum to shred herb finely and it also includes a pollen scraper tool.  
Cute Grinder with Flowers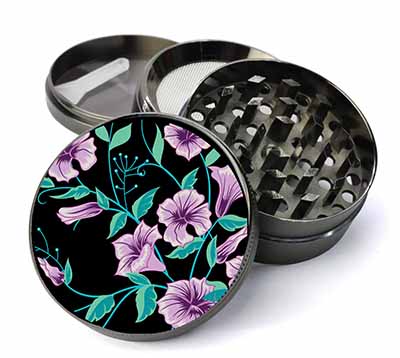 This vibrantly colored trumpet flower grinder against the gun metal finish is sure to get you lifted and makes for a sweet centerpiece. The large 4-piece grinder comes with a pollen scraper, it's precision CNC aluminum teeth grind herb efficiently and the neodymium magnet helps to keep your flower secure.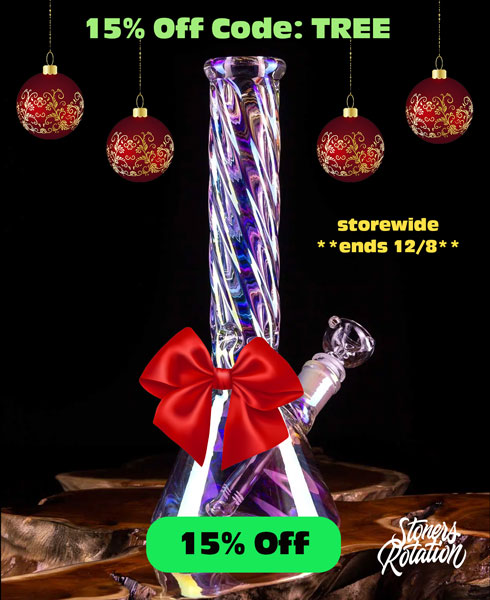 Otto Grinder
 

 

View this post on Instagram

 
If you are looking for an all-in-one grinder and cone filler, then the Otto grinder is what you've been waiting for. She's a pretty penny but the Otto's precision-engineered technology will get you a perfect cone every time. If you're ready to level up and stop making a mess of the coffee table and wasting your precious herb, this dual electric grinder and cone filler is a dream come true. 
Into the Woods Metal Grinder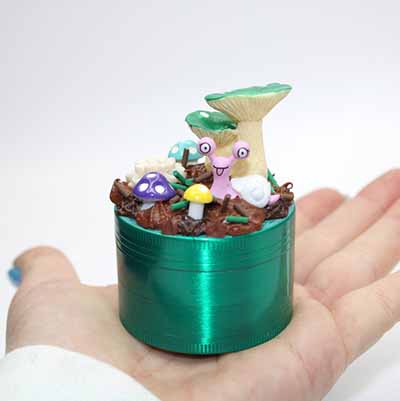 This is by far the most unusual and unique grinder on our list. This cute woodsy wonderland makes for a uniquely original gift for your best stoner friend. It's all in the details like the multicolored mushrooms and adorable stoned out snail. 
Rick and Morty Grinder
This trippy Rick and Morty Grinder from Amazon is an absolute steal, especially since it's 4-pieces and features a magnetic lid to reduce spillage. The forces of gravity can't get the best of Rick, that's for sure! Made of zinc alloy, it's extremely durable and made to last for many smoke seshes to come.
Stoner Girl Magnetic Grinder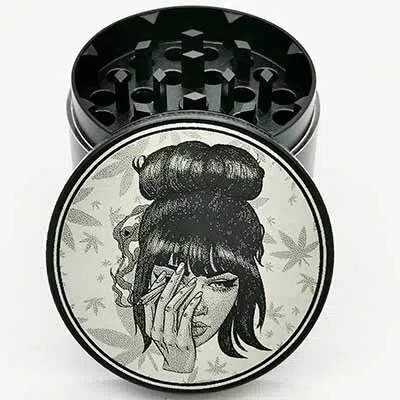 This beautiful stoner babe surrounded by marijuana leaves is heartbreakingly gorgeous with her effortless messy bun and blunt in hand. She evokes the green goddess herself, as you do on occasion. Made of extremely strong alloy, the 50mm 4-piece grinder includes a kief screen and pollen scraper tool as well. 
Trippy Optical Illusion Wooden Grinder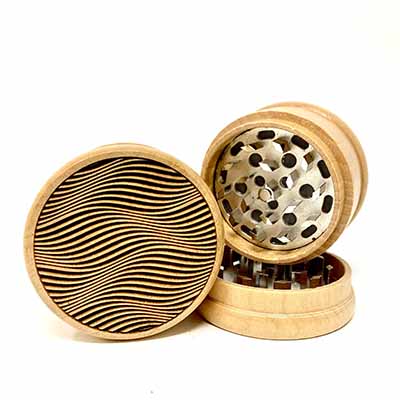 This engraved wooden grinder has got you tripping like an MC Escher drawing. It's fine detailing creates an optical illusion that's sure to elevate your high. While it doesn't have a kief catcher, this 3-piece grinder makes up for it in beauty. The best part is that if you'd like to get it customized with text you can. Adding a special touch to make this a custom grinder is sure to impress stoner bae. 
PenSimple Herb Grinder Pen
 

 

View this post on Instagram

 
PenSimple is an electric grinder for those who don't like to get their hands sticky. It's never good to touch your herb too much, so if you want the most potent, flavorful flower it's a good idea to invest in the PenSimple. You can put up to 3 grams of cannabis into the pen, grind it in the chamber and dispense through the tip. It's also a great way to store your kush if you don't have a stash box. 
Raw Grinder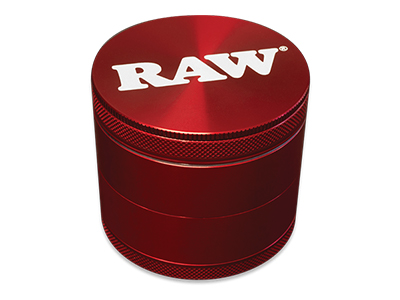 It's common knowledge that Raw makes high quality products all around and that's especially the case when it comes to rolling. The Raw Life grinder comes with 4-pieces that are easy to clean. It includes a super large basin to store and catch your flower along with a removable kief screen. 
Quant Electric Herb Grinder
 

 

View this post on Instagram

 
The Quant grinder is on par with the PenSimple in terms of cost but has a look and feel all its own. It's hard to overlook it's high quality materials and components. Made of stainless steel, it has a battery capacity of 1100mah and grinds herb in just 10s. It's also a great way to store your herb and has space for a few sessions, depending on how lit you get or how big your rotation is. The only drawback is that it takes about 2-2.5 hours to charge. 
Storz & Bickle Plastic Grinder
From the brand that brought you the infamous Volcano vape, Storz and Bickle is all about quality. Even though this 2-piece grinder seems pretty basic, the teeth of this plastic grinder were made to shred finely. It's lightweight and perfect for on-the-go. You also never have to worry about losing or breaking it since it's one of the cheapest grinders on this list. 
Gold Aerospaced Grinder
 

 

View this post on Instagram

 
Now, you're ready for takeoff. Made of aircraft grade aluminum, the Aerospaced grinder comes in 4-pieces with sharp diamond teeth and a pollen catcher. The anodized finish is especially striking in gold, featured to the far right. It's not the cheapest grinder on this list but it's a good middle ground option if you're looking for something that's going to last a lifetime. 
Cali Crusher Grinder with Kief Catcher
If you're looking for the best grinder for kief, this one's our top pick. It's also one of the best grinders on Amazon in terms of quality and durability. Neodymium rare earth magnets are also wicked strong, so your herb will stay safe and sound right where it should.
Cookies Grinder
It's hard not to love the Cookies brand. Their products are on the pricier end but they're like the Supreme of smoking accessories. Get a matching pair of Cookie flip flops to complete the smoke sesh ensemble before you watch Pineapple Express or one of these best stoner movies on Netflix. 
Ondamota Pink Grinder
Looks can be deceiving. This cute pink grinder has 33 teeth that can shred dense nugs into fluffy flower. Not too heavy, not to light this grinder is just right. It comes with a neodymium lid as well so that your herb stays securely fastened before the trip you're about to take. The best part about this piece is the ridges on the side that allow for improved grip which is especially good for the butterfingers among us.
Pokeball Grinder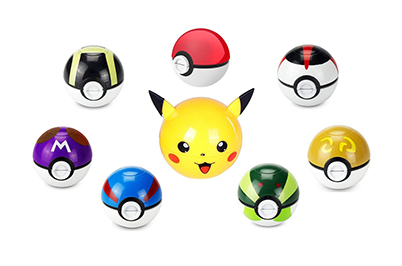 I bet you'd be disappointed if this Pokemon grinder didn't have a pollen catcher. Luckily, the world is good! This is the perfect inconspicuous grinder, just make sure your mom or younger siblings don't accidentally get their hands on it. Made of zinc alloy this small grinder is as heavy duty as they come. Our only complaint is that the lid magnets aren't that strong and sometimes pop off. But it's understandable, Venusaur and other magical plants like Mary Jane have a hard time staying in, as powerful as they are. 
Creation of Adam Large Herb Grinder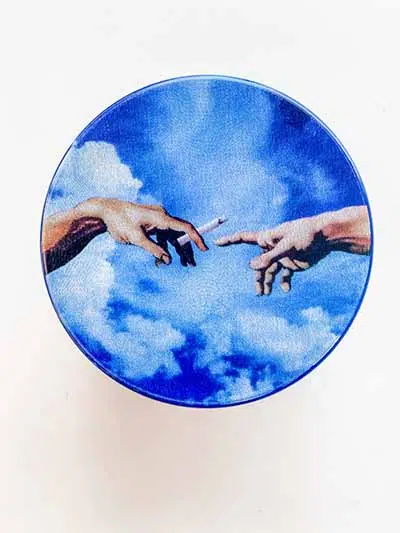 If you're a sucker for art, this grinder will become your new obsession. The design of this artsy Etsy grinder is directly imprinted so it's not going to rub off or peel up over time as with vinyl. It's got 4-pieces and comes in a gorgeous Egyptian Blue for efficiency matched by elegance. 
Oreo Cookie Herb Grinder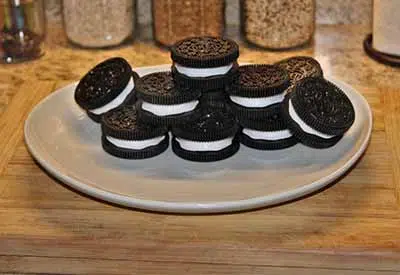 America's favorite cookie? Well, if it's got your favorite flower in it, what's not to love? This 3D printed novelty grinder is adorable, discreet, just don't take a bite out of it on accident when the munchies hit. You can even prank your stoner bud when they come for the sesh and you've got a pack of Oreos with this guy tucked in. They'd probably have to be pretty stoned though so wait before you make your move. 
Biscuit Cookie Grinder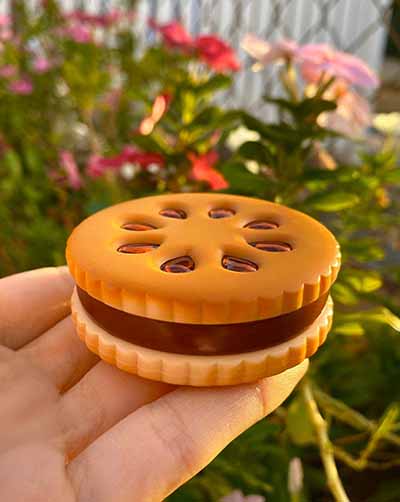 While it's pretty easy to tell that the Oreo grinder isn't real, this adorable biscuit cookie grinder will make you do a double take. Just looking at this cute grinder makes your mouth water and the cotton mouth more acute.
Zodiac Herb Grinder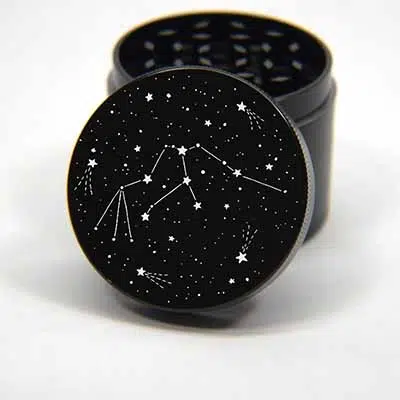 If you love reading horoscopes daily then this grinder will fit perfectly in your collection. The 4-piece grinder has a stainless steel micron mesh pollen catcher and comes with a scraper tool. It makes for the perfect birthday for the Scorpio, Cancer or Leo in your life! 
Star Wars BB-8 Herb Grinder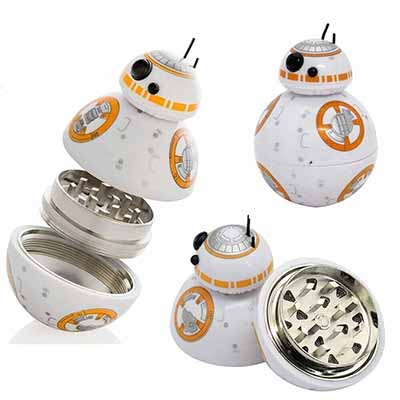 This 3-piece Star Wars Droid grinder may not have the sharpest teeth but it makes up for that in design. Like BB-8 it's super sturdy, fits in the palm of your hand and is magnetic. It's so cute even mom will approve. Let the force be with you!
Metal 4-Piece Herb Grinder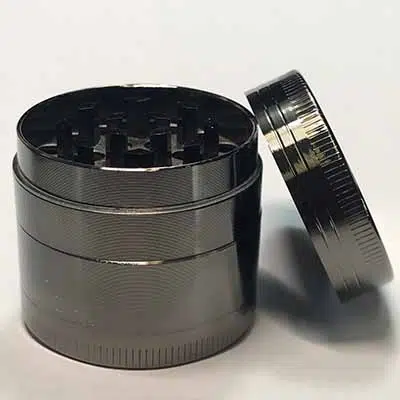 This high grade zinc alloy herb grinder will make a stunning addition to your collection. With a sleek charcoal black finish, diamond cut teeth, pollen catcher and scraper tool you're set for the next rotation.
Large Herb Grinder with pollen scraper tool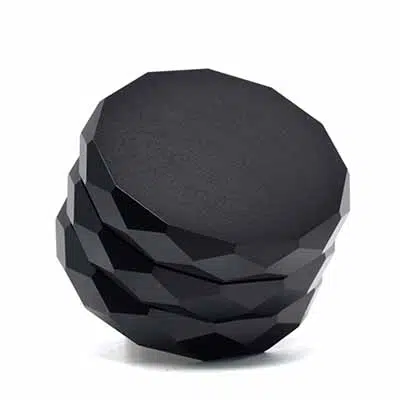 Similar to the Ondamota grinder, this 2.5 inch large herb grinder has ridges, making it easy to grip and grind your herb. Much like the other grinders it's made of high grade aluminum, has sharp diamond teeth, a magnetic closure and a mesh pollen screen. 
Crescent Moon Mountain Herb Grinder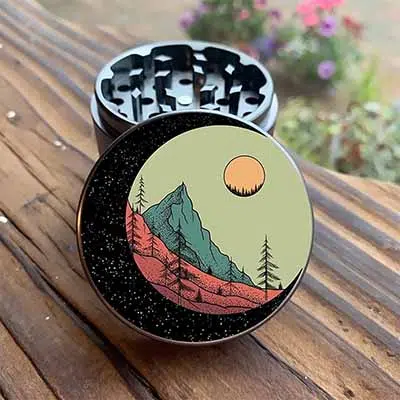 If you're getting this for a friend just get two because you'll be sure to fall in love with this cute mountain herb grinder. This 4-part grinder features a laser engraved design with the anodized finish so it won't fade over time. Interestingly, the bottom catch was made curved to make it easier to collect your kief with the included pollen scraper tool. The stainless steel pollen screen will stand the test of time too.
Rainbow Herb Grinder
This 4-piece herb grinder from Amazon made of zinc alloy comes in an iridescent rainbow finish. Notably, the Poly-O-Ring keeps metal from grinding against metal so you'll have the smoothest experience when grinding up your flower. As with all 4-piece grinders, it has a pollen catch. 
Mandala Herb Grinder
Made of aluminum alloy with a stainless steel filter, pollen catch and scraper tool, this cool grinder comes in 4 pieces. It's lightweight, easy to use and makes the perfect gift if you've got the universe on your mind. The gorgeous shade of purple that this mandala grinder comes in has an instant calming effect.
Rotary Grinder
If you're all about comfort and want to shred herb efficiently with ease, this crank grinder may be ideal for you. The manual grinder has 24+18  razor sharp double-edge teeth top and bottom, it never gets stuck and grinds flower into a fine powder for the smoothest of tokes.  
Flora & Eve Plastic Grinder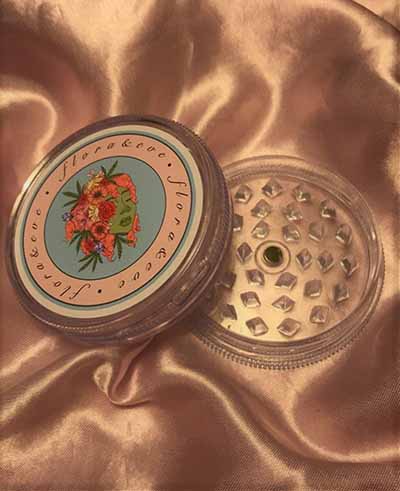 If you are looking for a cheap grinder, you can't beat the Flora & Eve. This 2-piece plastic grinder keeps it simple but includes some nifty features like a magnetic lid and built in storage. The design is also pretty cute especially for the stoner chicks among us. 
Vintage Shell Grinder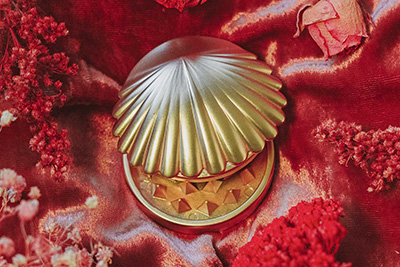 This 2-piece grinder will make all of your friends jealous. It without a doubt may even be the cutest grinder you've ever owned. It's small, exudes elegance and fits perfectly in your clutch. People will think that you're about to check your makeup. Watch their astonishment when they realize that it's not a compact mirror, you proceed to roll one and light up.
Cool Herb Grinders for the next Sesh 
From far and wide, Etsy, Amazon and beyond, we've brought to you the best herb grinders of 2021. Now you won't get any more funny looks from mom that the coffee grinder smells "quite dank, wouldn't you say?" Because finally, you've found the best herb grinder for you! You've made one huge step forward but if you want to take leaps and strides to truly up your game, complete your stoner setup with one of these rolling trays to set the vibes right.