I know, not what you expected. There aren't any stoner sub boxes filled with kitties, sadly, but just wanted to make sure you were high enough to wonder and read on. Subscription boxes are bang on trend these days, as you can receive almost anything straight to your door on a monthly basis. Stoner subscription boxes have smoking accessories, 420 apparel and everything you need to get lifted. Below is our curated list of the top 420 subscription boxes. Also, don't be alarmed but Chrissy Harless pretty much owns every box available, if you didn't notice.
Photo: Unsplash/Unsplash (mashup)
Top Stoner Subscription Boxes
Daily High Club is one of the most well known of the marijuana subscription companies. They also have almost anything you could ever want on their website, including glass pipes, bongs and rolling papers.
They also do frequent collaborations with celebrities, including Eric Khan, Chanel West Coast and Tommy Chong.
As well as subscribing to their regular monthly boxes, you can also purchase ones from previous collections if they take your fancy.
As a member of DHC, you can choose from 3 different boxes: Connoisseur, El Primo and All Natural. All Natural is the cheapest box, only costing a dollar. Combined with shipping and you'll receive your box for less than $5 bucks a month. Cant beat that.
The name alone indicates quality, and the box doesn't disappoint either.
With Hippie Butler, you can personalise your sub boxes by choosing what kind of products you like best.
Boxes start at $1 and the majority are as cheap as they come. There's also an app where you can manage and track your stoner subscription box.
The packages are very discreet, with no branding and the return address is marked as HB.com.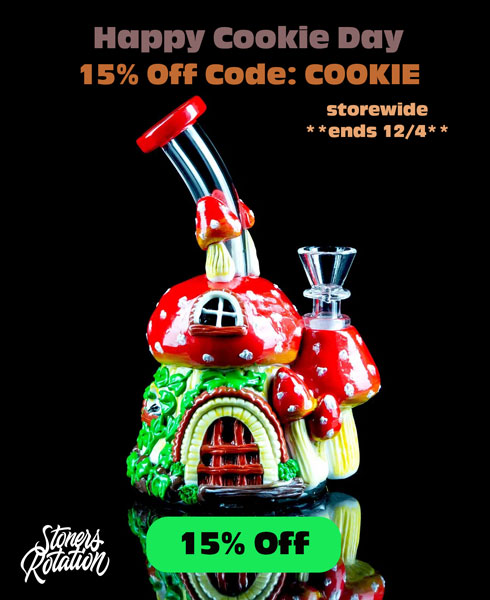 The Hemper subscription box is full of awesome smoking supplies that would be expensive to buy collectively elsewhere. They have several options available, and you can adapt your box based on whether you're a novice or a seasoned smoker.
If you're someone that's always on the hunt for unique smoking accessories, then this is the 420 goody box to go for.
According to the website, they have stuff with a retail price $125 in their boxes, even though a subscription only costs $39.99.
Their delivery is quick too, usually taking between 7-10 business days, then they're shipped on the 15th of each month.
The Stoney Babe is tailored to girls that like to smoke.
If you like aesthetically pleasing smoking accessories, with a feminine touch then this is a good stoner subscription box to opt for.
Prices range between $30-$35, which is a bargain considering the handmade details on the products.
Cannabox is one of the cheapest available stoner subscription boxes, at just $13.99 per month. This low priced subscription is called the Cannabox Essentials and includes papers, filters, hemp wraps, stoner snacks, a pipe and an accessory — which is quite a lot for such a small price.
If you don't mind spending a bit more, then you can opt for the Cannabox at $28 per month. With this, you get a box chock-full of enviable stoner items.
Each month, the box has a different theme, so you can expect to get a variety of different treats throughout your subscription.
The Dank Box stoner box contains mystery items, which makes receiving a package all the more exciting. You can expect to receive an assortment of glass, vapes, papers, accessories, and official merchandise.
They offer a variety of subscription options, and you can select according to your budget. You can also add personal messages to the box if it's a gift for a friend.
The SensiBox is one of the most well regarded stoner subscription boxes as they have a wide range of products at a reasonable price. You can choose between the Original SensiBox or the Light SensiBox at $38 and $20, respectively.
You can also choose how often you receive the 420 goody boxes, even as rarely as annually if you're not a regular smoker.
Sensiboxes are also themed and carefully curated. If you like collection novelty stoner accessories, then this is a great subscription option for you.
Hakuna Supply is unique in that is one of the few ecological weed box options available.
In your subscription box, you can expect to get rolling papers, hemp wick rolls, twisted hemp wraps, grinders, pipes, rolling trays, incense and ritual items to name only a few.
The items you get each month will also depend on the theme. In your first month you'll receive a bamboo box which is available in 5 styles: sun and moon, tree of life, geo elephant, sacred eye, and sacred rose.
The Wake and Bake weed and coffee box has all the essentials for the titular activity: wake and bake.
At a slightly elevated price of $53 per month, you can receive items like glass pieces, jars, grinders, flavoured papers, cones and even coffee samples.
Puff Packs offers an array of boxes starting from just $1.
A big advantage of the Puff Pack subscription box is that it's personalised and you can curate what kind of products you get inside.
For seasoned smokers who want something special, there's the Premium Club subscription at $90 a month. This subscription box comes with high-quality glass, chrome lighters, rolling papers and loads more.
420 Deliveries
If you want to get hold of unique stoner accessories for less than retail price, then why not sign up for a stoner subscription box?
Treat yourself to the thrill of receiving a sub box every month and rifling through to see all your goodies.
If you're interested in the stoner aesthetic and want to set the vibes right before your box arrives, check out Trippy Tapestry Ideas for Stoner Room.