Cannabis stocks rose by as much as 12% last Thursday after a Tobacco giant invested in the industry. British American Tobacco (BAT) announced on Thursday that it is set to acquire a 20% stake in cannabis company OrganiGram. The equity investment is reportedly worth around $175 million and implies a premium of 40% over OrganiGram's closing price on Wednesday.
Feature Photo Source: Unsplash
This is not a first of its kind between a cannabis company and a tobacco giant. Recall that we reported on how Altria (makers of Marlboro cigarettes) paid $1.8 billion for a 45% stake in Cronos. While the BAT deal is reminiscent of the Altria/Cronos agreement, it's an indication that investors are confident in the future of the marijuana industry. It also shows that well-capitalized companies outside the cannabis sector are keenly interested in well-run marijuana firms.
Read on as we explore key details about the BAT-OrganiGram deal, its potential impact on the industry, and key reactions.
British American Tobacco (BAT) acquires 20% of OrganiGram cannabis stocks
British American Tobacco (BAT) announced last Thursday that it had agreed to acquire 20% of Organigram, a cannabis company for $175 million. The acquisition amount was reached based on OrganiGram's cannabis stocks' volume-weighted average trading price of C$3.79 on the TSE. Following the announcement, OrganiGram's stock price rose by 40% to $4.04 on Thursday. The cannabis company's stocks which were down by 47% last year have continued to make a healthy climb in 2021.
BAT believes that by leveraging OrganiGram's direct experience, it can effectively deepen its understanding of the rapidly evolving and expanding marijuana industry. While BAT brings its expertise in plant-based science and development capabilities to the table, OrganiGram's track record of consumer-led innovation and developing high-quality adult-use recreational and medical cannabis products will provide the synergy to succeed in the industry.
What does BAT investment mean for cannabis stocks and the industry?
While this is not a first of its kind investment in this sector, it's certainly a significant one. Experts believe that this is a strong and positive move for not just the companies involved, but the industry as well. It's probably not the last of its kind that we'll see. The marijuana industry seems like a perfect fit for tobacco companies with their knowledge and expertise. It's also an excellent opportunity for companies like BAT to work towards/experience incremental growth.
British American Tobacco's willingness to pay top price for OGI's stocks is a testament to the current realities of the market. It's also an indication that OGI may be set to launch into the U.S. market. The U.S. cannabis market is by far the largest globally. A foothold in the U.S. would lead to an astronomical increase in the size of OrganiGram's market cap.
How did the marijuana industry respond to BAT investment?
The marijuana industry reacted positively to news about BAT's investment in OrganiGram. Cannabis stocks like OrganiGram itself, Aurora Cannabis, and Aphria all experienced gains last week as a result of this update. Here are highlights of how these stocks responded.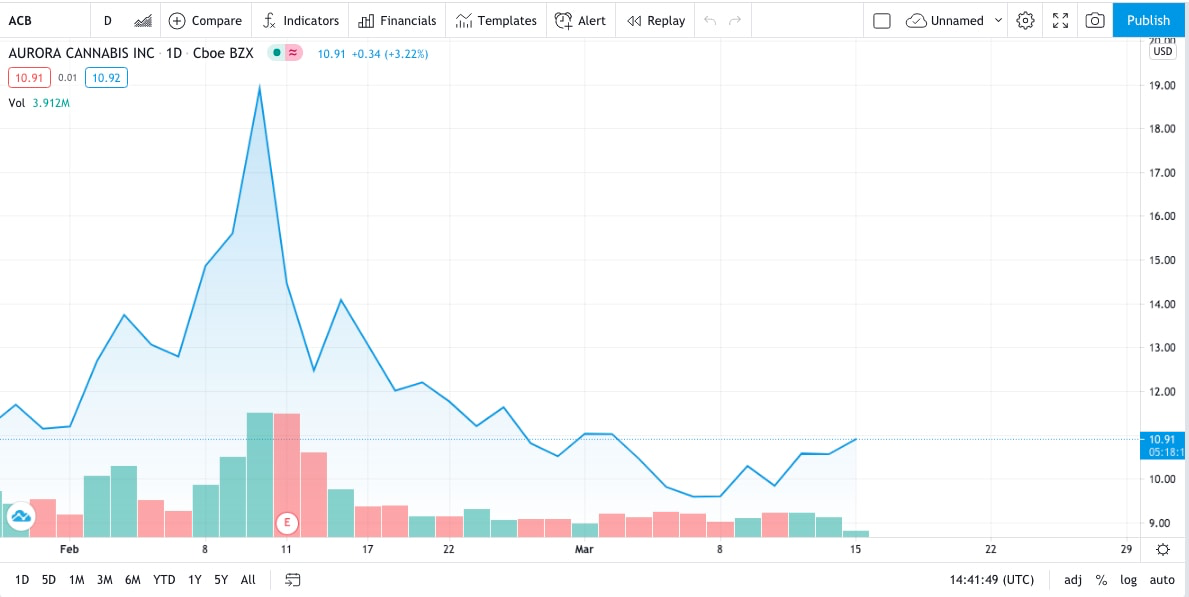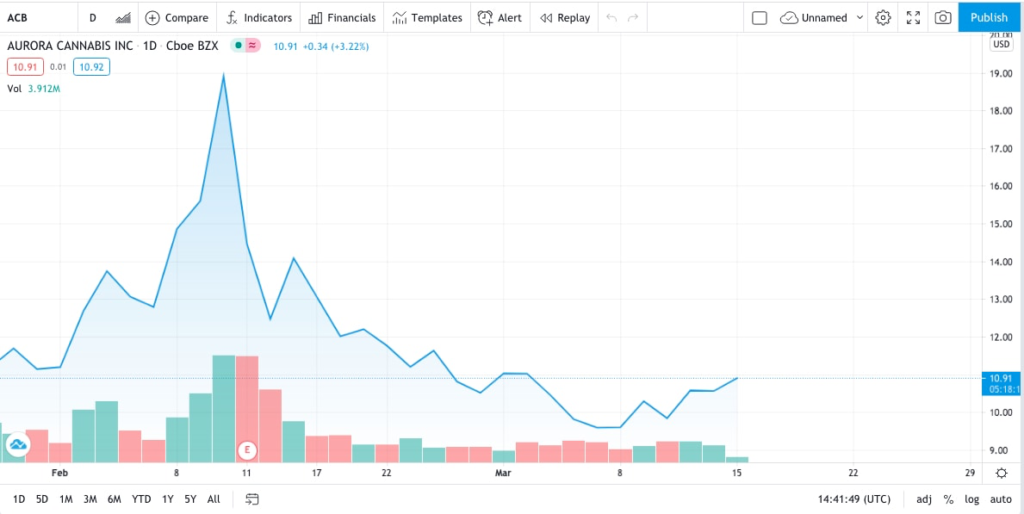 Aurora Cannabis (NYSE: ACB)
Aurora Cannabis has been making the news lately for mixed reasons. For a start, it has had a sell signal on trading platforms for a long time. This weed stock is currently up by 28% both in its year-to-date and the past 12 months' performance. However, upon the announcement of the BAT/OGI deal on Thursday, Aurora Cannabis stocks rose favorably by nearly 8%. Could ACB be set to rally as it did between October and January? Only time will tell.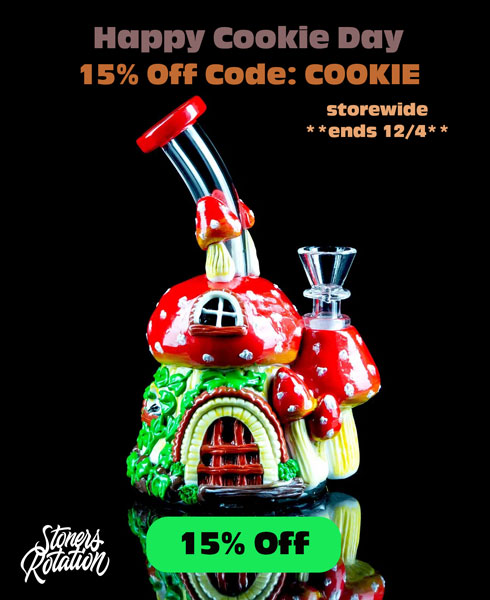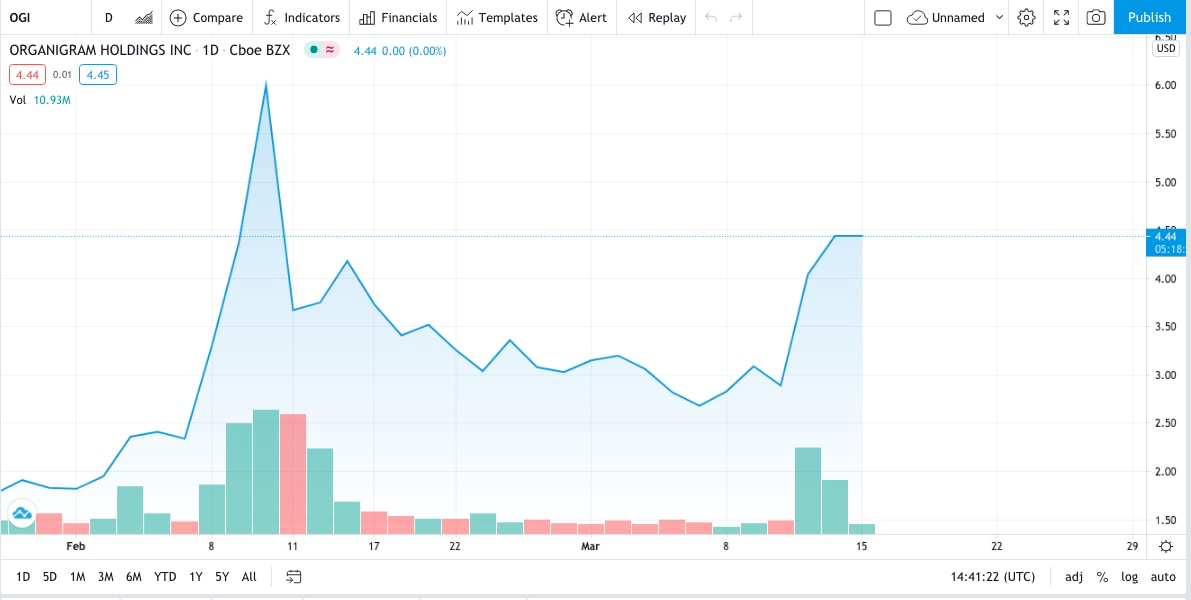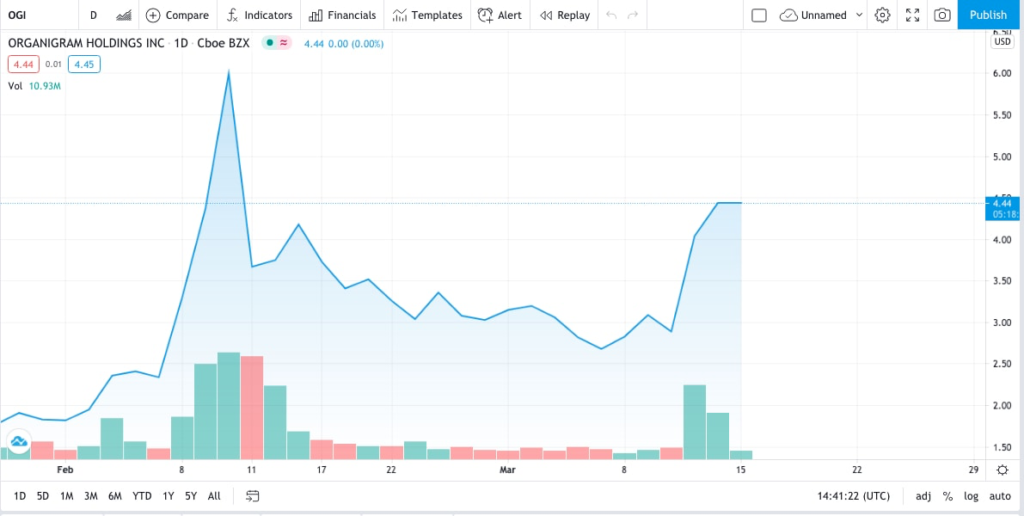 OrganiGram Holdings (NASDAQ: OGI)
OrganiGram weed stock's response to the investment from BAT was expected. The stock rose by 40% to $4.04 last Thursday. This has been a fantastic year for Organigram weed stock subscribers. From the massive traffic that OGI received from the Reddit army to its consistent surge in value, this cannabis stock remains an investors' favorite. It's currently up 224% since the start of the year and uses its low stock price to attract millennial investors.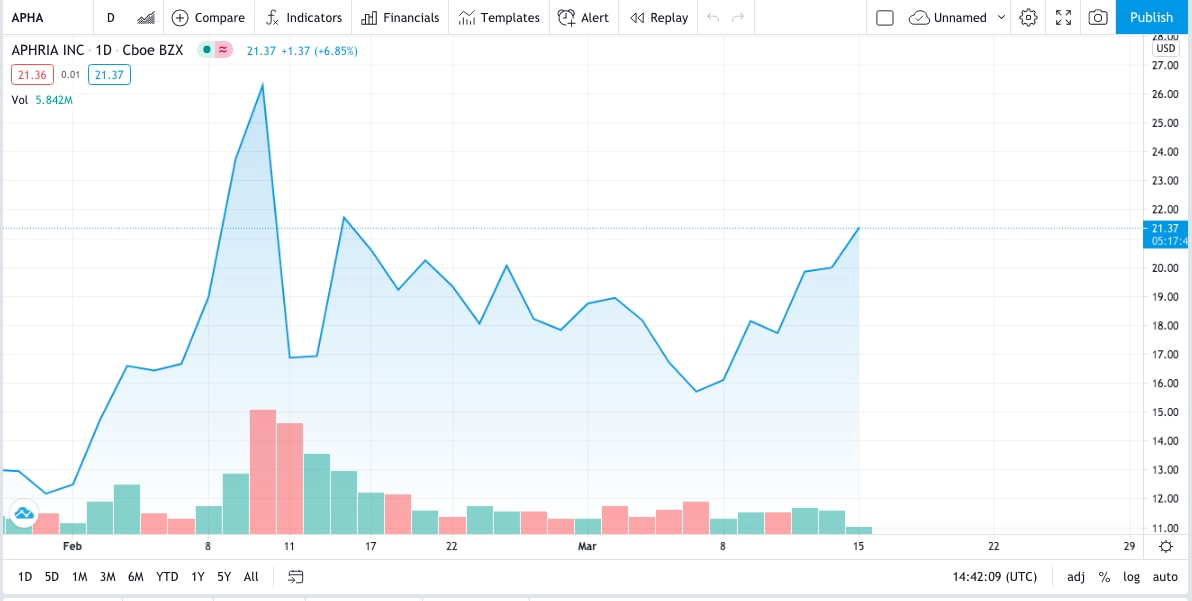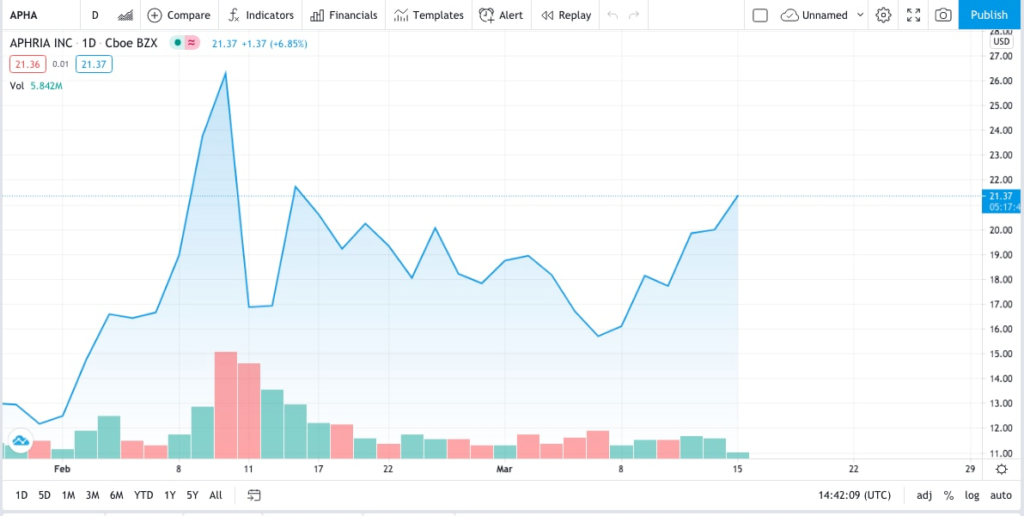 Aphria Inc (NASDAQ: APHA)
Aphria Inc's marijuana stocks rose by 12% immediately after the BAT/OGI deal was announced. It has a very successful medical cannabis operation that has continued to fuel the growth of its cannabis stocks. APHA is currently up 202% year-to-date and has been experiencing a meteoric rise since October 2020. It also has a buy signal on most trading platforms.
The cannabis stocks wrap
As another Tobacco giant invests in the marijuana industry, could it be an indication of more to come? We think so. The industry is currently lively on mergers and acquisitions and this will not be the last. What would however be more interesting would be to start seeing these acquisitions yield tangible results.