The strong winds of marijuana legalization are rapidly sweeping across the United States. 47 states, Washington DC, and four US territories have already adopted state-wide marijuana legalization for either recreational or medical use. This has had a positive effect on marijuana stocks, especially those with U.S. operations.
Feature Photo Source: Pexels
Many cannabis stocks like Canopy Growth and Aurora Cannabis have been experiencing impressive year-to-date gains. This has come mostly down to hopes that marijuana legalization is on the brink. Imagine how these stocks would respond when cannabis is legalized at the federal level. Investing in the right stocks now could potentially open you up to a world of astronomical gains when this happens.
So, how do you identify the right stocks? The following explores the current state of cannabis legalization in the U.S. and the top marijuana stocks to invest in, as we anticipate federal legalization.
The current state of marijuana legalization in the U.S.
Marijuana legalization in the U.S. has come a long way. With 47 states and Washington DC already providing legal backing for marijuana businesses, it's only a matter of time before the federal government follows suit. When the House of Representatives passed the MORE Act last year, the industry was set agog. Although the MORE Act is aimed at decriminalizing cannabis, it was widely considered a step in the right direction.
Recently, we also reported that the U.S. Senate Majority Leader, Chuck Schumer, alongside other lawmakers, pushed to combine several marijuana bills in a bid towards legalization. This is perhaps a more significant move for the industry. The Senators jointly affirmed that "ending the federal marijuana prohibition is necessary to right the wrongs of this failed war and end decades of harm inflicted on communities of color across the country". They also confirmed that passing the combined bill this year is a priority for the Senate.
Top 3 marijuana stocks to buy before U.S. legalization
Here are the top marijuana companies that stand to benefit the most from legalization in the United States.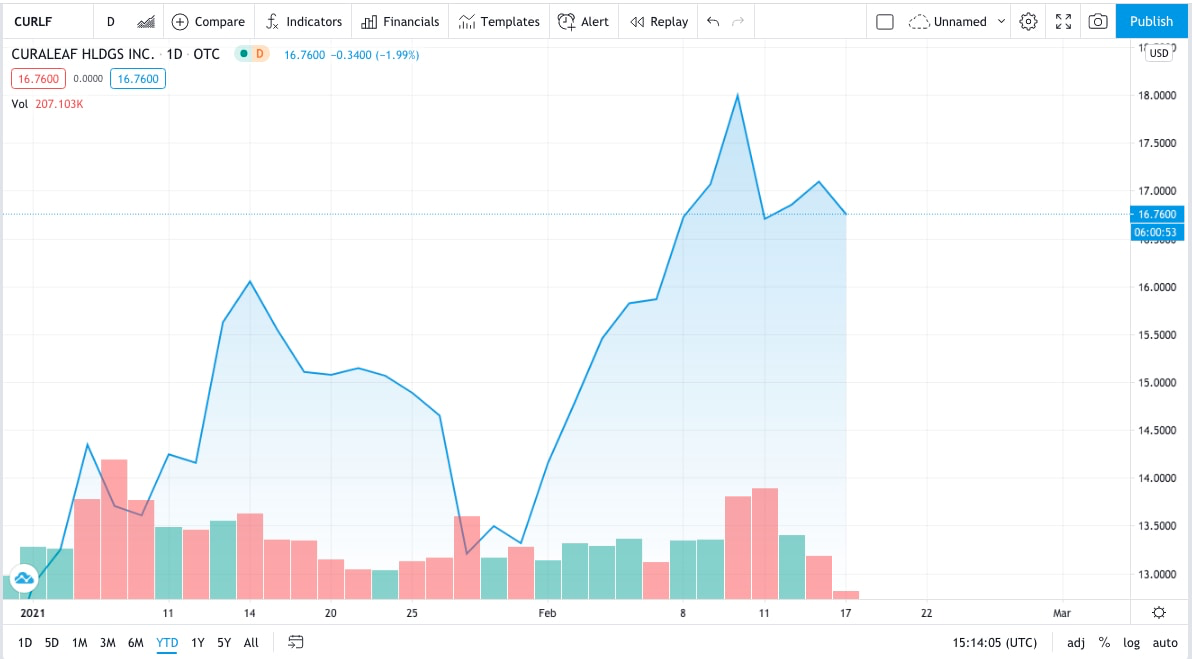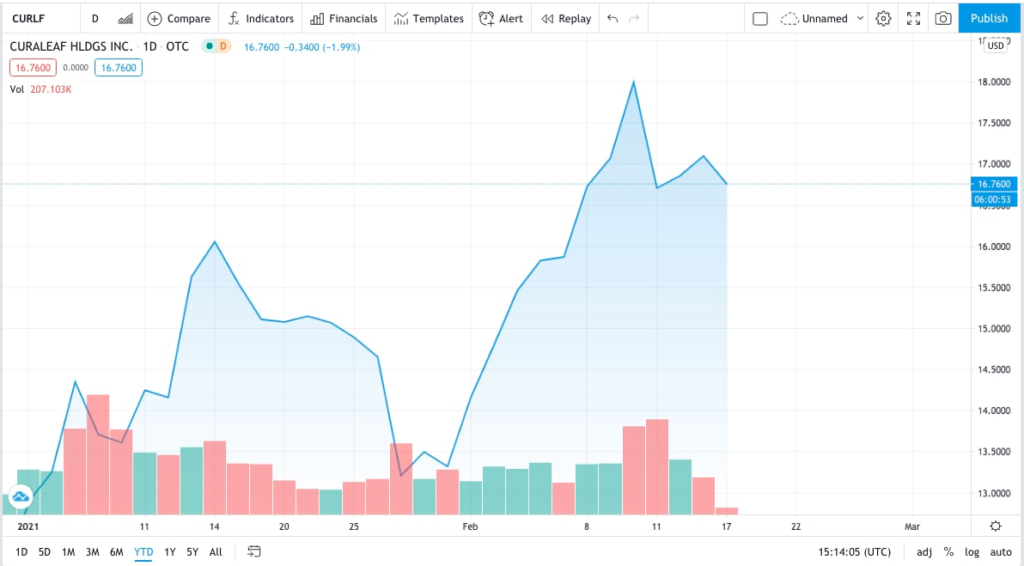 Curaleaf Holdings (OTC: CURLF) (CSE: CURA)
Curaleaf is the biggest marijuana stock operating in the United States. This Multi-state operator (MSO) currently covers 23 states. It also owns 130 dispensary licenses, with 90 currently active. These factors will allow Curaleaf to benefit immensely from federal marijuana legalization in the United States.
When it comes to numbers, Curaleaf's marijuana stocks are currently up by 42.8% year to date. Curaleaf already operates a well-run marijuana business and isn't just basking in the hopes for legalization. A strong buy signal, a market cap of over $7 billion, and an enterprise valuation of over $5 billion are some of the first things potential investors will observe about Curaleaf. Interestingly, Wall Street experts believe that this will be the first cannabis stock to cross $1 billion in annual sales revenue.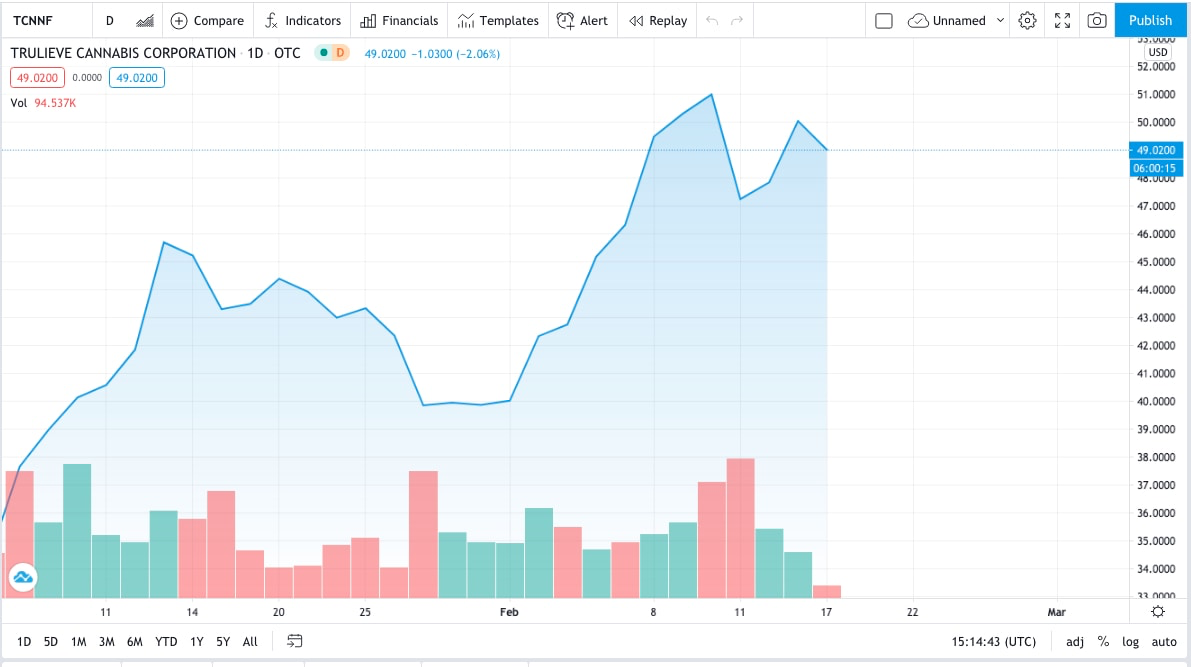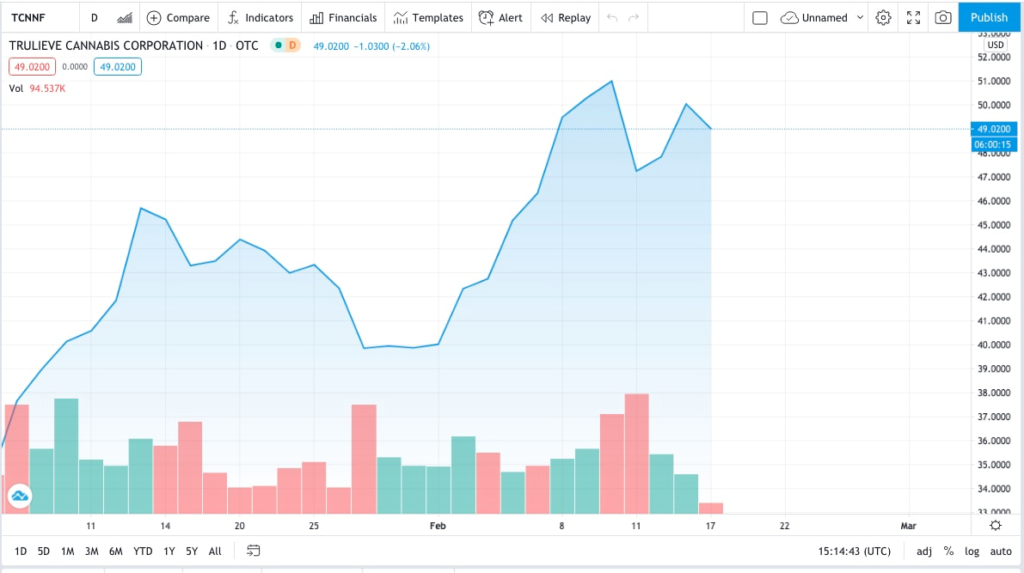 Trulieve Cannabis (OTC: TCNNF) (CSE: TRUL)
Trulieve Cannabis commands a 50% market share of medical marijuana in Canada. Its strategy of focusing on one State has been hugely successful. This marijuana company has 75 operational dispensaries in the U.S., with 70 of them in Florida. When marijuana becomes legal at the federal level, Trulieve will effectively expand its operations with minimal marketing expenses.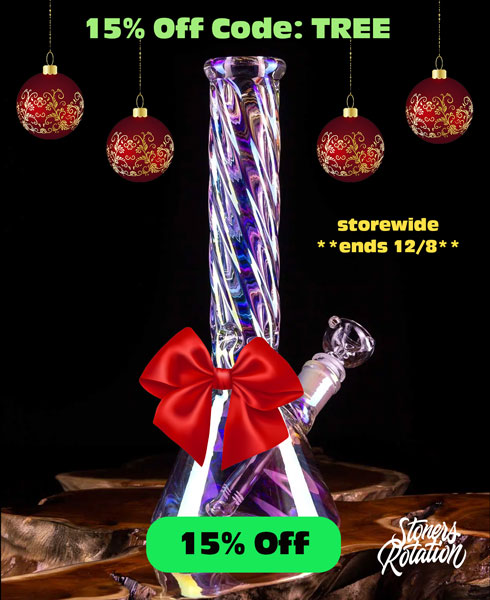 Trulieve's weed stock is currently up by 55% year-to-date. Its market cap of $5.8 billion, a valuation of $2.26 billion, and a buy signal are some of the attractive features that potential investors will notice. Meanwhile, Trulieve is widely considered the most nominally profitable marijuana stock in the market.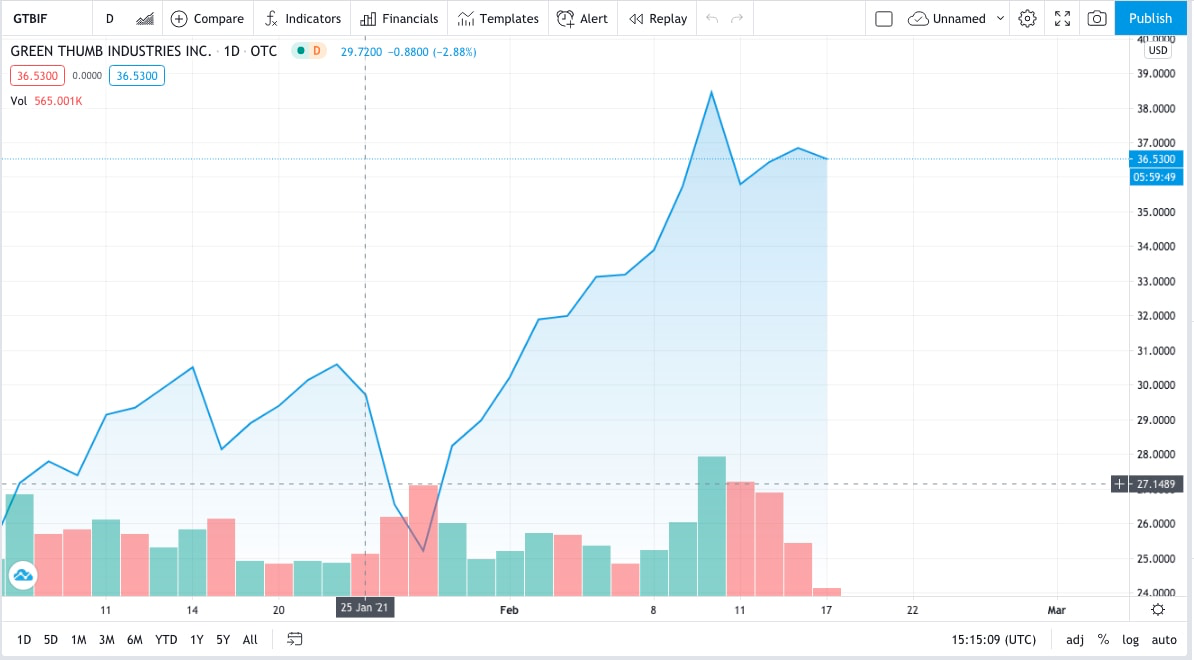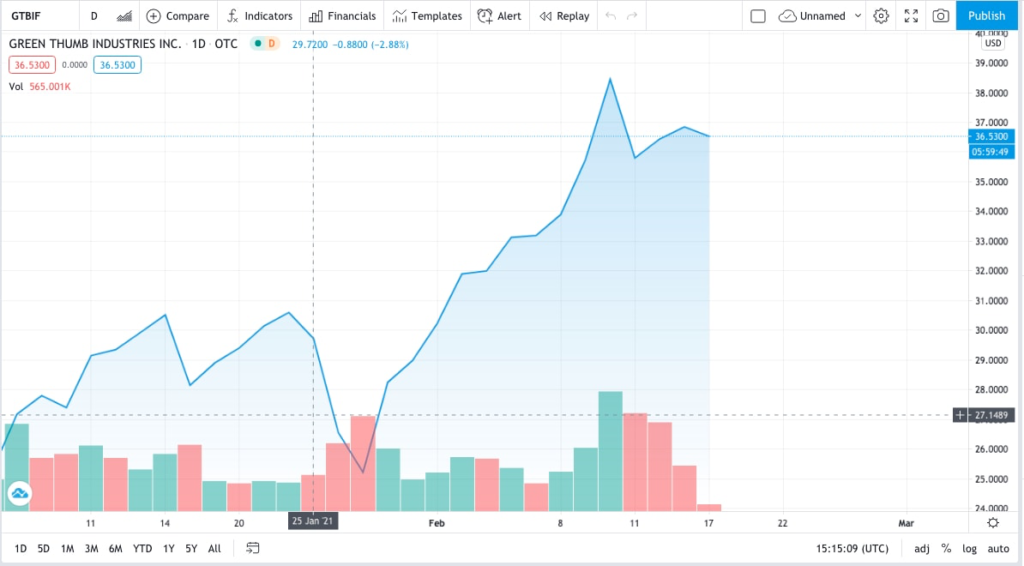 Green Thumb Industries (OTC: GTBIF) (CSE: GTII)
Green Thumb Industries has a buy signal on TradingView and is valued at over $5 billion. It also has a market cap of nearly $10 billion for both its OTC and CSE marijuana stocks. It is Green Thumb's current distribution across the U.S. that will ultimately help it benefit from potential legalization. Green Thumb currently holds licenses for 96 retail locations in 12 states. Although only 50 of them are active, the remaining 46 will be easily activated when federal legalization comes into play.
Away from the numbers, this multi-state operator generates two-thirds of its sales from derivatives such as edibles and infused beverages. Derivatives usually offer healthier margins for cannabis companies. This projects a positive outlook for Green Thumb's future in the United States.
Marijuana stocks closing thoughts
Marijuana stocks will experience immense growth once cannabis is legalized at the federal level. When this happens, it is the existing businesses with a foothold across the U.S. that will stand to benefit the most. While existing MSOs appear to be in pole position to take the lead, businesses like Trulieve with limited geo-distribution also understand the business well enough to respond appropriately.