You love it when your bud is dank but there's nothing cool about you smelling dank, especially when you're trying to be discreet. Anyone who doesn't smoke sweet Merry Jane can pick up on the smell like a trained police dog at the airport. It's not a matter of if but when they'll sniff you out. You can sidestep the awkward glances, paranoia and potential repercussions by investing in a smell proof backpack or stash bag made specifically to conceal our proudly loud green friend along with your favorite smoking accessories.
Photo: Unsplash
15 Best Smell Proof Backpacks & Bags
This curated list of the best weed backpacks includes brands like Skunk Bags, Raw, Cookies, Dime Bags and some new names that are helping stoners stay on the DL.
Element Skunk Bag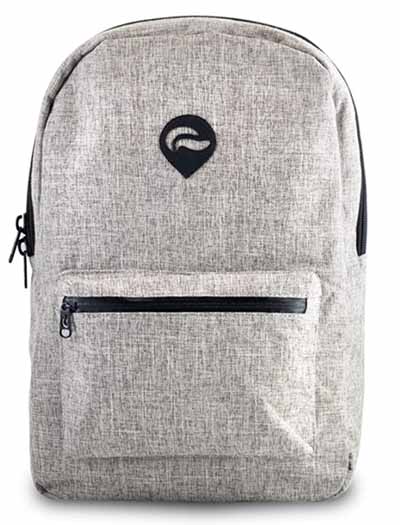 Skunk Bags is a huge name in the game of smell proof backpacks. They hands down make some of the best smell proof bags on the market including duffles but it does come at a price.
The Element Skunk Bag is 100% smell proof, locking in the loudest of strains with its maximum strength carbon filter. Just under the size of a JanSport, the weed backpack is the perfect size especially if you're using it daily, walking or biking. The construction is really high quality with extra padding on the inside in case it gets dropped and heavy duty double waterproof zippers so it's made to last. The smell proof bag with lock is also protected by built-in combination lock at the top, so your stash is safe at all times.
Transporter Dime Bags Backpack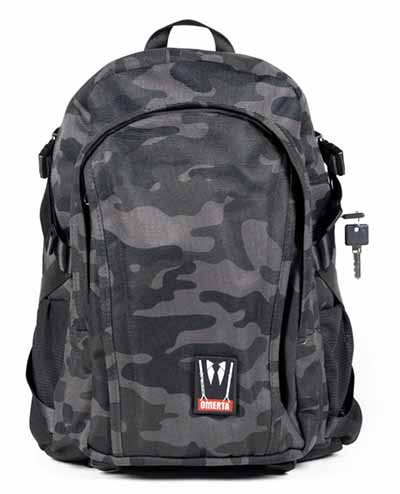 If you want a 100% smell proof backpack, the Transporter is expensive but quite possibly the best weed backpack on the market for locking in smell. It's waterproof, carbon lined, and has a built-in lock. Each backpack comes with its own set of keys that's unique to that bag. While it comes with a high price tag, the quality is second to none and people attest to years of use and still no smell at all.
Cookies Bungee Backpack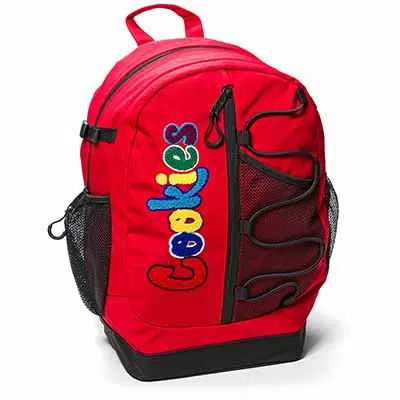 This Cookies backpack is fun, just the right size and includes a double zipper to keep loud smells locked in tight. Made of nylon and backed by its own smell proof technology, the Cookies Bungee Backpack features a custom Chenille patch and a unique pocket reinforced with bungee cord to keep your glass secure. The Cookies sf backpack also just got an upgrade so it is even more smell proof than before and the zippers can be reversed, making it harder for smell to escape. The straps have extra mesh lined padding so it's really comfortable and there are even two side water bottle sleeves so you stay hydrated and cool.
Backwoods Backpack
Carrying a Backwoods cigar backpack makes an impression. They say I'm a proud stoner and don't care who knows, depicting backwoods in flavors like banana, grape and honey bourbon. That said, their more discreet smell proof backpacks are only available in limited edition, making them harder to find. However, if you are a huge fan of Backwoods backpacks in general and are willing to spend a bit more for the smell proof technology, this Dark Stout Limited Edition is just for you.
Mini Skunk Bag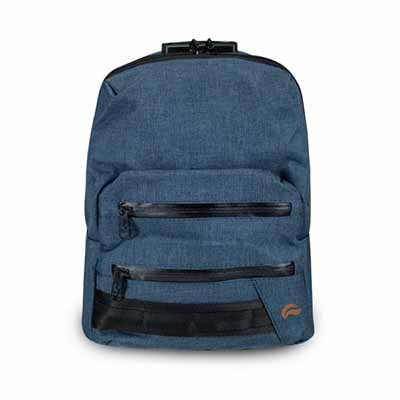 This Mini Skunk Bag is carbon lined, has tons of pockets to organize your smoking accessories and is completely water resistant. The main compartment of the smell proof backpack features a combination lock with a double zipper closure for extra security.
Lumberjack Red Cookies Backpack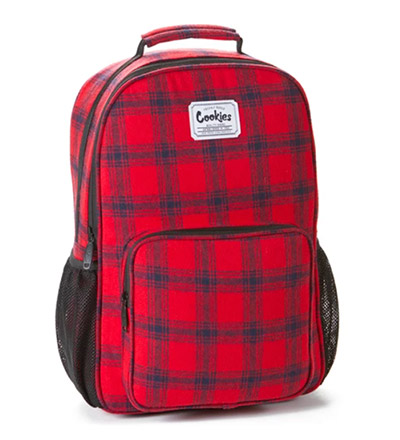 The lumberjack in your life needs this Cookies backpack. This red Cookies backpack has a plaid flannel design that will match all his shirts and help you spot him between the trees, smoking trees. As mentioned, Cookies has its own smell proof technology so the zippers can be reversed, further trapping smell. This Cookies sf backpack also has some stretchy mesh pockets on the sides in case you get cotton mouth while hiking and toking.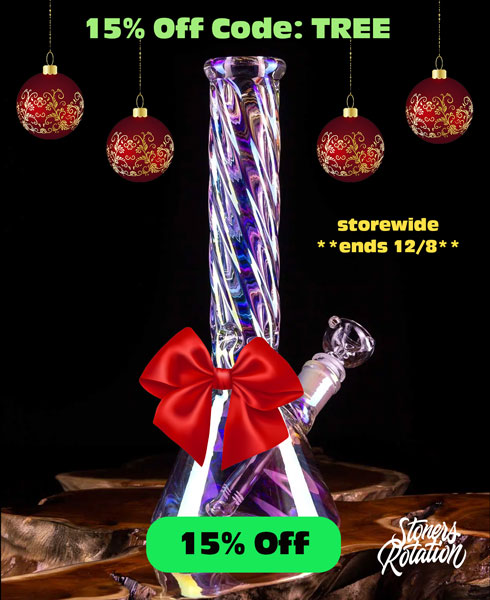 Explorer Cookies Smell Proof Duffle Bag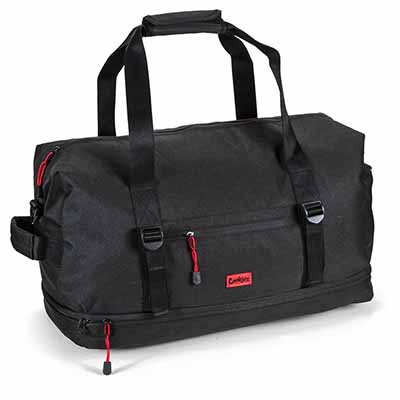 The Explorer smell proof duffle bag can double as your gym bag or survival pack wherever you go. The smell proof sling bag features double zippers and an oversized Cookies logo print so you can roll in style wherever your next adventure takes you.
Zero Smell Proof Backpack with Lock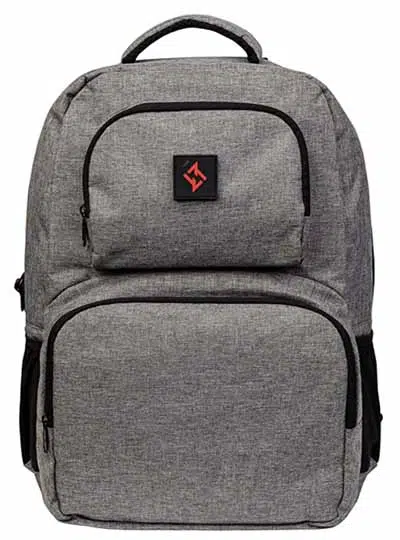 The Zero has a similar feel to the Element Skunk bag but won't break the bank. This cheap smell proof locking backpack comes in discreet black or grey shades so you can keep it on the DL. The combination backpack lock will give you peace of mind for trips and home storage alike. It's also extremely spacious with enough room to fit two computer cases and tons of compartments for your ganja, grinder and other 420 smoking accessories.
Quilted Cookies SF Backpack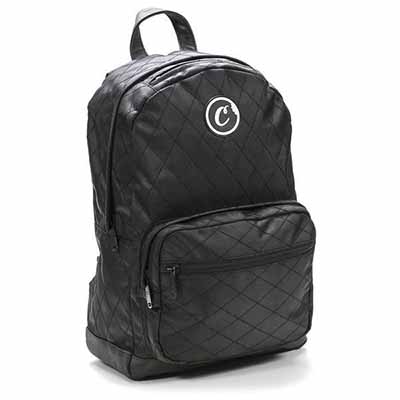 This Cookies backpack is perfect for the stoner chicks out there. The Cookies logo is discreet and the sleek pattern will look good with anything you put on. If you are looking for an elegant smell proof backpack the V2 will hit just right. With carbon fiber lining and double zippers, the Cookies brand backpack couples design with the best technology out there so you don't lift any eyebrows, unless it's in envy.
Raw Smell Proof Backpack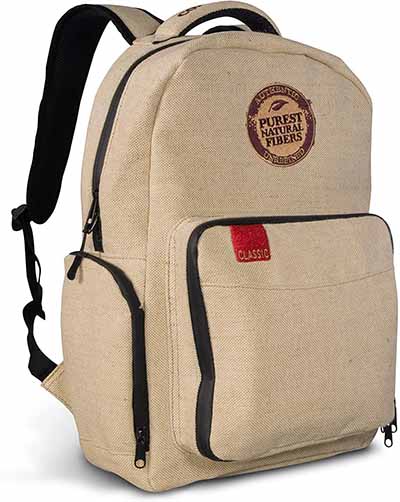 This Raw backpack is not 100% smell proof (we give it an 8/10 in terms of hiding smell) but if you simply want to keep the dank noise level down and love the brand, the 6 layer design should be more than enough. Made of burlap with lockable zippers and tons of storage compartments, the Raw Cone backpack is perfect for storing all your smoking accessories too.
Clyde Cookies Smell Proof Shoulder Bag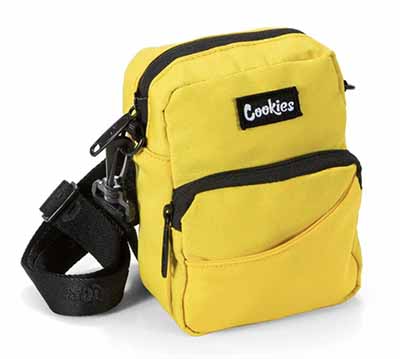 The Cookies shoulder bag is a smell proof bag that's perfect for the on-the-go smoke sesh with two compartments protected by double smell proof zippers. Measuring just 7" x 6" the mini smell proof backpack is made of nylon with a comfy strap so you won't even notice it.
Dime Bags Smell Proof Mini Backpack Knapsack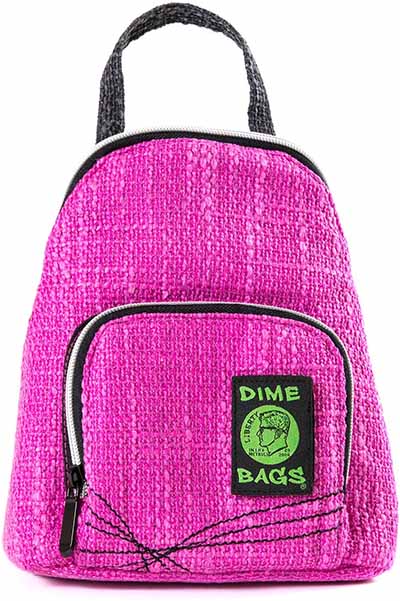 Dime Bags make the cutest mini smell proof backpacks around. This knapsack is perfect for festivals, small but strong enough to pack in the dankest of strains with its removable smell proof pouch. It's super comfortable with adjustable straps so you won't even feel it after hours of dancing. It's even designed with slots to hold your IDs and cards, along with storage compartments and a secret pocket. And we could all use a secret pocket every once in a while.
Nomad Skunk Bag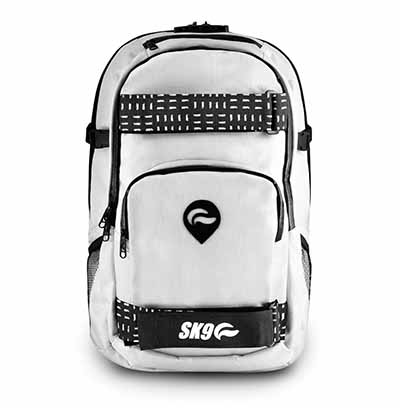 This smell proof backpack by Skunk Bags is a stunner. It features skateboard secure straps, combination lock and laptop padded pocket. With the carbon filter, it's 100% smell proof with a double waterproof zipper, filter lined front pockets, interior zipper pockets and side net pockets. The only downside is that some people have had issues with the zippers after a few months so if you're hard on your zippers you might want to pass this one up.
Firedog Smell Proof Bag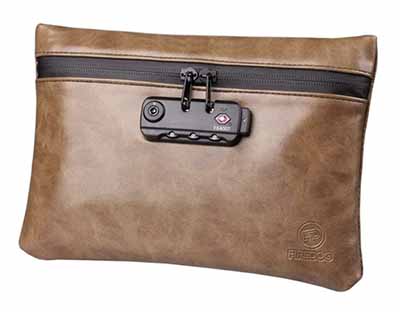 If you're looking for a cheaper alternative to a weed backpack, a smell proof bag with lock might be all you really need. It's the perfect size, big enough for all your smoking accessories but can fit with lots of room to spare in your backpack. It also makes the perfect stoner gift if you want to give something really useful that doesn't break the bank.
Best Dog Tested Smell Proof Bags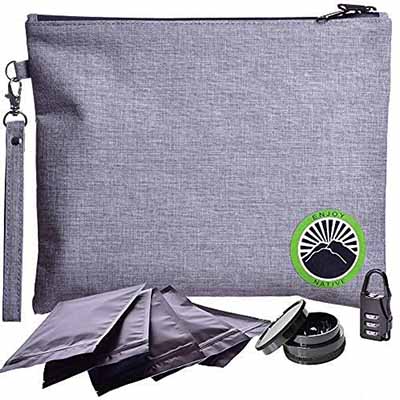 Now, if you're looking for the best dog tested smell proof bag, this is it. This smell proof bag on Amazon has its own proprietary smell filtration technology that is as heavy duty and discreet as they come. It has modular storage pockets that you can customize and segment how you like as well. More than anything, you'd be surprised by how much you can fit inside this smell proof stash bag, including jars, glass pieces and ashtray with room to spare. You'll feel like a stoner Merry Poppins.
Smell Proof Bags Considerations
Material – Look for backpacks that say "carbon lined". Carbon filters are used in grow rooms to neutralize odors and are currently the most effective technology to eliminate the particularly pungent smell of marijuana.
Size – Some backpacks are fully smell proof, while mini backpacks tend to only have a small, vacuumed sealed smell proof pouch. Read carefully before buying so you can get exactly what you're looking for. Say you're going to a festival and want to travel light. Mini backpacks are ideal so you can dance comfortably and perhaps you only need enough space to store a few pre-rolls. On the other hand, if you're going camping or using it daily, you're better off with a large smell proof bag.
Price – 100% smell proof backpacks tend to cost more than ones that only have a smell proof pouch. Also, popular brands like Backwoods and Cookies tend to put a premium price tag on their smell proof marijuana backpacks so if you care more about function than anything else, we recommend going for lesser known brands. You can cop a steal on Amazon but check out the reviews and Q/A to make sure it's still high quality. The main complaint is that the smell proof technology stops working and the zippers give out over time.
Type – There are smell proof backpacks, duffle bags, shoulder bags and fanny packs so buy what's most comfortable for you and how you like to roll.
Compartments – Depending on how you like to travel with cannabis, having compartments can keep you organized so you don't lose a lighter or dab tool ever again. If you're using this backpack as an everyday bag, definitely consider getting one that has a laptop padded pocket too.
Features – Some smell proof stash bags have extra features like a combination lock, skater secure straps, laptop padded pockets and heavy duty double zippers. Some are even waterproof, so the world is your oyster, as long as you know what's out there!
How do Smell Proof Bags Work?
A lot of stoners wonder if the technology behind smell proof bags actually works. The answer is yes; however, the best smell proof bags use an activated carbon technology which absorbs odors like a sponge, locking in the most pungent of smells.
How to Activate Charcoal Bags
If you already have a smell proof backpack but it seems to be losing its ability over time, use a hairdryer for a minute to reactivate the charcoal. Another option is to throw it in the dryer for a minute although we don't recommend this as it could damage double zippers and other parts of your backpack over time. Regardless, check the bag's label to see if it's dryer safe.
Hidden in Plain Sight
It's clear that stoner culture is becoming mainstream by the minute. As more states are legalizing the green goddess, it's becoming more and more accepted but not everyone is on board yet. For those of us who smoke daily, it's still important to go unnoticed. Luckily, smell proof backpacks are as discreet as they come so you can get from point A to point B as high as you like, whenever the mood strikes.