Decorative Ashtrays
Ashtrays have always been an intrinsic part of the smoking culture since the days of old. Having ash all over the place doesn't attract some sort of medal for a stoner. Over the years, ashtrays have evolved and gotten really cool. They have transcended simple tools for collecting ash and morphed into works of art and masterpieces. A beautiful and amazingly functional design screams aesthetics and usability. That's a powerful combo. Whether you seek a personalized, customized or unique ashtray, there's something for everyone. If you want to do more than just collect ash, here are some cool ashtrays for stoners.
Photo: Unsplash
Top 25 Ashtrays for Stoners List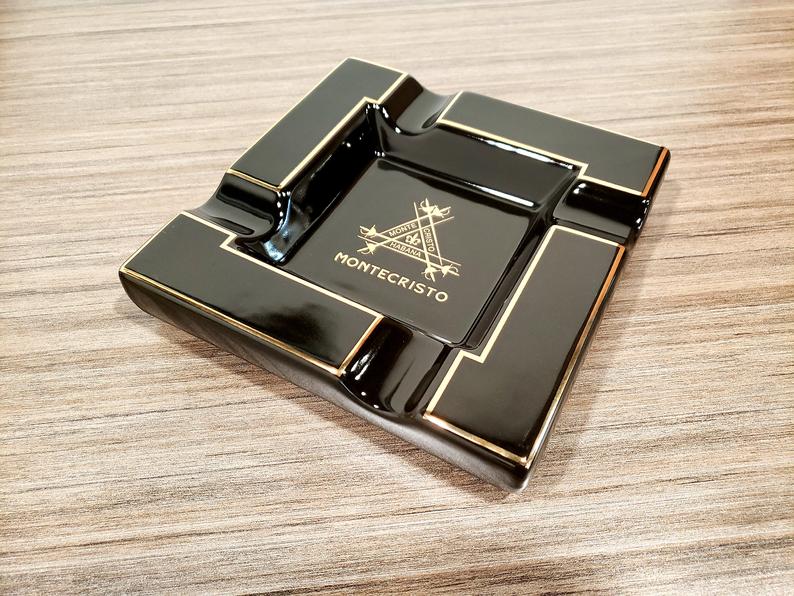 Class doesn't get better than this executive custom cigar ashtray. The lush and luxurious design of this ceramic ashtray gets better – it can be engraved! It could double as a nameplate in your designated smoking area because you're the boss! If smoking pot was allowed in an office, this should be the first item on the table. We would like to fondly nickname this ceramic ashtray as "The Formal Ashtray".
Personalized engraved ashtray
Multiple fonts to choose from
4 blunt/cigar rests
Made of gold and black ceramic
Size: 8.5"x 8.5'x 4.5'; Weight 3 Ib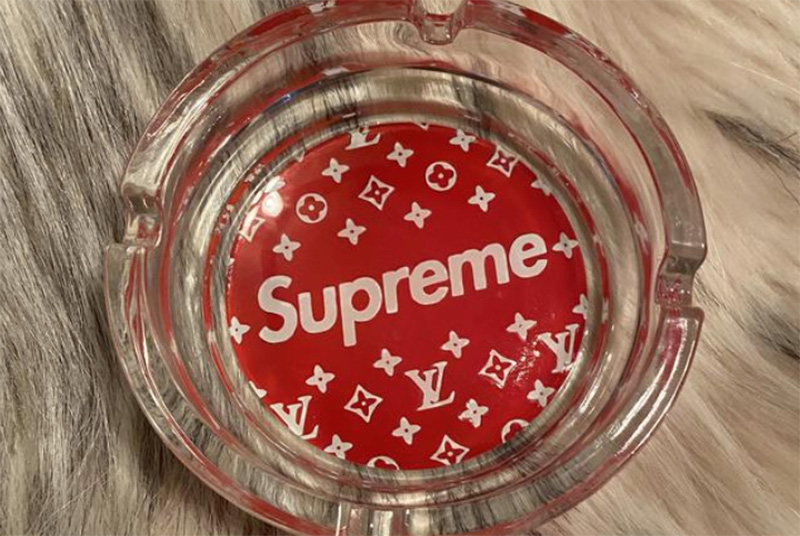 If you're big on brands, this is just the designer ashtray for you. Some people will happily have their favorite brand's logo/sticker on everything they own. It's a level of brand loyalty that some people have attained. This could also be a fun way to throw around some extra bucks when the bag is heavy. Even if you can't afford the real thing, Etsy is a cool place for inexpensive designer ashtrays. You can find Versace ashtray, Gucci ashtray, Hermes ashtray and lots of cool designer ashtrays on Etsy.
Supreme LV design
Decorated with red and white vinyl glitter
Sealed with resin
4 blunt/cigar rests
Made of glass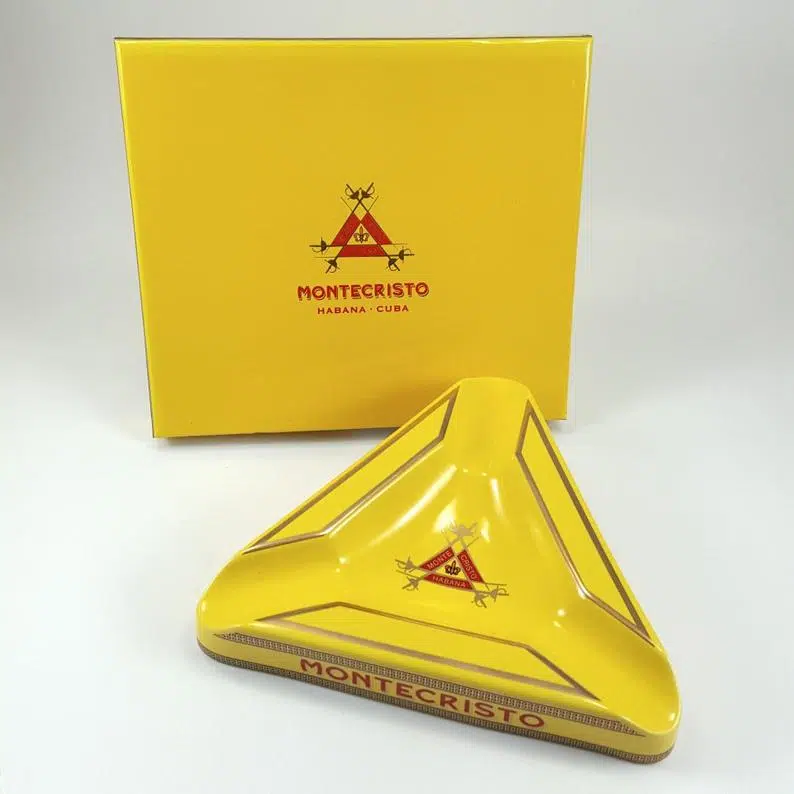 You may not be next Count of Monte Cristo but you can own this top grade Montecristo cigar ashtray. This triangle shaped vintage ashtray looks like a relic from an Egyptian temple. The stunning design consists of high-grade porcelain with a gold trim. This porcelain ashtray is a representation of an intriguing design built with durability in mind.
Montecristo logo in the center and 3 sides
Luxurious design
Deep center
3 huge blunt/cigar rest
Made of yellow and black porcelain with gold trim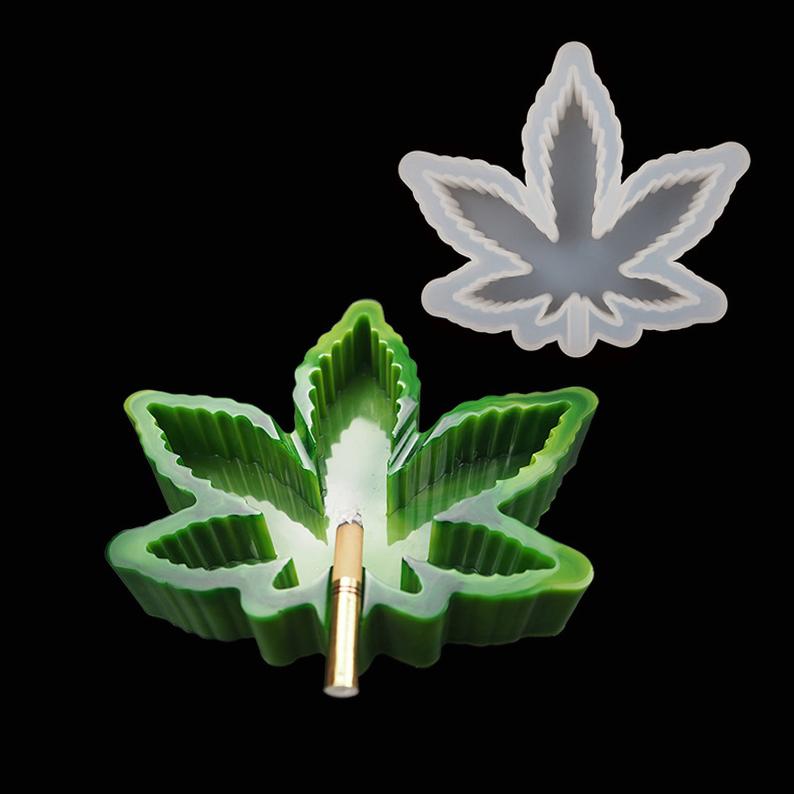 This weed leaf shaped silicone ashtray mold is specially made for creatives who love to get handy. The ashtray resin mold allows anyone to create flawless DIY ashtrays that are stylistic and unique. You can play around with your own personalized designs and create something that's never been seen.
Flexible, reusable and easy to demould
Compatible with most resins and other casting materials
1 blunt/cigar rest
Made of silicone
Size: 16cm x 18cm; Weight: 157g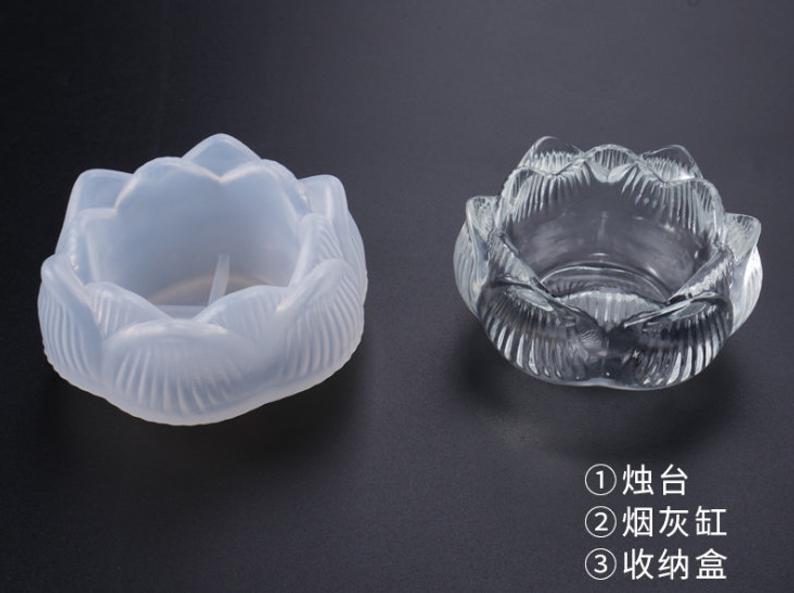 Here's another ashtray mold to get creative with DIY ashtrays. If just want your own cute ashtray and maybe a relatively small ashtray, look no further.
Flower ashtray resin mold
Precise, high transparency, flexible and easy to demould
Not suitable for food
Made of silicone
Size: 4.5cm x 9cm
This enormously round wooden ashtray is a fantastic double design. It has two parts; a pot (with a huge pit) and a lid that doubles as a unique ashtray. Its design makes it the perfect car ashtray as it can hold large amounts of ash and also be covered. Also, the natural aesthetics makes it a good choice for decoration. This would be a wonderful addition to your wooden collection. It would also rest and blend perfectly with wooden tables and furniture.
Perfect for home decoration
Can hold large amounts of ash
3 blunt/cigar rest
Made of Olive wood
Size 2.35"x 4.5"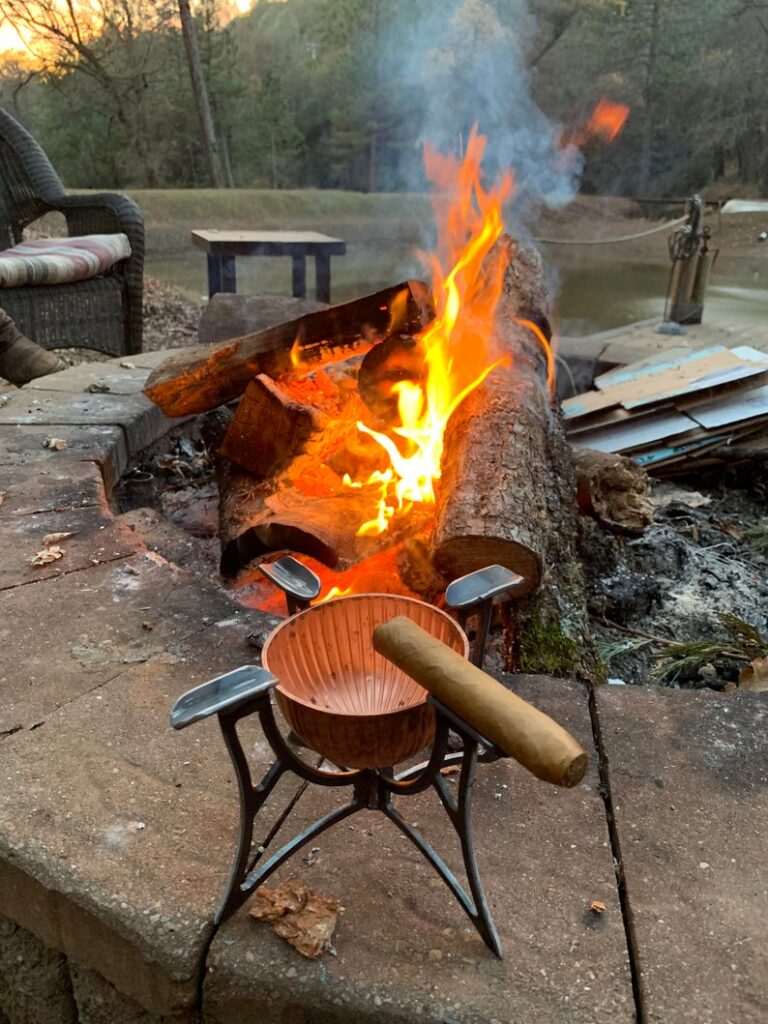 This retrofuturistic vintage ashtray will serve you better as an outside ashtray. Obviously, much thought didn't go into the aesthetics of the design. It's simply a bold hunk of metal possessing its own unique elegance. It rocks a hardcore steampunk vibe. The cigar ashtray would serve well for fat doobies and look good in any rough landscape. It would be amazing if the parts moved.
Steampunk ashtray
Outside ashtray
Made from scavenged parts
4 blunt/cigar rest
Made of a copper bowl with welded stand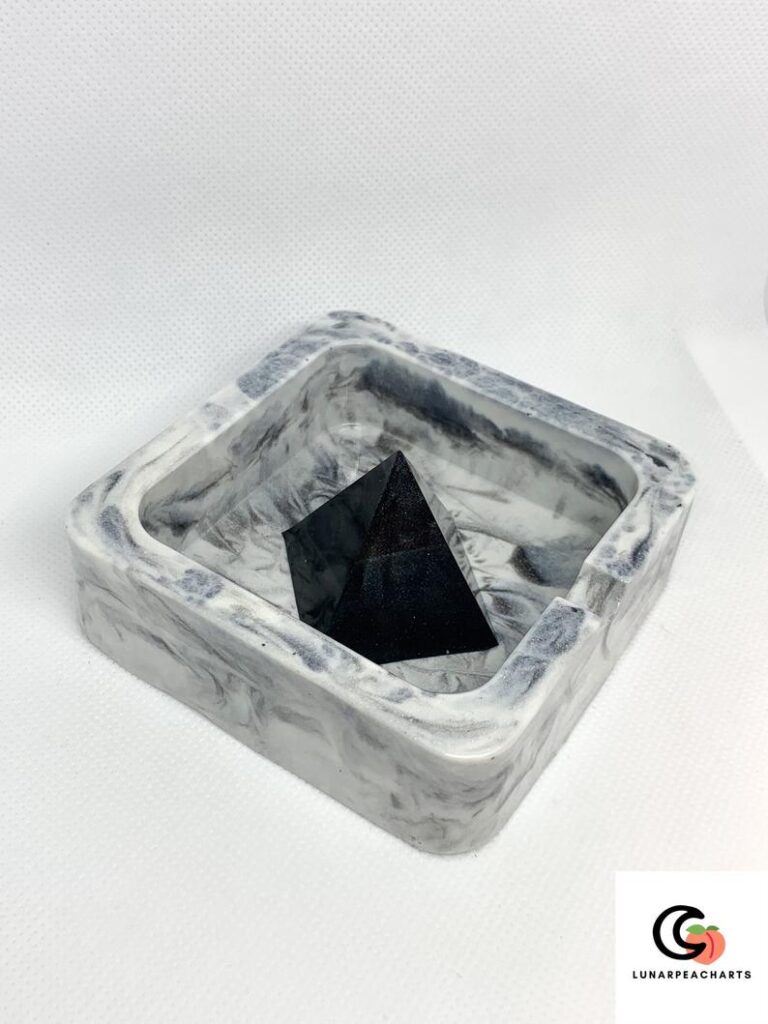 This marble ashtray is elegantly crafted for marble lovers. It looks authentic, heavy and weighty when observed with the eyes (the marble effect). It's also a handmade custom ashtray and no two designs look exactly the same. The black pyramid in the center gives it a kingly shade and makes it perfect for de-bowling. This ashtray is an excellent choice for solo stoners who want to collect ash like a king.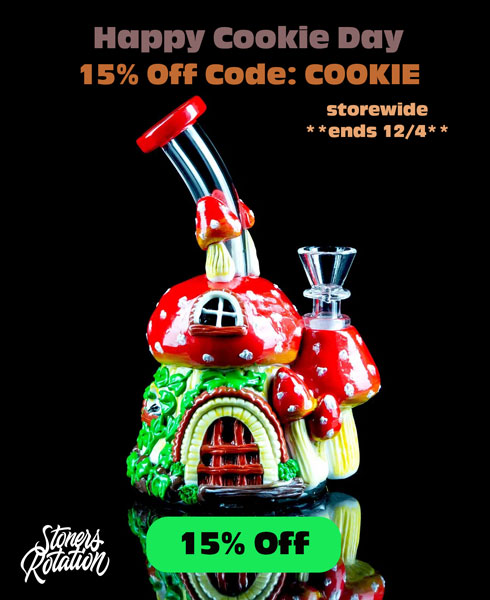 Durable
Custom/handmade
Marbled effect
Heat resistant/ UV resistant
Made of white and black pearlescent epoxy, resin and glitter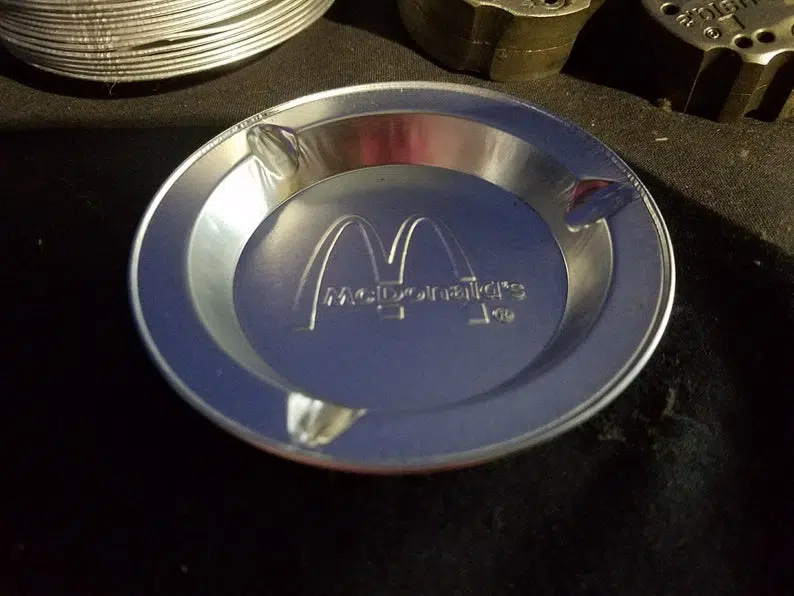 This aluminum ashtray is just the best if you constantly knock over your ashtray. You no longer have to worry about breaking something each time your ashtray falls over. The antique ashtray is embellished with a McDonald's logo and McDonald's actually had ashtrays in the 70's. If you're a collector, this vintage ashtray might tickle your fancy.
80's vintage ashtray
Perfect for retro parties
3 blunt/cigar rest
Made of aluminum
Size. 3.5" wide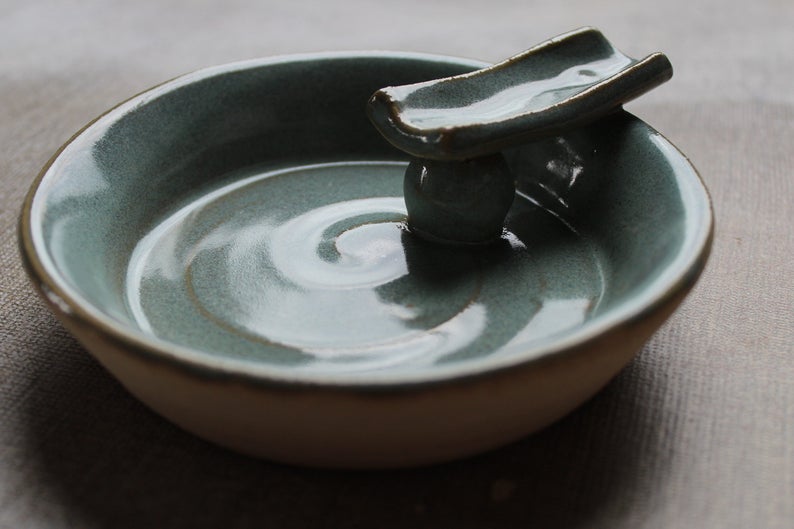 Seth Rogen is an icon in the stoner community. It makes sense that some stoners would love to toe in the path of this legend up to his famous ashtrays. Unfortunately, Seth Rogen doesn't sell his ashtrays. However, all hope is not lost. This mimicry of Seth Rogen's ashtray are for sale. They're just so beautiful and reminiscent of a solo nature retreat.
Handmade
Can be cleaned in a dishwasher
1 blunt/cigar rest
Made of stoneware, clay
Measures just under 5" in diameter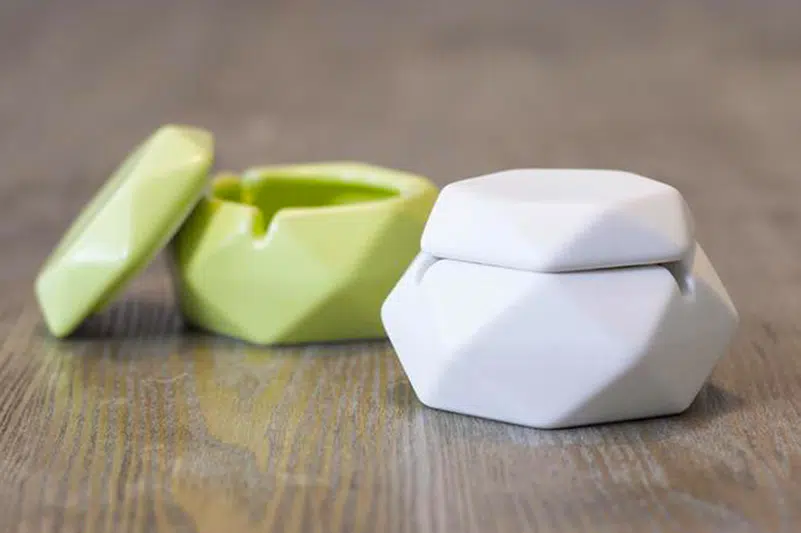 One look at this porcelain ashtray and your soul is trapped forever. The hexagonal shapes implemented in the design heralds the outward brilliance of this futuristic custom ashtray. This is an easy choice for a car ashtray that stands out as it is lidded. When used as an outdoor ashtray, every onlooker will have no choice but to stare in awe. Perfect for stoner couples.
Modernistic
Glazed
Multiple uses
2 blunt/cigar rest
Made of Green/White porcelain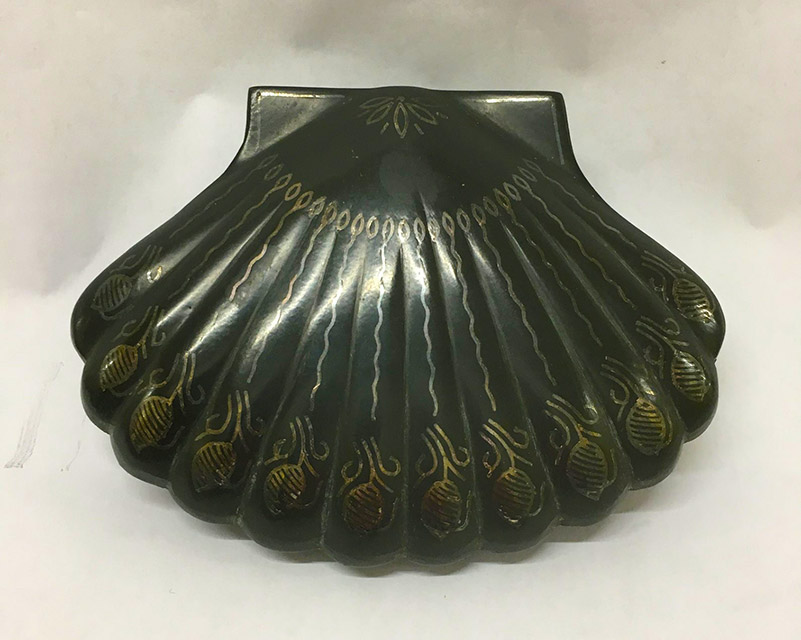 You may never come across a more beautiful pocket ashtray with so much ease to move about. This shell astray is so compact & lidded and will help you hold ash while on the move. It can also double as jewelry box and hold a number of other things. You may never run out of a use for it. This is a most have for every female stoner.
Vintage British Art Deco
Hinged Lid
For ladies
Multiple uses
Made of metal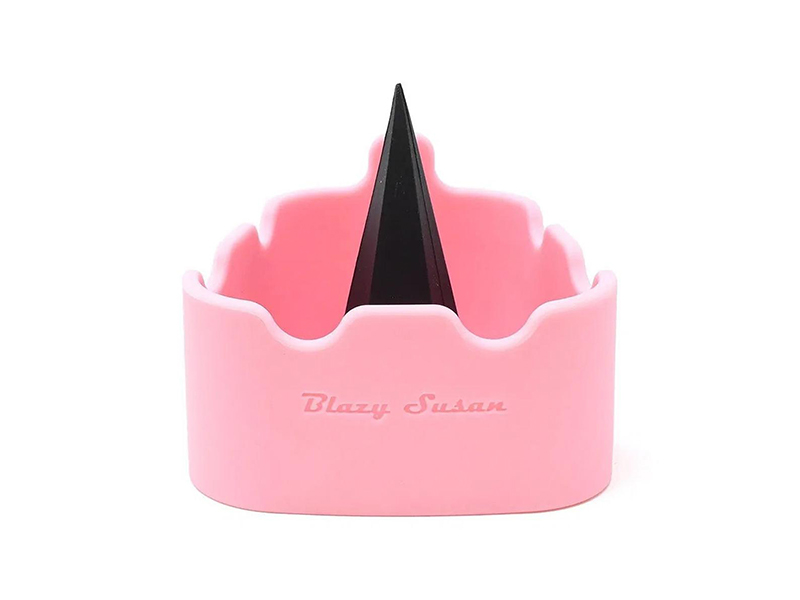 There has never been a better cute ashtray for the gal squad to share a smoking session. The pleasantly colored pink ashtray was built specifically for the feminine gender. It's also a small ashtray so that typically sells the point.
Easy to carry around
Dishwater friendly
Debowler present
6 blunt/cigar rest
Made of pink silicone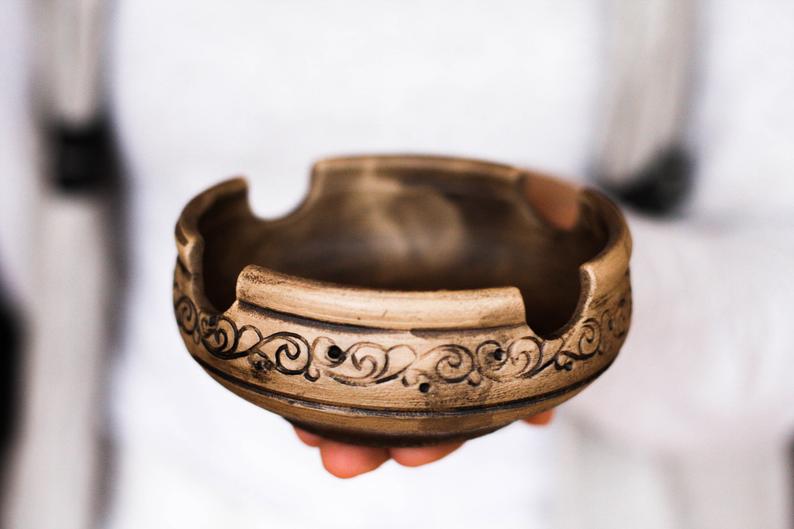 The Tibetans are a rich cultural ethnic group with numerous symbolical wares. This ceramic ashtray has an allure of the rich and ancestral Tibetan culture. The beautiful carving that surrounds it is so empowering.
Oven safe
Hand wash only
4 blunt/cigar rest
Made of brown clay
Size: 1 2/3"H x 4" W. Hole diameter 1/3"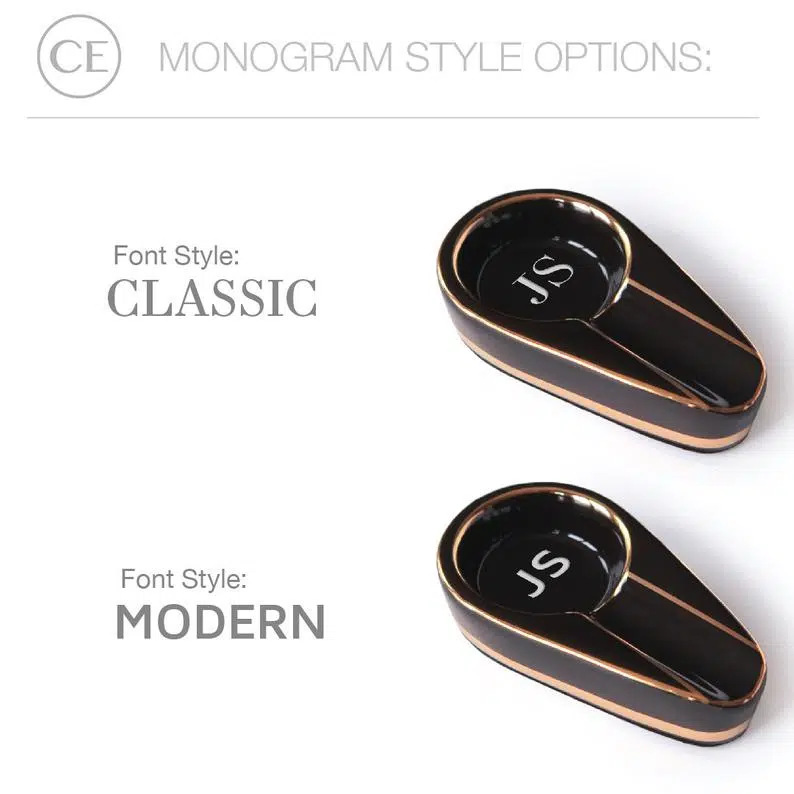 When you have the urge to be selfish with your blunt and bake like a recluse royalty, this is it. The shining brilliance and elegant design of this ceramic ashtray will make you proud. Don't take your eyes off this small ashtray as you delight in your nug. It gets more beautiful with each subsequent gaze. As a portable ashtray, it won't pose any difficulty being swung around.
Minimalistic
Personalized with initials
1 blunt/cigar rest
Made of black and gold ceramic
Size: 4.8"x 2.6"x 1"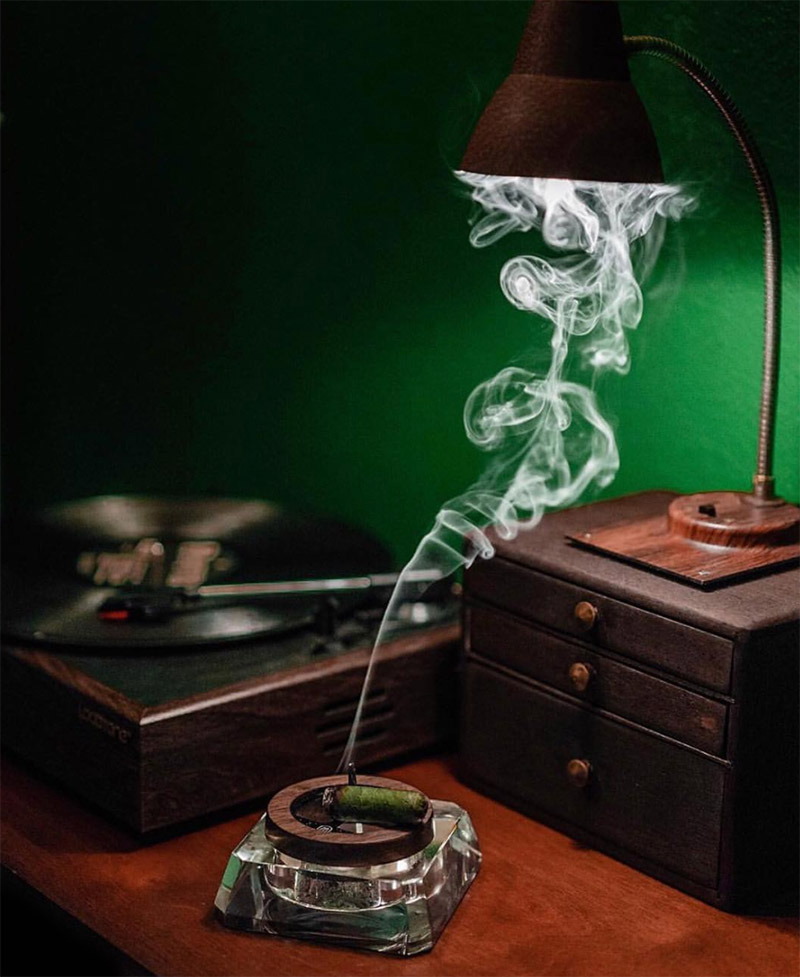 The Marley natural ashtray is an exquisite offer from Marley natural. It's a crystal ashtray that combines premium design and functionality. There's a metal poker attached for getting rid of residual ash. At first look, you may mistake it for a luxury perfume bottle. It's not so much of a wooden ashtray as that part is extremely limited.
Ideal for outdoor usage
Protect against scratching surfaces
Wind resistant design
Made of clear crystal and walnut wood
Size: 2.55"x 4.21"x 4.21"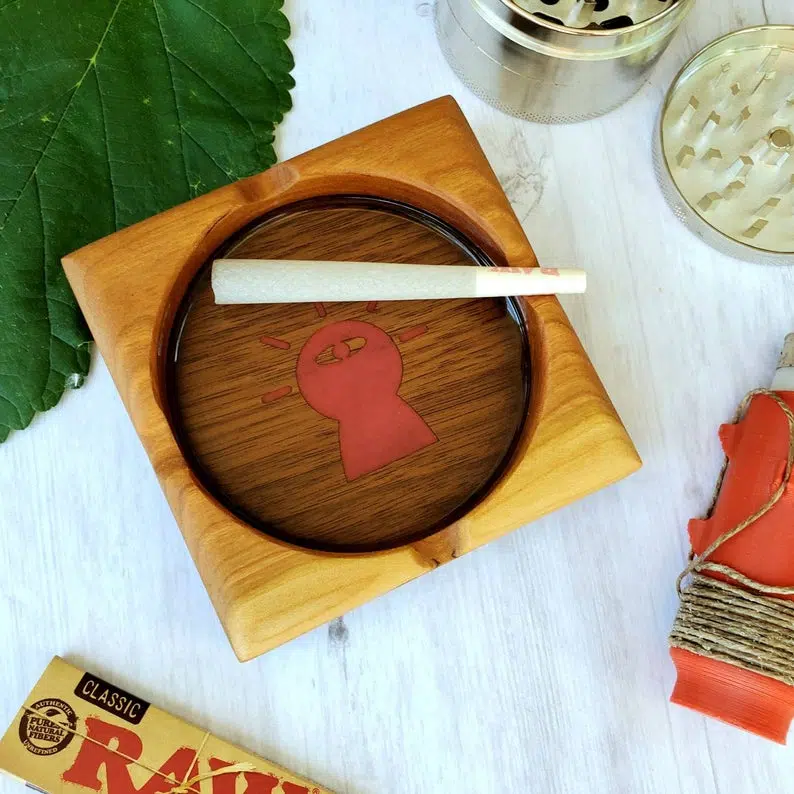 There's something about wooden products that just make them feel modest. Not exaggerated, not dull, just simple and appreciable. This cool ashtray doesn't stray from that line. It's just everything you can love about a wooden product.
Protected wood
Glow in the dark inlay
4 blunt/cigar rest
Made of brown wood
Size: 4"x 4"x 1"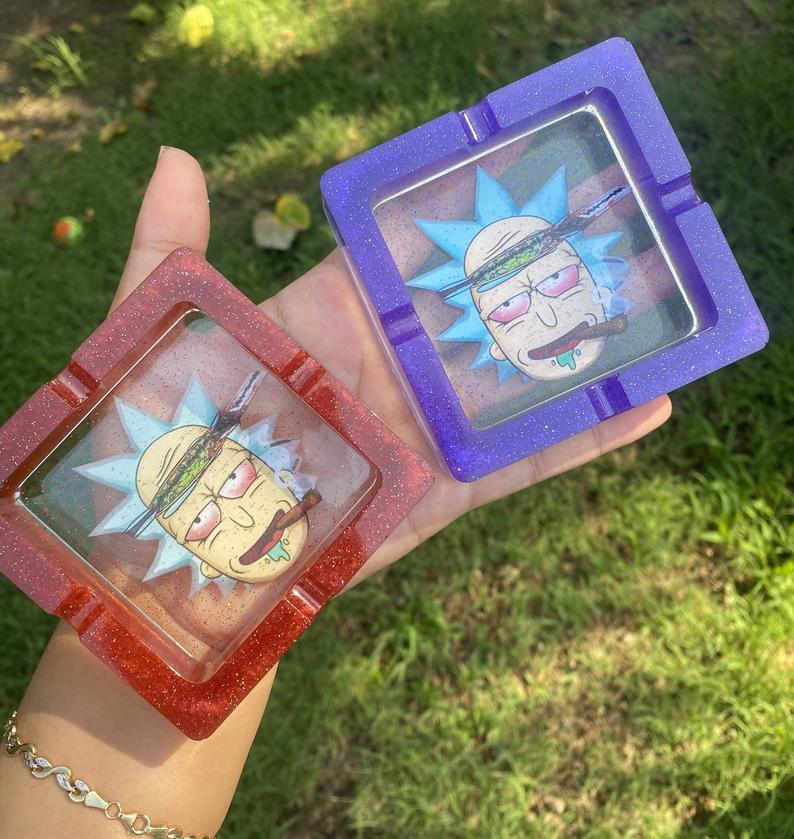 Smoking a fat doobie and filling Rick's face with ash would be fun. This Rick and Morty ashtray is a must have for fans of the popular show. You don't really need much reasons to get this. Just do it. It would be nice to have around while smoking and binging the best episodes of Rick & Morty. Who knows, you might even have a full conversation with Rick when you're high as a kite.
Rick painting
Two color options
Handmade
4 blunt/cigar rest
Made from resin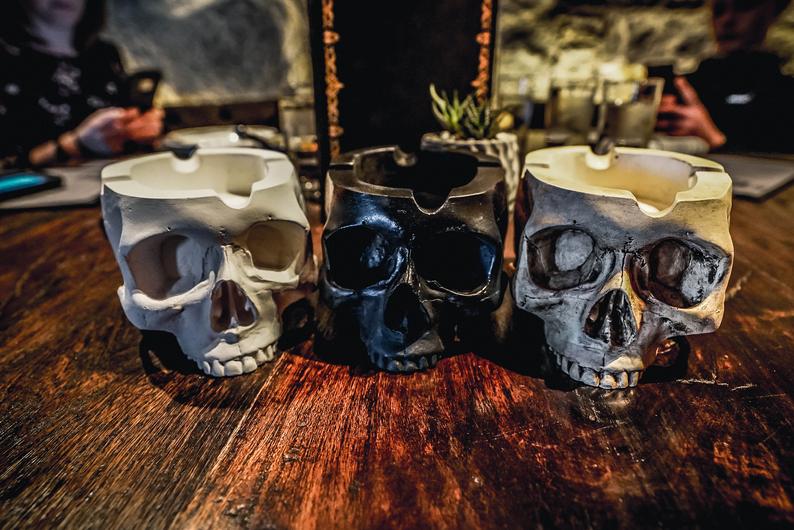 That spooky feel which most resent is beloved by others. This skull ashtray will really come in handy every Halloween if you're trying to live up to the hype. It looks dangerous and scary!
Great for outdoor use
Available in multiple shades/colors
4 blunt/cigar rest
Made of plaster, NEO and Onyx
Size: 4"x 5 3/8"x 7 ¾"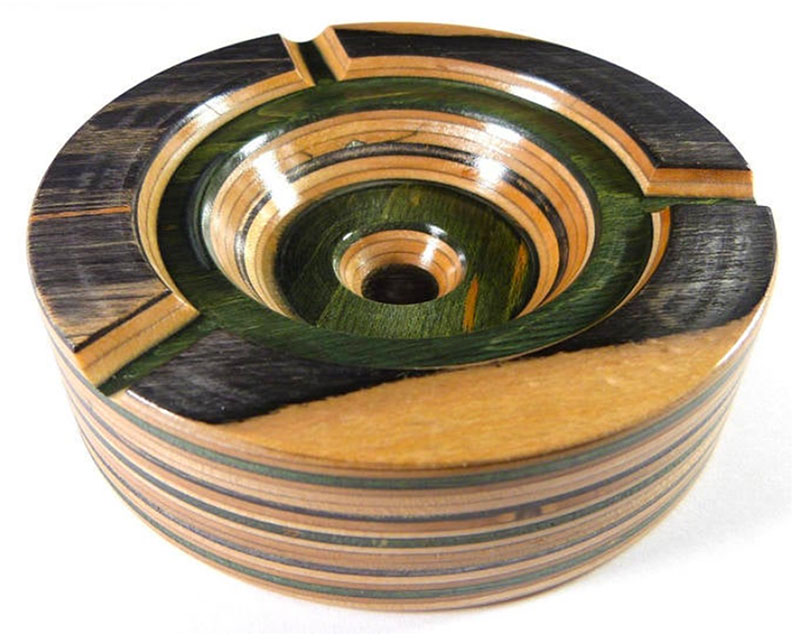 This unique ashtray is for those sworn to making the world a better place by embracing a zero waste lifestyle. The wooden ashtray is completely made from recycled skateboards. You'd be supporting a greener eco-system by picking on of these. Not to mention, the design is mesmerizing.
Personalized engraved ashtray
Waterproof
3 blunt/cigar rest
Made from recycled skateboards
Size: 3.54"x 1.10"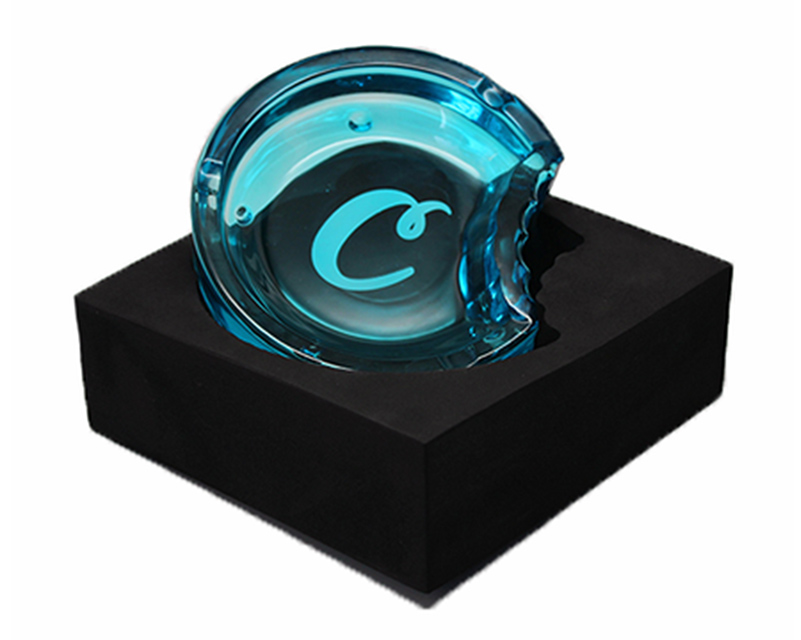 This may be the oddest looking ashtray on the list. This ashtray maybe simply referred to as a cookie version of the famous Apple Inc. logo. Why buy it? It looks oddly satisfying.
Available in multiple colors
Unique ashtray
2 blunt/cigar rest
Made of glass
Size: 5.5" diameter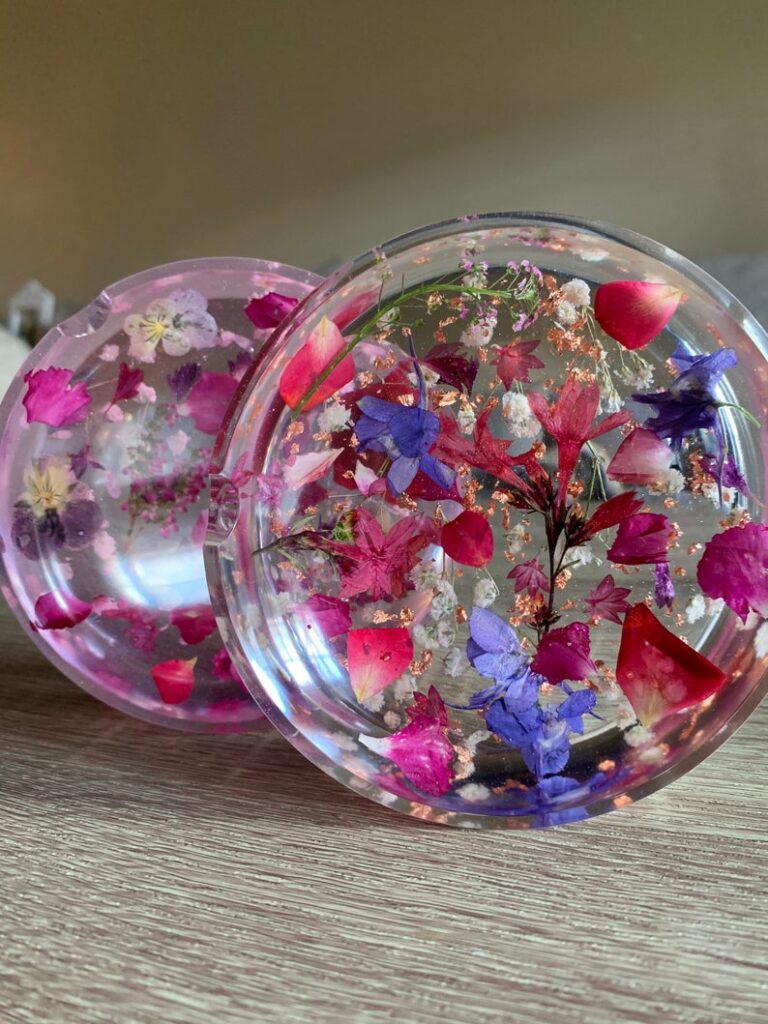 This floral ashtray looks like a flat snow globe for flowers (but you can't shake). With its impressively natural & cute look, this cool ashtray will sit perfectly in any environment. It's like having a flower vase in an ashtray. If you have a lot of floral activity going on in your home, this would be a remarkable addition.
Custom option available
Can be damaged by extreme heat & exposure to direct sunlight
Not dishwasher safe
2 blunt/cigar rest
Made of real flowers and resin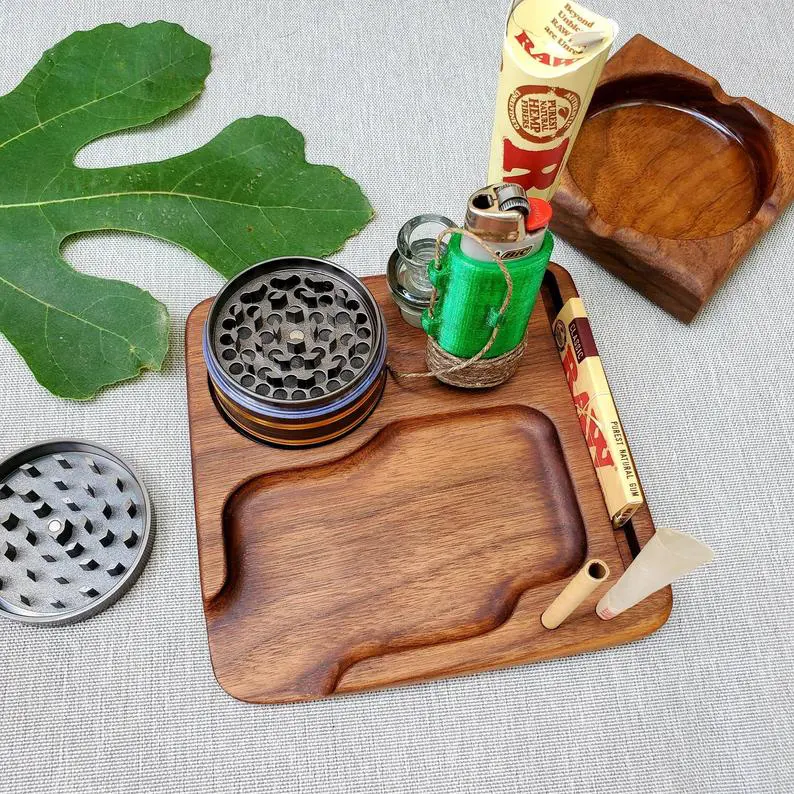 The actual wooden ashtray here is quite similar to this wooden ashtray with an additional customized rolling tray set. Without the rolling tray set, they're basically the same thing.
Personalization option available
Add-ons available
4 blunt/cigar rest
Made of Walnut, Cherry or Mahogany wood
Size: Ashtray – 4"x 4"x 1" ; Rolling tray – 5"x 6"x 0.5"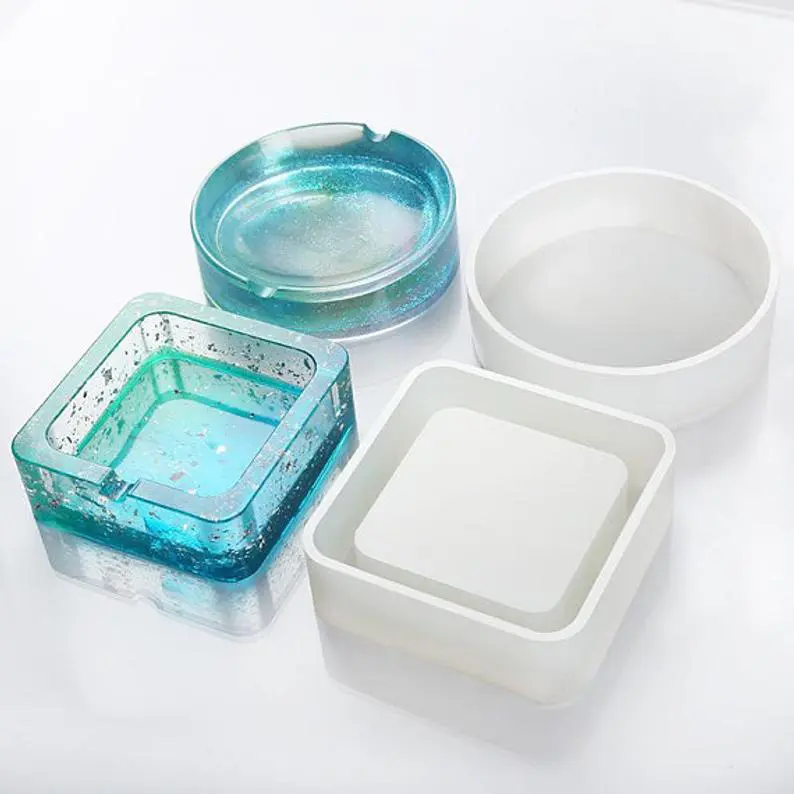 This is a double-set silicone ashtray mold for DIY ashtrays. There's an option to select a square or circle mold. More shapes mean more options to get creative and crafty. As an added bonus, the mold can be used repeatedly. Don't run out of ideas!
Not suitable for food
Finished product is precise
Easy take off from the mold
Made of silicone
Size: Square – 9cm x 9cm x 3cm ; Round – 10.5 diameter and 2.7cm height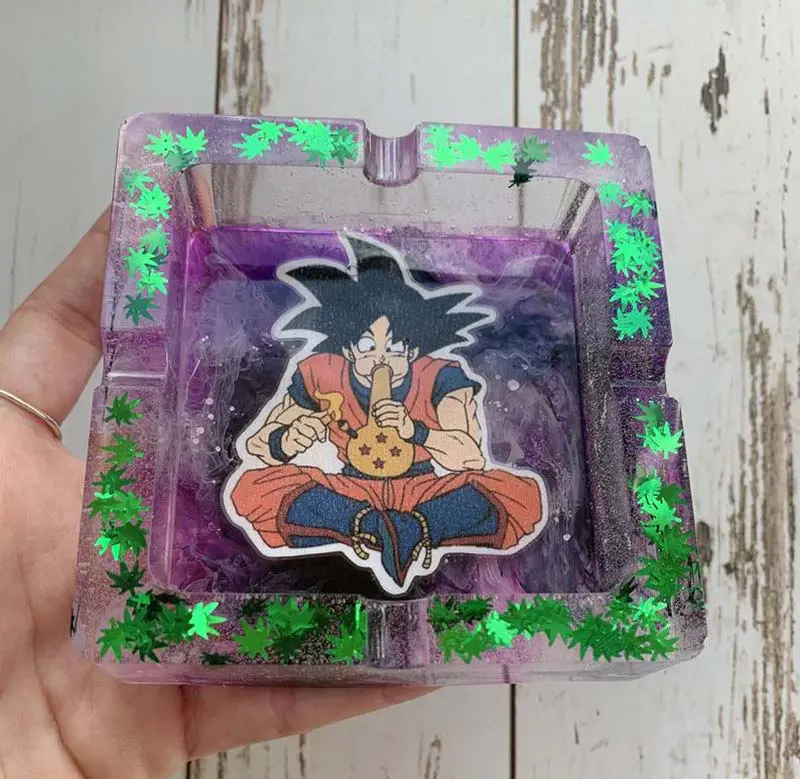 If you're a huge fan of the Dragon Ball manga series and especially the all powerful Goku, then this anime ashtray is worthy of your next blunt!
Made of resin
Handmade custom ashtray
Choose up to 4 colors
Choose glitter/weed confetti
Perfect gift for Dragon Ball fans
There's a cool ashtray for everyone!
Hardly will you go through this list without finding a cool ashtray that catches your fancy. Enjoy the view and start the hunt for your new unique ashtray. While fantasizing about your new ashtray, this list of successful stoners will impress you.