Finding a dope tapestry that really ties the space together has the power to set the vibes right instantly. Whether it's for your bedroom or living room, when the sesh is at your place, everyone will be sure to let you know what a dope tapestry you've got, and it won't be because they're high.
Photo: Etsy (mashup)
Top 16 Dope Tapestry Ideas
We've curated this wall tapestry list specifically for stoners since Etsy and the likes don't have a filter for us, yet.
Dope Tapestry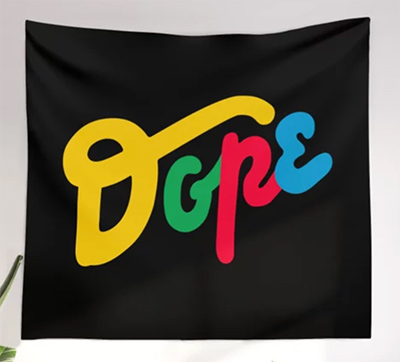 When we mean dope, we mean dope plain and simple.
Juice WRLD Tapestry Amazon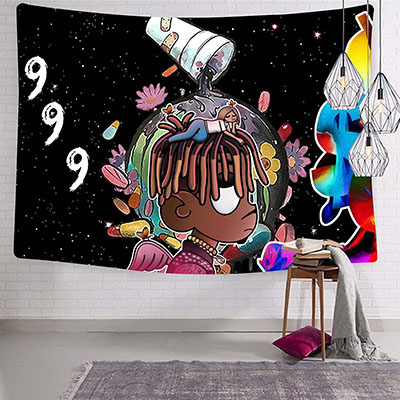 This rapper tapestry featuring an animated version of the late Juice WRLD, beauty aside, has a deeper meaning. The 999 is the inverse of 666 which is the number of the beast as described in the Bible. Juice WRLD further explained that for him, 999 means flipping whatever bad situation you're in and trying to make the most of it, "turning it into something positive and using it to push yourself forward." This is something we can all relate to but when it comes time to remember, you'll have this dope Juice WRLD tapestry from Amazon hanging on your wall as a nice reminder.
High Life Mac Miller Tapestry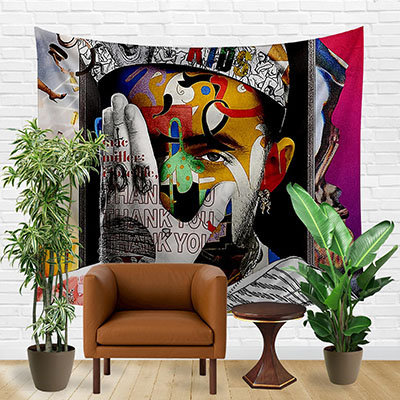 This Mac Miller tapestry made of 100% cotton is a tribute to an unforgettable artist and poet. The vibrant collage with a mixed color scheme of black and white against colorful accents gives it an added texture, like it's unfinished but in a good way. In so many ways we are all unfinished, just trying to figure out life. Just don't get too hung up, as Mac Miller once said, "Enjoy the best things in your life cuz you ain't gonna get to live it twice."
Mushroom Tapestry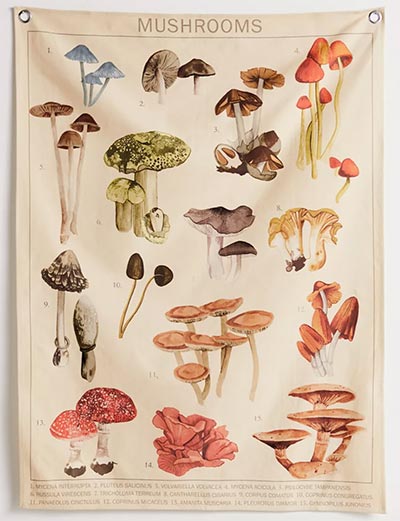 If you're a stoner, botanist or both this one's for you. This dope mushroom tapestry features a few of the most beautiful species of mushroom. It's crazy that something as seemingly simplistic as a fungi can be so varied in shape, color, texture and size. Although the Amanita Muscaria is the stereotypical mushroom that appears time and time again in psychedelic art, like the fungus it is, you'll be surprised to know that the Psilocybin mushrooms featured first in the second row are actually the one that makes you hallucinate. This Urban Outfitters tapestry will nicely complete your stoner room aesthetic, no doubt about it.
Trippy Mushroom Tapestry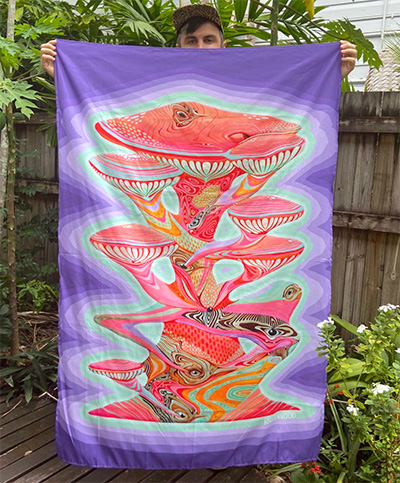 If you're looking for an even more trippy mushroom tapestry, you'll love Brad Rhadwood's collection. The colors of this mushroom pyramid with trippy eyes popping throughout and its pulsating aura will lift you to greater heights.
Mona Lisa Tapestry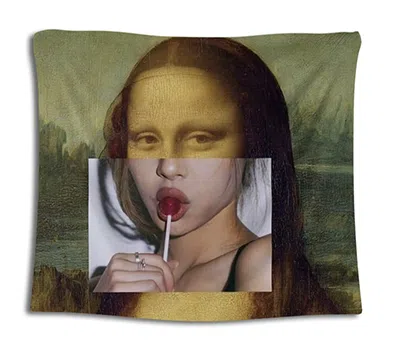 Some may say this dope tapestry of the Mona Lisa is a tragedy but I'll tell you why it isn't. In our humble opinion, Mona Lisa got the sexy makeover she's always deserved. Now, while not classically beautiful in the modern sense, she's a hot mama nearly 500 years later because of her enigmatic smile and eyes that seem to follow you around the room. If there's anything you know about Da Vinci, it's that he was beyond his time, one of finest mathematicians that ever lived. In the Mona Lisa he used perspective and shadow work to create an optical illusion that makes the viewer feel like she's watching you from every angle. Now that the mysterious smile has been replaced by the lips of a hot girl sucking a lollipop in this dope tapestry, you're drawn even further into Mona Lisa's gaze. Was this the message she was trying to send after all?
Electric Jellyfish ForestTapestry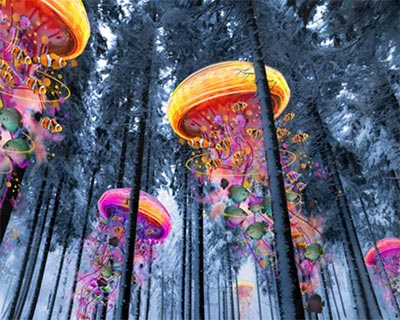 This sick jellyfish forest tapestry from a frog's eye view is perfect over your bed or hanging from ceiling. The vibrant jellyfish with schools of clown fish swirling around against the black and white forest backdrop make this jellyfish tapestry a trip to look up at.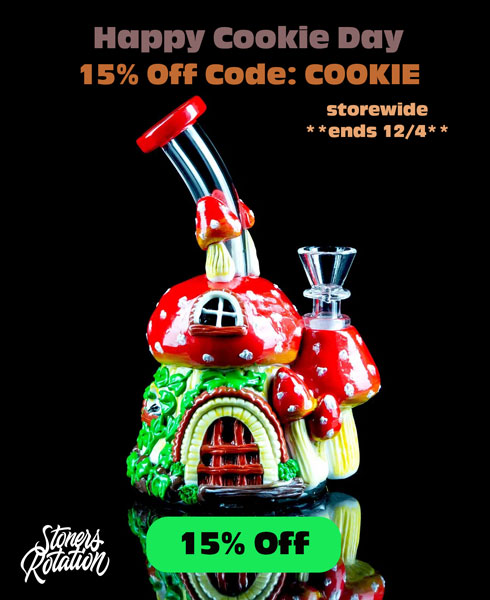 Lil Peep Tapestry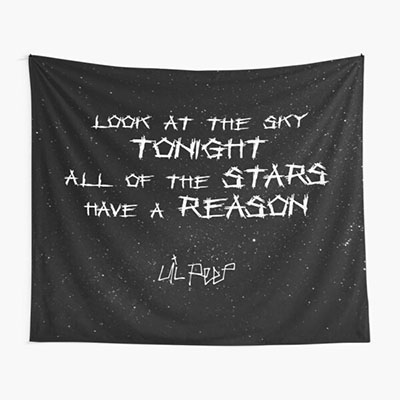 The simplicity of this black and white Lil Peep tapestry makes it hard not to shed a tear for the late Lil Peep who passed well before his time. His words serve as a tender reminder that you have a reason to be here. The same goes for any time you look up at the night sky. The stars will guide you. They were used by early navigators to find new lands, and even you are made of stardust. When life gets you down, just look up at this dope rapper tapestry.
Rick and Morty Tapestry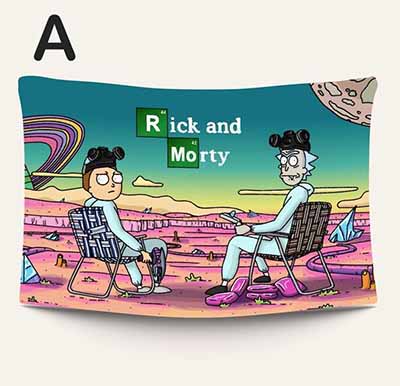 Made of flannel, this Rick and Morty tapestry is one of the dopest and highest quality on this list. The colors are super vibrant, the graphics are crisp and the flannel material likens to velvet. Grab your portal gun, the ganja and get ready for interdimensional space travel. Just make sure to get comfortable, preferably your couch over one of these rickety Rick lawn chairs. Your trip to space should be more comfortable than this, especially as you prepare for Season 5 of Rick and Morty!
Mount Fuji Mountain Tapestry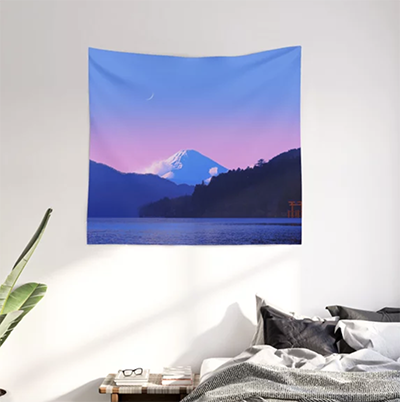 This mountain wall tapestry will immediately set your mind at ease. The color palette is so soothing, it makes you just want to light a blunt and fade into the glowing sky.
Skull Tapestry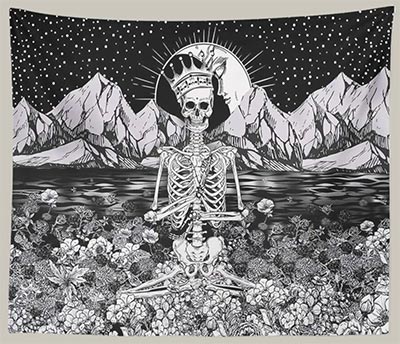 This dope skull tapestry will make you remember that time you meditated cross-legged in a sea of flowers high out of your mind, or will make you want to the next time you have the chance. The detailing of the flowers, shimmering ocean and snow capped mountains against the starry sky will definitely get you lifted. Not your typical moon tapestry, the serenity of the sleeping moon against the slightly creepy smile of the skull with a crown is just the start of a story that you can finish however you like when you're high.
Sun and Moon Tapestry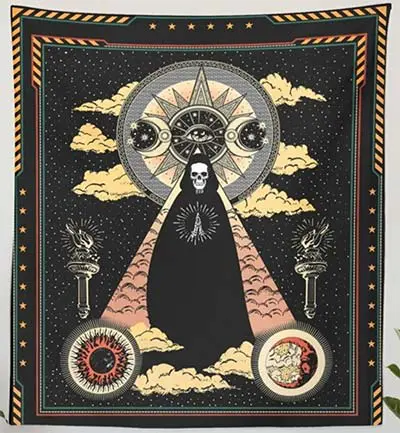 Here's another cool sun and moon tapestry with a caped skull figure at the center. The eye at the center is hypnotizing against the concentric circles of the sun and moons. Skulls have always been a reminder that life is short but it's hard to extrapolate the meaning behind this skull tapestry. That's why we'll leave it to you.
Vintage World Map Tapestry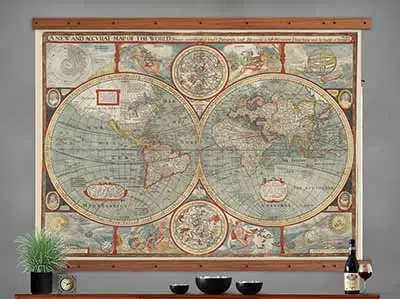 The detailing of this world map wall tapestry is incredible, you'll be staring at it for hours, especially when you're blazed. Every time you light up, you'll see something you didn't see before. Just take a look, you've got the world in front of you, cool illustrations of the earth's elements and an astrological map of key constellations. It's also cool to see in this map tapestry how our understanding of the world has evolved since 1626.
Wall Tapestry Galaxy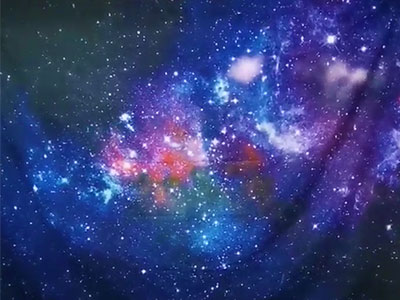 This large wall tapestry galaxy is a reminder of just how small we really are. We're rotating on a ball, strapped in by the relatively "weak" forces of gravity, where who knows how many galaxies exist in some outer edge of the universe. It's pretty amazing. It's also pretty amazing that we even exist. You can think about that when you look up at the stars and remember that the light you see today is nearly 2.5 million years old. While you could just hang this over your bed, this makes for an awesome ceiling tapestry too!
Sunflower Tapestry
Sunflowers. The flower of summer, hippies and everything in between. This sunflower wall tapestry pattern will brighten up any room. You might even feel them breathing if you get a little too lifted. I saw one that was bigger than my face one time, was amazed and wondered. Well, it turns out that the largest sunflower ever was 9.17 meters, over 30 feet tall. Now THAT would be something to see. What's the biggest sunflower you've ever seen?
Tattoo Tapestry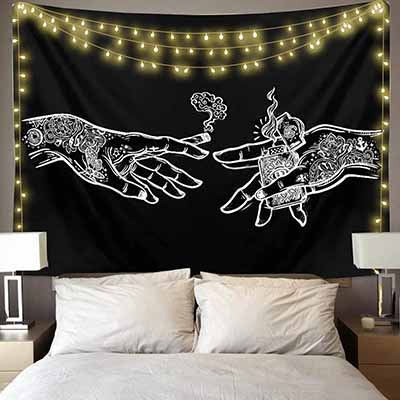 This boho aesthetic weed tapestry based on Michelangelo's famous fresco painting, the Creation of Adam, is a sweet addition over your bed if you're looking for something that makes an impression without taking all the glory. The black and white tapestry will go with almost any style room and is great to look up at and watch the smoke from your own blunt rise to great heights.
Set the Vibes Right
Whether you found something perfect for you or not, we hope you at least got inspired! If you're looking for something more on the trippy side, be sure to check out these trippy tapestry ideas.