Make way! While bongs are cool and all, having a glass pipe is a lifesaver if you're on the move, want to be discreet and make all your stoner friends jealous the next time you pack a bowl. Not only versatile for their size but in design as well, there are countless cool glass pipes out there. Some are hand blown with fuming, embellishments and come in all kinds of shapes that go beyond the standard spoon style. We hope one of these cool glass pipes hits just right for you.
Photo: Unsplash
31 Cool Glass Pipes for Sale
Scorpion Glow-in-the-Dark-Pipe
This glow-in-the-dark glass pipe made of borosilicate glass and measuring four inches is crafted in the standard spoon style. It delivers smooth tokes and really brightens up a hazy room filled with fluffy clouds of smoke. 
Glowing Mushroom Pipe
This glass pipe features a trippy all-seeing mushroom that glows in the dark. Made from thick glass, this smoking pipe is perfect for nights among chirping crickets and yipping coyotes.
Glass Rose Pipe
This handmade glass rose pipe measuring four inches in length is beautifully crafted in upstate New York. Although it looks delicate, it's a solid, strong piece so it can pack some heat! We'd argue that it's even more stunning in person though.
Colored Glass Gandalf Pipe
Measuring 10 inches long, this gorgeous glass gandalf pipe will have you feeling like a wizard in no time. Made of borosilicate glass it features a deep bowl, perfect for passing around.
Barbed Knuckles Pipe
This unique glass pipe with its swirl pattern and barbed glass embellishments elevate the classic spoon to new highs.
Glass Rick and Morty Pipe
This Rick and Morty pipe will be sure to transport you into another dimension, no doubt about it. Available in a variety of shades and patterns, this piece makes the perfect gift to any R&M fan.
Iridescent Glass Hammer Pipe
The fuming of this glass hammer pipe is out of this world, elevated further by the trippy swirl pattern that wraps around the piece.
Glass Skull Pipe
Death is part of life. This glass skull pipe is a sweet reminder that you're alive and best enjoy each day to the fullest, hopefully one bowl at a time.
Twist Rasta Pipe
This piece gives the perfect twist to the classic rasta pipe, quite literally, with it's textured twist around the handle.
Swirl Chillum Pipe
This swirl glass chillum features three marble feet so you can set it down without fear of it rolling off the table to the great abyss of the carpet. The fuming is even more gorgeous in person in varying shades of blue and green.
Glass Penis Pipe
This veiny black penis pipe most definitely hits like a dream.
Glass Chill Pill Pipe
This unique glass pipe shaped like a pill is definitely a conversation starter. You'll love the weight of it and how it nestles in the palm of your hand.
Fumed Mini Pipe
If you're looking for the perfect pocket pipe, this mini spoon pipe made from borosilicate glass will be the ideal travel companion for all of your escapades. And it's bluish red fuming is especially beautiful as you light the bowl.
Eyeball Glass Pipe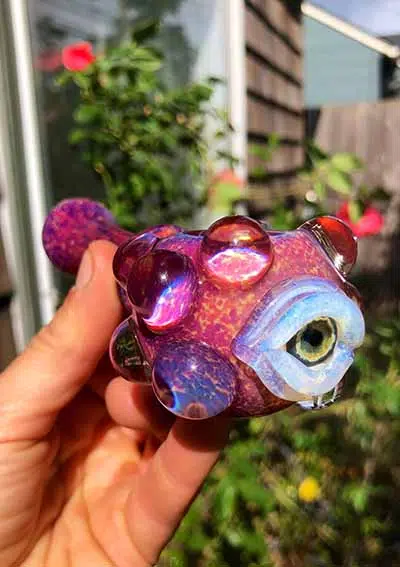 This is by far one of the most unique glass pipes on our list with its trippy eye and gorgeous opal accents. This eyeball glass pipe made of heady glass with a deep tapered bowl that hits like a dream. After a few tokes from this alien glass spoon pipe, you'll be mesmerized by the splotched red glass for hours on end.
Color Changing Glass Pipe Snake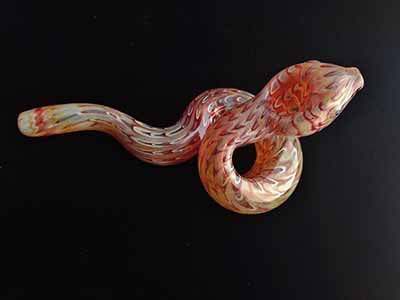 This glass pipe is as durable as they come, made of borosilicate glass which is the same high quality glass used in laboratories. Fumed with silver which activates the color when you light it, this color changing glass pipe is an absolute trip to watch as the smoke travels from the snake's head through its curved body, and up to your lips.
Rose Gold Glass Blunt Pipe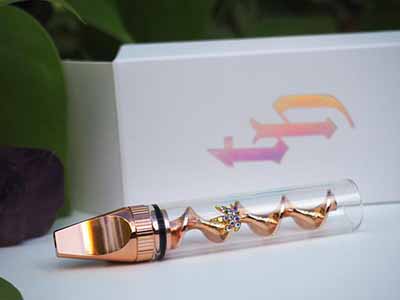 This twisty glass pipe is a beautiful shade of rose gold and has a cute cannabis leaf detail with gems fixed inside. The glass blunt includes a spare silicone ring, stoker and cleaning brush so it's a cinch to clean. As a bonus it's also part of a matching set with a baby pink 4-part herb grinder.
Sunflower Glass Hand Pipe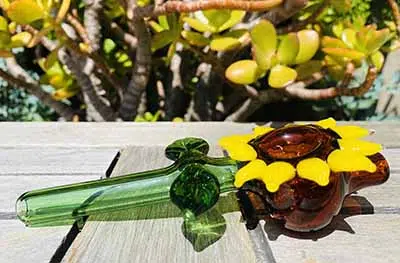 Hey sunshine, whatcha smoking? Measuring five inches long, this pretty sunflower glass pipe with its deep bowl will be sure to get you tons of compliments. It's hard not to smile just looking at it and it will be even harder after a bowl or two of flower.
Unique Glass Pipe Magic Worm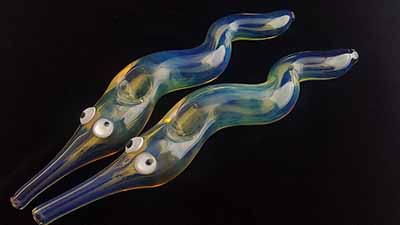 Does this remind you of anything? It's an ode to the fuzzy worm toys you might have had once upon a time as a kid but this version is WAY more fun. What makes these guys even more magical is that they are color changing pipes so get ready to watch them shift in color as you take hits. Each is hand blown, one-of-a-kind sturdy works of art made of sturdy borosilicate glass and kiln annealed. You won't be squashing any worms today!
UV Pickle Rick Pipe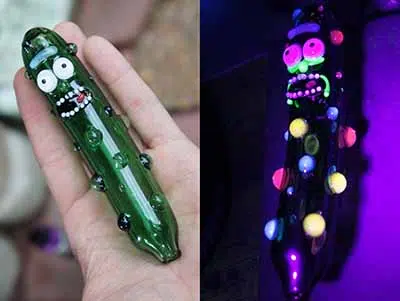 As you prepare for Rick and Morty Season 5, you'll be happy to know that Pickle Rick got a glow-in-the-dark upgrade but still hits just as smooth. This version is just light years better than the first though. Turn down the lights, prepare for episode one of S5 and enjoy the soft glow of the Pickle Rick pipe in your midst, activated under UV light. The bowl is small but perfect for chilling, and you can always pack another one if the mood strikes.
Glass Sherlock Pipe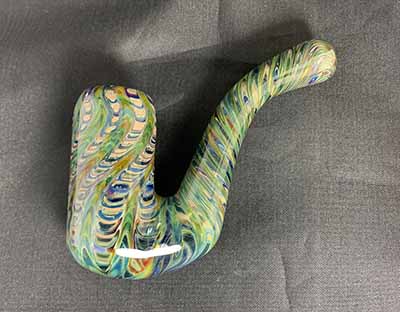 Simply stunning, this glass Sherlock pipe is truly a one-of-a-kind piece with a mix of colors including silver and 24kt gold (hints at the slightly elevated price tag). However, it's well worth it because this gives it a mesmerizing sparkle and color changing effect throughout due to the high quality fuming. Just saying, it's hard not to look like a boss with this one. You can see more cool Sherlock Pipes here.
Green Glass Gandalf Pipe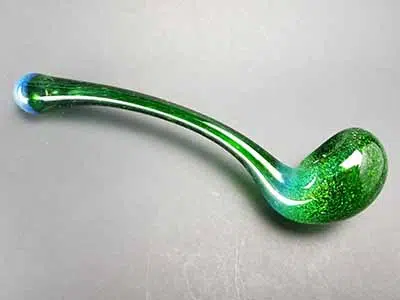 If you like extra cool hits, the style of a glass Gandalf pipe is ideal with its long neck. Function aside though, the emerald green with hues of blue is absolutely gorgeous. Handcrafted in Oregon, the makers offer two versions, one small measuring 6.5 inches with a ½ inch bowl and one large measuring 8.5 inches with a ¾ inch bowl. The smaller glass pipe is better for solo seshes while the larger is perfect if you frequently smoke with company. You can check out our curated list of cool Gandalf pipes here.
Mini Elephant Glass Pipe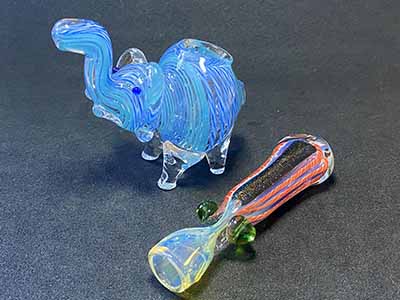 This cute mini elephant pipe is the perfect amigo at the next smoke sesh. He's adorable, comes in every shade and the glass is beautifully spun into a spiral pattern. The set even comes with a glass one hitter pipe, if you want to pack lighter than light itself. If you're looking for a gift, this cheap glass pipe will make it look like you spent big bucks, when you saved the real money for the ganja.
Honeycomb Glass Pipe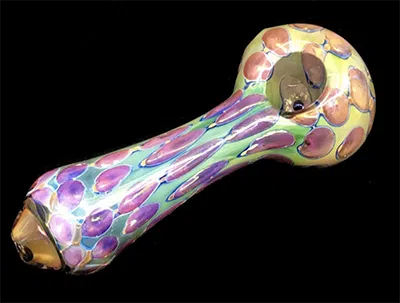 This thick glass pipe measuring 4.5" is particularly stunning because it's fumed in a honeycomb design with 24k gold and silver. Crafted from hand blown heavy glass, just by its weight alone at 120 grams you can tell it's durable and made to last a lifetime. This honeycomb glass pipe also features a deep bowl and hits oh so smooth.
Funky Black and White Glass Spoon Pipe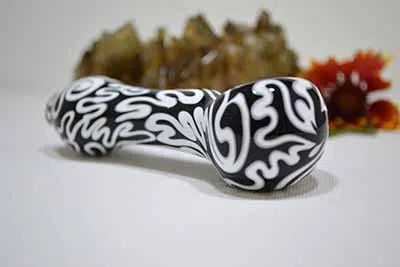 Made from borosilicate glass, this glass spoon pipe struts a funky black and white pattern and stands out from all the colorful pipes in its midst.
Unique Hand Blown Glass Pipe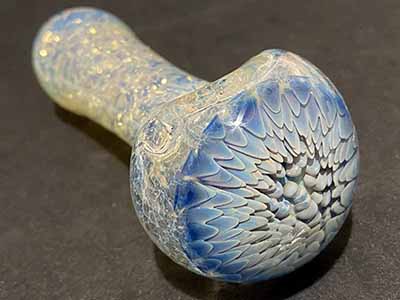 Measuring 4.5-5 inches, this unique glass pipe with its deep bowl is as dreamy as they come. The handcrafted glass is trippy and downright magical, sparkles in the sun and likens to geode formation with its gorgeous colorful pattern.
Amethyst Marble Color Changing Glass Pipe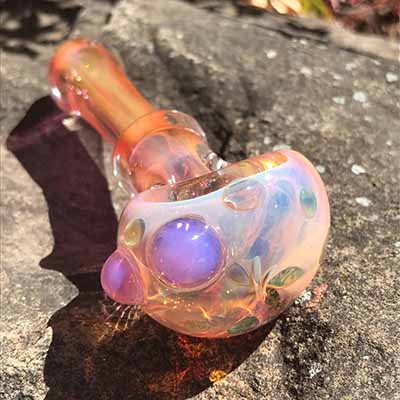 The golden fuming against the amethyst marbles makes an impression, especially when this color changing pipe gets activated. You'll never have to worry about this baby cracking since it's hand blown with highly resilient borosilicate glass.
Red Opal Glass Chillum Pipe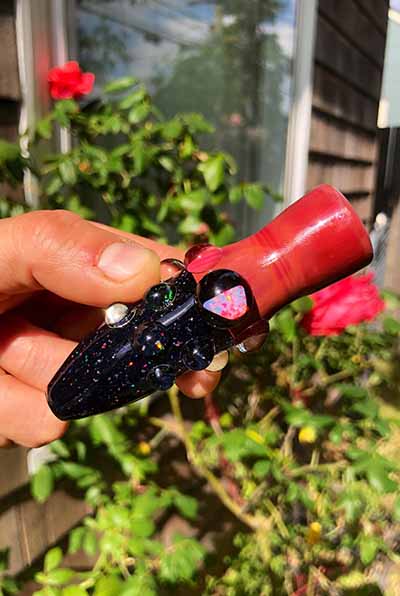 This onie pipe is the thick yet small side-kick you've been waiting for. With looks like the galaxy and opal accents lining the sides, this glass chillum pipe will be perfect for all of your escapades, wherever your high self takes you. The medium sized bowl roughly 3-4mm makes it the perfect glass chillum pipe for a night of adventures.
Dragon Glass Pipe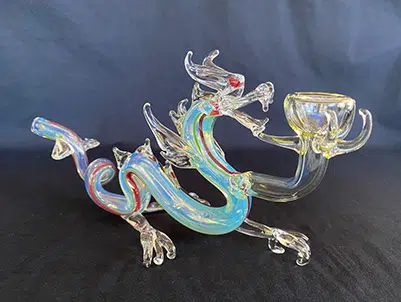 This dragon glass pipe hand made in upstate New York is simply stunning and one of the coolest pipes featured. You'll load the bowl in the dragon's mouth, light and literally breathe in the fire of the dragon. Unfortunately, it's sold out in its iridescent shades but we hope those come back in! They really give each piece a unique, psychedelic look unlike any glass pipe we've seen thus far.
Octopus Glass Pipe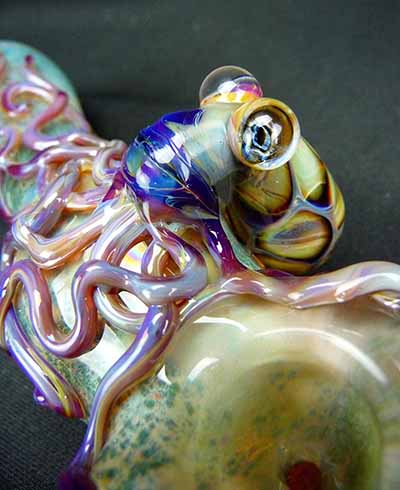 If you dropped your glass spoon pipe in the ocean and picked it back up, you'd just hope it would look like this guy. Handcrafted in Washington State, this one-of-kind octopus glass pipe has beautiful detailing and if you're obsessed with octopi, you won't be disappointed.
Cheshire Cat Glow-in-the-Dark Glass Pipe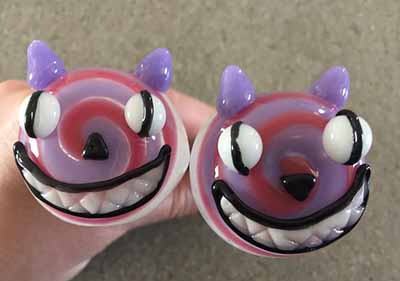 This thick Cheshire Cat pipe is awesome because it glows in the dark and will eye you until you christen it with the green goddess, especially as night falls.
Dragon Glass Pipe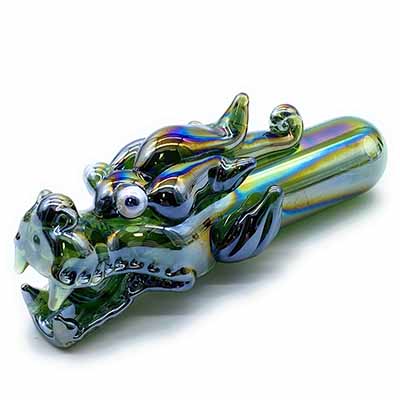 Last but not least this dragon glass pipe is an absolute stunner. You'll be sure to get a lot of good use out of this cool glass pipe, as you smoke bowl after bowl from its menacing claw.
Dreamy & Hits like a Dream
While most of our list features Etsy glass pipes, there are so many cool glass pipes for sale across the interwebs, in online headshops or even at your local dispensary. The important thing is to find a dreamy glass pipe that you absolutely love, that hits like a dream.