15 Gandalf Smoking Pipes for the Highest Hobbit Hole
You're traveling to the Shire, about to go down the hobbit hole but as you feel around your pouch for your glass Gandalf Pipe, you gasp. You've left it behind with the elves after a night of rampant merrymaking. The hobbits prepared twice baked honey cakes enough for two wake and bake breakfasts. Alas, you will just have to pass around a briar pipe until you can find a new Gandalf pipe. However, the hobbits are crafty little fellows and have made a breadth of handblown glass pipes for you to choose from.
You admire their handiwork but which is the worthiest of them all?
Photo: Pixabay (mashup)
Colored Gandalf Pipe with Marble Feet
Glass Gandalf smoking pipes are well known for their long stem, narrow mouthpiece, deep bowl and wide array of gorgeously spun colorful glass. The long stems designed to give you a glorious view of your packed bowl and cool down smoke before it gets to your lips, roughly measure between 9-13 inches, with this one clocking in at 10 inches. Just don't let your long, luscious beard catch on fire!
Made of borosilicate glass
10"
Deep bowl
Marble feet
Glow in the Dark Gandalf Pipe
For late night smoke sessions with the hobbits, this Glow-in-the-dark Gandalf Pipe will make no one question your magic. Featuring a jet black stem measuring 13 inches long and a swirl white bowl by day that illuminates after sunset, you'll astonish everyone with your wizardry.
Glow-in-the-dark
Made of borosilicate glass
13"
Handmade
Teal and Orange Glass Gandalf Pipe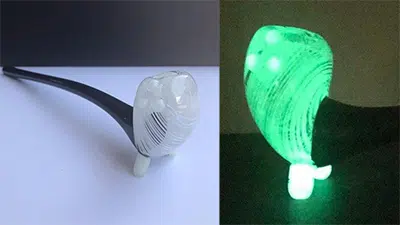 This Glass Gandalf Marijuana Pipe could be well considered a Sherlock Pipe given its shorter stem; however, as one of the most gorgeous yet sturdy pipes you will ever own, it's one that can handle many unexpected journeys in its own right.
Made of borosilicate glass
8.5"
Handmade
Blue Galaxy Gandalf Pipe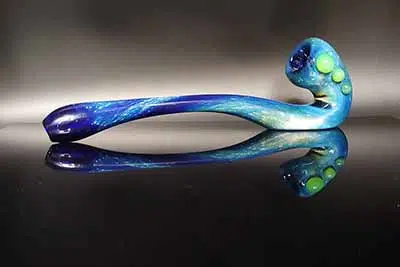 The dwarves are caught in the gigantic spiders web. You must fight slime with slime and the Galaxy Gandalf Pipe is ideal for the task with its perfect palm size fit, ideal weight and gold flakes that sparkle in the light. Once all is done, you can set your pipe down on its flat base until you're ready for another round.
Made of glass
8"
Flat base
Slyme accents
Black Glass Gandalf Weed Pipe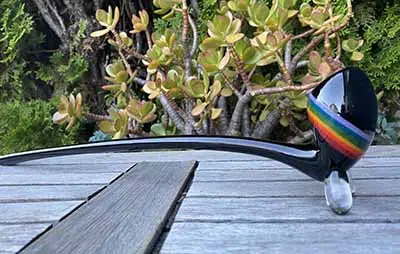 If you're looking for a stunner, this Jet Black Glass Gandalf Pipe is as sophisticated as they come. It's also surprisingly more lightweight than you would expect given its size, which makes it nice to hold puff after puff, after puff.
Horror Story Gandalf Vape Pipe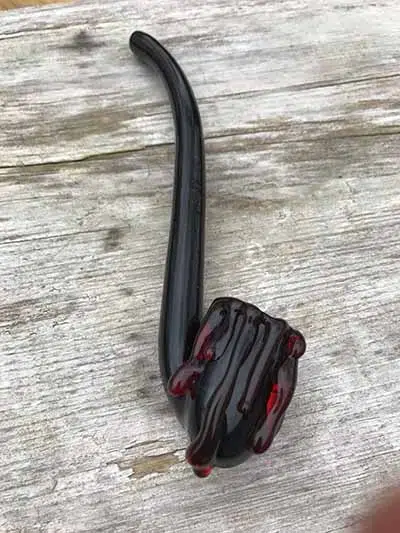 Not all stories end as expected and the Horror Story Gandalf Pipe gives tribute to the beauty of the grotesque in the same vein as the Beauty of Horror Coloring Book. It's hard to come across a piece as unique as this, even in Middle-Earth.
Made of borosilicate glass
9-10"
Grotesque design
Handmade in Massachusetts
Handmade Blue Plasma Gandalf Smoking Pipe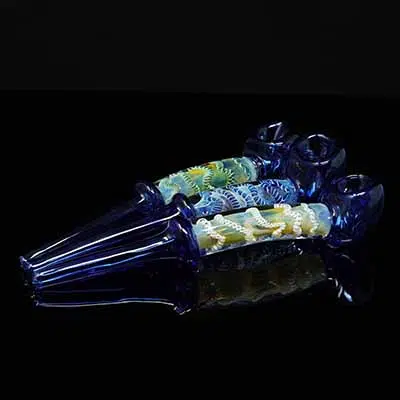 This Glass Gandalf Pipe looks like something the dwarves would have made in a pastime, infusing magical powers to get you lifted to the point of becoming invisible, if you wish it so. Luckily, the plasma glass design comes in three trippy colors and designs to choose from.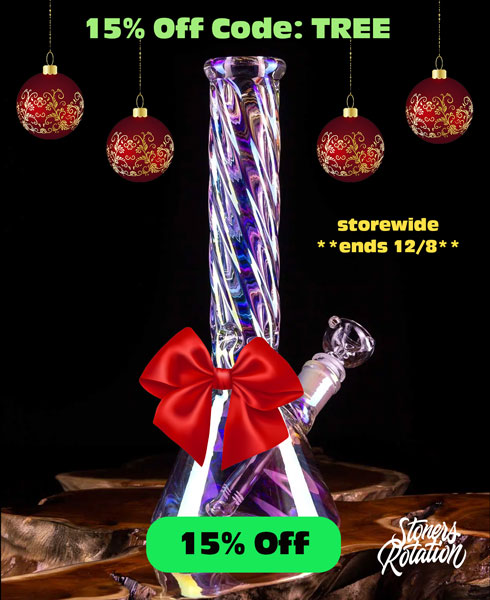 Made of glass
9"
Small smoking bowl
Choose from three colors
Handmade
Amber Glass Gandalf Pipe with Carb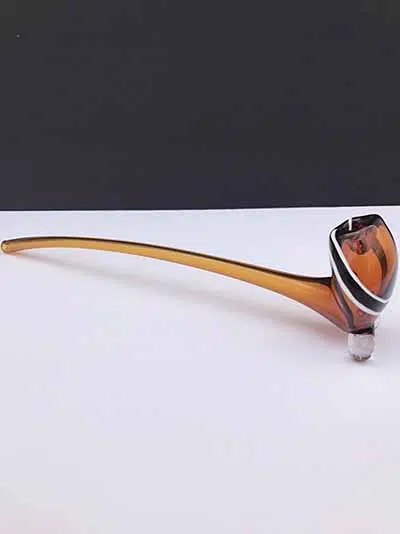 It's hard not to wonder if a piece with a stem as long as this will pull well but that's what makes the Amber Long Gandalf Pipe so great. Luckily, it gives incredibly smooth drags, is good for about three hits and dons a handsome stripe accent.
Made of borosilicate glass
13"
Good sized bowl
Handmade Long Glass Gandalf Pipe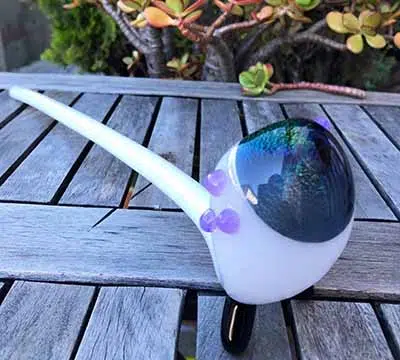 We love the dichro and marbled slime embellishment on this Glass Gandalf Pipe. Much like the previous pipe, this zoot flute also features a longer stem making for smooth, silky hits.
Made of borosilicate glass
13"
Dichro and marbled slime accent
Rainbow Glass Wizard Pipe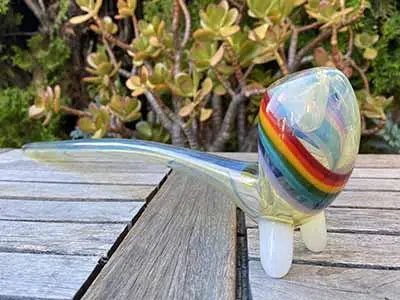 Support your local craftsmen with this gorgeous silver fumed Rainbow Gandalf Pipe. It's big, beautiful and has a nicely placed carb for effortless pulls.
Made of borosilicate glass
13"
Handmade in the USA
Black Rainbow Gandalf Pipe with Carb
Ever seen a black rainbow? Well, black is actually the complete absorption of the spectrum of visible light so this is an unexpectedly perfect match. While the carb hole could be a bit bigger, this Black Rainbow Long Gandalf Pipe makes up for that with a deep bowl and unparalleled beauty.
Made of borosilicate glass
13"
Deep bowl
Blue Green Silver Fumed Gandalf Pipe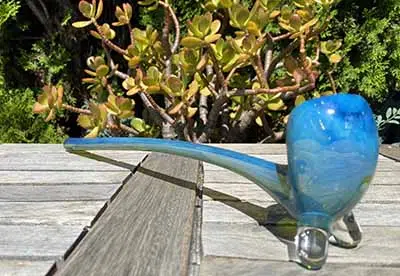 Although this piece looks turquoise in the photo it can vary from blue to green, making each piece unique. The bowl is big, carb nicely placed and the piece produces high quality pulls. The proportions of this Gandalf Smoking Pipe are perfect and it even includes a stand when you need to take a breather.
Made of borosilicate glass
13"
Includes stand
Handmade with silver fuming
Cobalt Blue Gandalf Replica Smoking Pipe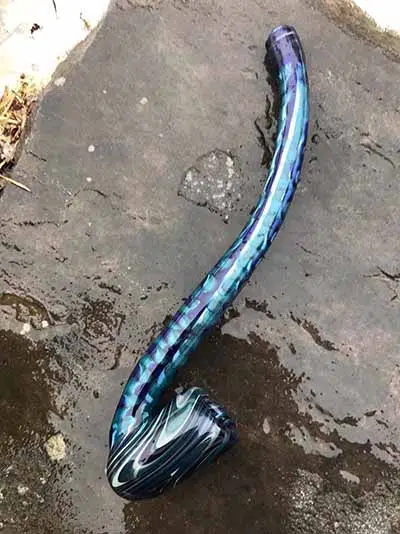 The shape of this Gandalf Replica is slender, curved and is a masterpiece in its own right, made of stunning cobalt blue glass.
Made of borosilicate glass
9"
Tapered mouthpiece
Made in Massachusetts
Swirl Gandalf the Grey Pipe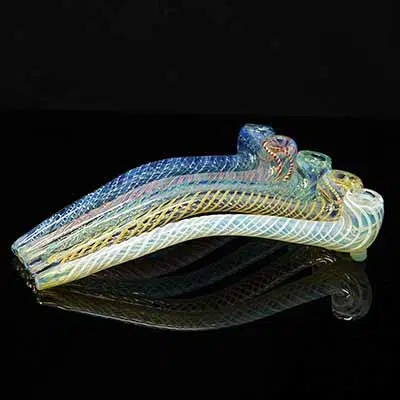 The Swirl Glass Gandalf Pipe is beautifully spun. Just watch your swirl of smoke travel through the colorful spun glass swirl of the 10 inch stem to your lips again and again.
Made of borosilicate glass
10"
Comes in five colors
Handmade
Confetti Lord of the Rings Gandalf Pipe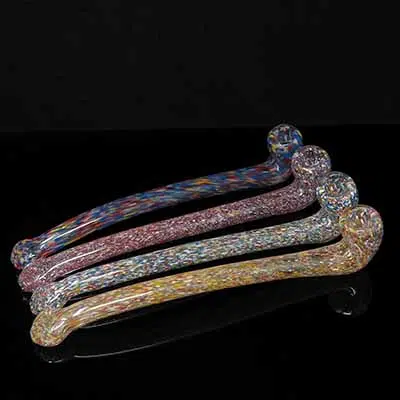 Get ready for some merrymaking with the Confetti Glass Gandalf Pipe! This baby makes for a really cool birthday gift and is the highlight of any party. You can skip the balloons, just go for an eighth instead.
Grav Labs Gandalf Pipe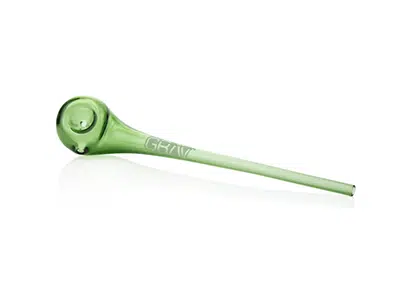 You can be sure that GRAV will make you feel like a mystical wizard in the making with this piece. All you have to do is figure out which shade makes you feel the most magical!
Made of glass
8-10"
Carb on left
Comes in a variety of colors
Now you can Pipe like Gandalf
You don't have to be a die-hard Lord of the Rings fan to love the look, feel and smooth tokes that Gandalf's pipe delivers. However, you're bound to become a more magical stoner, inspired by the mesmerizing beauty and enchantment of glass Gandalf pipes.