Maybe you're looking for some mystery or a little bit of adventure. Nothing says daring and cunning quite like a Sherlock Pipe. Sure, you could go with a briar pipe or Gandalf pipe too, and that's perfectly fine. However, a Sherlock Holmes pipe may very well help you crack the code of living well, contemplate the unsolved mysteries of life or simply make you look like the classy stoner you rightfully are. We've curated a list of some pretty cool Sherlock Holmes Pipes, looking far and wide, leaving no rock unturned but many mysteries still await you on your journey.
Photo: Unsplash
Glass Sherlock Pipes
While Sherlock pipes can come in many materials they are most commonly made in glass or wood. However, that doesn't mean each is made alike, take glass, for example. Glass is often sought after given its sheer versatility and below are some of the most unique Sherlock Holmes glass pipes for sale we could find across the vast interwebs.
Black Sherlock Bubbler Pipe
Why not opt for the best of both worlds with a Sherlock bubbler pipe? This style lets you enjoy silky smooth hits on the road from a pint sized package. This particular piece feature a double chamber percolor in a curvaceous black finish.
Made of hand blown borosilicate glass
Double chamber percolator
Ergonomic handle
Unique black design
Galaxy Sherlock Pipe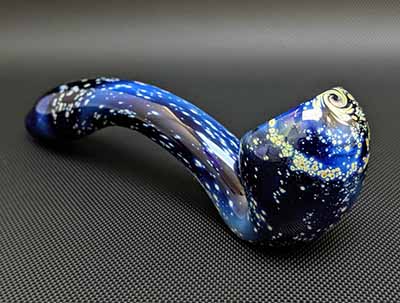 Made of hand blown cobalt glass this gorgeous spoon pipe will make you contemplate the vastness of our galaxy and realize just how small we really are. The Galaxy Sherlock Pipe features beautifully detailed stars and silver fuming, and just as no one spot in the sky is the same, each of these comes out truly unique. Now you can enjoy your smoke sesh ritual and think of the many men and women before you who got lifted at ceremonies as far back as 2,500 years ago, although it is highly likely they used a water pipe. Let's look up at the same stars that they looked upon millennia past and take a glorious puff.
Made of hand blown borosilicate glass
Comes in gift packaging
Includes bonus hemp wick
Rose Sherlock Pipe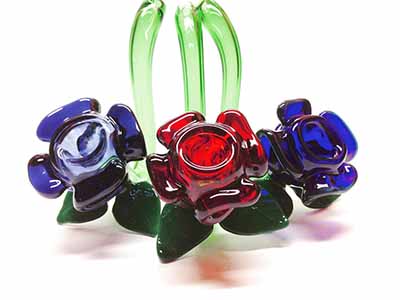 If you are looking for something truly unique for bae, this is it. The Rose Sherlock Pipe looks as though it was inspired by Alice and Wonderland's living flowers. It's hard not to imagine these roses come to life after a few bowls in. Just watch the petals glisten by the flame at first light and you'll see exactly what we mean. The rose pipe also features a stand made of two green leaves so you can set it on the table while not in use, perfect for kicking back with bae before watching one of your all time favorite stoner movies. It makes for an especially great birthday or Valentine's Day gift, and of course, looks even better packed with top-shelf flower.
5" long (7" when stretched out)
Features stand
Available in three colors: red, blue and purple
Snakeskin Sherlock Pipe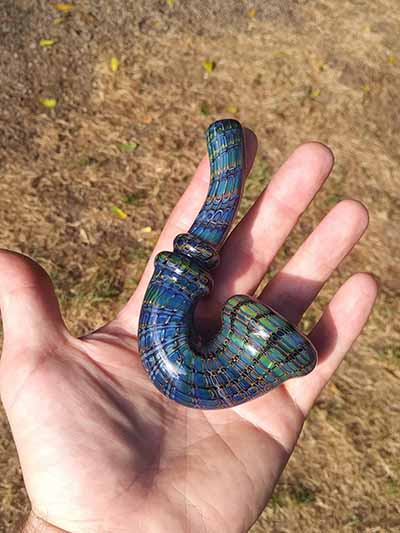 This beautifully crafted Snakeskin Sherlock Pipe has layers of silver and gold fuming layered on top of a solid cobalt blue tubing, giving it the appearance of real snakeskin. While there aren't all that many blue snakes out there, it likens to one of the most vibrant, the stunning Blue Racer snakes found around the Great Lakes. Get ready to be thoroughly impressed by looks and function alike as this baby hits like a dream, and the photos do not do it justice.
4.25" long
Silver and gold fuming
Fits snugly in hand
Blue Mini Glass Sherlock Pipe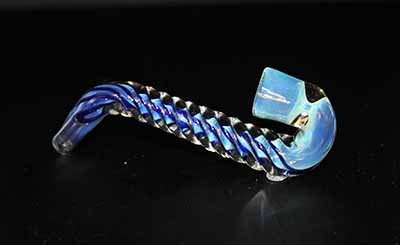 Looking for something small for only the most adventurous of escapades? Well, this Mini Glass Sherlock Pipe will likely become the Watson to your Sherlock, except this cute confidant packs a punch. Become mesmerized by the twisted ribbon stem and iridescent glow as you light this piece up. It also features two glass feet so you can perch it where you like without a worry that your precious herb will perform a disappearing act. That wouldn't be a mystery you'd want to solve anyways.
Made of Borosilicate glass
4" long
Features twisted stem
Features two glass feet
Silver fumed
Small bowl
Blue Color Changing Sherlock Pipe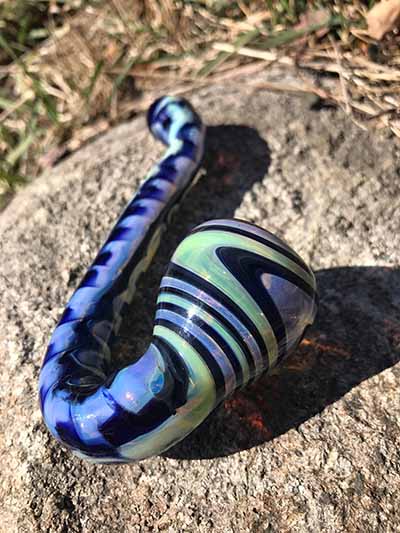 You'll be positively floored by the trippy effect of this Color Changing Sherlock Pipe. This functional work of art will likely floor you in more than one way.
Color changing
Made of borosilicate glass
6-7"
Made to order and homeblown in Massachusetts
Yellow Color Changing Sherlock Pipe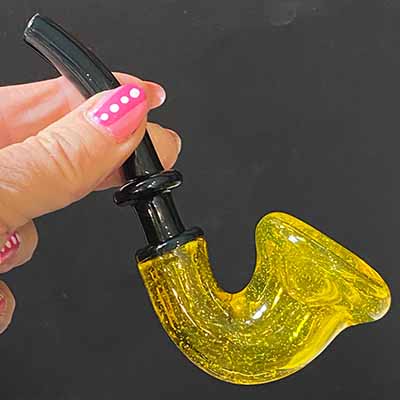 Perhaps you want something a bit more sunny and in that case, this bright yellow Color Changing Sherlock Pipe will have you playing it like a saxophone. Watch the smoke travel through its sheer base and the color yellow shift to deep orange by the flame.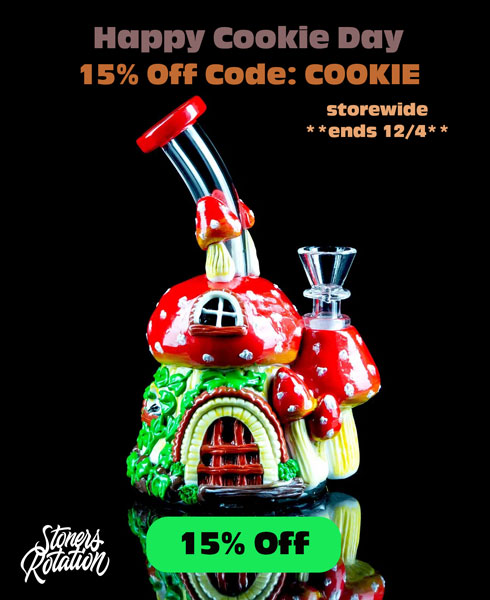 Coloring changing
5"
Deep bowl
Made in Colorado
Black Rainbow Sherlock Pipe With Opal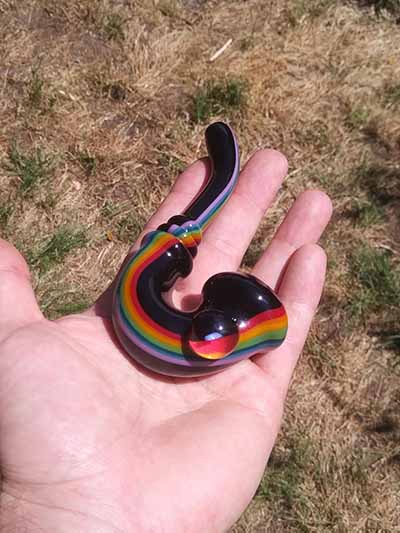 My personal favorite, this piece is truly unique with its Opal accent on the side which gives you improved grip and is simply fun to play with when you're lifted. Also, this Black Rainbow Pipe is just the right size, fitting perfectly in the palm of your hand just under 5 inches.
Made of glass
4.75"
Features Opal accent marble
Pink Rainbow Sherlock Pipe With Opal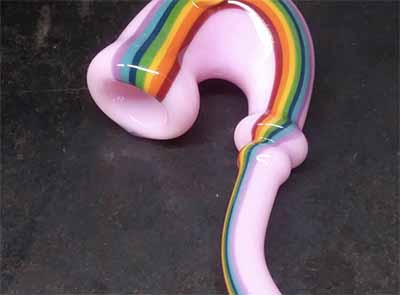 We also love the bright shade of the Pink Rainbow Sherlock Pipe which is super cute if you're looking for something a bit more playful!
Made of glass
4.75"
Features Opal accent marble
Mint Green Sherlock Pipe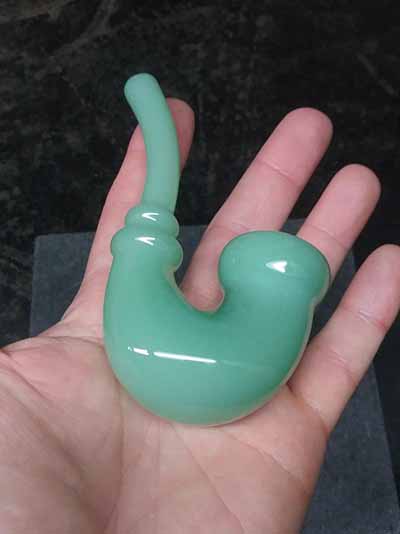 If you want a Sherlock pipe that hits like a water pipe you'll love the Mint Green Sherlock Pipe. With its stunning vintage feel it looks like it was designed by Martha Stewart, perhaps after a smoke sesh with Snoop. She's not a diva though so expect easy maintenance. Aside from being a cinch to clean, she's an ideal weight, fits perfectly in the palm of your hand and hits like a dream.
Made of glass
4.5"
Mint green
Incredibowl Sherlock Pipe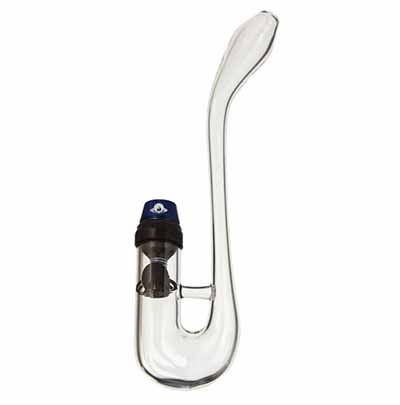 If you've got the Incredibowl Mini m420, the Sherlock Pipe attachment is an absolute must because it's like getting a pipe with a classy alter ego. Made of borosilicate glass which is the same glass used in labs and restaurants, this piece is made to stand the test of time. Get ready for a whole new experience that will make you feel like the classy stoner you've always been.
Made of borosilicate glass
6"
Made in the USA
GRAV Labs Sherlock Pipe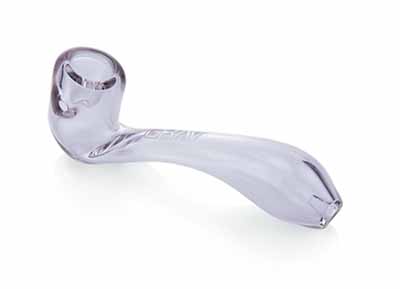 It's hard not to love the silky curves of the GRAV Sherlock Pipe and luckily she comes in every shade imaginable. As with anything GRAV, looks meet function time and time again, and this piece is no exception. The pipe features an inverted ash catcher mouthpiece so your hits will stay tasty for hours, that is if you can keep up! It features a pretty big smoking bowl too!
Made of borosilicate glass
6"
Inverted ash catcher mouthpiece
Available in many colors
Hello Kitty Sherlock Pipe
This combination is so unexpected but somehow feels like nutella and white bread. In other words, perfect. If you're looking for a spin on Hello Kitty, this cute Sherlock Pipe is perfect with it's spun pink glass and the iconic Japanese pussy cat.
Saxophone Sherlock Pipe
The Grav Saxophone Sherlock Pipe was the brainchild of S Peirce Glass and Grav, ergonomically designed to fit perfectly in the palm of your hand and deliver smooth, yet massive hits with its deep bowl. She's a beaut for sure!
Wooden Sherlock Pipes
The wooden style is probably what most commonly comes to mind when you think of the prototypical Sherlock Pipe; ergo, we thought it necessary to include the finest wooden pipes for every occasion.
Wooden Sherlock Holmes Smoking Pipe
Made of pear treat root, this wooden smoking pipe looks like it was lifted from the set of Sherlock. While the stand is not included, it does come in a sleek leatherette pouch to stash it away.
Made of pear treat root
5"
Comes in leatherette pouch
Rhodesian Peterson Sherlock Holmes Pipe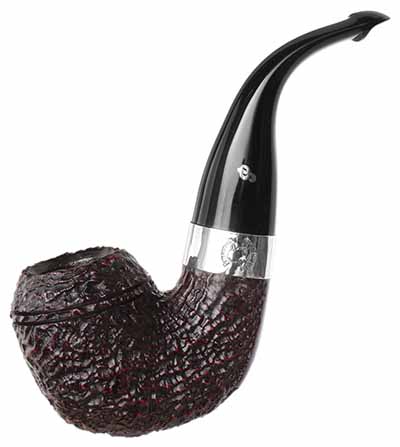 Peterson out of Dublin makes the most exquisitely designed Sherlock pipes, and while they are more expensive than most, it's well worth it given the high-end materials, craftsmanship and personality of each piece. The craggly textured sandblasted finish against the sterling silver band and elegantly curved jet black stem makes an instant impression.
Made of briar
6"
Unique craggly sandblasted finish
Apple Peterson Sherlock Holmes Pipe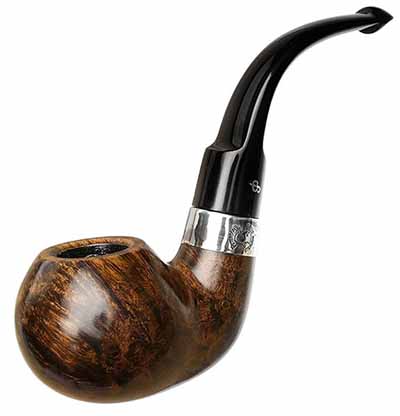 The apple shape, smooth texture and walnut finish of this piece is of equally stunning quality to the Rhodesian style, although entirely unique.
Made of briar
6"
Walnut finish
Apple shaped bowl
Dr. Watson Wooden Sherlock Pipe
This handmade carved Claw Sherlock Pipe made in the classic full bent shape will make you the envy of all your friends. It's beautifully crafted with a deep bowl, a gorgeous piece for collectors and makes a great conversation piece with its uniquely designed claw clutching the bowl.
Made of pea wood
6"
Unique claw design
Includes carrying pouch
Made in Ukraine
Wooden Sherlock Holmes Briar Pipe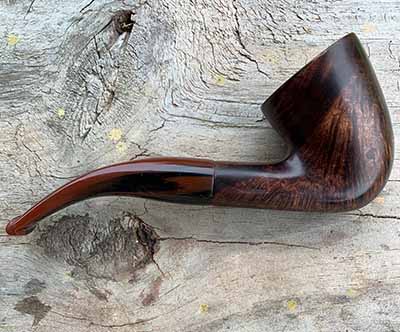 You better be drinking your coffee black with this one. The Wooden Sherlock Holmes Briar Pipe with swirl stem was made in Dublin style out of briar wood with a finish that likens to coffee stains.
Made of Mediterranean Briar
5.2"
Dublin Style
Includes carrying pouch
Carbonized bowl
Other Sherlock Pipe Styles
Here are a few other styles that may tickle your fancy.
Silicone Sherlock Pipe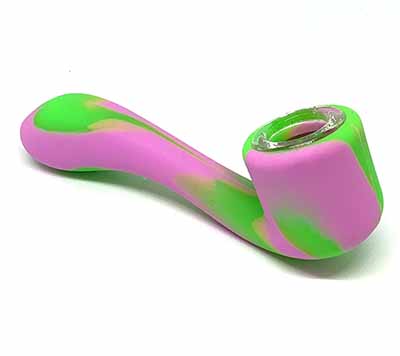 While this may not be the most sophisticated Sherlock pipes on this list, it's cheap, virtually unbreakable and comes in an array of vibrant colors. The Silicone Sherlock Pipe also has a glass bowl screen for effortless maintenance.
Made of food grade silicone
4.5"
Inverted ash catcher mouthpiece
Available in many vibrant colors
Meerschaum Sherlock Holmes Pipe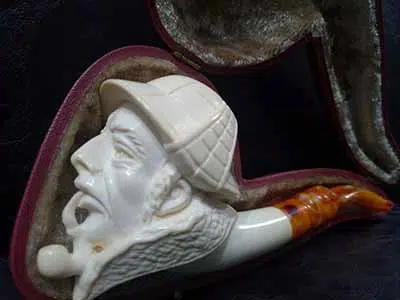 Last on our list is the Meerschaum Sherlock Pipe made of Meerschaum which is a porous white clay that makes it possible to carve with exquisite detailing. This piece features the man himself, Sherlock with pipe in mouth, so you can't get much closer to a Sherlock pipe than this!
Made of fine Meerschaum clay
Handmade
6.14"
Made in Turkey
Sherlock Tips His Hat Off to You, my fair Stoner
We imagine that you spend a lot of time with your pipe. It's the Watson to your Sherlock, or should I say the Sherlock to your Watson? No matter, no matter. Simply put, it must be a worthy companion for your nights in and out, and help you to unfold the mystery of life before us all.