As we have always maintained here at Stoners Rotation, 2021 is bound to be an interesting year for marijuana stocks. Since the start of February for instance, Retail investors have spent over $440m on cannabis stocks. This represents double the entire amount spent in January. Much of this has been down to the Reddit Army. Reddit r/WallStreetBets recently turned their attention to marijuana stocks in the hopes of swinging prices for big gains.
Feature Photo Source: Pexels
Could this be an indication of another marijuana stock bubble as some have suggested? Or could it be a sign of an industry rapidly evolving and heading towards maturity? Only time will tell. The following explores the Reddit group r/WallStreetBets (Reddit Army) and their link to cannabis stocks. It also highlights the top weed stocks that have benefited from their attention recently.
What's the Reddit Army and their link with cannabis stocks?
The Reddit Army refers to the r/WallStreetBets forum on Reddit. The WallStreetBets forum was recently involved in the dramatic GameStop spike that sent shockwaves across Wall Street. It would seem now that investors from this forum have turned their attention towards cannabis stocks.
The WallStreetBets forum has about 8 million highly active investors. This means it is able to influence huge investment activity with very little effort. For instance, as of Wednesday last week, out of the five most-discussed stocks on WallStreetBets, three were cannabis stocks. This attention has also reflected in the numbers recently. As of February 12th, investors ad already spent over $440 million on cannabis stocks. This is double the amount spent in the whole of January.
Top cannabis stocks that benefited from the Reddit Army in February 2021
Here are the top cannabis stocks that have benefited immensely from investment activity by the r/WallStreetBets forum.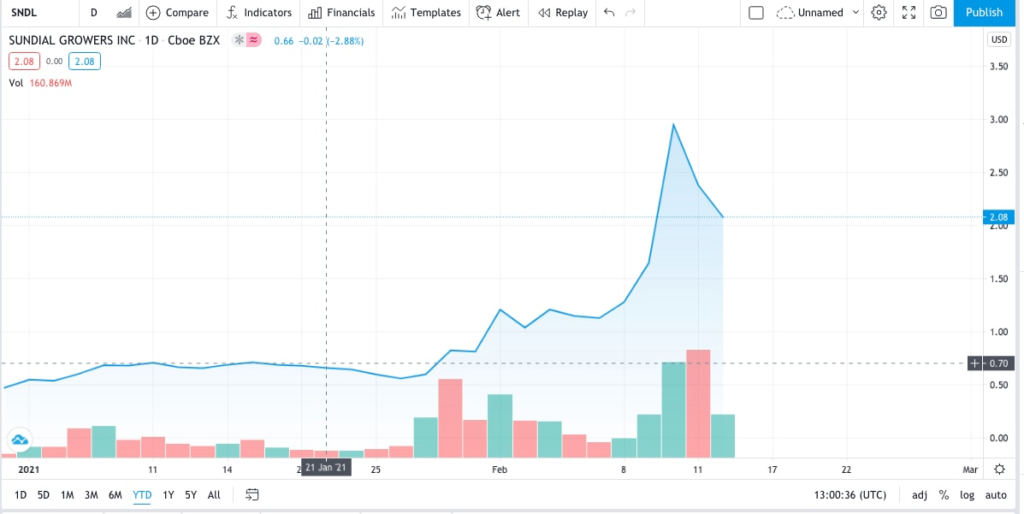 Sundial Growers (NASDAQ: SNDL)
Sundial Growers has perhaps been the biggest winner when it comes to investment activity from the Reddit Army. This cannabis stock is up 339% this year and shows no signs of stopping. As of Thursday last week, Sundial Growers was among the top traded stocks on the Robinhood platform.
It rose from just over $1 to nearly $4 on Monday. However, it dropped to over $2 on Thursday. Regardless, Sundial was still up by 83% last week. This marijuana stock's low price makes it more attractive for short term investors seeking quick and tangible gains. Sundial also has a buy signal on TradingView and other investment platforms.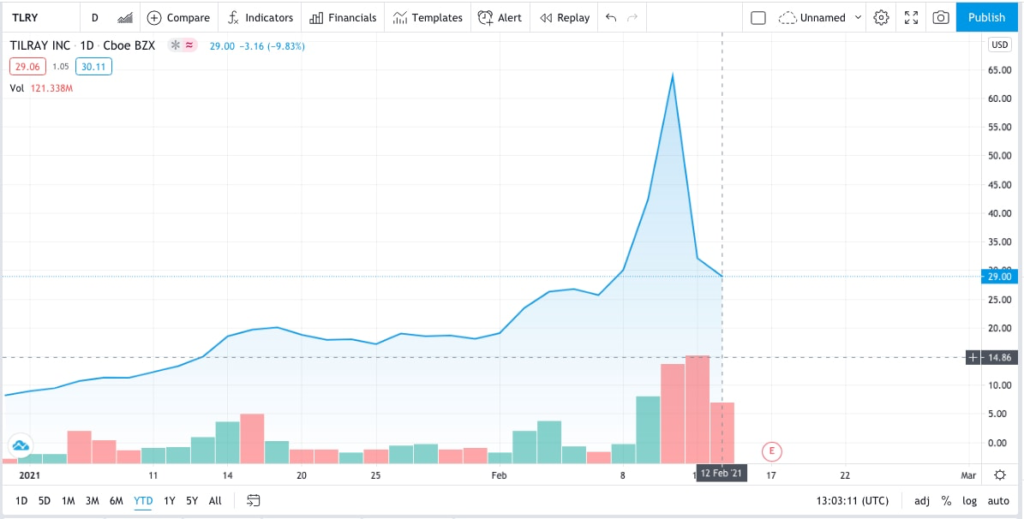 Tilray (NASDAQ: TLRY)
Canadian cannabis producer Tilray was the second most traded cannabis stock on the Robinhood trading app last Thursday. Tilray marijuana stock price was around $25 at the start of last week. It however reached an intra-day high of $67 by Wednesday. Tilray however came crashing down to $29 by close of trade last Friday.
After starting the year at just over $8, Tilray is currently up by 251%. It also has a buy signal on most trading platforms. Tilray's price tag however means that its investors may not experience the same level of gains that Sundial had, in the short term. However, if it manages to reach $67 again and remain there, the sky would literally be the limit.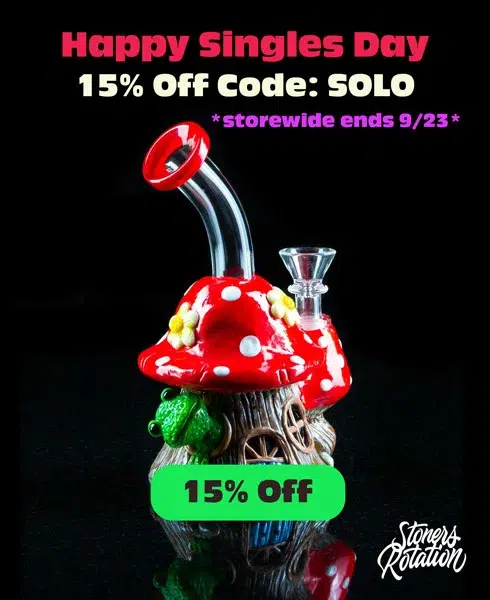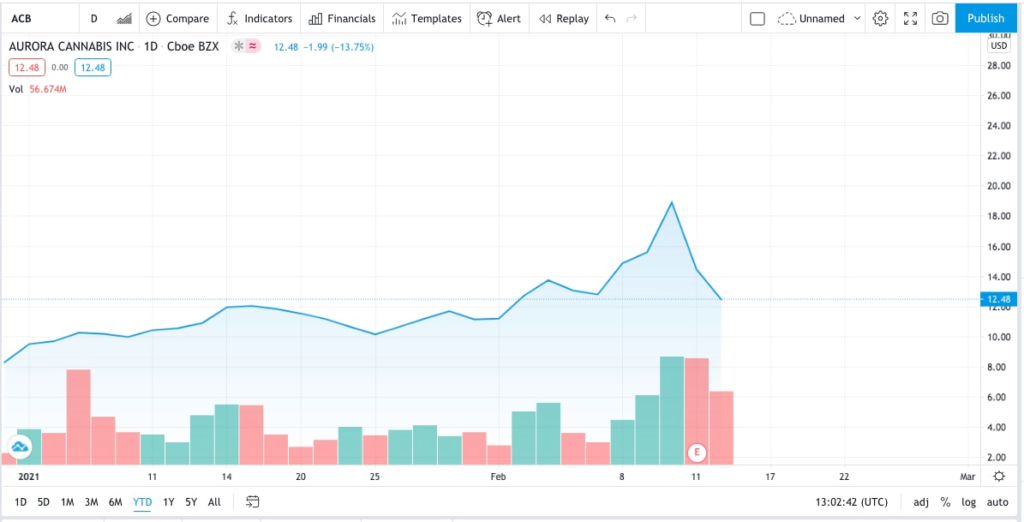 Aurora Cannabis (NYSE: ACB)
Aurora Cannabis is a top choice for young investors. It's the most subscribed weed stock by Millenials on the Robinhood trading platform. It is, therefore, no surprise that it has received significant attention from the Reddit Army. Just last Wednesday, ACB stocks gained as much as 21%, just when Reddit investors started looking in its direction. Coincidence? We think not.
Surprisingly, Aurora Cannabis has a neutral signal on TradingView. This is perhaps in response to its sustained rally since the start of the year. ACB is currently 50% up year-to-date.
The cannabis stocks wrap
Could this be a frenzy as suggested by some experts? Perhaps not. This has however favorably coincided with a period where investor confidence in the marijuana industry is at an all-time high. Reddit Army or not, it seems likely that cannabis stocks generally continue to rise as hopes for legalization in the U.S. continues to burn bright. However, since many r/WallStreetBets investors have been known to target short term gains, investors are advised to tread carefully.
Do you have more burning questions around cannabis?
Email us at [email protected] with your questions/topic suggestions and we will get back to you!