It's important to know you are getting your money's worth when you buy weed. Whether you buy from a dispensary or from your dealer, a weed scale is a good investment. It's even more essential to build trust if you run your own business. That's why we've analyzed the best weed scales on the market for accuracy, precision and value for money.
Photo: Unsplash
10 Best Weed Scales
100 Gram Weed Scale (0.01 – 100 gram)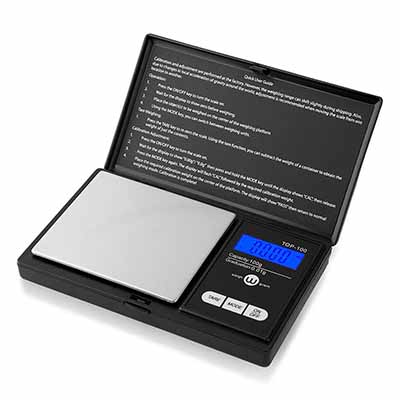 This digital scale for weed made with a stainless steel platform can read anything from 0.01g up to 100g. It's easy to use and read with its LCD backlit display and preserves battery life with its automatic 60 second shut off.
Pros: LCD Display, lightweight, versatile and easy to clean
Cons: Calibration is complicated for first time users
Review: "I am a scientist by training and know more than the average person when it comes to measuring mass. I have a set of calibrated weights that I used to evaluate this scale and found the following. The measured accuracy, precision, and range of linearity for this unit matched the specifications reported."
200 Gram Mini Digital Weed Scale (0.01 – 200 gram)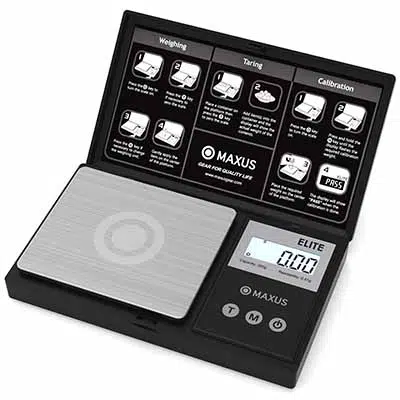 This herb scale made from stainless steel can measure from 0.01g up to 200g. It comes with a 10 year warranty and works great for measuring out bud, tinctures, you name it.
Pros: 10 year manufacturer limited warranty, easy to read, durable, lightweight and portable
Cons: Although it says it ships pre-calibrated you most likely will still need to calibrate
Review: "I'm surprised at the quality for the price. I make my own cannabinoid tinctures and gummies and have to weigh fractions of grams. Great product if you make your own meds."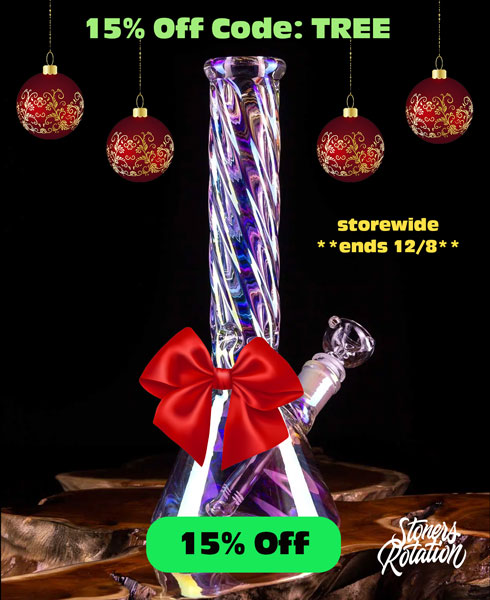 200 Gram Gold Herb Scale (0.01 – 200 gram)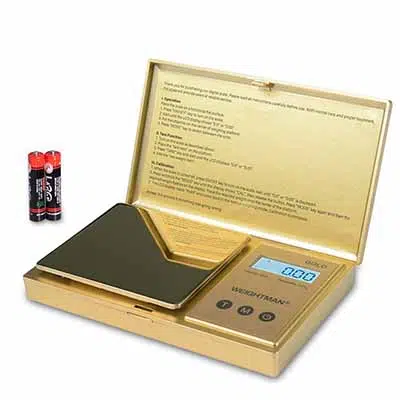 This cool scale for weed comes in a unique titanium plated shade of gold if you want something that really stands out and is more lightweight than stainless steel. It promises an accuracy of ±0.03g and much like the others has a simple, user-friendly LCD display. It's also very easy to calibrate. If you want something sharp, affordable and accurate, this cool weed scale is a great choice all-around.
Pros: 10 year manufacturer limited warranty, unique, accurate, easy to read and lightweight
Cons: Since it's made from a lightweight plastic it may feel kind of "cheap"
Review: "Love it, all around great item, had trouble with kitchen scales when measuring weed and this was perfect."
200 Gram USB Digital Scale Grams (0.01 – 200 gram)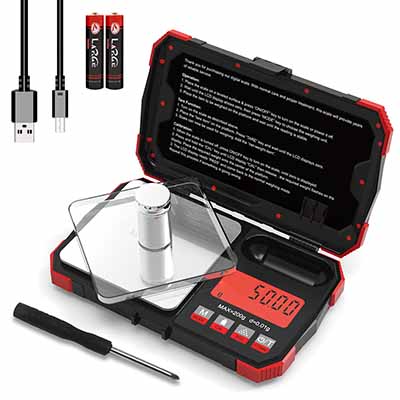 The best part about this mini pocket gram scale is that you can charge it with a USB cable (or batteries if you prefer) and it comes with a 50g calibration weight. It even has a storage area to fit your calibration weight if you need to re-calibrate. This cool scale for weed comes in a unique red flame pattern so it stands out. It's also made with portability in mind with its slim design, just flip the cover to lock it in place and slip it in your pocket. Additionally, it has a fingerprint proof coating so it stays clean longer.
Pros: 2-year limited manufacturer warranty, includes a 50g calibration weight, LCD display, USB charging port, unique pattern, fingerprint proof coating and easy to clean
Cons: Some users say the readings are inconsistent/not accurate
Review: "This scale is awesome. It closes shut for easy transporting, has a storage area for the calibration weight so it's right there when you need it , and a little plate for weighing items using the tare function. Oh and did I mention you don't need batteries?!
200 Gram Digital Scale for Weed (0.01 – 200 gram)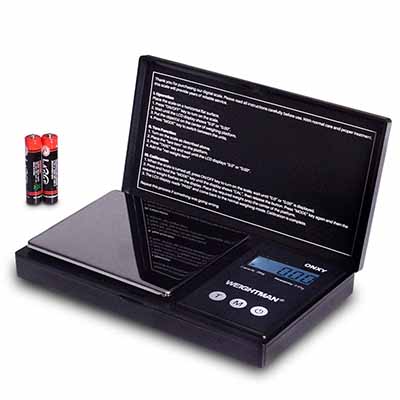 This digital pocket scale for weed is lightweight, precise and easy to use. It has a straightforward three button functionality and digital display, measuring with an accuracy ±0.03g.
Pros: 10 year manufacturer limited warranty, easy to use, lightweight, gift ready packaging
Cons: Some users say the readings are inconsistent/not accurate
Review: "This scale rocks, right of the box it was perfectly calibrated, is nicely made, and has stayed perfectly calibrated, even after moving it around several times, and for how cheap this thing is, it rocks! 5/5"
500 Gram Weed Weight Scale (0.05 – 500 gram)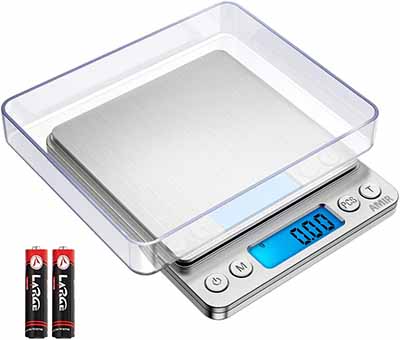 If you are looking for something even more versatile, this digital weed scale can measure from 0.05g up to 500g. While it can't get to a hundredth of a gram like the first mentioned, it has a few advantages. First, it comes with two plastic trays so you don't lose any precious herb. Second, it includes a few smart button functions that alert you when the battery is low or the surface is uneven/overloaded.
Pros: Includes two weighing trays that dual as covers to protect the scale when not in use
Cons: Does not include instructions for how to calibrate. One user reported that the scale read .03g to .09g higher when measuring 100g so it's not 100% accurate. Does not include instructions for how to turn off the auto-off function.
Review: "Great scale if properly calibrated."
500 Gram Weed Scale Walmart with Cover (0.01 – 500 gram)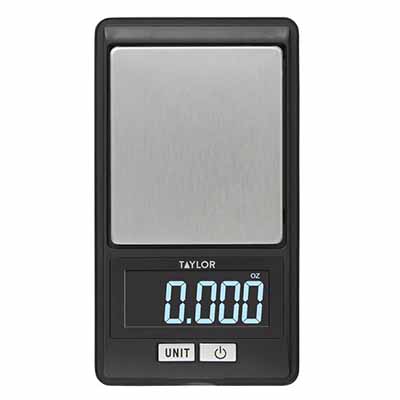 This pocket gram scale measures ultra-fine increments starting at 0.01g. It comes with a cover that can be used as a tray or to protect the weed weight scale during travel.
Pros: Accurate, precise, LCD display, easy to ready, easy to use, auto-off, includes a cover and comes with batteries.
Cons: Cover sometimes sticks
Review: "Pretty on point for anything under gram bags, but loses a point or two with balls and half zips, which is more money in your pocket I guess."
1000 Gram Marijuana Scale (0.1 – 1000 gram)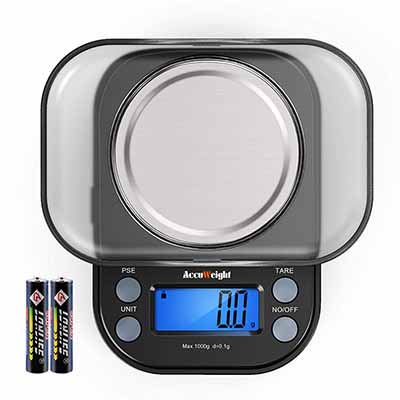 Pocket sized scales tend to be good if you want something portable and are only measuring small quantities of weed. This mini scale measures 0.74 x 2.44 x 0.83 inches so it will fit perfectly in your back pocket. However, despite its tiny proportions it measures from 0.1g up to 1000g so you can use it for a wide range of applications in addition to weighing weed. This includes baking, meal planning or even weighing your pet gecko! Much like the previous weed scale it also includes a tray that doubles as a protective cover.
Pros: Backlit Display, lightweight, portable, versatile, multiple applications, batteries included.
Cons: Users say it's smaller than expected and not 100% accurate, giving slightly off readings.
Review: "I use this scale to weigh Marijuana, which is Legal here in Oregon. My only problem which was my fault, I didn't read the size dimensions. Boy when they said Pocket Scale, the seller wasn't kidding!"
5100 Gram Home Depot Scale Weed (0.05 – 5100 gram)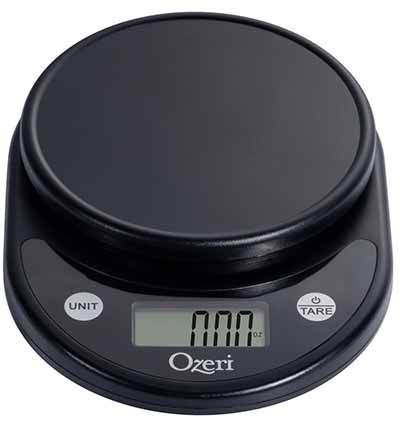 The Ozeri gram scale is perfect if you want to use it for more than just weed and/or larger quantities of weed. It features a large weighing platform measuring 8.25 x 6 inches so you can weigh weed and then use it to measure out your next batch of weed brownies!
Pros: Enlarged weighing platform, precise, precision tare button, LCD display, easy to use, auto-off.
Cons: Not very portable
Review: "Great scale for the price."
6000 Gram Ozeri Weed Scale Walmart (0.01 – 6000 gram)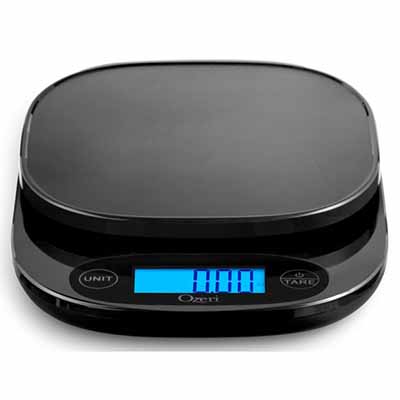 Perhaps you don't want to wait for Amazon to deliver and you're wondering, "Does Walmart sell scales for weed?" Thankfully, you can pick up the Ozeri marijuana scale from your local Walmart. The tare button is also very helpful to subtract the weight of your pouch or baggie. The packaging says 420 garden scale so you better tend to your garden!
Pros: Precise, precision tare button, LCD display, easy to use, auto-off
Cons: Sometimes gives inconsistent readings
Review: "I love this sleek little scale for its accuracy and price. The best feature is the tare weight option meaning it will weigh an empty container (not furnished) then goes back to zero so you can still get the net weight of whatever you are weighing."
How to Scale Weed?
Before you scale weed, it's important to calibrate your scale first. Only the USB digital scale (#5) comes with a weight to calibrate but you can buy the weight separately for any of the others. Once calibrated, just follow these simple steps to scale your weed:
Make sure your scale is on an even surface
Turn on scale, it should read 0
Test the scale with a folded dollar bill, it should weigh 1g
If you don't have a dollar bill, test with a nickel should weigh 5g
If your scale reads properly, it's already calibrated and ready for use
Place your herb in the middle of the scale
Tip: If you need a larger surface area and you don't have a weighing tray you can use an envelope for if you're weighing an ounce or more.
Common Weed Measurements
| | |
| --- | --- |
| Measurement | Weight in Grams |
| 1 eighth ounce | 3.5 grams |
| 1 quarter ounce | 7 grams |
| 1 half ounce | 14 grams |
| 3/4 ounce | 21 grams |
| 1 ounce | 28 grams |
| 1 pound | 448 grams |
| 1 kilogram | 1000 grams |
A Weight Off Your Mind
When choosing between the best scales for weed it's important to keep in mind accuracy, durability, ease of use and value for quality. While the weed scales mentioned may have some slight differences in performance and durability, each is precise and accurate (as long as it's calibrated properly), saving you money over the long-run.