Weed Brownie Recipe
There's a reason weed brownies are the most famous stoner snack and a timeless go-to for anything edible-related. They're an easy treat to make, and aso the most delicious! Even better, chocolate is a crowd-pleaser that pairs well with the flavor of weed. These brownies deliver rich flavors and a mind-bending, trippy experience to whoever tries them. Once stocked with the right amount of chocolate and cannabutter, you're under an hour away from enjoying a tray of special brownies that you can savor yourself or share with others!
Photo: Unsplash / Flickr (Mashup)
Making Weed Brownies with Cannabutter
The most popular method of infusing marijuana into baked goods is by replacing a recipe's regular butter with cannabutter. This weed butter recipe provides easy step-by-step instructions that include the same ratio of THC used in this brownie recipe. On the other hand, if you already have some cannabutter ready, then you are set and ready to go make some brownies!
Wondering how to make weed brownies with oil? Both weed butter and oil can replace the source of fat required in a brownie recipe, so simply swap the amount of cannabutter in your recipe with canna-oil. If the oil is potent, add it to regular unsalted butter or oil and continue with the next steps.
Ingredients
½ cup cannabutter*
½ cup chopped dark chocolate
¼ cup cocoa powder (plus a teaspoon to dust the pan)
1 cup sugar
1 tablespoon honey or maple syrup
¼ teaspoon salt
1 teaspoon vanilla extract
2 eggs*
¾ cup all-purpose flour
Medium bowl
Whisk or wooden spoon
Brownie pan
*For vegan brownies, replace cannabutter with cannabis oil, and replace eggs with flaxseed or egg replacer.
Edible Weed Brownies Steps
Make Cannabutter
If you don't already have pre-made cannabutter, see here for instructions. All you need is butter, water, and cannabis. Plus, the end result of this recipe is definitely worth the extra prep time!
Preheat oven to 350°F
As the oven is heating, coat or spray a square pan (about 8×8 inches) with oil. Dust the oiled pan with a teaspoon of cocoa powder for more flavor and a less sticky result.
Melt chocolate and cannabutter together
Place the ingredients in a microwave-safe bowl and microwave on high for 20-second intervals, until both the cannabutter and chopped chocolate are evenly melted together.
Add ingredients to bowl
Next, mix together the sugar, honey, salt, and vanilla in a bowl until the texture is consistent throughout. and Add the eggs and mix everything thoroughly together for about 5 minutes, or until the batter begins to ribbon while stirring.
Combine cocoa powder and flour
In a bowl separate from the rest of the brownie dough, use a dry spoon to mix the flour and cocoa powder in a bowl. Check that both powders are evenly sifted into a consistent hue. This helps to prevent the flour and cocoa from clumping together inside the brownies.
Stir everything
Add in the combined powders and softly stir until everything dissolves together. Make sure not to over-mix the ingredients or the brownies will be runny!
Cook for 25-30 minutes
Place your brownies in the oven for 25 minutes or until the top looks crispy. Poke a corner with a toothpick or fork. Once only a few moist crumbs are left behind, your brownies are done!

Enjoy
Take the brownies out of the oven and let them cool for 5-10 minutes. Now, these brownies are ready to be savored, so dig in!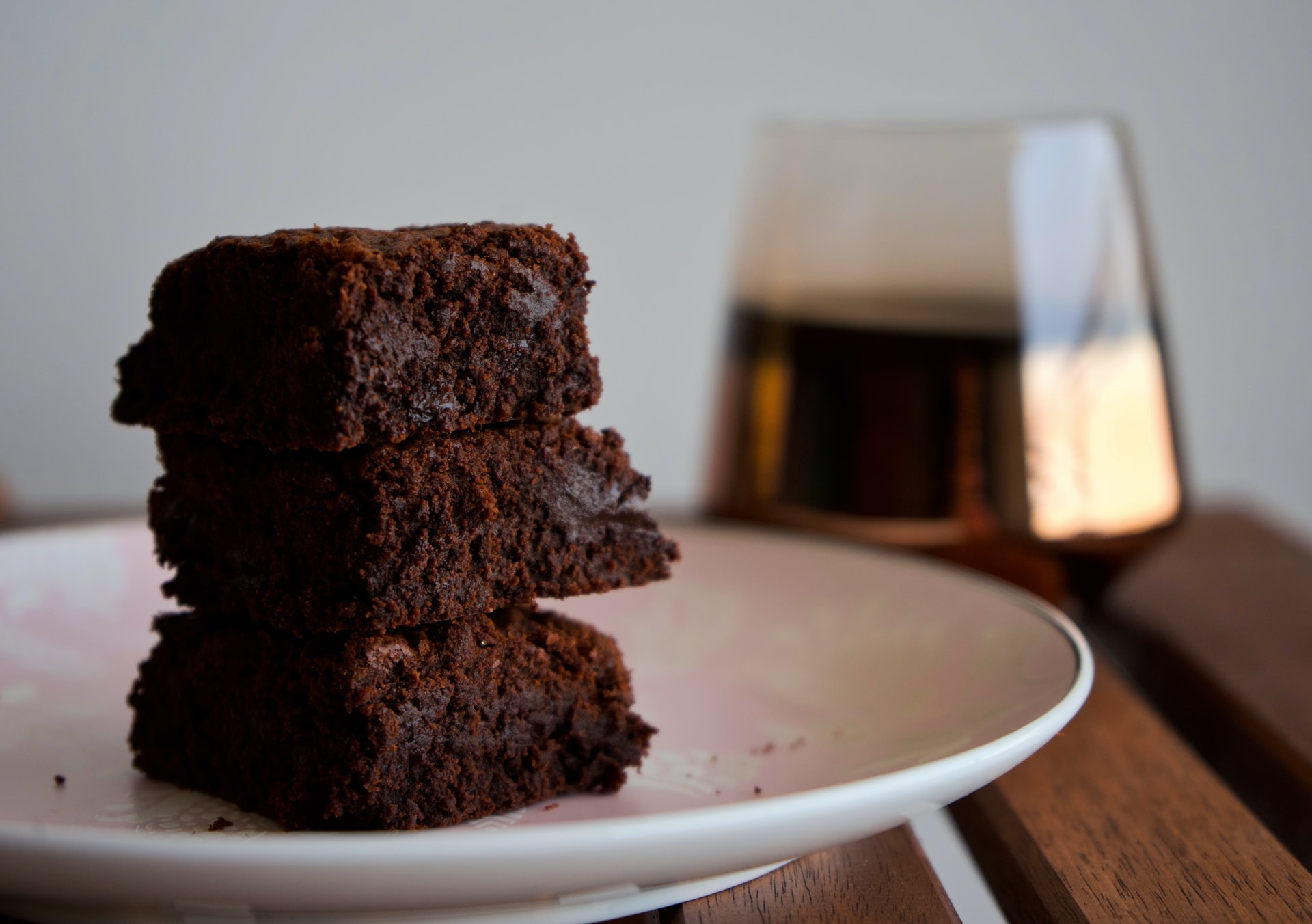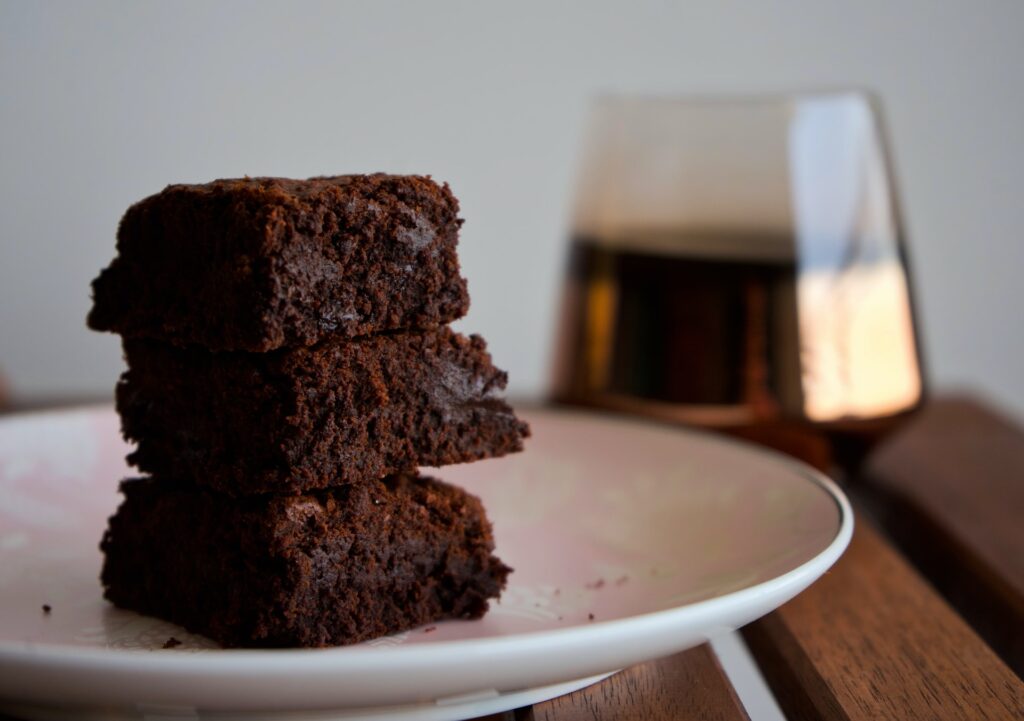 How Much Weed for Weed Brownies
This recipe has the perfect amount of weed to have your mouth watering and mind daydreaming. For an effective end result that doesn't leave you or others too high, make sure you use the right amount of cannabis! If you are using Stoner Rotation's cannabutter recipe, 1/2 cup of the cannabutter has about 1/16 oz of weed (1.75 grams). This specific recipe makes brownies containing about 300 mg THC after using a marijuana strain with a 17% THC content. Dividing the recipe into 12 equal sized portions makes brownies that have about 25mg THC each.
Weed Brownies Effects
Delicious chocolate brownies are gooey on the inside and crispy on the outside, making them an ideal treat for instances of the munchies or sweet tooth cravings. While it's tempting to go back for seconds and thirds, instead wait an hour or more and gauge how you feel before eating more. Especially when it comes to more potent weed butter, these brownies can pack a punch! Because pot brownies can have a powerful psychological effect, make sure others around you know of their potency before eating them. Beginner edible eaters should consider starting with half of a brownie for a less intense and instead more euphoric effect. For weaker brownies, dilute your cannabutter with regular unsalted butter, or add less weed to your initial batch of cannabutter.
Brownie Deliciousness Ahead
Many agree that extra-soft brownies are one of the most scrumptious treats known to humankind. By adding cannabis, they get an even better upgrade! Store these brownies in the fridge for up to a week, or put them in the freezer for long-term enjoyment. What are you waiting for? You're only steps away from having plates of yummy and stoney treats stocked up in your fridge and freezer!