2020 was a busy year for the marijuana industry and 2021 is set to be even busier. With many experts predicting that this could be the year for marijuana stocks to become profitable, it's certainly no fluke. A weed stock like Trulieve Cannabis (OTC: TCNNF) (CSE: TRUL) has remarkably grown in value to over $4 billion.
Feature Photo Source: Pexels
With Arizona, New Jersey, South Dakota, and Montana all passing legislation last December to allow recreational use of marijuana, and the potential impact of the Georgia runoff elections, this year is poised to be an exciting one for cannabis stocks.
If or when marijuana is legalized at the federal level, it will open up the industry for more investment. Getting ahead of this development will also set you up to profit immensely. The following highlights the top 5 cannabis stocks that have shown resilience over the years to be valued above $3 billion.
Top 5 Marijuana stocks 2021
Here are the top 5 weed stocks that have continued to show strength and grow over $3 billion (in valuation) despite the industry-wide challenges in recent times.
Weed stock 1: Canopy Growth (NASDAQ: CGC)
Canopy Growth (NASDAQ: CGC) is widely considered the largest weed stock globally and rightly so. It is engaged in the production and sale of medical marijuana products. The cannabis enterprise is currently valued at $4.71 billion and maintains a stock price of around $30. Canopy Growth's success comes mostly down to multiple investments from spirits giant Constellation Brands.
Despite its success in boosting its overall value, Canopy Growth is still miles away from reaching profitability. As the industry evolves, and the U.S. market opens up even more the company will stand to benefit from its established presence in North America.
Weed stock 2: Curaleaf Holdings (OTC: CURLF) (CSE: CURA)
Curaleaf Holdings is a multi-state operator and by far the biggest weed stock in the United States. This cannabis stock is expected by Wall Street experts to become the first to reach $1 billion in annual sales revenue. Currently valued at $5.04 billion, Curaleaf boasts a market capitalization of over $6 billion.
This valuation is largely buoyed by Curaleaf's acquisition of Cura Partners (owners of the Select brand) and buying up MSO Grassroots. By operating from 23 states and owning 130 dispensary licenses (with 90 active), Curaleaf Holding has positioned itself to benefit from the potential federal legalization of marijuana in the United States.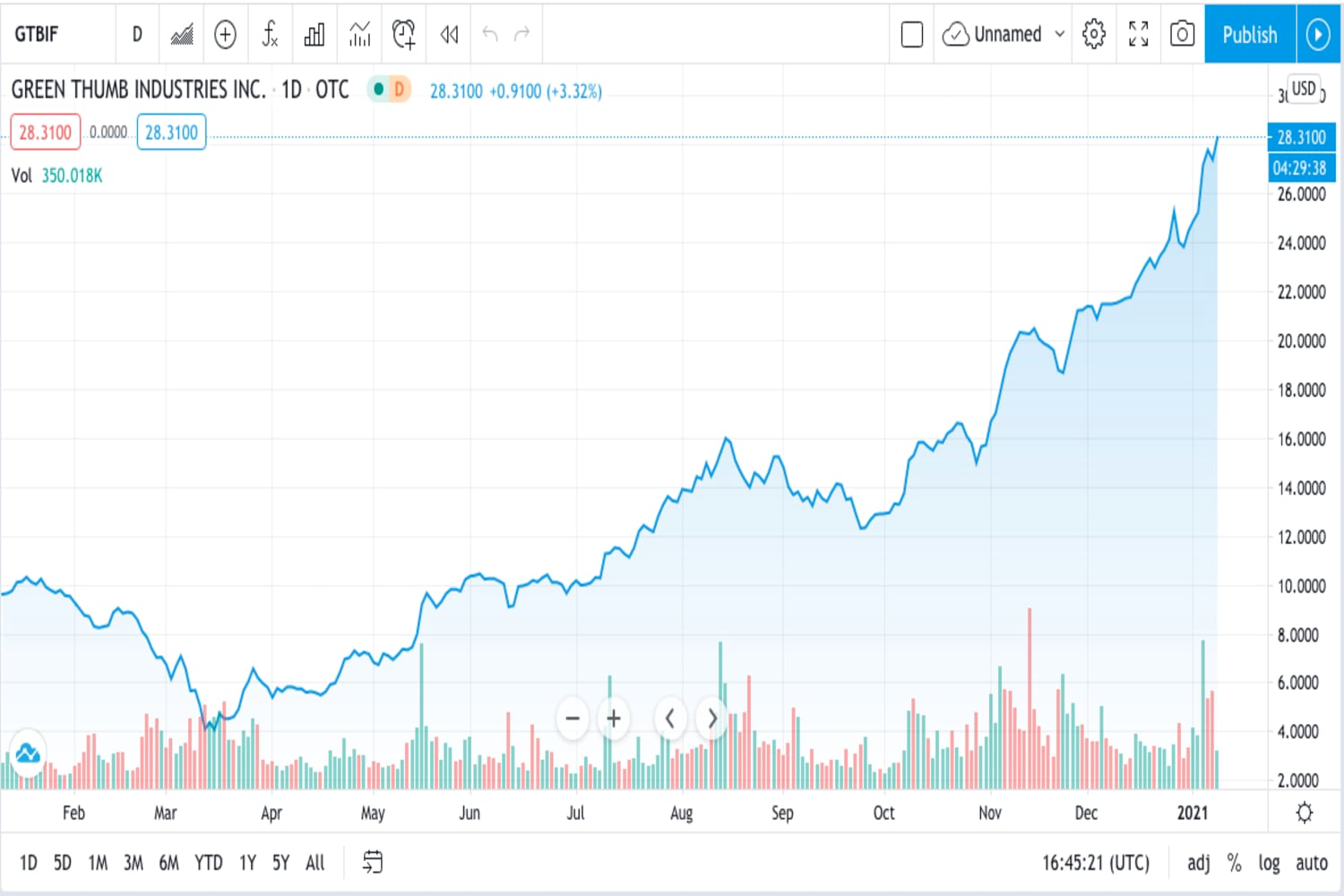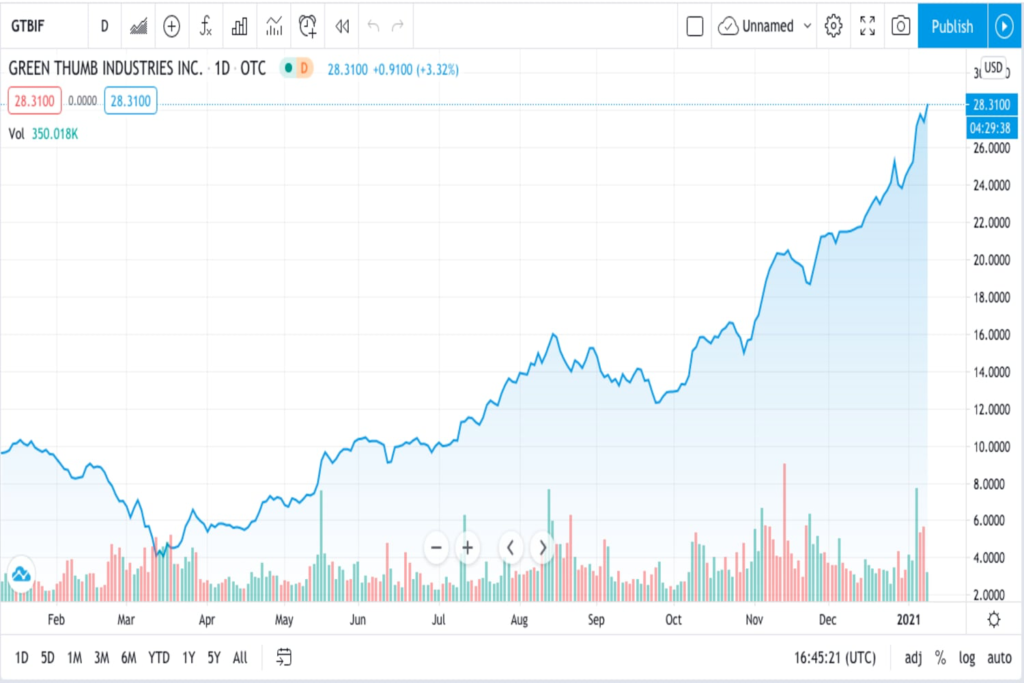 Weed stock 3: Green Thumb Industries (OTC: GTBIF) (CSE: GTII)
Green Thumb Industries is another Multi-state operator (MSO) with a decent U.S. presence. It currently holds licenses for 96 retail locations in 12 states, although only 50 are active. This Cannabis firm is valued at over $5 billion and has a market capitalization of $4.99 billion.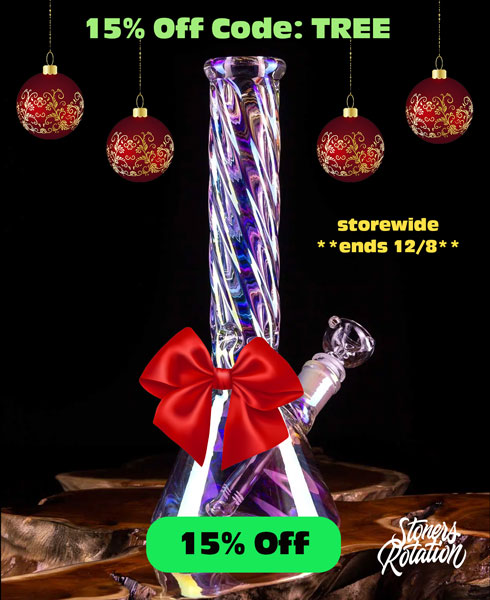 Green Thumb owes its success to its market selectivity overall strategy. Two-thirds of its sales are from derivatives such as edibles and infused beverages. Since derivates generally offer more attractive margins than dry cannabis flower, you can expect Green Thumb's growth trajectory to continue to head northbound, hopefully towards profitability.
Weed stock 4: Innovative Industrial Properties (NYSE: IIPR)
Innovative Industrial Properties (NYSE: IIPR) is very different from the other marijuana stocks on this list. The company is a marijuana-focused Real Estate Investment Trust. Its strategy of aggressively acquiring cultivation and processing assets. IIP's sale-leaseback program has largely fueled its recent success. This strategy has worked since the lack of federal cannabis law in the US means most businesses will struggle to access banking facilities.
Weed stock 5: Trulieve Cannabis (OTC: TCNNF) (CSE: TRUL)
Trulieve Cannabis is perhaps the most nominally profitable weed stock available on the market. It is valued at $3.7 billion and has a market capitalization of nearly $4 billion. Trulieve's strategy for success is simple and effective. It has 75 operational dispensaries in the U.S. and 70 of them are in Florida. Trulieve's saturation of Florida has effectively allowed the cannabis company to build its brand with minimal spending on marketing. It also commands 50% of the medical marijuana market in Canada.
Closing thoughts
If you're looking for the most established cannabis companies to invest in, this list offers a great starting point. As the weed stock market evolves and with federal legalization potentially on the brink, some of the names on this list will stand to benefit the most.