Chillums are an essential smoking accessory if you're looking to enjoy the green goddess without drawing unnecessary attention. They produce less smoke, burn no paper and give you cleaners hits. Although some can be technically classified as one-hitters, you can still take fat rips out of chillums. Here's all you need to know about chillums, along with a list of the most unique glass chillum pipes for sale.
Photo: Etsy
What is a Chillum?
A chillum is generally a straight conical smoking pipe. Although chillums were mostly made of clay or soft stone in the past, nowadays, there are typically made of borosilicate glass. These pipes are usually grouped under one-hitters because of their size; however, they're usually thicker and larger so you can pack in more herb. Most of all, chillums tend to hit pretty hard, but hey, that can be just what you're going for.
How to Smoke a Chillum
To get started, you'll need to know how to pack a chillum first. Once you have your finely ground herb ready, push the open bowl end of the chillum into the cannabis, rotating as you pack. This twisting motion will help to pack the weed down until the tube is filled evenly.
To smoke, ensure that you keep the chillum pipe as far away from your face as you can while still being able to smoke it. One way to do this is to cup your hand around one end into a fist and place the pipe in between your ring and pinky fingers. Next, place your mouth into the top of your cupped hand while a friend lights for you. Remember, chillums are meant to be shared!
How to Clean a Chillum
Generally, cleaning a one-hitter, as with most glass pieces will require soaking in a cleaning solvent like isopropyl alcohol and then use a cleaning brush or pipe cleaners to lightly scrub. Always remember to let it dry off before lighting up again.
15 Unique Glass Chillum Pipes
Here's our curated list of the most unique glass chillum pipes for sale online today.
Helix Chillum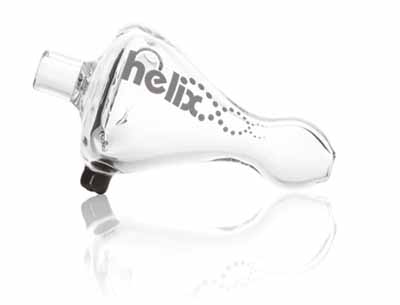 The Grav Labs chillum is one of the most unusual pieces on the list with its three intake holes that spin smoke in the form of a helix. This rotation essentially keeps the smoke in the chamber fresh so hits are smoother than most hand pipes. At just 3 inches long, it's a cute little companion especially if you're always on-the-go or planning a trip. It also would make for a mind-blowing gift for a friend in need. Either way, if you're looking for a budget-friendly smoking device that packs more than a one-hitter and hits smooth, this one's for you.
Color Changing Glass Chillum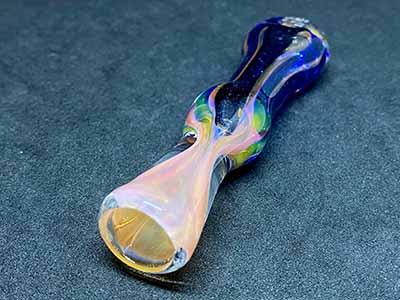 This color changing glass chillum is a stunning handmade piece that shifts in hue with changes in temperature, like when you light it up. The photos for this chillum pipe do not do enough justice, it's truly a sight to behold. Made from heady borosilicate glass you can an expect this 3.5 inch piece to take many a hit.
Galactic Fumed Chillum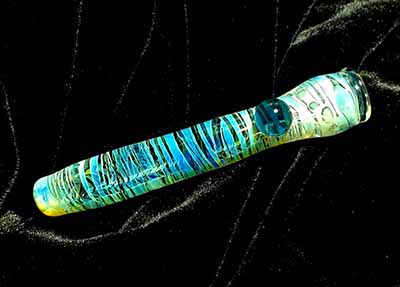 The galactic fumed chillum will take you high up to the stars and into the universe beyond. Let's imagine. Your bags are packed and you're ready to go but you feel like something's missing. You lift your jacket and this unbreakable glass chillum rolls onto your bed. At that moment, you realize that this was the missing piece, your North Star to light the way, so to say. The silver fuming, sparkling blue marbled glitter and color-changing effect give this piece an out of this world feel that will impress everyone in your rotation. The circular glass embellishment also gives you enhanced grip so this heady one-hitter will essentially defy gravity itself.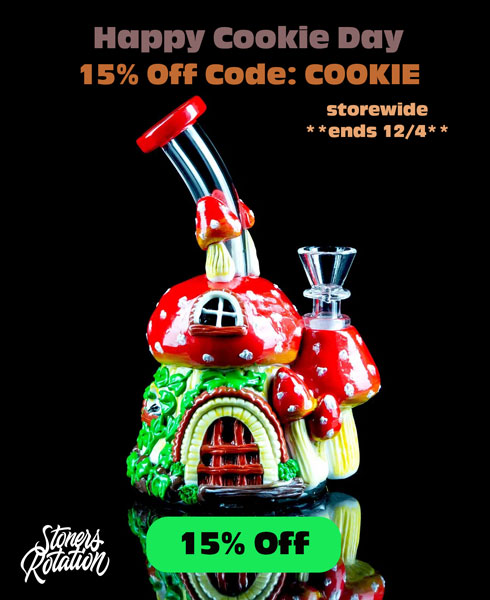 Purple Glass Chillum Pipe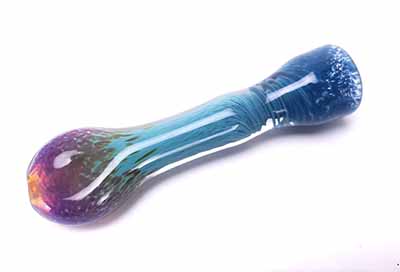 This purple glass chillum pipe is a gorgeously spun piece made from a striking combination of amber, purple and blue borosilicate glass. At 4 inches long, this thick chillum pipe is durable, a cinch to clean and easy to conceal so you can toke discreetly.
Fumed Unbreakable Glass Chillum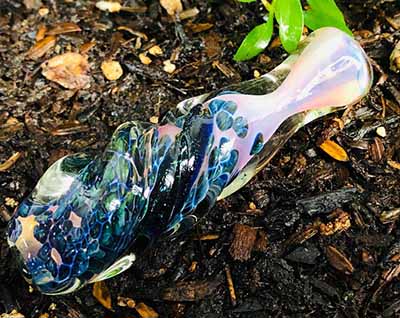 Handmade with love, this color-changing gold fumed unbreakable glass chillum offers a luxurious textured feel and at 3.5 inches long, fits comfortably in the palm of your hand.
Webbed Weed Chillum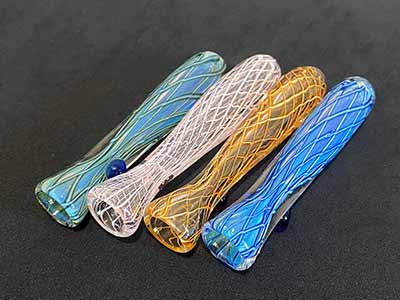 Picture Spiderman shooting smokey webs into your mouth. While we admit that nothing can beat that, the next best thing would be taking hits from this webbed chillum glass pipe. The design is available in multiple colors which are shipped random, so this is the perfect piece if you like to be surprised. Measuring around 3.5 inches long, the chillum pipe can be easily concealed in your backpack or pocket for on-the-go-seshes.
Rainbow Chillum Pipe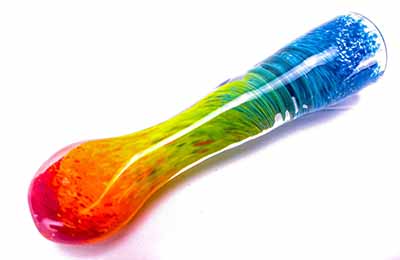 Many describe this rainbow chillum pipe as a jewel and they're right. Its thick multicolored glass and a large chillum bowl that can hold nearly as much as standard hand pipe make it a dream. However, at 4 inches long it's also small enough to conceal from prying eyes. Notably, it has a flat mouthpiece so it won't roll off the side of the table. Although this is not the cheapest chillum for sale listed, the craftsmanship, high quality borosilicate glass and unique color frit more than make up for the cost.
Octopus Glass Chillum
The Octopus chillum pipe is small but offers unexpectedly big hits with its deep sea sized bowl. It's a unique piece to add to your collection with a beautifully crafted glass octopus detailing. You can even customize it, choosing the main color of the octopus and secondary hues for the spots and head of its body.
Mushroom Glass Chillum Pipe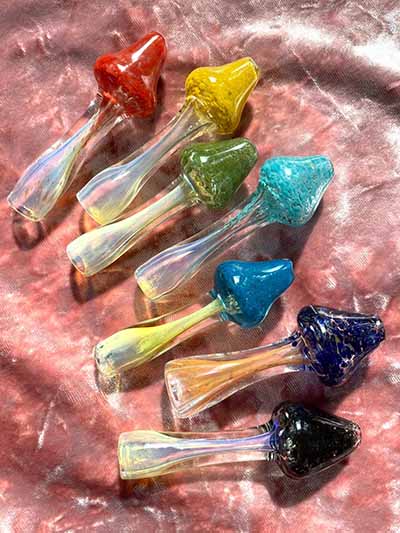 With a mouthpiece shaped like a mushroom this chillum pipe is one of the coolest smoking devices you'll ever come across. The smoking bowl is on the larger side so this piece definitely packs more than your average one-hitter. It makes a great travel companion on your next camping trip to the forest, or wherever your high takes you. With this piece in hand, the experience will surely be magical to say the least.
Cyclops Thick Chillum Pipe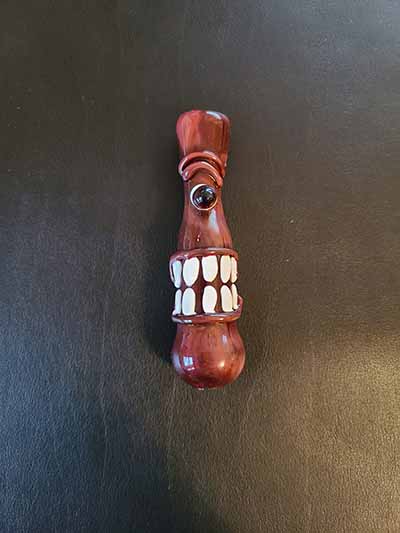 This thick chillum pipe will leave you feeling obsessed in so many unexpected ways. For instance, the glass eyeball embellishment actually serves as a stopper to prevent the piece from rolling over making it table steady. The teeth and gums, knob shaped chin and cute unibrow only give the piece more personality. Hate it, or love it, this heady glass chillum pipe is unforgettable.
Turtle Glass Chillum Pipe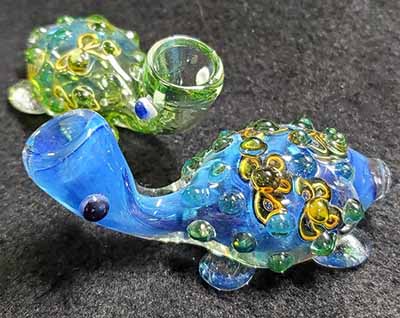 This turtle chillum designed to fit perfectly in your hand is just about the cutest thing you can smoke out of. For being so adorable, it features a surprisingly large smoking bowl that packs a punch, so we're sure you won't be disappointed. It also has little feet that make it table steady so it won't accidentally roll around onto its glass shell back.
Gold Fumed Chillum Pipe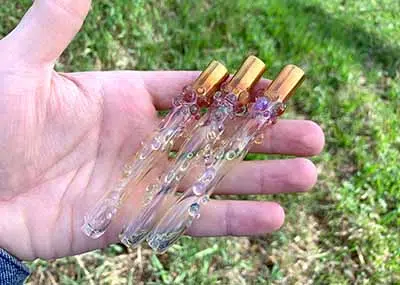 This gold fumed chillum pipe will slide right into your pocket like a pen so you don't have to worry about attracting unnecessary attention. Beyond convenience and portability, the one-hitter is surprisingly durable even though it looks delicate. Additionally, in spite of its slim size, it holds a lot so expect to get more than one hit.
Cactus Glass Chillum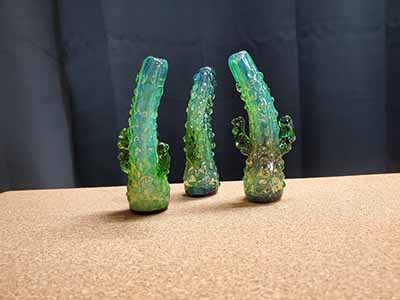 You're in the desert and the only thing that can save you is to cut open a cactus and drink. Now imagine if you could cut open a cactus and take a hit from it instead. Cottonmouth aside, this cactus chillum will help you quench your thirst for delicious tokes, no matter where you find yourself. Made from thick borosilicate glass, the cactus stands upright on the smoking bowl end and has a textured surface that makes it easy to grip.
Glow-In-The-Dark Glass Chillum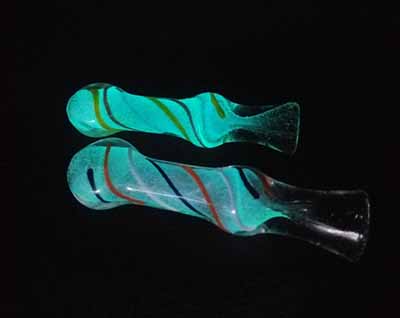 Designed with thick colored glass with a UV reactive glow, this glow-in-the-dark glass chillum is perfect for when you're snuggled up in the couch and the lights are out. It's available in multiple colors variations and is big enough for a few rounds.
Chillums 3-Pack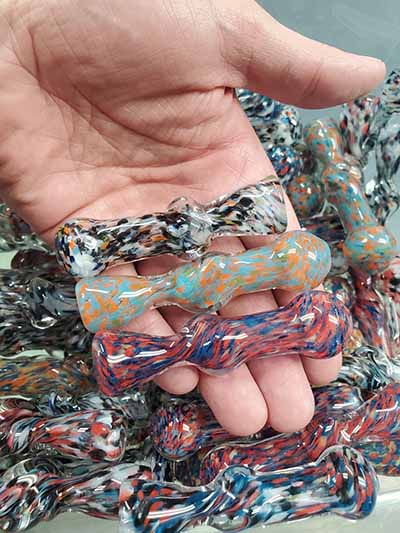 Why buy one, when you can get three and share the love with your favorite stoner buds? From the pattern to the colors the glass, it's hard to not love these weed chillums. And while they're small enough to be considered one-hitters, they pack enough herb for a good few hits.
Bonus: Classic OG Chillum Pipe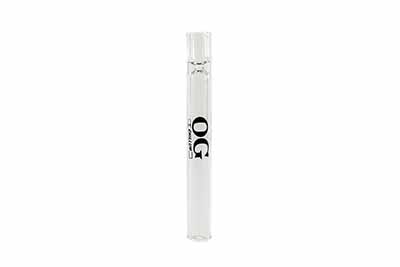 While the OG chillum is one of the simpler styles featured, its classic one-hitter design is timeless.
Chilling Hard
Now that you've hopefully found the chillum of your dreams, it's time to chill, hard. If you're looking for a night to lay low and just laugh until you fall into a deep slumber, these funny stoner movies will pair nicely with good company and your new trusty glass pipe.