15 Cool Glass Pipes for Stoner Chicks
A girl wants what she wants whether it's a gorgeous rose tattoo, a sick new snowboard or the perfect glass pipe. With summer here, we've curated a selection of the most gorgeous girly glass pipes for a day at the beach, lakeside or wherever your high takes you. Each is discreet, fun and has a certain charm that will be sure to win over a few laughs or smiles instantly from all the stoner chicks who know what's up.
Photo: Unsplash
Girly Glass Pipe with Flower Accents
Flowers are in bloom, summer's finally here and this girly glass pipe with flower accents is too cute to pass up. Hand blown from borosilicate glass, this flower glass pipe is as strong as it is beautiful. With a nicely sized bowl, you can pack your flower and enjoy smooth tokes at the beach or from the comfort of your porch.
5 inches
Handmade
Made from borosilicate glass
Flower accents
Sunflower Pipe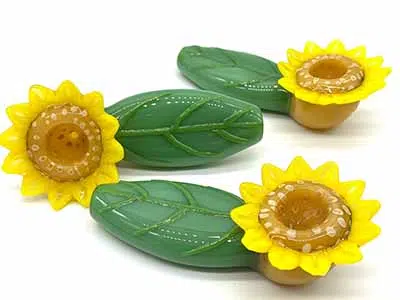 Sun's out, bum's out and dank flowers are in the air. This sunflower bowl pipe is the perfect way to toke (cheers) to the start of summer. This girly glass pipe makes the perfect birthday gift for stoner bae especially if you're looking for a piece that pulls great with a nicely sized bowl for passing around. Every one of these sunflower glass pipes is handmade so each comes out with a unique glaze and finish.
Official ApolloGlassworks pipe
4 inches
Made in upstate NY
Made of borosilicate glass
Penis Pipe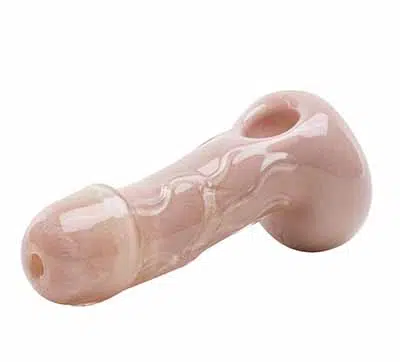 We figured we'd just cut to the chase with this one. Some may be turned off by this penis weed pipe (since it's only 4 inches long) but there's nothing more hilarious than passing this one around the sesh. The heady Empire Glass penis shaped pipe has hyper realistic veiny detailing, is made of borosilicate glass and stands erect on its flat base (something we can all be thankful for). Whatever the occasion, birthday, bachelorette party or just as an awesome, highly functional gag gift, you really can't go wrong with a glass penis pipe, or can you?
Official Empire Glass pipe
4 inches long
Deep smoking bowl
Made of borosilicate glass
Pink Pipe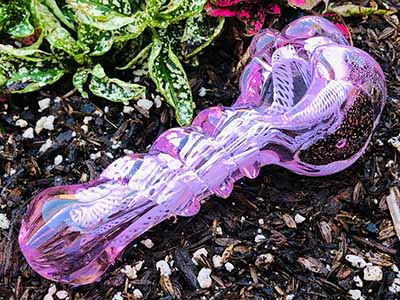 This pink smoking pipe is a beauty with its inner dichro accent and glass strips that wrap around the stem. You're about to get lifted to another dimension entirely with this heady glass masterpiece! Just watch as the smoke travels through the clear pink weed pipe to your lips.
5 inches
Handmade
Features dichro strip and glass strips
Made of borosilicate glass
Seashell Pipe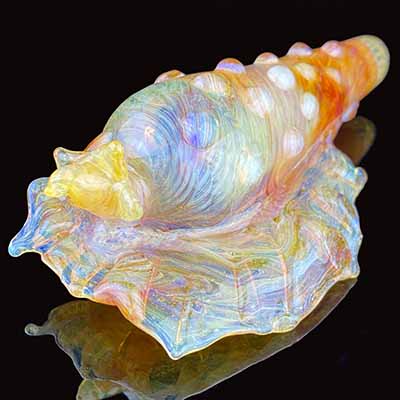 You've always been a mermaid so why not get a matching seashell pipe? This girly glass pipe is a showstopper in disguise to say the least. When you're watching the waves from the beach, be careful not to leave it out in plain sight, she's just as beautiful as she is discreet. This mermaid pipe is perfect for the landlocked mermaid bae in your life. The only catch is there's no filter included!
4 inches
Handmade in Fort Collins, CO
Made of borosilicate glass
Mermaid Pipe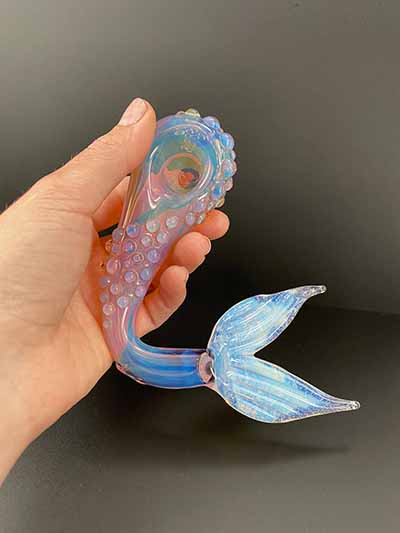 This mermaid glass pipe is an absolute stunner. Ideally, you can alternate between the seashell pipe and the mermaid pipe to complete the beach bae setup. You'll love looking at this girly glass pipe under different lighting with its opalescent color changing effect. As you use it more and more it will shift to a darker blueish purple.
Mermaid pipe Etsy
Handmade
Color changing pipe effect
Made of borosilicate glass
Glass Ice Cream Cone Pipe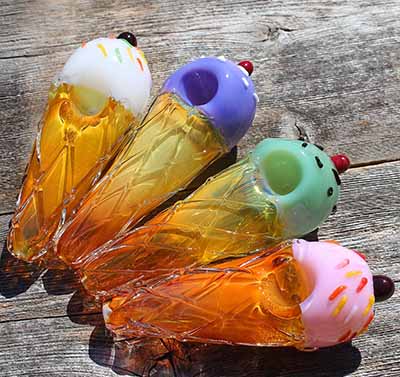 These ice cream pipes make you feel like a kid in summer when you didn't have a worry in the world. We know silicone ice cream cone pipes have been all the rage since you don't have to worry about dropping your ice cream scoops but they're just not as beautiful as these glass waffle cones. Choose from the following delicious shades, purple Ube, green mint, white vanilla or strawberry pink. It also comes with three mesh screens so you won't get scooby snacks in your ice cream!
5 inches
Handmade
Made of borosilicate glass
Comes with extra mesh screens
Peach Pipe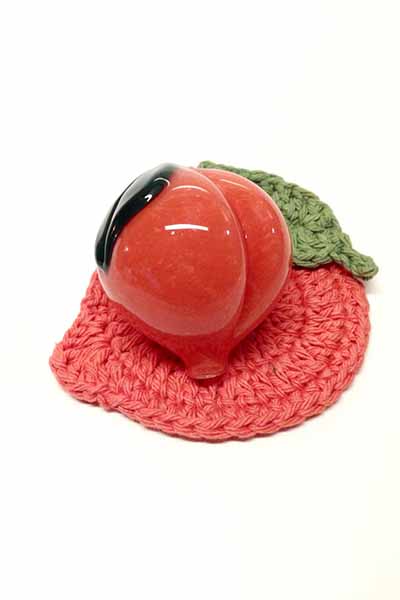 Been listening to Peaches on repeat since it came out and this peach glass pipe will surely elevate your smoking experience. Grab this for your Georgia peach of a stoner bae before they're out of season! The peach emoji pipe also has a cute mint leaf accent and comes in four creamy shades: light orange, medium pink, pastel pink and brazen pink-orange. This girly glass pipe fits in the palm of your hand, is as smooth and juicy as can be.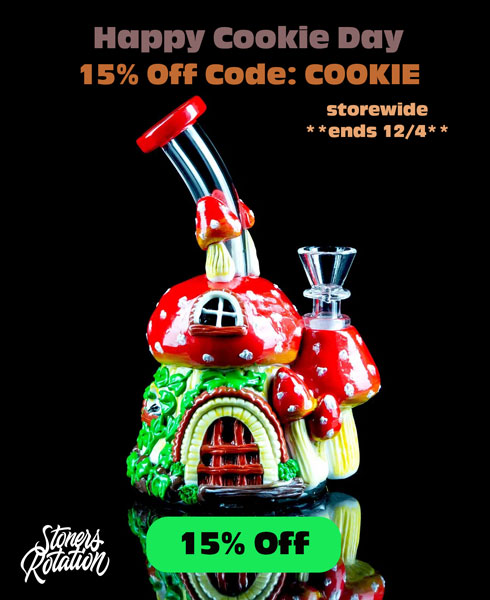 Roughly 2.5 inches diameter
Handmade
Made of borosilicate glass
Comes in 4 shades
Cute Strawberry Pipe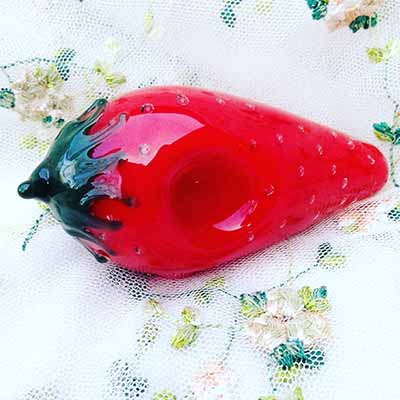 This deliciously ripe glass strawberry pipe is surprisingly durable. Made of borosilicate glass it's pretty shatter resistant, even on hardwood floors. This is the perfect companion for all of your adventures, especially when summer hits.
3 inches
Handmade
Made of borosilicate glass
Heady Glass Pipe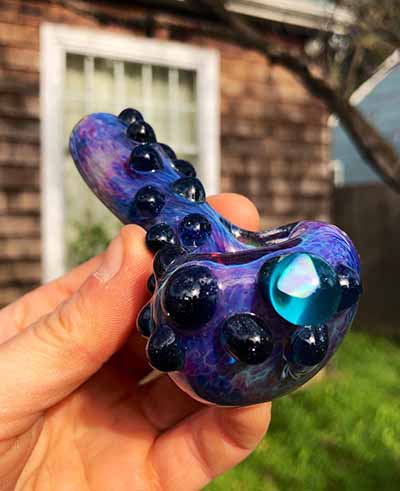 This opal pipe with its gorgeous embellishments and beautifully spun purple-blue glass is craftsmanship at its best. The heady glass pipe with its opal features make it easy to grip and your sidekick moving on out.
3 inches
Handmade to order
3-4mm tapered bowl
Donut Glass Pipe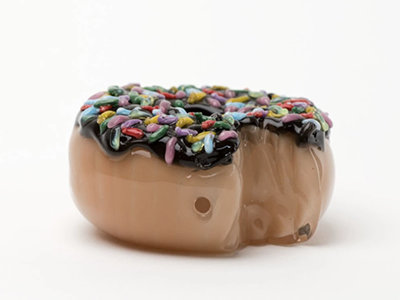 The only problem about this donut glass pipe is that you'll be making way more runs to Krispy Kreme than anticipated. We love how this cute hand pipe has a discreet smoking bowl and left side carb hole on the glaze. Ready to take a hit?
3 inches
Official Empire Glassworks
Left side carb bowl
Moon and Stars Glass Chillum Pipe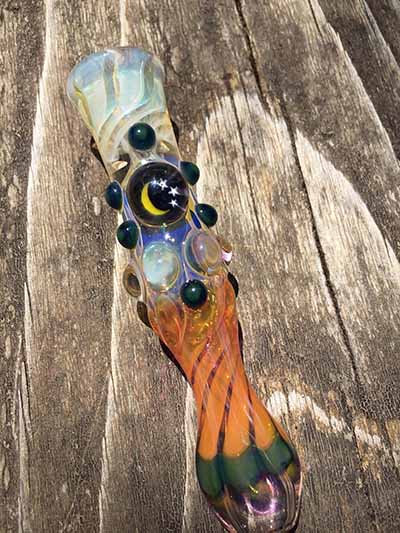 This durable kiln annealed OG chillum pipe is beautifully spun with a moon and stars opal accent. The bowl is the ideal size for on-the-go smoke seshes under the stars.
3.5 inches long
Silver and gold fuming
Kiln annealed for durability
Flower Rainbow Pipe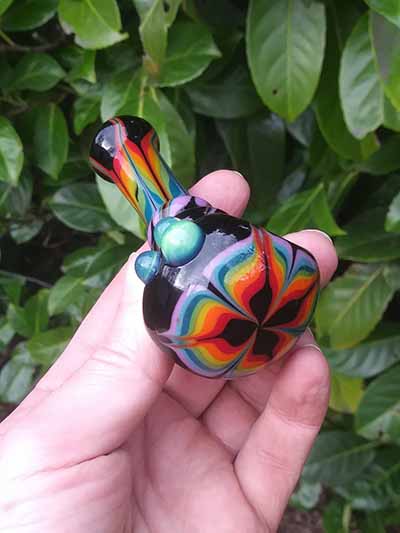 If you were wondering what's at the end of any rainbow, you can find out with this cute rainbow glass pipe. The rake flower pattern on the bowl along with its blue opal accents against the black base make it a striking yet highly functional piece. The opal gives this girly glass pipe enhanced grip and you can expect only the smoothest of tokes.
4 inches long
Rake flower pattern on bowl
Slyme accents
Girly Glass Pipe Flower Chillum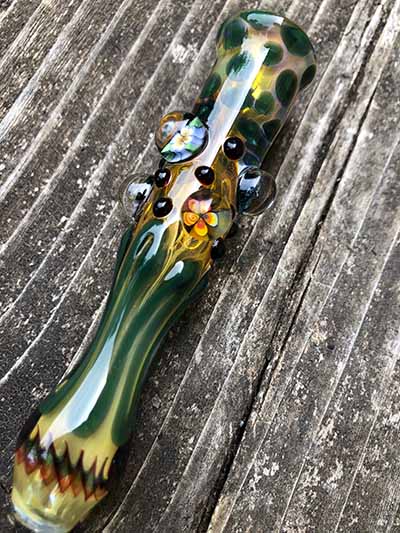 This girly glass pipe chillum is a retro yet earthy piece with flower opal accents. Kiln annealed, it's highly durable ready to take you on a trip without the worries of shattering it on your escapades.
3.5 inches long
Silver fumed
Kiln annealed
Rainbow Glass Pipe Chillum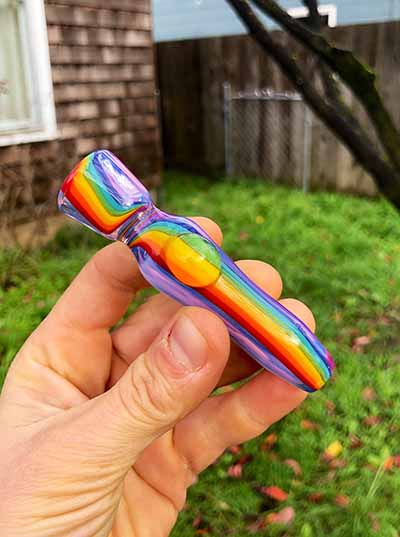 Last but not least this groovy rainbow chillum pipe is the perfect size to stash in your pocket or makeup bag..\ It's a vibrant, heady glass piece with a surprisingly big bowl that makes it great for sharing.
3 inches long
Tapered bowl
Opal accent
Summer's Here Baby
A girly glass pipe is one that says, I'm a proud stoner chick with a penchant for heady glass. Whether you're bold and go for a penis pipe or something more discreet like the seashell pipe, there is a world of unique glass pipes. You're destined to find the perfect one but if you're looking for something a little more edgy, these cool glass pipes also hit like a dream.