15 Cool Dreadlock Beads & Dread Clips for Stoners
There is a whole world out there on how to decorate your locs from gorgeous handmade dreadlock beads to cuffs, clips, rings and braid string. If you're looking for a unique way to show off your love for the green goddess, these dreadlock beads and clips for stoners will be sure to impress.
Photo: Etsy 
Honeycomb with Drip Dreadlock Bead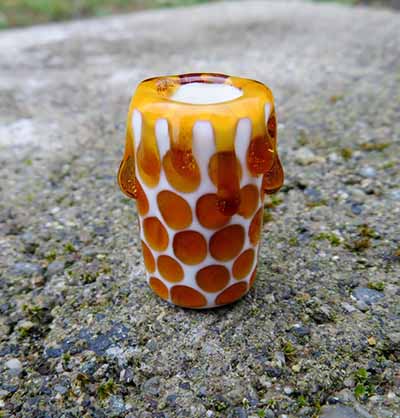 These first few picks are for the dabbers out there. This honey pot dread bead is handmade from durable borosilicate glass. Measuring 24mm tall and 12-16mm wide, depending on the size selected, these glass loc beads are beautifully crafted in Washington. You can choose between a striking white or subtle yet stunning topaz for the tubing.
Honeycomb Loc Bead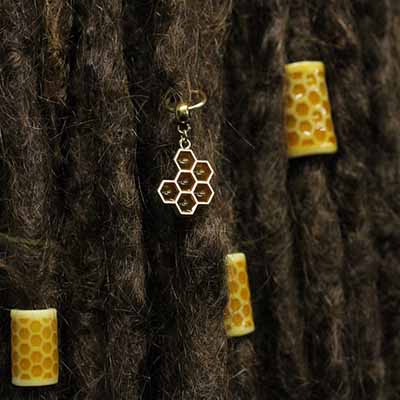 This honeycomb dreadlock bead with its 3D printed honeycomb pattern will absolutely blow you away. It's a must for avid dabbers who will especially appreciate that it's made from solid resin. What's more, it comes in sizes 6mm-14mm so if your dreads are different sizes you can get ones that fit them exactly.
Honey Drip Dread Bead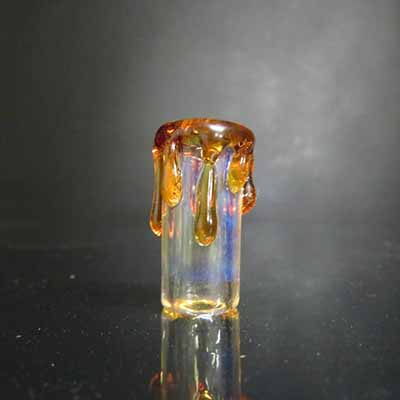 This dread bead with its color changing effect and honey drip is made from 99.9% silver fumed borosilicate glass. Put it on one of your longer locks so you can watch it change colors as you safely heat up your dabs.
Bee and Honeycomb Dread Clip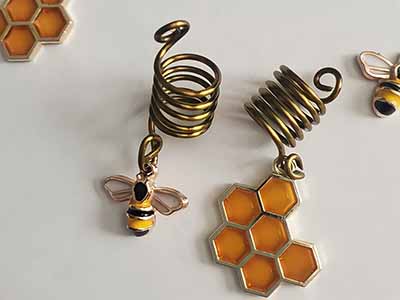 These dread clips can be bought separately, or together, to add more personality to your dreads. You can choose between three colored wires: gold, silver or antique. Customers rave about the amazing quality and how cute they look together.
Wood THC Molecule Loc Bead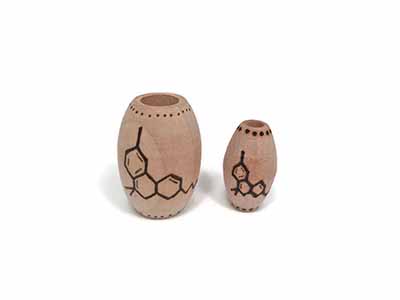 If you're looking for a subtle way to show your love for our favorite plant, these THC molecule inspired wooden dread beads may be exactly what you hoped for!
Silver Fumed Glass Dreadlock Bead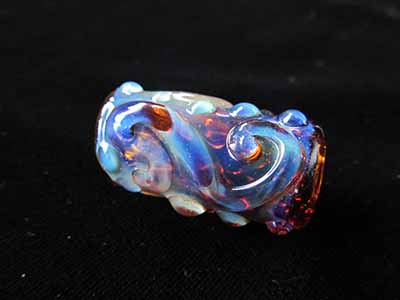 Anyone who respects a beautifully fumed hand pipe will fall in love with this dreadlock bead, made from the same high quality borosilicate glass as your favorite bong. The colors even change depending on the lighting and the angle. Since they're made to order you get to choose the hole size that works best for your dreads.
Large Dotted Glass Dread Bead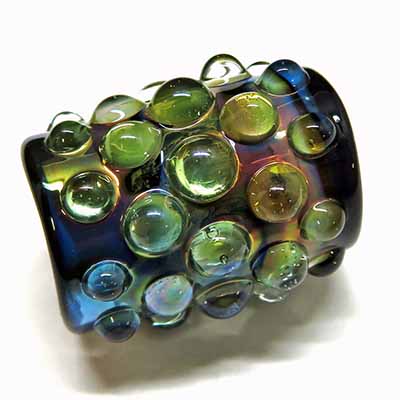 Measuring 25-30mm tall and 12-16mm wide, depending on the bead hole size chosen, this silver and 24 kt gold fumed glass dreadlock bead is uniquely embellished with a layer of raised dots.
Small Dotted Glass Dread Bead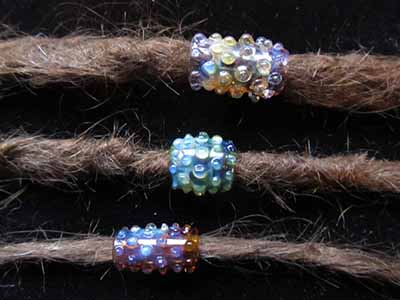 Similar to the last glass dreadlock bead, this piece features smaller, spiked dots that make it a work-of-art likening to the beauty and distinctiveness of a Chihuly installation, except for your hair.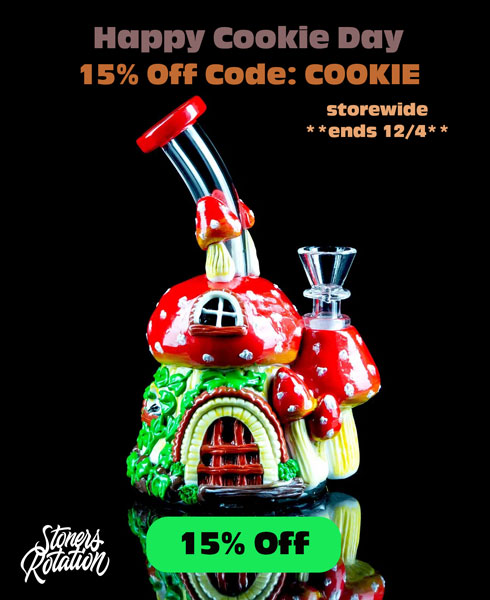 Rainbow Dreadlock Bead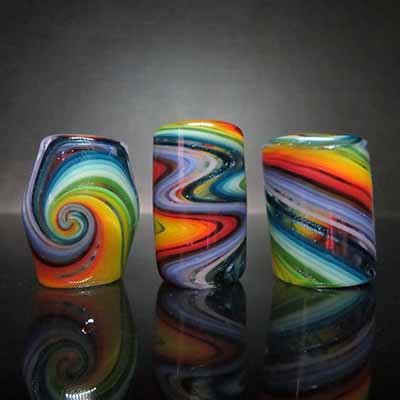 This psychedelic rainbow glass dreadlock bead will become your new favorite thing. Just wait for the complements to roll in. You don't always have the chance to see a real rainbow but this serves as a reminder that its rarity is what makes it so beautiful.
Rasta Dreadlock Bead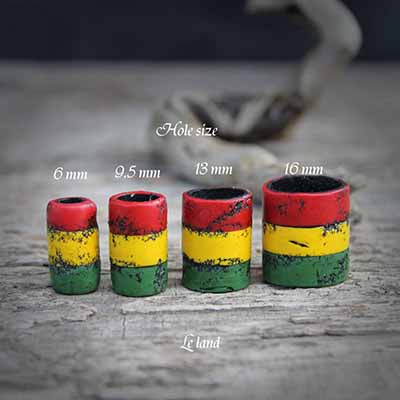 The iconic yellow, red and green of this rasta dread bead has become a symbol for love of the green goddess and rather interestingly, the Rastafarian movement from which it stems believes that wearing dreadlocks reflects a person's spirituality.
Rasta Shell Dread Clip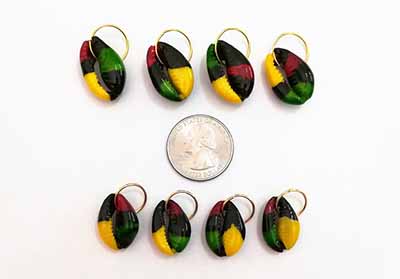 These rasta colored seashell dread clips are beautifully made and will look especially gorgeous in luscious locks. There's a special beauty in using shells and other natural materials, as if subtly recognizing our more intimate relationship with land, sea and nature itself.
Rasta Gemstone Dread Beads Set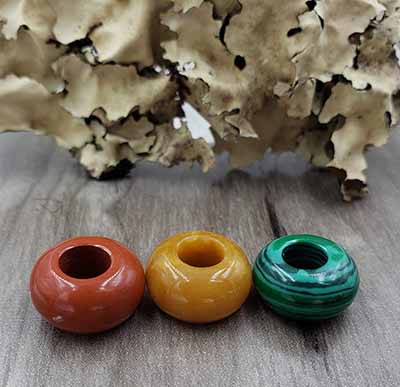 These gorgeously polished dreadlock gemstones will give a stunning Jamaican vibe to your look.
Clay Mushroom Dread Bead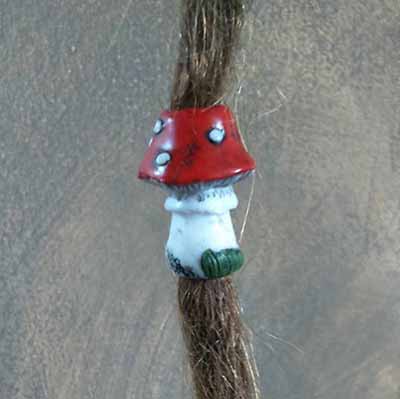 This clay mushroom dreadlock bead is as cute as can be. They'll make every outing magical and be sure to get you endless compliments for their originality.
Glass Mushroom Dreadlock Bead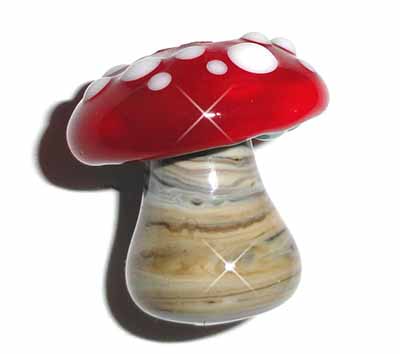 Our personal favorite, this mushroom dread bead is so magical it's made from lampwork glass worked into a cute red cap, turquoise gills and a white mottled stem. The base of the stem is especially wide and gives the impression of marble rather than glass.
Blacklight UV Dread Rings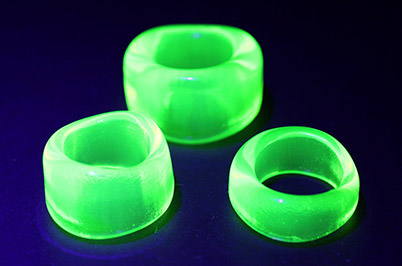 Ready to glow at the next smoke sesh? These UV dreadlock beads glow best under LED blacklights but also shine an electric yellow-green by day.
How to Put in Dread Beads and Clips?
Whether it's a clip on or bead, the struggle is finding a dread that matches the opening thickness of the bead. Once you do, for dreadlock beads simply push the bead up in a rotating motion as you bring the hair through. If you're more curious about how to braid string into dreads, the video above covers that too.
Subtle or Blunt
Although not every person who has dreadlocks smokes weed by default, there are some truly unique pieces for stoners who rock dreads. If you want to show off your love for ganja you can be as subtle or as blunt as you like. From the THC molecule dread, to the honeycomb drip for dabbers or the fumed glass pieces that remind you of your most beautiful hand pipe, there's much more than a classic pot leaf dread clip out there. We hope you've found something that speaks to you. Regardless, if you're having a chill night in, one of these trippy movies might be right up your alley.