15 Cool Animal Glass Pipes
What's the real draw of animal smoking pipes? Anyone who already has one knows this instantly. Animal pipes are cute, fun and have way more character than your average glass hand pipe. Simply, they bring you a unique kind of joy. You can even give it a name!
Just think back to the last time you went to the zoo. You probably saw giraffes, zebras, penguins and other animals you've never even heard of and can't believe exist in real life. My favorite is the hippo. Swimming inches from my face, it was hard to believe it was even real with its funny, barrel shaped body and trippy gaze magnified under the water. There was a certain magic watching it dance without coming up for air for nearly five minutes. Now, I'm CRAZY about cute hippos and would LOVE a hippo animal pipe of my own.
So this begs the question, what is your favorite animal and would you smoke out of it? Well, hopefully this curated list of animal glass pipes has the elephant, penguin or dolphin you can call your own at the next smoke sesh!
Photo: Flickr
Elephant Glass Pipe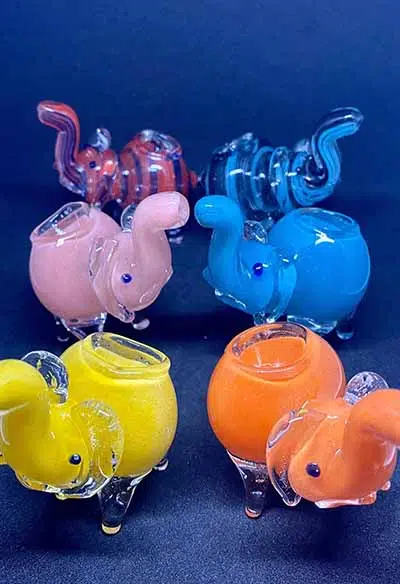 You remember when Dumbo got drunk on champagne? The Pink Elephants on Parade were as much of a trip to watch then as they are now, especially when you're high, and this elephant pipe sets the trippy vibes instantly. The miniature elephant bowl pipe stands just 3 inches tall, fits perfectly in the palm of your hand and has a nicely sized bowl for sharing. Expect smooth pulls as the smoke travels through his long trunk to your lips.
3 inch animal glass pipes
Handmade
Dachshund Pipe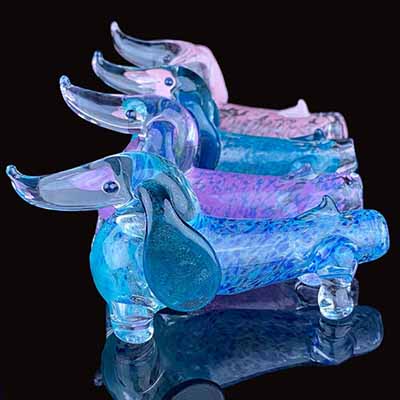 If you have a dog, it's one thing, but if you actually had or currently have a dachshund of your own, this dog pipe is bound to pull your heartstrings. My childhood family dog was a brown, hot dog of a dachshy so this dachshund pipe is our slightly biased top pick. With the smoking bowl nestled under his chest, at least you know your beloved ganja is near and dear to his heart.
Cat Paw Pipe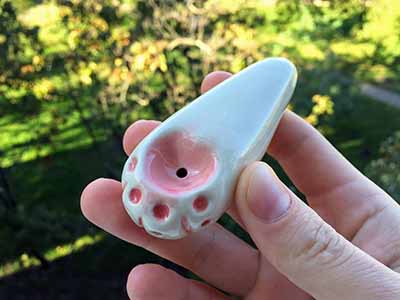 Did your cats take over your life? We use the plural because this ceramic cat pipe is for the self-proclaimed cat ladies and gents who like to get lit and watch their crazy cats jump around from surface to surface. This cat glass pipe is a nicely sized pocket pipe measuring 3 inches by 1.25 inches. Each is handmade so yours might vary slightly but that makes it all your own! There are even cute little feet at the bottom so that the bowl is level. Does kitty want some kush? If this is right up your alley you might also want to check out this cool Cheshire cat pipe too!
3 inch animal pipes
Ceramic
Handmade
Color Changing Turtle Pipe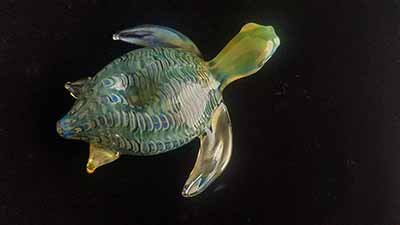 There's nothing as chill as a sea turtle pipe, remember Crush from Nemo? It's no wonder Crush and kush sound so similar. This color changing turtle pipe will mesmerize you, toke after toke. Fumed with pure silver, just watch the turtle shift between the full array of ocean blues and greens. Made from sturdy borosilicate glass and kiln annealed for heavy duty strength, this animal glass pipe packs a punch and can take one too, if push comes to shove, literally.
Color changing glass pipes
Borosilicate glass
Handmade
Turtle Glass Pipe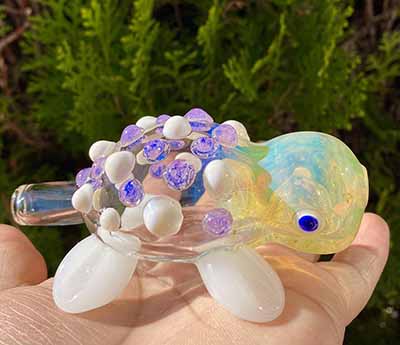 This cartoonish turtle pipe looks like a cute baby Pokemon. Fumed with silver and marbled with pink slime it's a heady piece that changes color as you smoke it. Watch the smoke travel through its clear base and the heat slowly reveal a rainbow of sheer colors as the smoke travels through, from head to tail.
4 inch animal pipes
Borosilicate glass
Handmade
Black-Light Reactive Angler Fish Pipe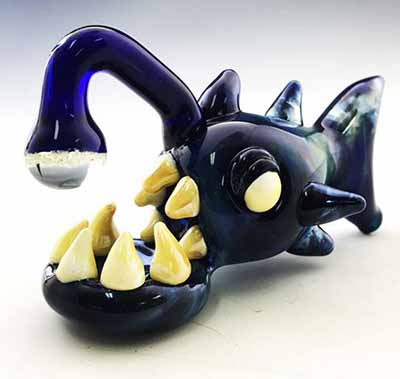 The terrifying angler from Nemo still haunts us all but you can reclaim that fear by smoking a fat one from the jaws of his mouth. This glass fish smoking pipe is truly unique since it's black light reactive and glows in the dark. It makes it hard not to want to rewatch Nemo, especially blazed. Measuring 4 inches in length, this animal glass pipe was hand blown in upstate NY so you know it hits great too.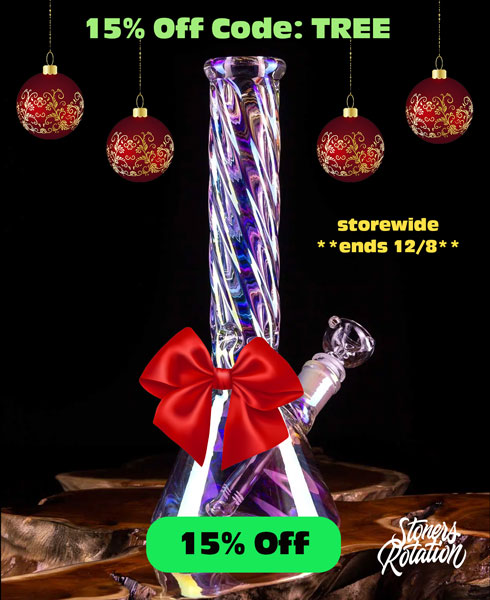 4 inch fish pipes
Black light reactive
Borosilicate glass
Handmade in NY
Penguin Pipe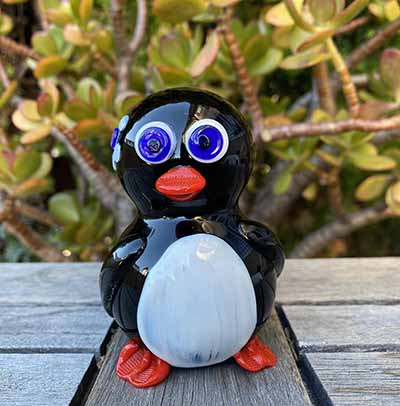 Puff puff, pass the penguin pipe, please! This adorable penguin glass smoking pipe is quite possibly just as stoned as you are with his hilarious buzzed expression, as if it just took a harsh hit. Turn him around and you'll find a deep bowl that's ready for you to fly sky high. Luckily, this penguin pipe for sale on Etsy is made of borosilicate glass so it's as durable as they come and if you're a sucker of penguin novelties, this one is a must.
4 inch animal glass pipes
Borosilicate glass
Handmade
Frog Pipe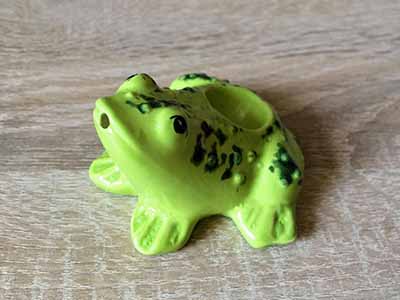 Most of us have kissed a few frogs before finding our prince. We might still be kissing frogs but smoking out of this one will make you realize you don't need a man to lift you up, especially when this froggy can get you to new highs. The placement of the bit on the mouth of this frog glass pipe is just about as close as you will get to kissing an actual frog, at least that's what we hope! Measuring 3 by 3 inches the ceramic frog pipe is an adorable companion to toke with. It fits nicely in the palm of your hand, is a cinch to clean and hits like the frog became prince of your dreams!
3 inch animal pipes
Ceramic
Handmade
Sloth Glass Pipe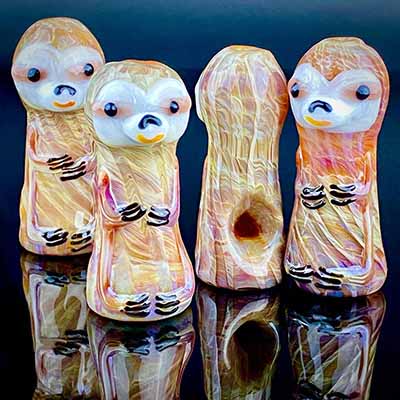 Whether you've actually had the pleasure of seeing a sloth in person or just loved the Zootopia DMV scene as much as everyone else did, this sloth pipe is absolutely adorable. It's also as discreet as pipes go. You could leave this sloth smoking pipe on your vanity and anyone who sees it might think it's simply a cute sculpture. Your friends should know you better though. Turn him over though over and you'll see a nicely sized bowl in the back of this hand blown animal glass pipe, born and bred in the heart of Colorado.
Discreet animal glass pipes
Borosilicate glass
Handmade in Colorado
Dolphin Pipe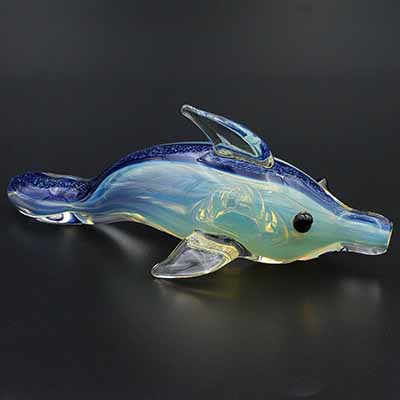 We all know how amazing dolphins are, and this amazing animal pipe will be sure to follow suit. With its clear blue fuming, nicely sized bowl and high quality borosilicate glass material, this dolphin glass pipe is quite the stunner and pulls great too. As far as dolphin smoking pipes go, the color changing effect of this one makes it stand out from the pod. If you're into all things sea creature, you might also love this octopus glass pipe.
5 inch color changing glass pipes
Borosilicate glass
Handmade
Duck Pipe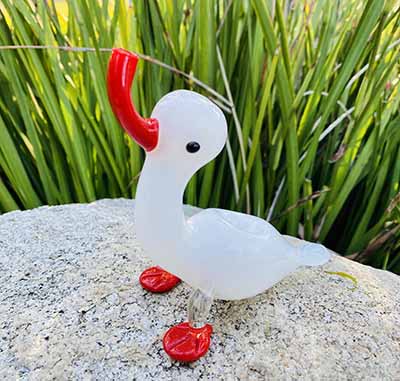 Does anyone else think ducks are as funny as we do? They just sound funny and that's enough to grab a glass duck pipe that makes you think of the ridiculous noise they make. Measuring 5 by 4 inches with the smoking bowl centered on top of its back, you'll love the view you get of the bowl as you smoke from its long duck-bill.
5 inch animal glass pipes
Handmade
Dog Pipe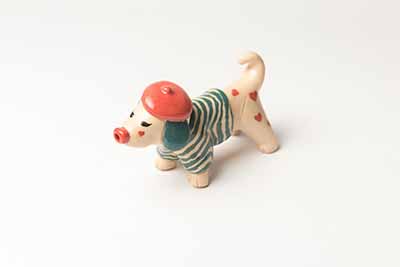 This French looking ceramic dog pipe is quite possibly the cutest one hitter pipe we've ever seen. The best part is that he stands straight up on his rump so it really does look like one of grandma's prized ceramic figurines. This pipe dog also includes extra filter screens so you don't pull any scooby snacks.
Miniature animal pipes
Ceramic
Handmade
Caterpillar Straight Pipe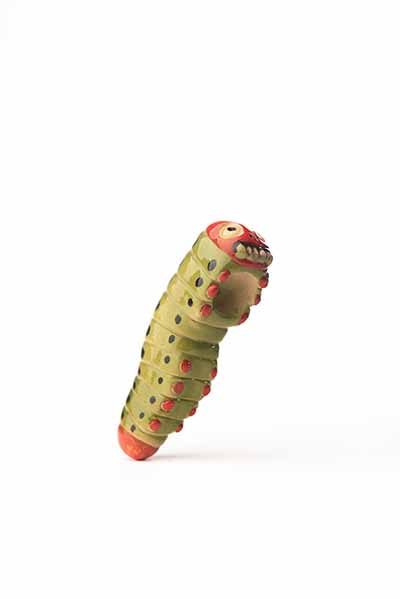 Ready to go down the rabbit hole? Well, this Alice in Wonderland caterpillar pipe will get you there! This is one of the most unique pipes on our list with beautiful detailing that fits nicely in your palm. It works like a charm too.
Bug pipes
Ceramic
Handmade
Monkey Pipe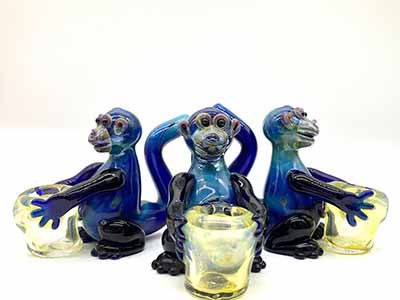 This monkey pipe measuring 4 inches long was made from high quality borosilicate glass in upstate NY. It's probably the most charming animal glass pipe on this list that you would absolutely want to display for all the other cute monkeys in your life to admire.
4 inch animal glass pipes
Borosilicate glass
Handmade in NY
Skunk Pipe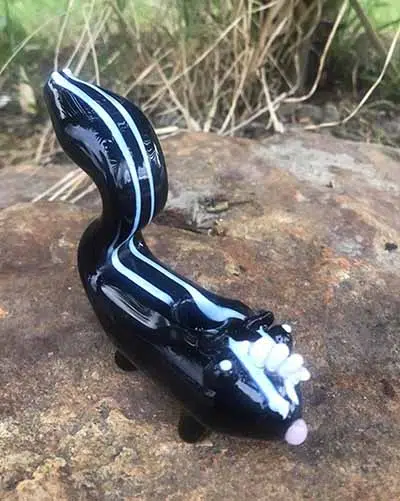 Last but not least, if you want an animal glass pipe that perfectly emulates how dank the next smoke sesh will be, Pepé Le Pew will make the whole room skunky, no doubt about it. This 4 inch long skunk pipe is made in the USA from borosilicate glass, so he's as tough as they come. Expect slightly harsher draws than what you might be used to and chuckles go around the smoke circle, as you take dank tokes from his tail.
4 inch glass pipes
Borosilicate glass
Handmade
Animals Bring Joy
Animals have always brought a certain kind of joy to our lives. Some are highly intelligent, others curiously menacing and still others, unbelievably adorable. That's what makes animal glass pipes so cool is that you get to showcase your favorite animal to your inner circle. Whether it's something as exotic as a sloth or cuddly as a kitty, you're sure to chuckle at least once a bowl, especially after a few hits in.