At First Light
Coffee and cannabis are like aged manchego and wine, gin and tonic and shoes and socks. While you could certainly have one without the other, the marriage makes the act of a wake and bake that much better. We've curated a list of all the cool wake and bake mugs we could find, so you have the right state of mind at first light.
Photo: JSwanCeramics
15 Best Wake and Bake Mugs
Ceramic Wake and Bake Mug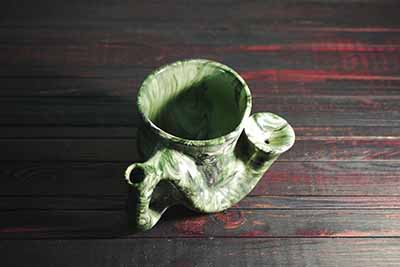 This handmade wake and bake mug has a gorgeous silhouette. Its large, rounded base is perfect for a morning cup of joe, latte, tea or even a maté. It comes in many different colors from charcoal black to wavy swirl red or spotted green. While it has a smooth, silky texture to the touch, the color patterns give each mug pipe a unique character. The large smoking bowl elegantly curves like a snake around the bottom edge to the handle and is a work of art in its own right. In other words, this custom wake and bake pipe jump-starts the day, from sunrise to sunset, perfectly.
Ceramic
Handmade
Made in Ukraine
Donut Wake and Bake Coffee Mug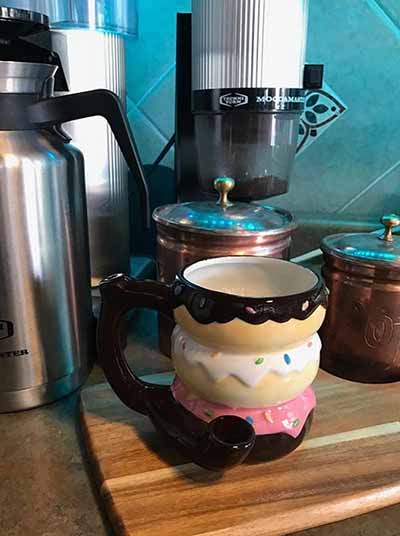 Was it love at first bite or first bowl? This ceramic wake and bake mug is dangerously delicious so be warned. Every time you toke, you'll think about how good it would be to have a stack of delicious donuts in your midst. You may even make a run to Krispy Kreme (or my favorite, The Donut Man in Glendora) after smoking the first bowl. The Etsy seller also gives you the option to buy the matching Raw rolling tray featuring donuts with sprinkles so you have the full stoner setup.
Ceramic
18oz
Microwave safe
Handwash
Gift set option
Hamburger Wake and Bake Mug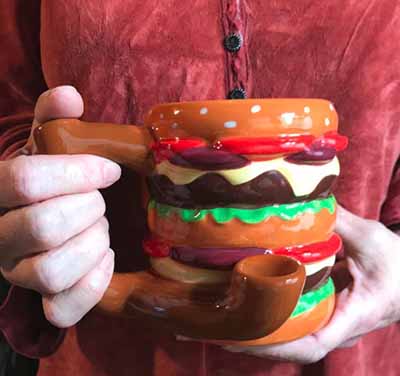 I'll take a double double, what about you? You'll probably end up smoking two bowls to do this double cheeseburger wake and bake mug justice. The novelty mug pipe features a small bowl and large handle for an optimal toking experience. Although the fries are optional, they do make a nice touch especially when the munchies hit. You can also grab the matching burger stash jar with a cork lid if you savor fresh herb like the rest of us.
Ceramic
18oz
Handmade
Hamburger stash jar available too
Artsy Wake and Bake Coffee Mug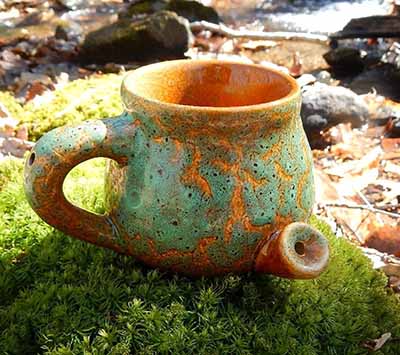 Much like the first option on this list, this ceramic wake and bake coffee mug is downright beautiful. Although it's only available in one color combo, the orange-copper and green speckled patina glaze is particularly striking and vibrant. Each one of these small wake and bake mug pipes is truly unique; some come out more green, others more orange in tone and still others with richer copper brown notes. The smoking bowl also wraps underneath the mug instead of around the side as with the first ceramic mug pipe.
Ceramic
8oz
Microwave safe
Handwash
Mountain Waves Wake and Bake Mug Pipe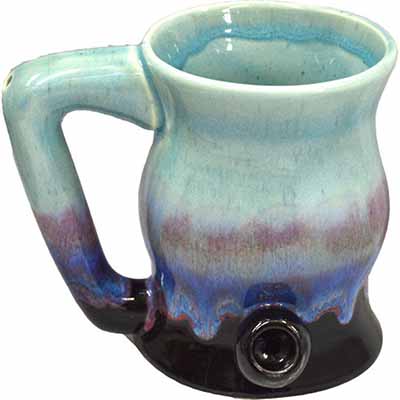 Another work of art, the mountain waves wake and bake mug transitions from sky blue, dusty purple, deep sea blue to ink black. The small smoking bowl was made thoughtfully in ink black too so it's easier to keep it looking clean and is more discreet as well.
Ceramic
Microwave, oven and dishwasher safe
Green Roast & Toast Wake and Bake Mug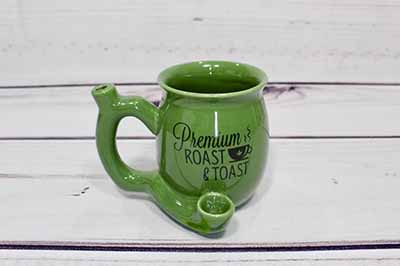 Ready to get toasted? First, brew your cup of premium roast in prep for your next wake and bake. The gorgeous shade of green and the brimming edges of this wake and bake mug is a subtle reminder to invite your favorite green friend to the smoke sesh swiftly brewing.
Ceramic
Can get set with small custom stash jar
420 Wake and Bake Coffee Mug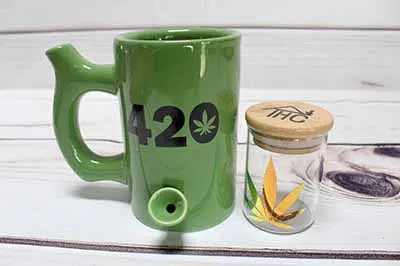 If you want to spread your 420 love as boldly as possible, this 420 wake and bake coffee mug will do the trick. If you also like a tall cup of joe in the morn, this mug is particularly ideal for you. As with the previous mug pipe, you can make it a set with a personalized stash jar. Add your name so everyone knows who's got the green.
Ceramic
Tall sized mug
Can get set with small custom stash jar
His Royal High-ness Wake and Bake Coffee Mug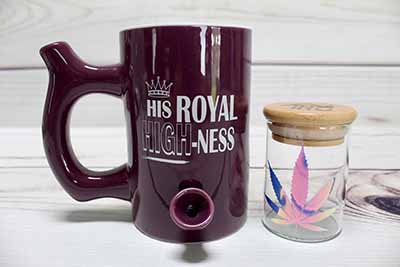 As with the previous mug pipe the Royal High-ness wake and bake mug is also best for a tall cup of joe or more importantly, the highest stoner bae in your life. This coffee mug is fit for queens so make sure she feels highly appreciated and get a quarter from the local dispensary too.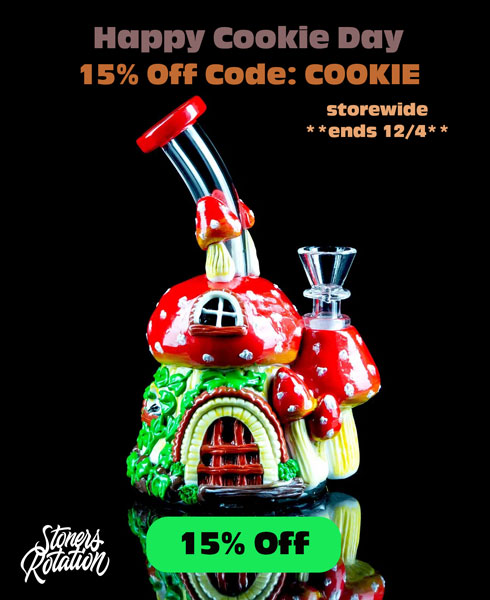 Ceramic
Tall sized mug
Can get set with small custom stash jar
Hand Lettered Wake and Bake Mug Pipe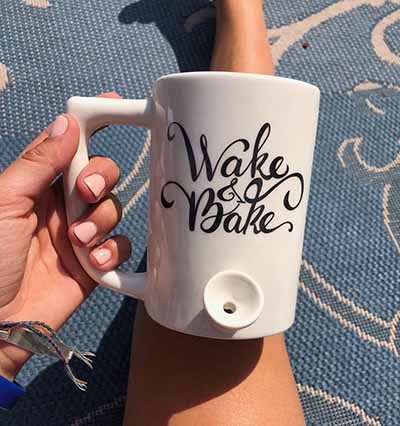 So sophisticated, they won't see what's coming until you take a hit. This artsy hand lettered mug pipe spells class, sophistication and stoner all in the same sentence. It will be everything you expected plus more. The handle is even made to shape your hand which is a thoughtful touch since you can direct your full attention to the bowl you're about to light.
Ceramic
10oz
Handmade
Can request personalization
Kush & Cocoa Wake and Bake Mug Gift Set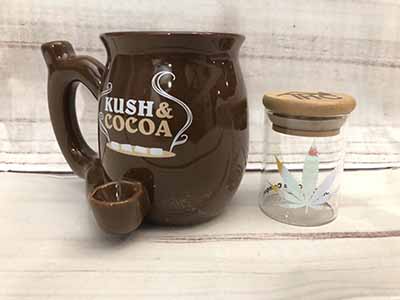 What pairs with a cozy cup of cocoa better than a bowl? Nothing, that's what makes this wake and bake mug the perfect gift as the weather gets chilly and the holidays approach. Just thinking about a warm cocoa and smokey bowl of herb gets me in the spirit in the dead of winter.
Ceramic
Wide base
Can get set with small custom stash jar
Marble Wake and Bake Coffee Mug
The wavvy swirl glaze of this ceramic wake and bake mug gives the gorgeous impression of timeless marble. Whether you're looking for the perfect gift for your cool 82-year-old grandma (who also tokes), your stylish stoner friend who's always in stilettos or as a 420 friendly Secret Santa gift, this classy mug pipe exudes sophisticated, experienced and cultured stoner.
Ceramic
11oz
Microwave and dishwasher safe
Stoner Girl Wake and Bake Mug
This Stoner Girl mug pipe in turquoise, pink or eggshell white is as cute as it is motivating. Get yourself together with a wake and bake that sets the day in motion upon first light.
Ceramic
8oz
Microwave and dishwasher safe
Suds & Buds Mug Pipe
You don't have to love Mary Jane exclusively. Your favorite brew plus a few bowls makes this mug pipe an ideal combination once you're off the clock at the end of the day. The handle is also curved to fit perfectly in the palm of your hand so you can get comfortably blitzed out.
Ceramic
10oz
Great gag gift
Panda Wake and Bake Coffee Mug
This adorable stoned panda is sipping his own herbal concoction and getting faded along with you. Just be careful before YOU take your last sip of tea or coffee because the last thing you want is weed in your face. The wide shape of this wake and bake mug plus your high self makes it all the more probable.
Ceramic
18oz
Microwave and dishwasher safe
Skull Wake and Bake Mug Pipe
Last but not least this skull wake and bake mug has a Day of the Dead inspired feel. Beyond the grave, you know I'll be toking! At least in my version of heaven, everyone would be high up there!
Bonus: Red Eye Mug Pipe (featured)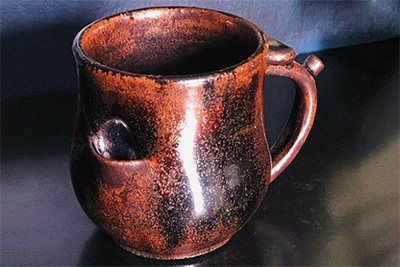 Jessica Swan makes absolutely gorgeous mugs all around but this one is a complete showstopper. The smoking bowl designed like a pocket is so subtle, it's hard to even tell it's a wake and bake mug. However, any savvy stoner would know instantly upon seeing the mouthpiece on the handle. While it's currently sold out, let's hope she brings it back. These are by far the most unique mug pipes we've found, and we've searched far and wide.
Stoner Mugs that should be made into Wake in Bakes
Addicted to Pot Mug
This clever play on words is simply missing a smoking bowl to make it the perfect way to show your love for coffee and cannabis. Hopefully, one day they get the memo so purpose meets function.
High on Jesus Mug
If this doesn't make you laugh, I don't know what will.
Pothead Mug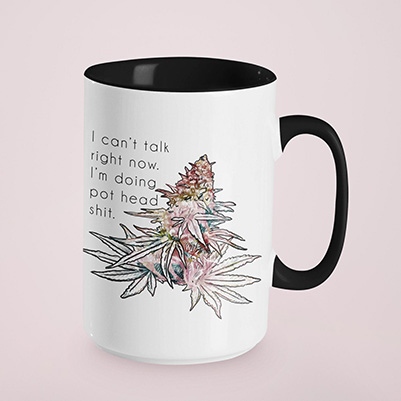 "I can't talk right now, I'm doing pot head sh**" is by far the best way to concisely explain the importance of sweet Mary Jane in your life. In the same vein, the dreamy nug on the side of your cup of joe is a pleasant reminder that the green goddess can help you get through the day, along with her good friend, Joe.
How to use a Wake and Bake Mug
If you've never used a wake and bake mug before, it's pretty intuitive but Cate's highly informative demonstration will answer all your questions and definitely make you wish you had one if you don't, yet. Don't forget the marshmallows in your hot kush and cocoa! She's got some really gorgeous wake and bakes so take a look. We especially love her Roses mug pipe.
Wake and Bake Anthem
Cue to "This Joint" by Slightly Stoopid and you're ready to fly high through the day and achieve everything you set your mind to. You're well on your way to become the successful stoner that proves everyone wrong, especially if you come prepared. With a good cup of joe and a bowl or two, let your mind break down any task before you without hesitation, just the clarity that the green goddess can bestow.