A stash box is a safe place to store your herb and other smoking accessories. It can be smell proof and discreet or designed to be loud and proud. It can be made from a multitude of materials like wood, bamboo, tin or glass jars. Whether you are looking for a luxury stash box, funny weed jar or stealth way to hide your stash, we're sure you'll find something you will be equally thankful for and proud to display as your coffee table centerpiece the moment you light up. 
Photo: Happy Trees
Best Weed Stash Boxes, Containers & Jars for your Secret Stash
Large Bamboo Stash Box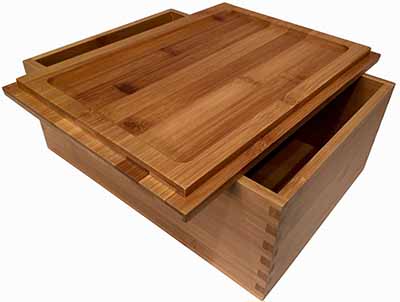 This weed stash box made from sustainable bamboo will become the perfect centerpiece for your coffee table at the next sesh. This large stash box with rolling tray measuring 8" x 11" top, will fit all of your smoking accessories. Simply turn the lid over and get rolling!
Weed Stash Box aka the Burn Box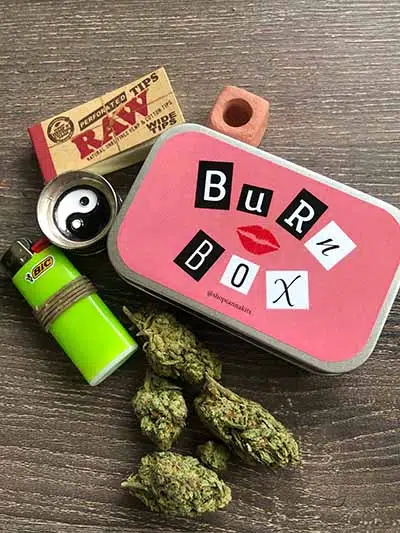 This Burn Box weed container is so undeniably fetch! Made from tin, this weed storage box set includes a mini grinder, ashtray, rolling papers and lighter from name brands like Raw and Bic.
Smell Proof Stash Box with Lock and Charcoal Lining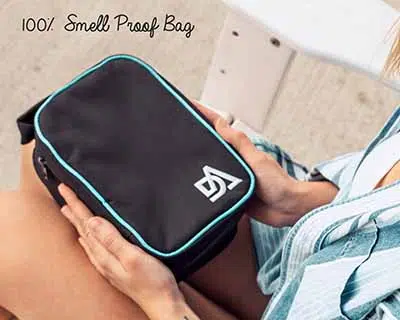 If you're looking for something more heavy duty, this waterproof smell proof bag with its charcoal layer is ideal to lock in odors so you can be discreet. It even includes a built-in lock so you can rest assured that no one will get into your stash.
Rugged Hard Shell Stash Container for Car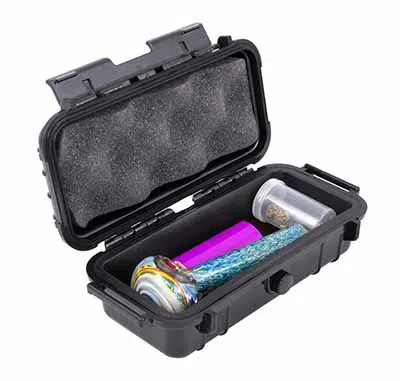 This hard shell smell proof stash box is perfect for travel and everyday outings. Whether you're going on a hike or to a concert, your car will no longer emanate that telltale skunk smell. It's also extremely compact yet perfectly sized to fit a pipe, lighter, rolling papers and most importantly, ganja. It's hands down one of the best airtight containers for weed thanks to its versatility, durability and size. If you've just hotboxed the car though and need to get the weed smell out fast, here are a few tips.
Funny Weed Jars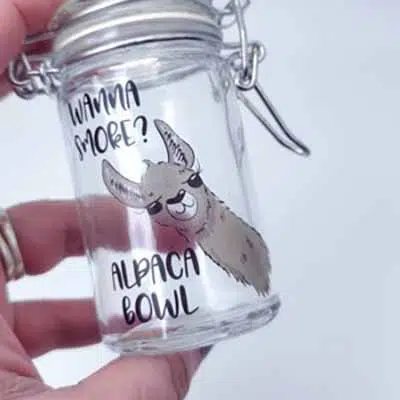 Maybe you don't need to be discreet and you actually want a statement piece. Well, lucky for you you don't need to break the bank to get a good laugh. Every time you pull out this Alpaca bowl glass weed jar with cute llama design it will be hard to stop yourself from smiling back. If you're looking for more cute weed jars, this glass mason jar featuring a band of mushrooms playing music around the fire will definitely set the vibes right. Or if you're looking for an amazing Father's Day gift this airtight Dad stash jar will protect papa's stash.
Acorn Secret Stash Container Pendant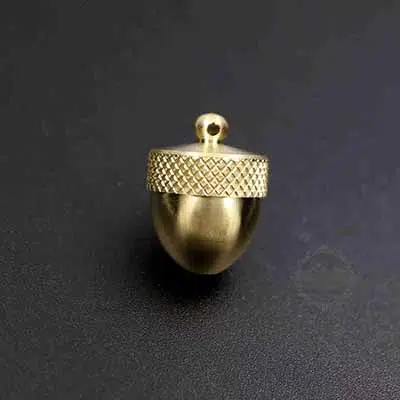 This unique acorn stash container locket is perfect if you just need enough weed for a bowl or two. The stash capsule is a cute accent to any outfit and lets you smoke discreetly without carrying around a larger stash box. Just stash your rolling papers and lighter in your pocket like a good little squirrel and you're golden. Stay perfectly hidden in plain sight.
Hairspray Weed Stash Container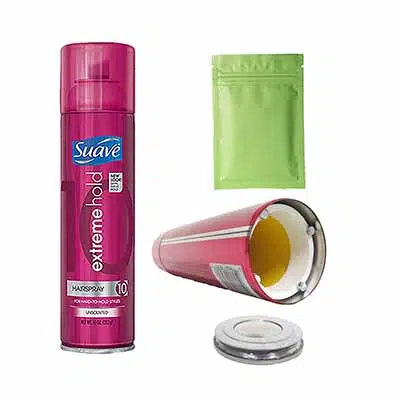 If it looks like the real thing, it's because it is. If you want to be Suave, this hairspray secret stash container made from a real hairspray bottle is realistic, discreet and surprisingly spacious. Unlike most weed storage containers, this one has a magnetic bottom which is easy to open and close. It's also padded on the inside so it doesn't rattle during transport. Your stash will surely stay in place right where it should be given its extreme hold.
Airtight Weed Stash Container Tin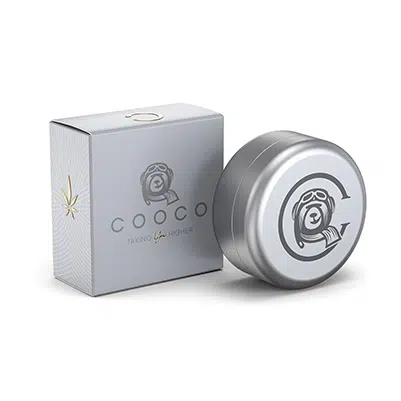 This bear weed tin fits perfectly in the palm of your hand and has an intelligent smell proof design so you can tuck it away discreetly without raising any eyebrows. It's one of the best airtight containers for weed made from durable aluminum. It locks in aromas and is tough enough to handle tumbles without bending out of shape.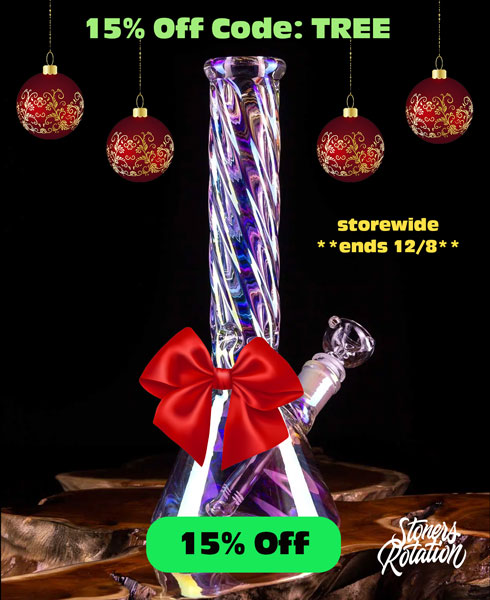 Zen Wooden Weed Storage Box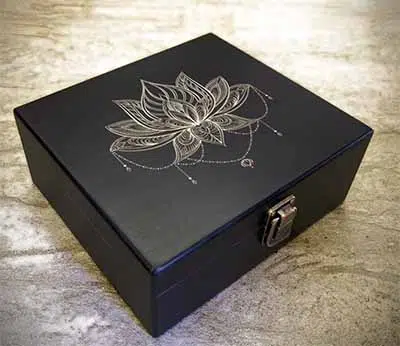 This stunning wooden stash box is perfect for yogis who want a sophisticated, beautifully designed piece that gets them in the mood to zen out. Built to last, this weed storage container made from pine wood features a gorgeous lotus design and heavy duty antique brass clasp. The box has well distributed compartments that give it a certain feng shui so you can easily stash away your finest smoking accessories.
Lunch Box Smell Proof Stash Box Set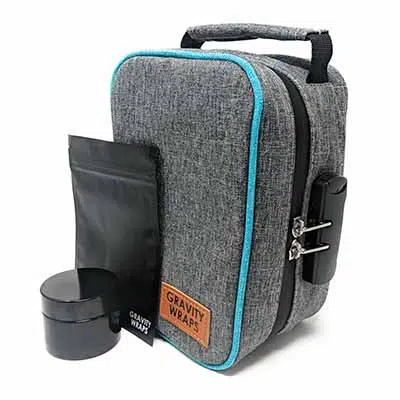 This smell proof bag for weed will have you doing a double take before you send your kid off to school with lunch box in hand. The bag looks innocent enough, like you could pack a sandwich, apple and Kit Kat bar but you know better than that. The set includes a stash box with lock, dividers, airtight UV glass jar, and resealable weed baggie that will lock in the dankest of tea leaves if you catch my drift. If you prefer backpacks, you can find smell proof backpacks and bags like this here.
Faux Snakeskin Smell Proof Weed Container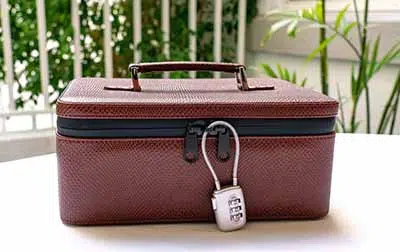 Say Aloha to the next best thing in your life. This auburn stash bag with carbon lining has the sophisticated look of real snakeskin and is sturdy and spacious to stash your everyday smoking accessories. Designed to look like a luxury travel bag, this smell proof case will let you live discreetly in style.
Desert Inspired Bamboo Stash Box Set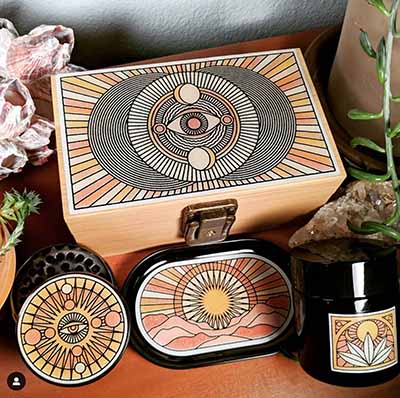 Instead of a wooden stash box, you can opt for this lightweight and sustainable bamboo stash container set that includes everything you need for the smoke sesh, except the green. The desert inspired stash box set includes a locking box, grinder, rolling tray and UV glass jar.
Luxury Wooden Stash Box with Rolling Tray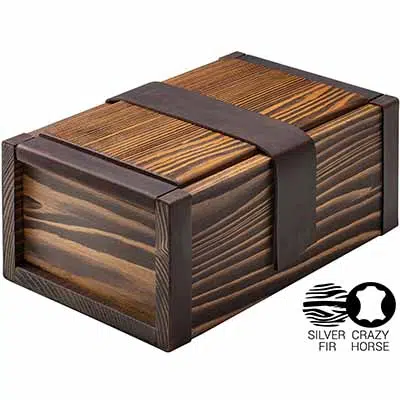 This luxury stash box is made from sustainably sourced wood with a rustic finish and aged leather straps. The beautifully crafted high end stash box duals as a rolling tray which features a unique outlet so that you can pour any leftover herb back into your stash jar.
Light Bulb Secret Stash Container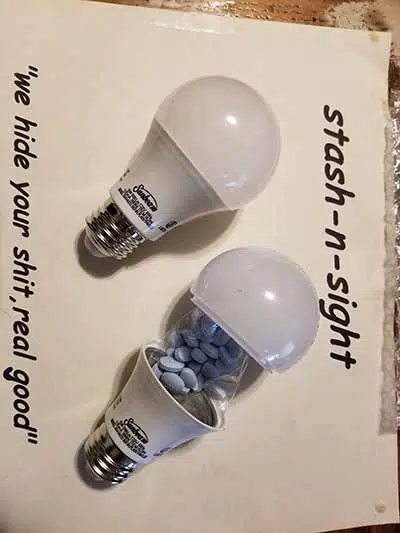 This stealth light bulb secret stash container gives standard stash boxes a run for their money. Made from a legitimate LED bulb, this diversion safe perfectly hides your ganja in plain sight. Just make sure no one needs to change any light bulbs!
Plush Care Bear Weed Stash Jar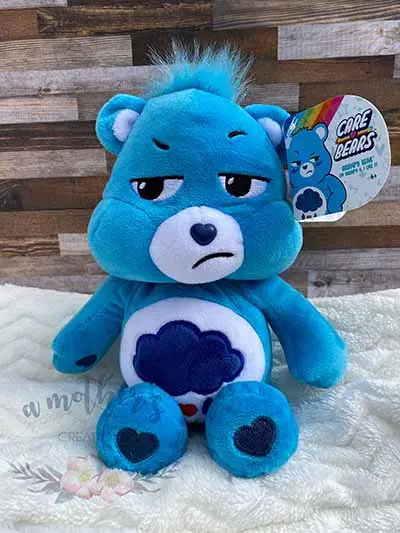 This cute, cuddly Care Bear stash jar will definitely take good care of you. At its heart is a glass weed jar where you can fit a few decent grams. These plush bear weed stash jars come in many different colors and expressions. The grumpy blue bear featured will make you laugh every time with his side-eye glare.
Mahogany Luxury Stash Box Humidor with Hygrometer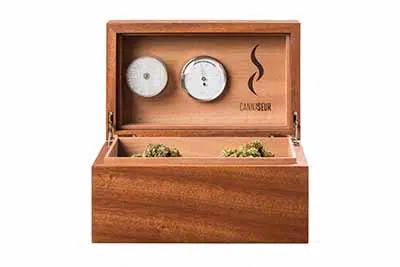 While humidors are generally used for cigars, cannabis humidors are becoming more popular to ensure your weed is stored under perfect conditions. And this wooden stash box made from mahogany is as luxury as they come. If you consider your cannabis next of kin, then the price tag may be well worth the benefits. With its patented German technology and built-in digital hygrometer that maintains optimal humidity levels, this high-end humidor will give your flower new life. It's spacious enough to store two jars but there is also another model that accommodates four.
Custom Stash Box Weed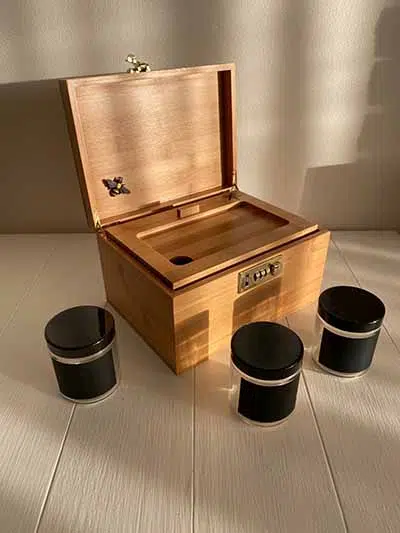 This bamboo weed storage box is about as complete as they come and can even be engraved with your name, initials or a small design. With its ability to customize, this weed container makes a great gift to add a personal touch for birthdays, anniversaries or the holidays. It even includes three glass jars so you can load up on your favorite trio of strains.
Your Secret Stash, Safe and Sound
There are tons of stash box designs, shapes and sizes to choose from. Whether you go for a standard wooden stash box or choose something more hidden in plain sight like a hairspray bottle or lightbulb, your herb will be safe and sound.