The vivid, imaginative and allegorical world of cartoons is always amplified by Mary Jane. Every stoner knows the classics; Rick and Morty, Futurama, South Park, Family Guy…and while these are all fantastic mainstays of 420 culture, there is a whole lot more to discover. Read on to find out the best trippy stoner cartoons to watch blazed.
Photo: Openclipart
Top 10 Trippy Stoner Cartoons
Adventure Time (2010-2018)
Describing Adventure Time without using the word "trippy" is a challenge. While it does have a psychedelic backdrop and absurdist storylines, the true brilliance of the show shines in the moments which resemble reality, and this is usually most apparent in their popular culture references.
It's not hard to see why the show has a hardcore cult following as the more episodes you watch, the more you absorbed you become. Watching the show is like gradually entering the nonsensical world of Jake and Finn and where you feel a part of the side splitting inside jokes.
Aqua Teen Hunger Force (2000-2015)
For further adventures into the surreal, look no further than Adult Swim's own Aqua Teen Hunger Force. Laws of reason and logic play no role in this animated world, with a talking cup and a hovering fry carton with facial hair for central characters. While it's difficult to pigeonhole this animation into a genre, it certainly fulfills the brief for trippy stoner cartoon. Light up, sit back and soak it all in is the best advice with this one.
The Boondocks (2005-2014)
The Boondocks follows the curmudgeonly grandfather Robert Freeman who is legal guardian to his 8 and 10 year old grandsons. Moving the family to the quiet suburbs, Freeman hopes for a peaceful retirement. Unfortunately, his meddlesome grandkids have other plans. The family dynamics plus the hilarious situational comedy make this Adult Swim feature a brilliant 420 watch.
Space Ghost: Coast to Coast (1993-2011)
Space Ghost follows a retired superhero who hosts his own talk show. This old-school cartoon manages to pack in a lot for an animated comedy, poking fun at the world's obsession with superheroes, critiquing the world of celebrity, and deconstructing and humanising aspects of popular culture. It achieves all this while being wickedly funny and far more entertaining than any real life current day talk shows.
Rocko's Modern Life (1993-1996)
Rocko is a wallaby who moved over to the States from his native Australia. However, chasing the American dream hasn't quite worked out for him, and domestic chores plus irksome neighbours interfere with his pursuit of a peaceful life. Fortunately, he has his bovine buddy, Heffer, and canine chum Spunky to help him work through his issues.
The Amazing World of Gumball (2011-2019)
This quirky and trippy stoner cartoon follows the lives of blue cat Gumball Watterson and his goldfish best friend and adoptive brother, Darwin, as they both attend the same Californian middle school.
What's especially impressive about The Amazing World of Gumball is its high class technical animation. Using a combination of CGI, puppets and real life sets, the show manages to create a life-like and relatable world — albeit a little more on the absurd side.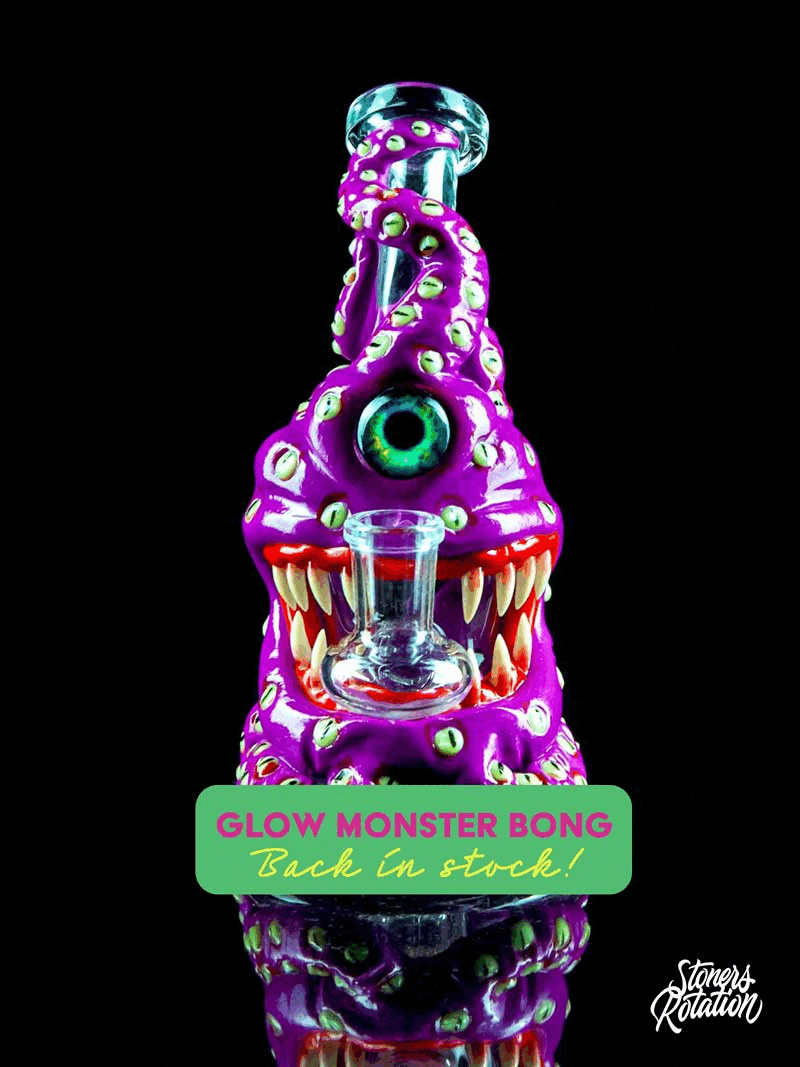 While this animation was made for kids, there's enough dark humour and quick wit to make it thoroughly entertaining for adults too.
Love, Death + Robots (2019–)
The 5-time Emmy winning Netflix animation Love, Death + Robots is absolute gold. The series runs as an anthology, with self-contained episodes varying in genre from horror fantasy to sci-fi to comedy. Expect to see robots in a post-apocalyptic world and a super IQ yoghurt (that's right). Coming from Oscar-Nominated director David Fincher, we couldn't expect anything other than brilliance. Next time you light up and you're looking for something to watch, this is your show!
Beetlejuice (1989-1991)
Inspired by Tim Burton's film of the same name, this trippy stoner cartoon follows the titular character, Beetlejuice, a farcical ghost from the "Netherworld", as he gets up to all manner of shenanigans alongside his human best friend, Lydia. Originally for kids, this animation is full of quick witted one-liners and absurdist scenarios bound to draw you in.
Gargoyles (1994-1996)
Gargoyles, a rarely explored topic, is the focal point of this fantasy cartoon. The show follows the nocturnal lives of a troupe of gargoyles in New York who, after lying inanimate for thousands of years, find themselves reawakened into the modern day. Originally hailing from Scotland, the gargoyles try to serve and protect their adopted city as they once did their beloved homeland.
Castlevania (2017-2021)
Based on the popular video game of the same name, this animation series is a dark, medieval tale of fantasy. Centering around the surviving member of the disreputable Belmont dynasty, Trevor Belmont sets out to protect Eastern Europe from falling foul to Dracula's legion of vampires.
Bonus Picks
If none of the above trippy stoner cartoons take your fancy, check out the following bonus picks.
The Venture Bros. (2003-2018)
Brickleberry (2012-2015)
The Jetsons (1962-1963)
Gravity Falls (2012-2016)
Regular Show (2009-2017)
More Trippy Content
There is absolutely no shortage of great trippy stoner cartoons to explore during your next 420 sesh. If you're looking for more inspiration, make sure you check out Best Trippy Movies to Watch High.
Do you have more burning questions around cannabis?
Email us at [email protected] with your questions/topic suggestions and we will get back to you!