Terp slurper marble sets bring out the full functionality of your terp banger for the utmost flavorful dabs. Sets generally include a large marble that acts as the carb cap and is placed on top, a valve pearl that sits inside the banger and a terp pillar that's shaped to fit inside the cylindrical middle. These heady terp slurper marble sets were crafted by talented glassblowers who understand the importance of beauty and the mechanics behind their purpose.
Photo: Etsy
15 Heady Terp Slurper Marble Sets for Sale
Baseball Terp Slurper Marble Set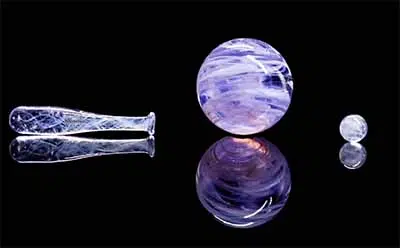 Who's ready to play some ball? This baseball terp slurper set includes a 22mm marble, 33mmx6.5mm bat valve and 6mm terp pearl. The purple swirl pattern of the borosilicate glass is absolutely stunning and will look amazing in your banger. Batter up, let's make it a home run!
Terp Slurper Banger Set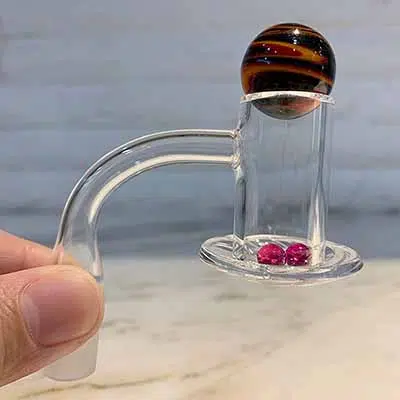 This terp slurper banger set from Amazon includes a quartz banger, two 6mm ruby terp pearls and a 20mm terp marble to top it off. It works great at lower temps and the pearls spin easily. For the price, you really can't beat it, especially since most sets don't include a banger like this one does.
Heady Fumed Lotus Terp Slurper Set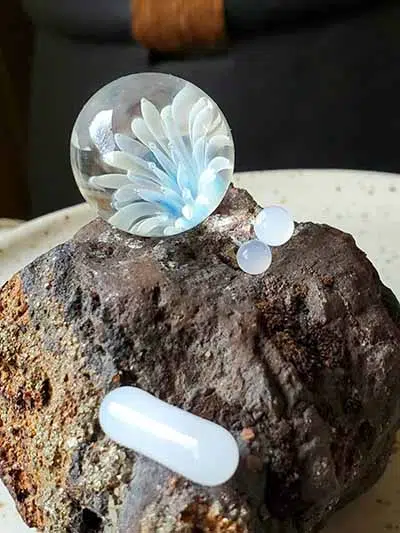 This custom borosilicate glass piece is a work of art. The fuming is incredible with a gorgeous white lotus flower and electric blue accents. It includes a 21mm marble, 6mm pearl, 8mm pearl and 18mm terp pillar. Get ready to be totally zenned out.
Jellyfish Terp Slurper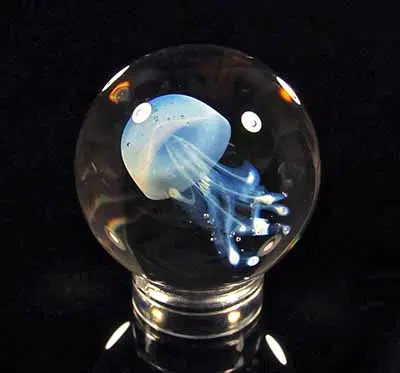 This jellyfish terp slurper won't sting you but you'll bet your bottom dollar that dab will get you good. The ghostly blue opaque jellyfish glows a pink-purple under UV light. Measuring 28mm this is truly a rare find that will make all your friends jelly.
Heady Terp Slurper Set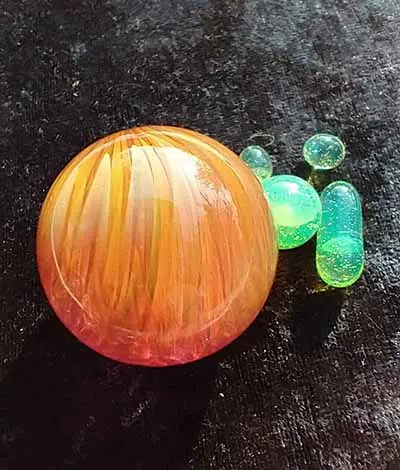 This blazing red-orange terp marble was made for fiery hot dabs. The set comes with a terp pillar, terp valve pearl and two small pearls. The electric green hue of the terp pearls beautifully pairs with the fire red marble, and is craftsmanship at its best.
Wig Wag Terp Slurper Marble Set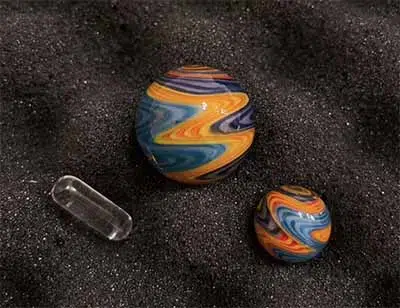 This wig wag pattern terp slurper marble set includes a 25mm marble, 14mm valve pearl and 6x14mm terp pillar. Look deep into the wig wag design and you'll find yourself transported to another dimension before you know it.
Heady Mushroom Terp Slurper Set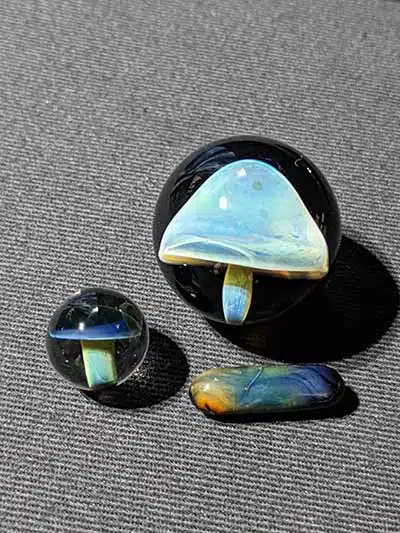 This mushroom terp slurper is crazy unique. Even if you've never dabbled yourself, anyone with a love of nature, especially when high, will understand why this piece strikes a chord. The three-piece set includes a 26mm marble, 13mm valve and a 6x21mm pillar. It takes a talented glassblower for a piece like this to turn out on point.
Heady Nebula Terp Slurper Marble Set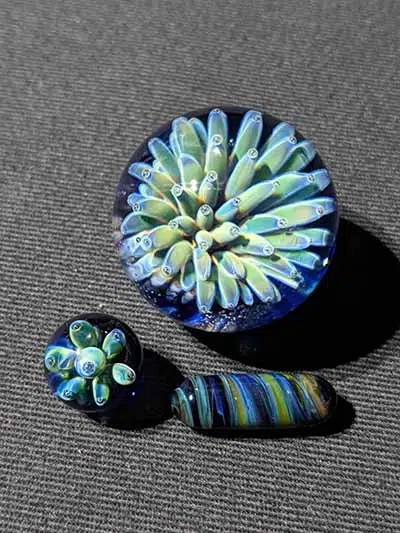 Another stunning piece by the same artist, this nebula inspired terp slurper marble will be sure to take you far off into a distant galaxy. The artist's process for creating this piece is the ultimate expression of their skill and vision.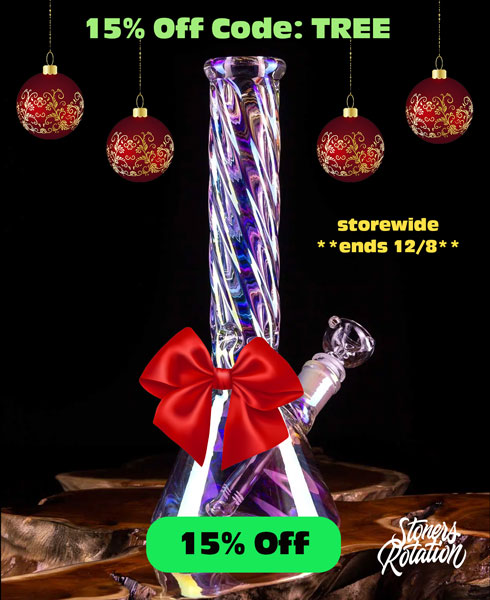 Mini Terp Slurper Set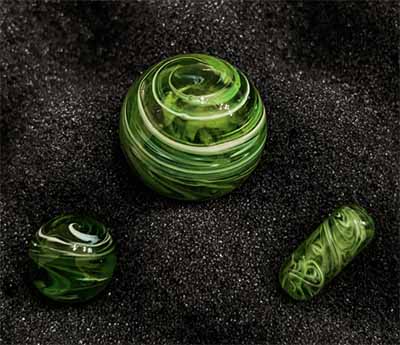 This mini terp slurper set comes with a 20mm marble, 14mm valve pearl and 6x14mm terp pillar. You might have heard that the human eye can see more shades of green than any other color. It was simply the evolution of our eyesight in the lush green forest. I guess we all need some green in our lives, whether it's the color, herb or this beautiful green terp marble.
Blue Terp Slurper Marble and Screw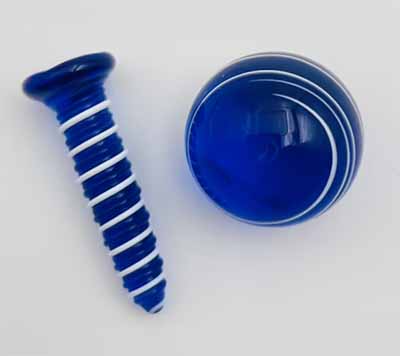 This unique terp set includes a screw as the terp pillar measuring 32mm x 7mm and a 20mm terp marble. This handmade piece crafted from borosilicate glass comes in a deep sea Titanic blue. Watch your wax bubble up, inhale and make sure to come back up for some fresh air before diving in for more deep sea dabs.
White Terp Slurper Marble Set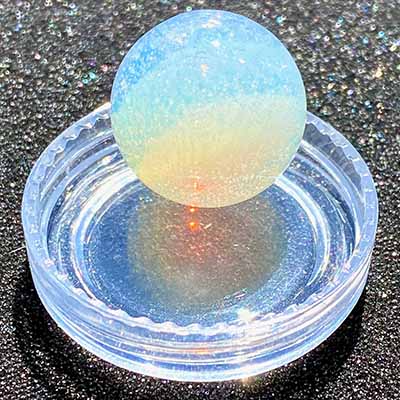 This 23mm sparkling white terp slurper marble comes with a matching pearl. It's a highly functional set that will make you think you're looking into a sky full of stars after a few dabs.
Alien Tech Terp Slurper Marble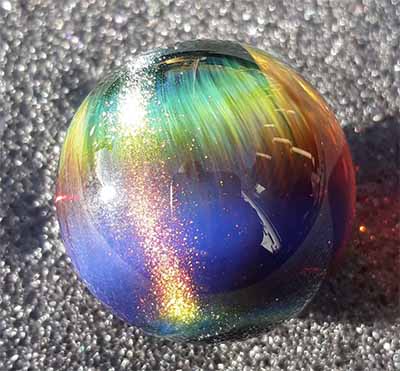 This iridescent rainbow terp slurper marble includes a complementary matching terp pearl. The glass fuming gives it depth and dimension through the entire spectrum of color. It also has a sparkle effect that is accentuated when the pearl spins around the banger.
Pink Terp Slurper Marble Set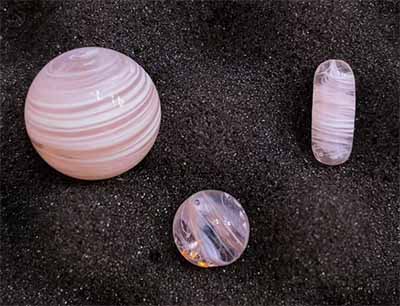 This three piece pink terp slurper set includes a 20mm marble, 14mm valve pearl and 6x14mm terp pillar. Made of durable borosilicate glass, watch the soft pink swirls, swirl around your banger. The pretty-in-pink shade makes it the perfect Valentine's or birthday gift for stoner bae.
Dichroic Terp Slurper Marble Set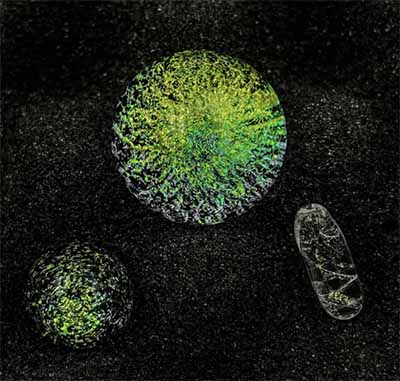 This dichroic terp slurper set includes a 25mm marble, 14mm valve pearl and 6x14mm. The green dichro fuming looks amazing and makes a sick addition to any avid dabber's collection.
Royal Jelly Terp Slurper Marble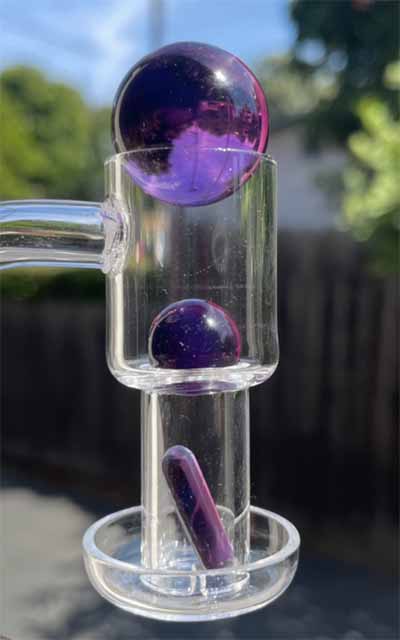 If your dabs have you feeling positively royal, this purple terp slurper may be in order to do them justice.
How to Make a Terp Slurper Marble Set
It's one thing to watch these spin around your banger, and another to see the process behind the magic.
Time for Terps
Set your terp timers, because the day is young and there's no better time than now to enjoy the important things in life like good times, good company and good dabs. These trippy stoner cartoons may be just what you need for a night of trippy visuals amplified by some delicious honey oil. Ready, set, dab!