Thanks to a killer catalogue on Hulu, streaming is the new going out — which is just perfect for stoners. In fact, the streaming network almost seems to cater to 420 lovers, with plenty of trippy, laugh-out-loud movie offerings. So, if you're looking for at home entertainment in the new year, look no further. Below you'll find the best stoner movies on Hulu in 2022.
Photo: GetArchive
Top 10 Best Stoner Movies on Hulu 2022
Vacation Friends (2021)
We all tend to get a little looser on vacation and hit the party scene a little harder than we might in our regular lives. In Vacation Friends, a couple of newlyweds take this idea a little too far, befriending the wildest revellers in Mexico and finding themselves unable to shake them once they get home. A whole lot of debauchery later, and they discover the true meaning of friendship.
A new release, Vacation Friends is an absolute riot and one of the very best stoner movies on Hulu to watch in the new year.
Sorry to Bother You (2018)
While this trippy comedy noir is actually an introspective critique at capitalism, it's also damn funny! If you like your laughs pitch black and your satire political, then this is the 420 movie for you.

Trolls World Tour (2020)
As bizarre as it might seem, the Trolls first feature movie is a complete delight. From the trippy, eclectic visuals, to the larger-than-life musical numbers, this is an unexpected stoner gem of the 21st Century. Familiar voices include Kelly Clarkson, Ozzy Osbourne and K-pop star and legend, Irene.

Breaking News in Yuba Country (2021)
The Stepford Wives meets The Big Lebowski is a good way to describe this dark comedy, with mystery, murder and barrels of laughs. Allison Janney plays disillusioned housewife Sue Buttons, who decides to make the most of her cheating husband's death to finally get some attention herself. However, little did she know that her decision would open a world of crime and get detectives hot on her tail.
The Donut King (2020)
This documentary might seem a little out of place on a list of the best stoner movies on Hulu 2022, but trust me it's a rollercoaster of a tale. The plot traces the story of Cambodian refugee Ted Ngoy's ascent up the ladder to American dream hero, only to see his multi-millions squandered by his fatal flaw for gambling. In short, it's a high-stakes tale of fortune, greed and loss with enough shots of donuts to satisfy your 420 munchies.
Barb and Star Go To Vista Del Mar (2021)
Kristen Wiig and Annie Mumble are on top form as middle-aged best friends on their first ever out-of-town vacation. They're fish out of water, having the time of their lives, until they uncover an evil villain's plan to destroy the villa with robotic mosquitos. Suffice to say, things get increasingly absurd from that point on.
Just Before I go (2015)
Directed by Friends star Courtney Cox, Just Before I Go is a darkly comic tale of a middle aged man's decision to tie up loose ends in his hometown before committing suicide. While the concept doesn't seem all too cheery, the film still manages to amuse and entertain in equal parts. Plus, it has a powerful ending which is enough give anyone a renewed lust for life.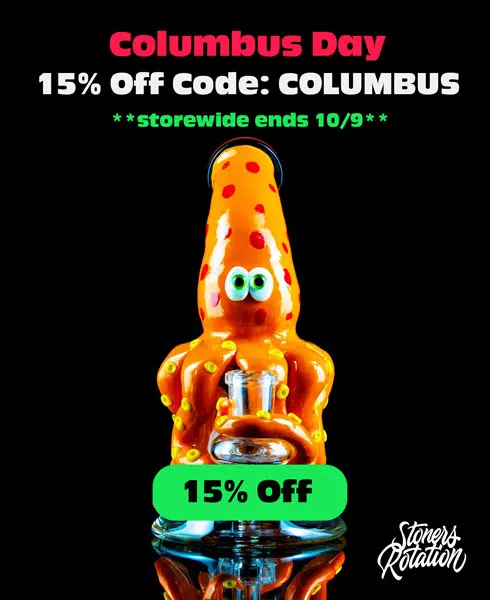 Irresistible (2020)
Political comedies are always a little hit and miss, but Irresistible certainly belongs in the former category. Parodying the realities behind election funding, we see firsthand some of the deceit, lies and all-round corruption that goes on before the ballot boxes make an appearance. Like the old adage goes: It's funny because it's true!
Cedar Rapids (2010)
This Ed Helm's golden oldie has only gotten better with age, making it the perfect stoner movie even over a decade after its release. The plot follows mediocre insurance salesman Tim Lippe (Helms) as he makes the acquaintance of the wildest and most debauched men in business at a hotel insurance conference. Things get dicey pretty quick and Lippe has to step up to pick up the pieces. The good news is, he does actually become a better salesman for it!
Reefer Madness (1938)
It's fair to say that in the 1930s, attitudes towards cannabis were a little different to today's. But I bet you never knew quite how vilified the green leaf was. Well, watch Reefer Madness (original title: Tell Your Children) and discover the absolute frenzied madness associated with the drug at the time. The poster's tagline: "Public Enemy No.1" says it all.
The film has become so legendary for its ridiculous portrayal of marijuana use that it was parodied in the 2005 musical comedy with the same title starring Kristen Bell and Ana Gasteyer.
Making Mr Right (1987)
This cult classic starring John Malkovich and Ann Magnuson is more tailored to stoners who like their movies on the trippy side, featuring robots, mad scientists and space missions all shrouded in suburban angst.
More Best Stoner Movies on Hulu
Little Man (2006)
There's Something About Mary (1998)
Booksmart (2019)
The Overnight (2015)
The Interview (2014)
More Stoner Content
The above list should give you plenty to get your teeth into in 2022. But, if you're looking for more classic stoner stuff, check out Best Stoner Movies of All Time while you're here!
Do you have more burning questions around cannabis?
Email us at [email protected] with your questions/topic suggestions and we will get back to you!