What is a Nectar Collector?
Ever wanted to become a bird and fly sky high? Well, nectar collectors actually let you turn yourself into something of a hummingbird for dabs. They go by many names and although some differences exist, dab straws, honey straws and nectar collectors are portable dabbing devices made for on-the-go seshes, wherever you're high takes you. Since they were first introduced in 2014, they've become essential pieces for the avid dabber. This list of the best nectar collector kits and straws should help you hone down by shape, style and functionality so you can be dabbing (or flying high) in no time.
Photo: Unsplash
15 Best Nectar Collector Kits & Honey Straws
Pendant Wax Nectar Collector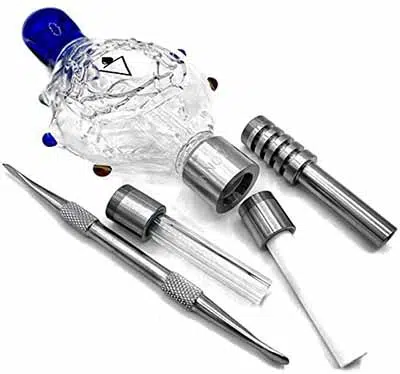 This Pendant shaped wax straw is a stand-out for it's unique rounded shape. It's made from beautifully blown borosilicate glass and comes with a metal dabber and three 510 threaded tips in ceramic, titanium and quartz, so you can swap the nails out based on your preference and mood. The built-in diffuser filters hits so pulls are easy and it hits smooth.
Electric Nectar Collector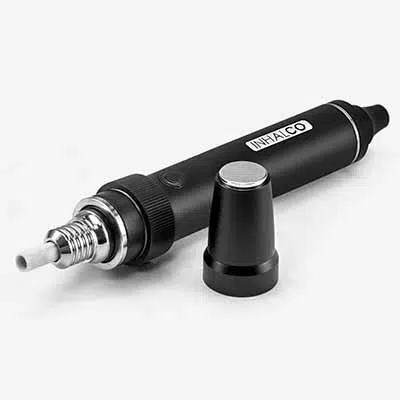 This e-nectar collector is another unique piece, designed with a coil-less heating tip made from ceramic. Generally, electric nectar collectors contain a coil that's responsible for heating up dabs. However, with this new coil-less system, heat is distributed evenly for even more flavorful dabs. It's also easier than ever to clean. Expect fast charging and 10 second heat-up for ultimate convenience.
Glass Nectar Collector Dab Rig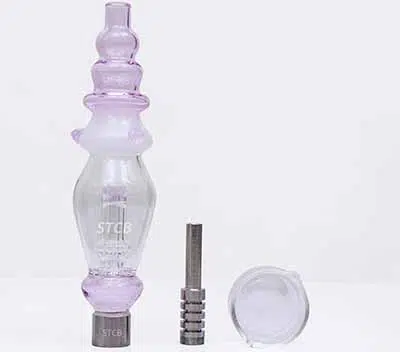 This cheap dab straw is perfect if you're looking for a kit that includes a dab case, titanium nail and honey bucket, without breaking the bank. The glass also has a nice pink hue so the honey straw makes a cute Valentine's Day or anniversary gift for stoner bae.
Honey Straw Nectar Collector Kit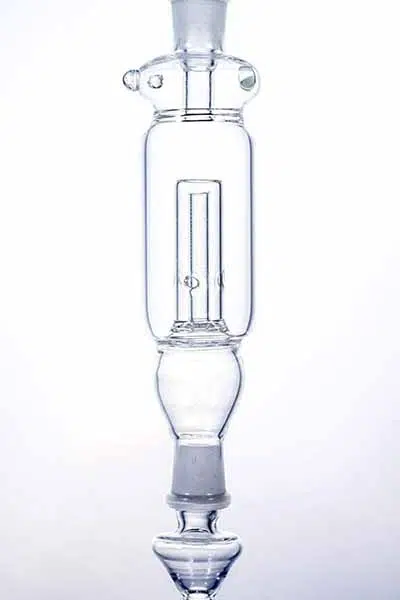 This nectar collector set includes a titanium tip, a quartz tip, chamber, detachable neck, honey bucket and keck clip. The wax straw features a three-hole diffusion percolator for deliciously smooth tokes. It's also a cinch to assemble and take apart when you want to make it more compact for safe travel.
Silicone Dab Straw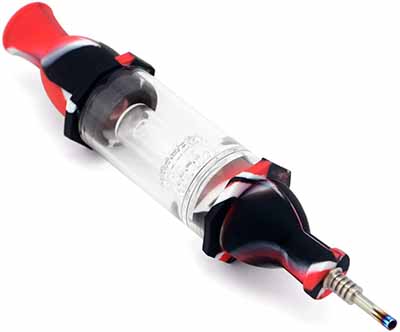 If you want a completely carefree dabbing experience a silicone dab straw may be the right choice for you. Silicone also tends to be on the more affordable side yet still holds up to quality standards, made from BPA-free, food grade silicone. Many worry about silicone giving off a strange smell when heated to extreme temperatures but this piece was made to withstand heat up to 482° Fahrenheit. Made with ease in mind, you can effortlessly assemble and disassemble the piece. If you prefer glass or quartz over the taste of titanium, you can also easily swap that out. This honey straw might just even hit smoother than your favorite bong.
Silicone Nectar Collector Dab Kit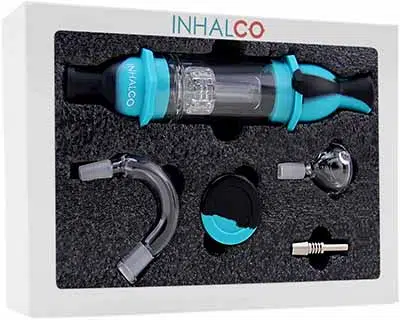 Another great option, this Inhalco nectar collector set is also made from BPA-free silicone which contains the dab straw, silicone honey bucket, two glass tips and comes in a nifty gift box.
Honey Badger Nectar Collector Kit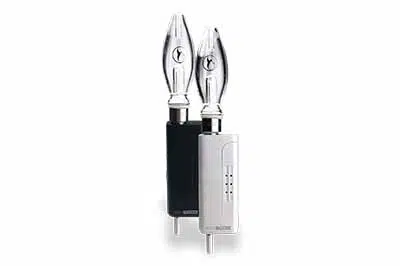 If you're an avid dabber and ready to throw some money down, the Honey Badger nectar collector set is one of the best on the market with its enhanced diffusion tech. The electric nectar collector heats up in under 10 seconds and doesn't require the use of a torch so your dabs will always burn evenly. The set includes a bunch of cool accessories including a high and low temp tips, adapters, pipe cleaners, replacement O-rings and a waterproof case.
Honeybird Nectar Collector Set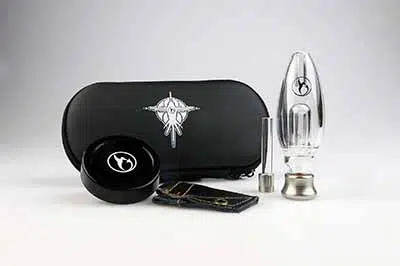 If the Honey Badger is beyond your budget, the Honeybird nectar collector set is not only at a realistic price point but may even be a better option for you. While it doesn't have the electric functionality, this pocket sized vaporizer is ergonomically shaped like a spaceship for voluminous hits, as it allows more smoke to collect. It comes in a cute little survival case that includes the dab straw, honey bucket and quartz tip. Made in the USA from high quality borosilicate glass, it's also a great way to support homegrown glassblowers.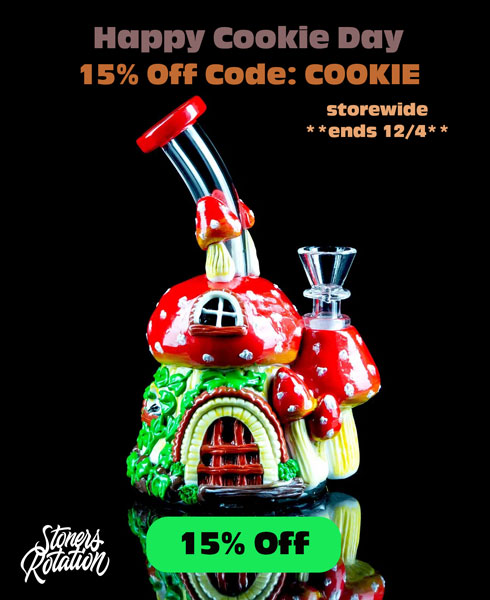 Micro NC Nectar Collector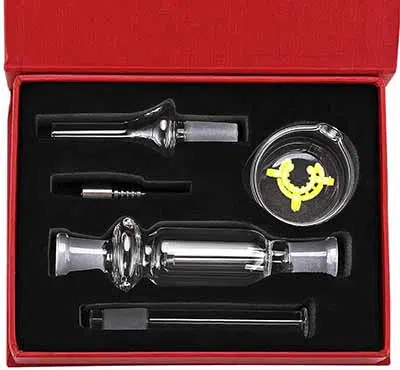 This glass honey straw comes in a nice red box set, perfect for wrapping a bow around and giving to a stoner friend or bae. The 10mm wax straw comes at an amazing price and ships with Amazon Prime so it's perfect if you're in a pinch and need something fast. However, the price does come at a cost though; the glass is said to be on the more delicate side but that is the nature of the beast given the competitive pricing.
Mini Nectar Collector Dab Straw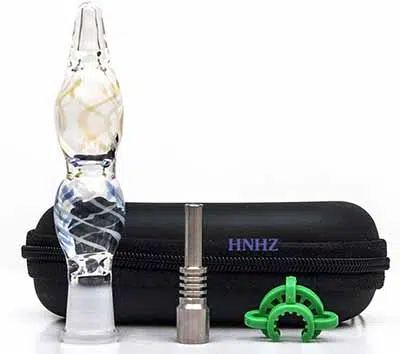 It's safe to say that this cheap micro nectar collector kit will become your new partner in crime, sidekick and trusted confidant. For being such a steal, the 10mm dab straw is surprisingly durable, fits perfectly in the palm of your hand and is cute as can be. It comes with a keck clip, titanium tip and pint-sized travel case.
Bubble Honey Straw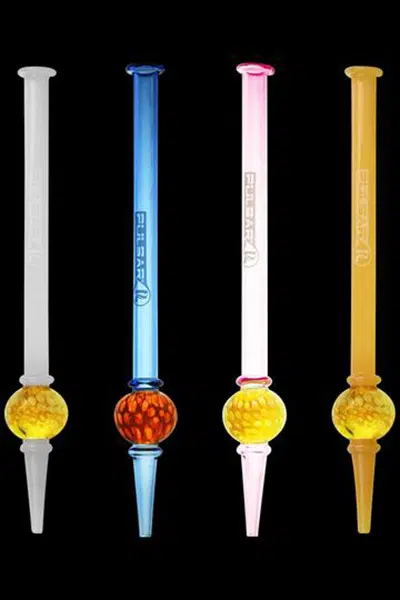 The Pulsar nectar collector is a beautifully crafted dab straw with a unique glass honeycomb bubble accent. This is also one of the simpler, more classically designed honey straws featured.
Silicone Nectar Collector Set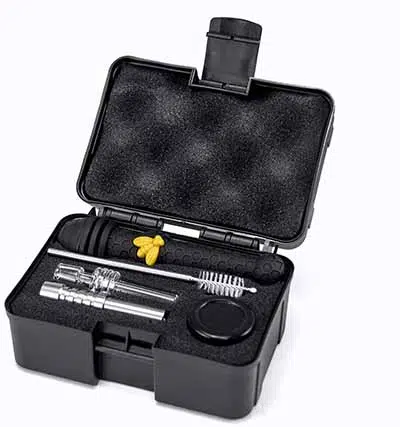 This silicone nectar collector kit includes two tips, one glass and one titanium, a dab straw, pipe cleaner and honey bucket. It's durable, travel-friendly and easy to clean.
Quartz Nectar Collector Dab Straw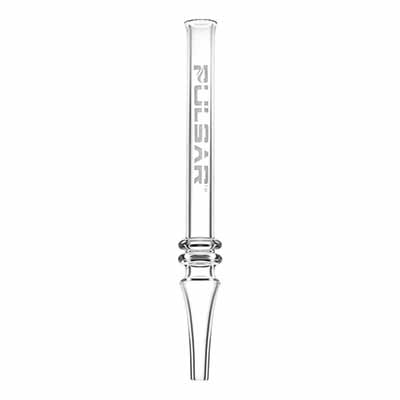 This all quartz dab straw is elegantly designed with durability in mind for on-the-go seshes. At just 5 inches long, you can stash it away easily.
Seahorse Nectar Collector
Technically a dab pen, the Seahorse comes in a variety of cool prints. The premium quartz coil makes for silky smooth hits. It's extremely effective, you only need to place a very small amount of concentrate on the tip to get the most out of it.
Silicone Nectar Collector Kit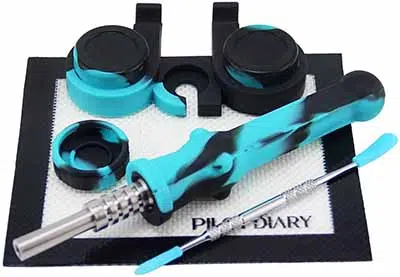 Last but not least this nectar collector set includes a silicone honey straw, titanium tip, dab tool, dab mat and two honey buckets in a small dab station that holds the dabber. It's as durable as they come and you also get to choose between two vibrant tie-dye color schemes.
How to Use a Nectar Collector?
Essentially you take a piece of glass, heat it up with a torch and when the tip touches your concentrates, it will vaporize. If you're using borosilicate glass, heat up the tip slowly, using the hottest part of the flame called "candles" which glows a bluish hue. Spin the tip around facing upward 360° a few times so it heats evenly. Just remember that 428° Fahrenheit is the ideal temperature and that anything higher is unnecessary. Just don't go more than 450° Fahrenheit otherwise the dabs won't be as flavorful and will start to have a burnt taste. Your honey bucket should have some wax in it ready to go. Tap the dab draw rather than sticking the tip straight down into the bucket to avoid that wax collects inside the straw.
How to Clean a Nectar Collector?
If you're wondering how to get reclaim out of a glass nectar collector, you're in the right place. There are two main ways you can clean it, the first saving the reclaim.
Method 1: Saving Reclaim
In this first method you'll use your torch to push down the reclaim, letting it cool once you get about halfway down, then continuing down towards the tip. As you heat the upper portion of the tip the reclaim will start to come out as a liquid. Then you'll blow out the rest through the top softly so it doesn't splatter everywhere. After you've done this you can always use isopropyl alcohol as explained in method 2 so that it's squeaky clean.
Method 2: Isopropyl Alcohol
Remove the tip and get the dirty water out. You'll need isopropyl alcohol. Pour it into a shot glass or small, shallow glass. Suck the alcohol into the piece without inhaling or swallowing anything. Once nearly filled to the top, shake it up and let it soak for 20 minutes or so. Most of the residue should be removed at this point. Blow the alcohol out into a sink. You can also use pipe cleaners if there's still some reclaim leftover. Then, set the piece upright directly underneath the faucet by wrapping the towel around it so it stands straight up and flush it out with hot water. Wipe with a towel and let it dry.
We've also laid out some easy methods for cleaning a dab rig here as well.
Just Call me Honeybird
Since nectar collectors are smaller than your average dab rig, they pack in even more flavor, simply because there's less room for smoke to get stale. They're portable, easy to assemble and clean. Some of the more advanced electric nectar collectors don't even require a torch, simplifying dabbing even further so you can concentrate on becoming a Honeybird. Let's just say, the future of dabbing looks bright!