While it's always important to keep cannabis accessories sparkling clean and free of residue, it can be a little difficult or tedious sometimes. However, someone's gotta do it! Especially if you're a fan of weed concentrates, a clean dab rig is essential for producing smooth, painless hits. Follow these easy steps below and you'll know how to clean a dab rig in no time!
Photo: Piqsels
Cleaning a Dab Rig
How do you clean a dab rig, you ask? It's fairly easy if you know the right steps and supplies. The resin from concentrates can accumulate into a dark brown substance on the glass if gone unclean for a while. Therefore, it's a great habit to clean your rig often. Resin buildup worsens the flavors of your dab hit, and it can also cause slight lung damage to those with sensitivities and respiratory problems.
Essential Supplies
90%+ isopropyl alcohol
Coarse sea salt or epsom salt
Metal wire or dab tool
Ziploc bag or sealed container
Pipe cleaner or cotton swab
Cleaning a Dab Rig Step-By-Step
The first thing you should clean when taking apart your rig is the glass vessel itself. First, use your wire or dab tool to scrape off as much resin or "reclaim" from the edges of the dab rig to make the cleaning process easier. Rinse out the scraped residue with hot water.
Once empty, fill your rig with a generous amount of isopropyl alcohol.
Pour salt into the mixture and shake the rig vigorously for several minutes, or until most of the resin or "reclaim" has been sloughed off. If you're dealing with a very dirty dab rig, continue shaking and leave your rig to soak in a large sealed container of alcohol and salt. Watch the grime slip off after you return a few hours later.
Rinse out the alcohol and salt mixture and watch your dab rig sparkle!
How to Clean a Dab Rig Bowl
While cleaning a dab rig itself is easy, it's important not to forget about the resin and reclaim hiding in the nooks and crannies of your bowl or quartz banger nail. It's crucial to clean your bowl so the accessory doesn't go forgotten and collect a ton of wax residue!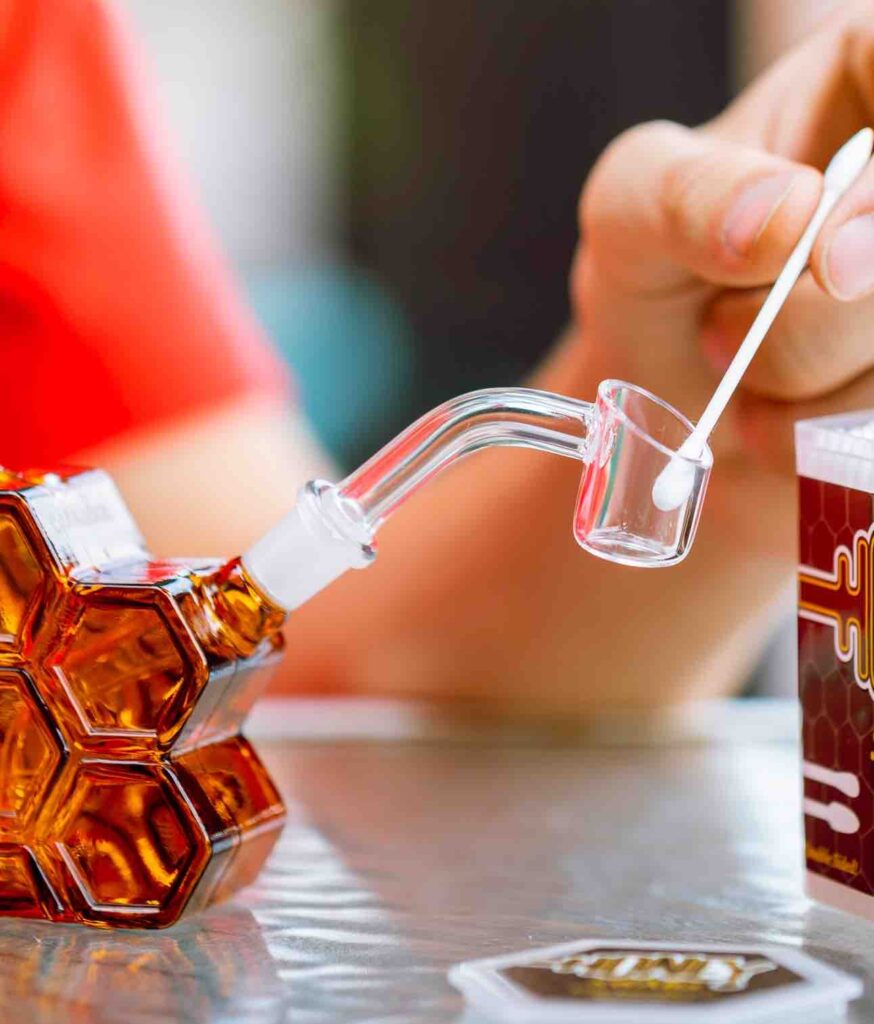 Before cleaning, if there's lots of extra "gunk" on the nail or bowl of the rig, try torching it quickly to burn off leftover resin. Next, dip a pipe cleaner or Q-tip in isopropyl alcohol and swivel it carefully inside the bowl to remove residue. Keep doing this until your nail or bowl looks new. If it's still too dirty, soak the bowl in isopropyl alcohol and salt solution for a few hours along with the rig!
How to Clean Dab Rig Caps
Finally, the carb cap is perhaps the most forgotten but most important part of the dabbing ritual. It's used to cover the nail or bowl after vaporizing concentrate, so the carb cap doesn't get dirty as fast as your rig or banger will! However, that doesn't mean you should neglect cleaning the oh-so-important accessory.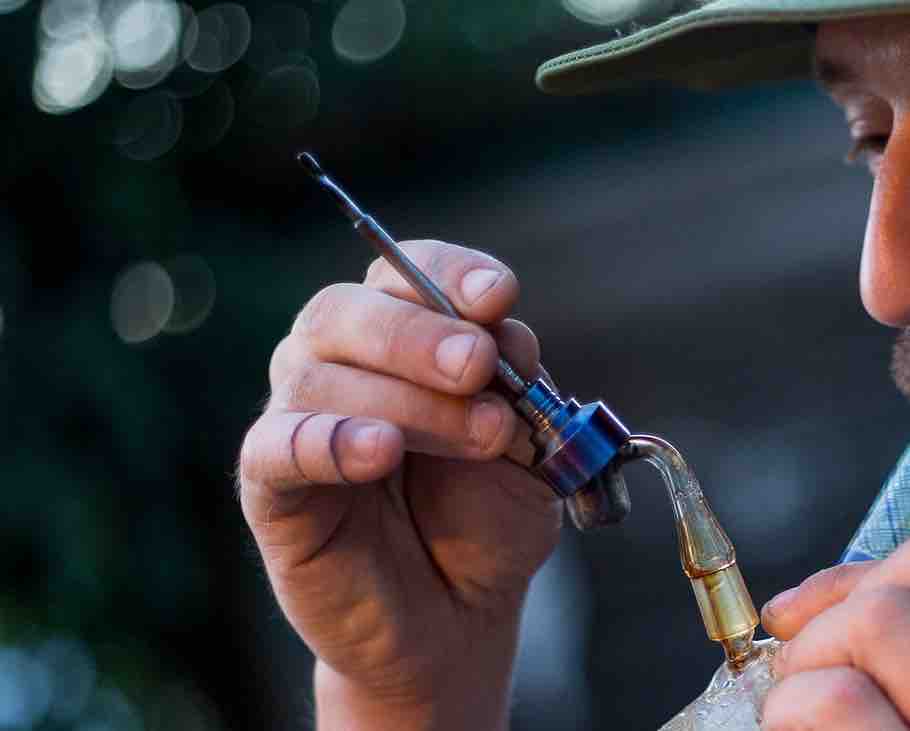 Most of the time, a dab rig carb cap can be simply wiped down with a Q-tip or cotton pad lightly soaked in isopropyl alcohol. Give the cap a slight rub with the alcohol-soaked material and rinse it off! Again, if your carb cap is unnecessarily dirty, submerge it in your isopropyl alcohol and salt solution for a few hours and return to a clean cap!
How to Clean a Dab Rig Without Alcohol
If you're wondering how to clean a silicone dab rig or you simply can't get your hands on isopropyl alcohol, there are still other methods that work to erase most of the wax grime! Especially when cleaning silicone, simply replace alcohol with mild dish soap and hot water to clean your piece. Another cleaning mixture that works well is white vinegar and baking soda solution.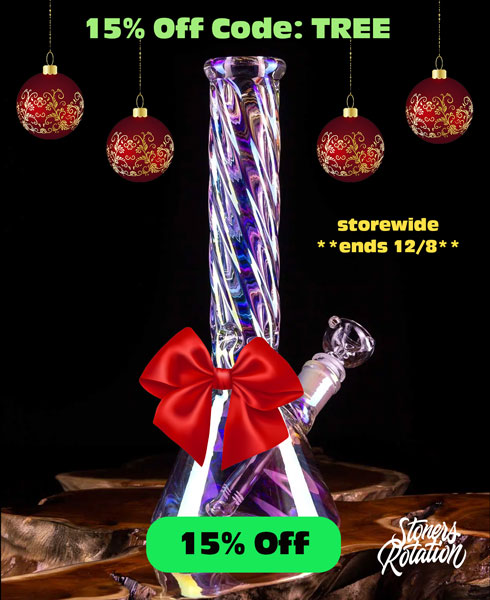 Say Goodbye to Dirty Rigs!
When in doubt, clean that dab rig out! Not only will other stoners and your friends be impressed after you pull out a crystal-clean piece and sparkling dabbing supplies, but your accessories will also have a much longer shelf life. Knowing how to clean a dab rig, whether it's the bowl, banger, or the entire piece, will be worth it in the long run! Now that you're fully acquainted with the world of dab rig cleaning, check out some other tips and tricks for cleaning other weed supplies, specifically how to clean your bong!